MIPCOM 2016 presented a series of conferences, keynotes and summits which painted a comprehensive picture of the international content industry.
The opening keynote was from Sony CEO Kazuo Hirai, who told MIPCOM delegates how his company is harnessing science and technology to enhance people's lives and enrich the process of storytelling. "Through our vast talent network we are asking how storytelling can be transformed by technological innovation." He added: "We see Sony as a standard bearer for the state-of-the-art." Full report here…

In a shared Media Mastermind Keynote on day one of MIPCOM, A+E Networks' president of international and digital media Sean Cohan (above), and Howard T Owens, founder and co-creator of Propagate, outlined the importance of storytelling and the key role of creativity, from development through to distribution. "Creativity isn't just required for what's on screen; creativity in deal-making is key." Full report here…
MIPCOM Personality Of The Year Shonda Rhimes (top photo) was present throughout the week at MIPCOM, giving a press conference, a keynote presentation and participating as guest of honour at a gala dinner where she accepted her award from Reed MIDEM's Paul Zilk. Speaking to the international press she offered her views on how creative people should be nurtured in this industry. She said that alongside Betsy Beers, her partner in her company Shondaland, she aims to nurture talent, giving staff who do well the opportunity to try new roles as a way to motivate them to stay. "You're in charge of what happens on set and what happens in the room," she said. Full report here…
Three years ago, showrunner Adi Hasak (below) came to MIPCOM for the first time with a few good contacts and a decent drama script. This week he returned to Cannes as a Media Mastermind Keynote speaker with two US shows to his name – NBC's Shades Of Blue and USA Networks' Eyewitness. The transformation from wannabe writer to successful showrunner is, he told delegates, a reflection of the changes in the TV market: "It's a great time for creatives who get off on rejection," he said. "But in reality, this is a small business. If you create material that speaks to buyers, and that you can walk into a room and defend, they will respond." Full report here…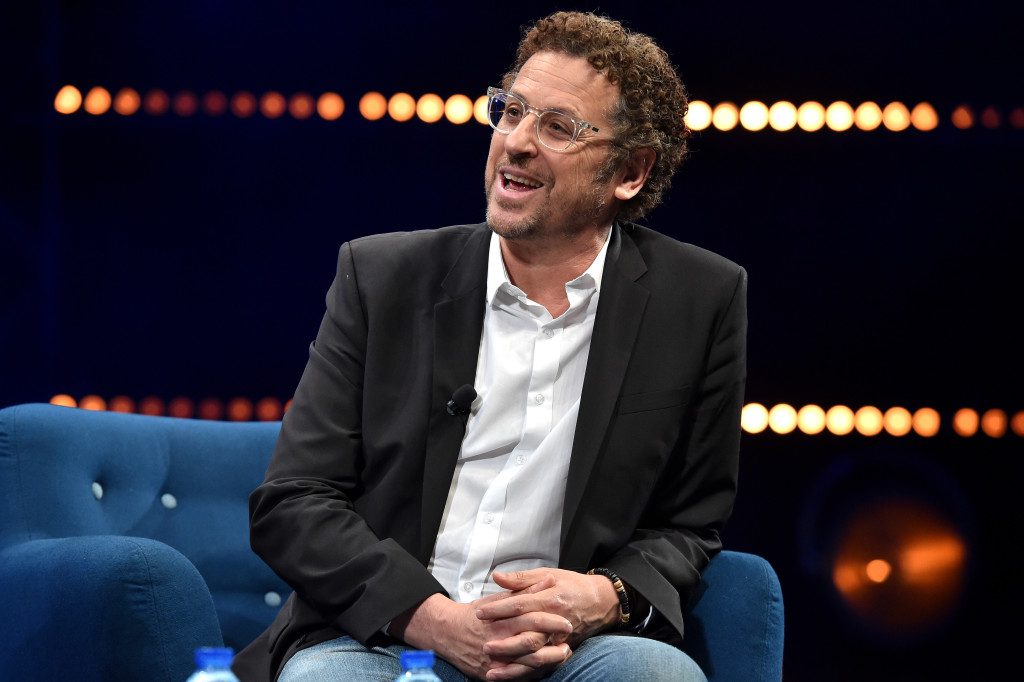 Virtual Reality was a hot topic during the week. In the session Getting Real About VR: Where Is The Money?, James Milward, president and executive producer of Canadian company Secret Location said: "It's still undefined right now; there's confusion over who is taking the fees. In a sense everybody wants to be the Netflix of VR."
At the same session, Anthony Geffen, chief executive and executive producer of Atlantic Productions, said that for VR producers, sticking to the fundamentals of television should still be a key focus until a clear business model emerges. "We all have to go out and create really good, interesting VR. If producers keep doing that they will be masters of their own destiny. But I don't think anybody should be forming long-term relationships at this point because the whole model keeps changing."
The first Diversity Summit was launched at MIPCOM, where the subject of inclusion of all groups of people in the industry was discussed. Michael Armstrong, executive vice-president and general manager, Viacom International Media, talked about the need to "reflect and elevate the voice of African-Americans" in the US; while David Ellender, president, global distribution and co-productions at Sonar Entertainment, stressed the need for diversity to be framed in the broadest terms: "It's about gender, it's about age, it's about disability, it's about sexual orientation, it's about social background." He said: "I'm asking the TV industry to think outside the box. In fact, to get outside the box." Full report here…
Women in television was the subject under discussion at the Women In Global Entertainment Power Lunch. "The thing that irritates me the most about periods of time like this is that it's considered to be sort of a fad. It's like 'oooh this could be the year of the woman'. Why is there a year, you guys? What's happening right now should be happening forever, and always" said Betsy Beers, executive producer of ABC Studios' hit Grey's Anatomy and partner at Shonda Rhimes' production company Shondaland.
At the OTT & Content Distribution Strategy Summit, delegates discussed this fast-moving sector where new platforms are changing the distribution model and providing channels with high speed competition that is disrupting every known broadcast model. "If you go to Amazon, there are 30 add-on channels to prime that didn't exist two years ago. That's a great example of the transformation of the market now. A lot of niche or targeted channels are coming," Lionsgate's Jim Packer said.
20th Century Fox television Distribution's outgoing president Marion Edwards was in Cannes to collect the Variety Vanguard Award and the Gold Medal of the City Of Cannes – and to give a Media Mastermind Keynote presentation by way of a final address to the international industry she has served for three decades. As the person who contributed to the success of so many ground-breaking TV shows, including Thirtysomething, LA Law, Buffy The Vampire Slayer, 24 and Modern Family, she remains a true believer in traditional TV. "Old is normally such a derogatory word, but old media is still king of what people think of as great TV," she said. Full report here…
Drama remains the killer app for channels trying to stand out in the crowd, and actor Kiefer Sutherland is one of the pioneers of the shift in talent from big to small screen. MIPCOM has played its part too as it has now become the showcase for the best drama from around the world – doing for TV what the Cannes Film Festival does for cinema.
As co-chair of Disney Media Networks and president of Disney ABC Television, Ben Sherwood runs one of the most formidable content production and distribution outfits in the world. But his formula for success, outlined during his Media Mastermind keynote, is simple: "The best content, delivered in the most efficient and personalised way, will win." Acknowledging that these are complicated times, he said that he was nonetheless optimistic for the industry – for two reasons. "The first is that our commitment to stories is greater than ever and there is an unlimited appetite for great TV. The second is that we are partnering with so many great companies to deliver our content around the world." Full report here…
On his company's commitment to diversity, he said: "It's good business sense and it's the right thing to do. We want to make programming that reflects a rich diversity. We deeply believe in the potential of TV to transcend borders and bring people together." And he praised Shonda Rhimes, the producer of several successful ABC shows, and this year's MIPCOM Personality Of The Year: "Her shows are deeply compelling and insanely addictive. She reflects our values as a company and our future as an industry," he said.
As ever, drama was in high profile this MIPCOM with some 17 premieres and screenings of new content from around the world. Television is the "most exciting medium" for drama at the moment, Emmy and Golden Globe award-winning actor Kiefer Sutherland said during his Media Mastermind Keynote. He added that television was producing the most engaging dramatic content for viewers, of the kind which used to be considered the domain of cinema. "That kind of drama and storytelling has been absorbed by TV. There used to be three channels, then there were five; now there are 500 channels, which shows that content is king. TV is where it's at right now." Full report here…