Award-winning actor Kiefer Sutherland delivered a keynote to talk about Designated Survivor, in a panel moderated by Michael Idato, of The Sydney Morning Herald.
Sutherland is both actor and executive producer in Designated Survivor, which premiered in September. Created by The Mark Gordon Company and ABC Studios, and distributed internationally by eOne (co-owner of The Mark Gordon Company), the show follows Tom Kirkman (Sutherland), a low-level cabinet member who is suddenly appointed to President of the United States, following a catastrophic attack that kills everyone above him in the line of succession.
So how did Sutherland—who brought such vivid, violent life to the character of Jack Bauer in 24—find himself back on TV as a bewildered bureaucrat in one of the most powerful jobs on earth?
Producer Mark Gordon sent the script, according to Sutherland. "We've been friends for 20 years. I was doing a film with Michelle Pfeiffer, getting into some music things, and taking on the responsibility of a TV show was not at the forefront of my mind. I was going to give it a cursory read, to gain enough information on the script to explain why I couldn't do it. Then I got to page 25 and then I went, 'f*ck'."
The script, written by David Guggenheim, had resonated with him.
"One of the nice things about the character [Tom Kirkman] is, he's not even elected," said Sutherland. "He's an architect with very specific ideas about urban planning and affordable housing, and that's how he became part of the cabinet. He had no political aspirations. He can approach the country's issues, domestic and abroad, with common sense and fairness, as opposed to a political agenda dictated by 3 years of campaigning. That's a really fresh point of view—common sense is the foundation of the character."
In fact, Kirkman's growing on-the-job political savvy is the biggest source of his mistakes, a thread that develops along with the season.
What Sutherland didn't expect were Kirkman's similarities to Jack Bauer, which he discovered once he got into character. "Their skillset is different—President Tom Kirkman probably doesn't know how to load a gun—but both characters have a desire to serve, and are willing to take on a fight they know they can't possibly win," said Sutherland. "That throughline is something I relate to. I aspire to be one of those people."
Another thing that appealed to Sutherland was Gordon's sense of style—which is visible in the casting, the tone of the script and the production. "Mark is a great editor," he said. "I asked who the editors would be, and I knew I wouldn't get the people I had on 24 … and he said, 'Well, I've got two great editors, but to be honest, it's going to be me'." Once he said that, I didn't have to worry anymore."
Sutherland is credited with the role of executive producer, in addition to starring in Designated Survivor, so it was only natural that Idato ask whether he enjoys it, and how he manages to strike a balance. "For me, Mark is the producer of the show," he replied. "I work as an ambassador. Because of the amount of actors we have coming in and out of the show, I try to make sure they're comfortable. That's really my role. I'm not sitting in budget meetings and things like that."
He nonetheless has a clear sensibility of why the show works, and what he likes about it. "I'd learned a lot from 24 about what would make a show great and what wouldn't," Sutherland said. "The real-time aspect of 24 was the star, but also a flaw. We would paint ourselves into a corner. Every year, around episode 14 or 15, we'd have to do something wonky to get around that and we'd make up for it in the last eight episodes."
Designated Survivor was designed to never find itself in that position. According to Sutherland, it has three prongs driving the action forward:
The terrorist attack. This sparks the FBI's investigation into the attack, and the appropriate response.
Family drama. "What happens to a family that's been split up, moved into the White House overnight?" Sutherland asked. "What does that do to Kirkman's marriage, his interactions with his kids?"
Politics. "How do you stabilise a country that's had its government wiped out?" said Sutherland. How do you rebuild it, and shore it up internationally?
"Those are all things we'll deal with throughout this first season," said Sutherland. "If the political storyline has difficulty, the show can shift to family drama for two episodes. Same with the investigation and the bombing."
These three concurrent storylines give writers room to react to what people enjoy. "The show's flexibility, I think, is stronger than anything I've encountered before," Sutherland said.
And of course, Idato evoked the fact that, after 24, Sutherland hadn't seemed to want to return to TV at all.
"It's bittersweet. 24 was the greatest, most rewarding experience I've had as an actor and person," Sutherland revealed.
But TV is a lot of work—demanding on one's time, with long hours and a commitment that can easily extend for years. "When I did 24, I wasn't aware," Sutherland admitted. "When I agreed to do Designated Survivor, I was completely aware. It was a big decision."
The choice, for him, was simple. "I knew that if I chose not to do it, for lots of reasonable reasons, I would really regret it."
Well into the first season of shooting, he has no regrets at all.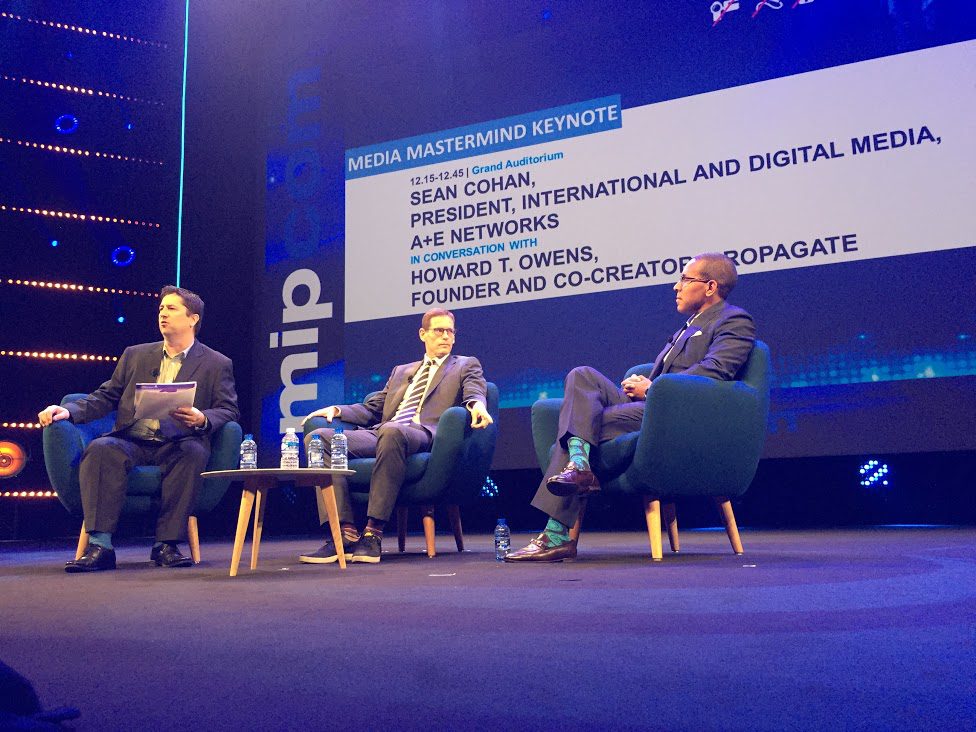 Now that we've absorbed the creative aspects of TV, let's dive into the technical. Earlier this afternoon, A+E Networks' president of international and digital media, Sean Cohan, enlightened us in a session that included founder/co-CEO Howard Owens of Propagate Content, and moderator Andy Fry, who is a freelance journalist. They appear in the above photo, in reverse order, beginning with Fry and ending with Cohan.
Propagate develops, produces and distributes programming, including premium scripted series, long-form, unscripted and formats, to broadcast, cable, digital and emerging platforms. Owens described Propagate's early desire to link up with a media company with "global tentacles" to provide financial and strategic support.
A+E is an investor in Propagate, which is a significant production partner.  "Creativity isn't just required for what's onscreen; creativity in deal-making is key," Cohan said of their collaboration. Propagate is "a creative set of producers that are really globally-minded. It's about finding new IP, interesting ideas and talent from unlikely places."
Asked by Fry how they are addressing the shift between digital and linear, Cohan replied, "Digital is a proliferation of a range of different platforms … There's tremendous opportunity versus what there used to be," including new formats and executions for creative, like the six-second vertical snapchat video.
"They like to say in America, particularly in Silicon Valley, the riches are in the niches," said Owens. "From a digital perspective, there are tons of new channels, new outlets for creativity, and different places to experience content."
Lore, a project Propagate is currently producing, began as a bimonthly podcast created by Aaron Mahnke. "We were one of the first people to reach out to him," said Owens. "Lore is real-life scary stories. It really attracted me as a guy whose roots are in factual."
Gale Ann Hurd, a producer from The Walking Dead and "master of scare," per Owens, was brought in to add chill factor. The process for producing Lore episodes also reflects how decisions can be both data-driven and creative.
"For Lore, we know what the most popular podcasts are. So when we go to select our stories for the series, we know the ones the audience connects with most," said Owens. "Digital connectedness allows us to listen to the consumer, how they react and engage with content."
"A couple of our hit shows, Vikings and Ice Road Truckers, have roots in shows that were popular many years ago," said Cohan. "We looked at the data—back then there wasn't as much available—and, based on audience appetite, figured there was an opportunity there."
Creativity also comes in when you begin building a modern story around the data that's been found. Today, "we have the ability to put a short-form piece up and understand what the most trafficked sites are," said Cohen. "But it gets paired with the creative chops necessary to build a great story."
And, of course, creativity is necessary to planning today's fractured programming distribution. "Gone are the days when you'd make a long-form programme and retrofit. It's more about a great idea, talent or concept, and being planful and cross-functional in your thinking," said Cohan.
Users want "to be able to start a show here, finish it there. Sometimes you want 30 seconds, sometimes you want 40 minutes." Cohan emphasises, "There's gonna be winners and losers along the way, but you have to come back to the consumer." 
In terms of whether digital and linear are in competition, Cohan pointed to how TV companies are going into digital, and vice-versa. "It's about telling a variety of different executions of stories across a variety of platforms to a variety of audiences. Maybe that's overly reductive. Maybe this gets consolidated. But it's not one or the other," said Cohan.