As always at market's end, a panel of industry experts survey the most buzz-worthy trends of the week. Here, Reed MIDEM's head of social media, James Martin, interviewed attendees Lisa Gray, executive producer and content consultant at Black Meteor; Robin Lake, principal analyst of media and entertainment at Ovum; JA Steel, producer at Warrior Entertainment; and Josh Selig, founder/president of Little Airplane Productions.
Let's dive in!
Panelists began by talking about their standout moments of the market. For Lake, it was hearing Shonda Rhimes speak. "At Disney I helped develop some of those iconic shows," she said. "She talked a lot about taking risks. A lot of entertainment success is about big, bold risks—even if the data or market conditions tell you to do something else."
Gray cited the keynote given by Sony CEO Kazuo Hirai. "It showed the potential of new technology and storytelling in a way I believe. Sometimes in our space you pitch and explain the potential, but it was so nice to see it coming to life in this market."
We were also treated to a word cloud of the most used words on social related to the market: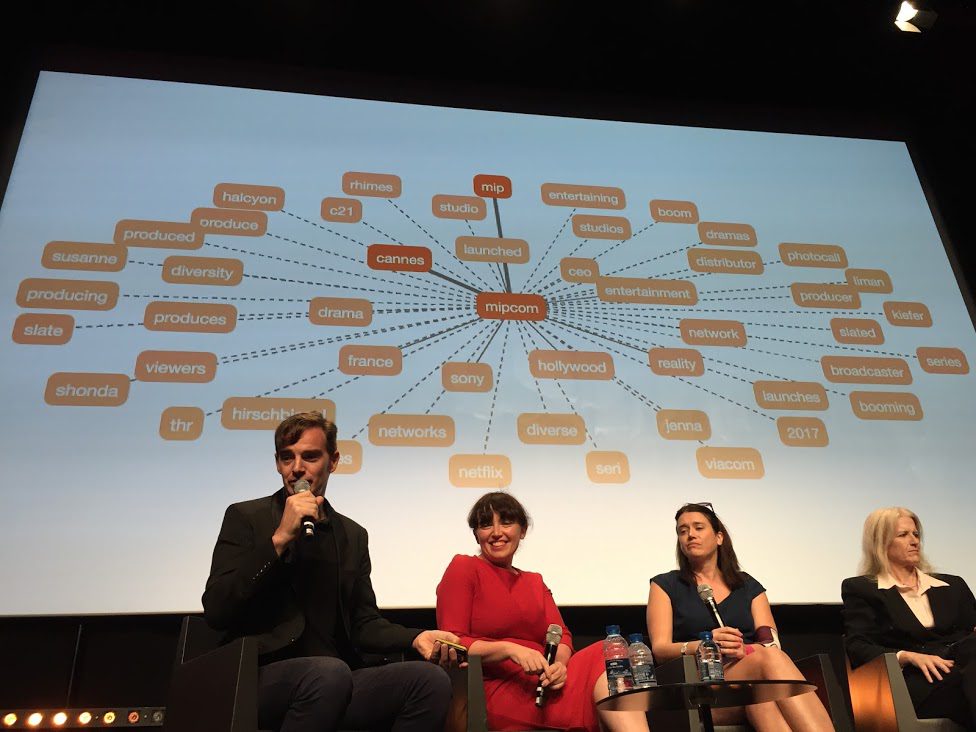 Note the prevalence of words like Shonda, Kiefer (for Kiefer Sutherland, who came to promote Designated Survivor) and diversity—as, this year, we held our first-ever Diversity Summit.
Onto the top hashtags of the show (besides those directly related to conference presence):
1. #YTRedOriginals
YouTube's Susan Daniels gave a riveting keynote about how serious YouTube is about investing in content, like Netflix is. This was in relation to the launch of the YouTube Red subscription service. The brand is working with online stars like PewDiePie, as well as multi-channel networks and producers.
"YouTube is a place where individualism thrives, diversity flourishes, and where new content formats are launched every single day," Daniels had said. "Our thesis is simple: Identify YouTube's most engaging stars and top genres, and invest in the content that their fans tell us they want."

2. #MIPJunior
"It was the biggest MIPJunior ever in terms of attendance," said Martin.
"We focus on content for younger kids, which is usually overlooked in our industry," said Selig. "With the rise of digital platforms, kids content has become the gateway drug to get people hooked on Netflix, YouTube, and Amazon." Investments in kids content exist today that simply didn't five years ago.
"Anybody in the kids business not working right now is probably just not showing up," he added.

3. #unrealtv
Actors Constance Zimmer and Shiri Appleby were present this week to promote the A+E Networks show. Not surprisingly, they made a big social splash. See them walk the red carpet, below:
4. Women
For MIPBlog, Steel wrote an article on the Women in Global Entertainment power lunch, which generated a record 10,000 shares on Facebook!
"The topic is close to my heart," said Steel. Her article cites the sentiment among women in the room that we have arrived at a "tipping point"—the cause of women in entertainment isn't just a fad, and discussion will continue for many years to come.
"Women decide what to watch, and what brands to buy," said Lake. "They have always driven success in TV. There's not enough [woman]directors or producers. There needs to be more seats at the table."

5. Twin Peaks
Because who isn't excited about Twin Peaks coming back?! Notably, Kyle Maclachlan attended to promote the new show, calling his character, Dale Cooper, one of the most interesting and complex characters he's ever played.
"There are so many facets about him that are unexpected: His oblique sense of humour, his fascination with the minutiae of life, his observation skills… It's all part of what makes him such a good investigator, but I think he's a cut above that. He operates on another level of perception," MacLachlan told the MIPCOM daily News.
Here's Maclachlan on the red carpet:
Lake confessed to loving the Log Lady, one of the show's most memorable characters. Sadly, the actor who plays her, Catherine Coulson, died last year.

6. #VR—which generated nearly 2 percent of all social conversations!
All MIP sessions about virtual reality were synthesised in one big post, and notably includes a controversial comment from HTC's Hervé Fontaine, who said virtual reality "completely fools your brain: you suddenly feel you're somewhere else. And that creates emotions…When you have a flat screen, you can't really feel emotion."
"I come from being one of these people out there promoting the potential of VR, but it's a big call to make at MIPCOM," said Gray, who pointed to all the evocative dramas that people love to binge-watch. "I don't know if it was meant to be controversial, but I don't think I agree."
She pointed to the biggest challenge to virtual reality adoption in her view: "It's an important lean-in experience, but it's also a very solitary experience." At the Rocky Horror Picture Show premiere, people showed up in costume and ready to sing and dance—a reminder of entertainment's emotional impact, Gray said.
It's safe to say #MIPCOM has NEVER seen an audience like this! #rockyhorror @20centuryfoxtv pic.twitter.com/J9Q8mKCCjb

— MIP Markets (@mip) October 18, 2016
VR's biggest pundits currently suffer from what Gray called the "One Platform to Rule Them All" attitude, when it should really be seen as a tool with a distinct purpose in an overall experiential mix.
"It's possible there will be new ways of writing and directing that take VR into account," said Selig. "But when I look at content for kids now… it's like CD Roms (when they were new). It gives you options, but options diminish attention in a story."
Then it was on to topics chosen by the speakers:

1. Linear vs OTT
As always, there's plenty of talk about whether linear and OTT are friends, enemies or something in between (frenemies!).
"Nothing has fundamentally changed about entertainment and its business," said Lake, who added, "Kids drive a lot of change and will take some of those behaviours with them as adults, but won't necessarily do stuff like Pokémon Go when they have responsibilities. When you look at change and try predicting where things are heading, you have to look at the little earthquakes as opposed to the gigantic seismic oh-my-gods."
Asked whether she truly believes OTTs represent the end of linear TV, Lake said, "When I'm done working, I just want to lean back and watch whatever's on a bad TV channel."
Gray observed, "OTT's evolving but bringing linear habits back in, to ensure you're not missing out." She pointed to Amazon Prime, which sometimes drops whole seasons of its original programming all at once, but also does weekly drops of one episode at a time (as Netflix does with shows like Better Call Saul). "I love a binge, but with new programmes on Amazon, I find myself going 'Oh, the new episode's up!'"
Steel pointed out that for creators, it's all about having more opportunities for creative outlets, and it doesn't matter who's paying. "We discussed producing a show for a linear station versus Netflix or Amazon, and they spend about the same on shows. They're still bound by the same rules," she said.
"I believe if you have the talent, revenue comes."

2. Metrics vs. Creativity
"Good creative will look at data and go with gut," said Lake, who observed that many recommendation algorithms typically look at shows you like, then propose new shows similar to them, cutting out the joyful sense of discovery you feel when you discover something new.
"Sometimes you don't know what you want until you see it," said Lake. "That's a very basic principle of marketing, programming, whatever." You also have to consider the impact of word-of-mouth—at the water cooler, and among friends. "A lot of word of mouth takes place offline."
"You want the next Stranger Things, you want the next big thing," said Steel. "You can feed your pipeline of shows with metrics-driven decisions—this demo, this set of plot points—and we can produce that kind of content, but it won't be revolutionary and groundbreaking. Netflix took chances, creatives took chances, distributors took chances."
Martin pointed out that Netflix commissioned House of Cards based on data, and that show became a hit; Marco Polo, also data-based, didn't resonate so well.
"House of Cards was a huge risk," Lake had said earlier. "They talk about the data, but when it originally aired on BBC2 in 1991, it didn't actually do that well. It was okay, but it was more about what was happening politically and capturing the zeitgeist." (At the time the original House of Cards—upon which the new show is based—aired, Margaret Thatcher was in danger of losing her Prime Minister position.
She also pointed out that House of Cards had Kevin Spacey, with David Fincher directing the pilot episode—"talent to deliver a really awesome pilot," she said. "It was a well-written, produced, brilliantly acted show. That's why it was successful."
"It comes down to the gut of the creator, commissioner and audience," said Selig. "It helps to look at numbers, but they won't tell you how to make a new show. They won't tell you how to craft a hit."
"It's also a matter of getting the right collaborators together. Timing's very important," Gray added. "I love data. But sometimes you can get the math right"—this lead actor, that director, this story—"but the combination might be wrong" for an audience.
"Like Waterworld," Martin quipped.
"There's a lot of factors. Data's very helpful. Understanding your audience is, too," said Steel. "While we may be the experts here, our audience are the experts out there. Sometimes we don't listen to what they have to say."

3. Asia
Japan was this year's Country of Honour, which brought Japanese content—and Asian content in general—to the forefront of discussion.
"Japan's come a long way; now it's here as a content powerhouse that's looking to interact with the western world," said Martin, priming for responses.
"The originality in Japan is so incredible," said Selig. "On the children's side, what they make is unlike anything. It's the most beautfiul, well designed, most interesting." Selig's production company, Little Airplane, worked with NHK to reboot Domo, a stop motion animation with a big college fanbase in the US. To revamp Domo's look, it worked closely with a Japanese studio, Dwarf, which created the original character.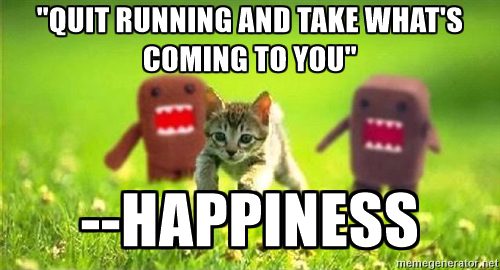 A domo meme, brought to you by The Internet.
"The Japanese have little in common with the Koreans or the Chinese," Selig went on. "The groupings of these countries is geographic but not cultural. When it comes to content, they have a distinct point of view."
Korea, he said, also has a distinct aesthetic. "They're great at super cute characters that cut across demographics—so you have adults with keychains and little cute characters."
China, on the other hand, is "really struggling to figure out their voice," said Selig. "We have a colleague in Beijing who said, 'because of the cultural revolution there's a big gap in our history, where our creative momentum was stopped.' Now there are creative companies looking to figure out how to present themselves to each other and the world. There are lots of interesting studios but no national identity, particularly in animation."
Little Airplane is currently co-producing two Chinese shows for kids: Superwings (aired on Sprout in the US) and Peking Duckling, which launches on Disney in the US next month. "We mixed our DNA to create something that was still chinese, but also had the sensibility of the international market. For kids animation, you do have to think globally because it's so expensive to produce animation; a low-budget season is US$9M."
"China has a good history of creating content that should be respected," Lake replied, calling its kids content so highly visual, you don't even need to understand the dialogue to know what's going on.
"People go in and think they'll make easy money in China. There's no easy money to be made in China," Selig added. "Relationships there take years to develop. They like to do things face to face, see how you are at dinner, get to know you, know your family. It's not a transactional relationship. Deals happen because trust was built over time."
"Having spent time in Japan, this is interesting," said Steel. "Having watched a lot of TV from Japan, I love Japanese TV. One thing we didn't mention was anime. That's huge. The world follows anime, at least in genres I work in. I'm excited for the competition because I think it will increase creativity in animation and live action."
James pointed to a Japanimation session with Sony and David Production. One of the issues raised there was the crisis of a dearth of anime hits, now that Miyazaki is no longer producing films. This summer, Makoto Shinkai released Your Name, a box-office hit that is now the fifth biggest box office revenue-maker in Japan's animation history—bringing hope back.
"I'm sad, but excited," said Steel of Miyazaki. "It's a new opportunity for creators that may otherwise have been overshadowed."
As a final bonus, we talked about the #ElevatorPitch—a new interactive project we conducted this week that wasn't part of this list, but merits mentioning. Brought to life by Gray and Sandra Lehner (TBWA/Zurich), producers were invited to come to a hotel on Tuesday morning to pitch their programme in an elevator for Instagram… with a 15-second limit.
There were 10 submissions, and one winner, Lital Shemesh, who won actual pitch time with Red Arrow's senior vp of production and development, Mike Timmerman. Her format? A show that lets people sow their wild oats, and gives them a chance to change their minds, before they get married.
"I've been lucky enough to have a couple of TV shows commissioned, and a big part of that was learning to pitch your idea in one line," said Gray. "Being able to say one line, and able to talk to a commissioner and have that experience, has been really valuable for me."
"The point of the operation wasn't to sell the format, but to give the winner time with a buyer, just from having posted something on Instagram," said Martin. "We're hopeful that sort of thing—getting producers' pitches out there in public, online, rather than doing them behind closed doors—can allow buyers to find new ideas."
Below, and for their toils, Martin gifts Gray and Lehner with a very French gift: Macarons.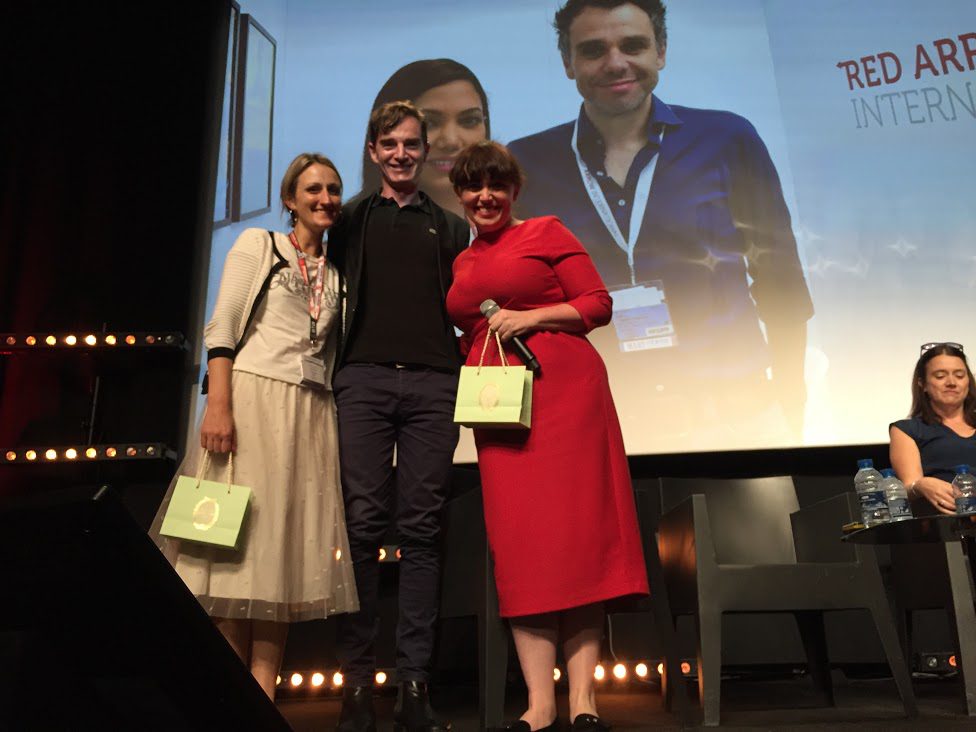 Thanks for following MIPCOM 2016! See you next time 🙂