Daniel Reich presenting Viacom's Play Plex.
In this carriage deal forum show & tell, eight companies had five minutes each to seduce buyers, moderated by Paula Souloumiac of Paula Souloumiac Consulting.
First up, Daniel Reich, senior vice president of multiplatform product strategy and development at Viacom International Media Networks, presented Play Plex, a mobile app that unites a multiplicity of existing Viacom streaming platforms, including MTV Play, Comedy Central Play, Nickelodeon Play, BET Play and more.
"There is growing demand to access our content on-the-go," Reich explained.
Play Plex has a video-first user interface, with social elements and gaming built in. It's been installed 15 million times, with nearly 3 million active monthly users who watch about 30 million episodes per month.
"We're adding 1.5m new users each month," he added.
Next, Farid Ben Amor, who leads strategic development at Fusion, presented Fusion.
"We are a voice for the new generation—a new network and media company that encompasses not just our TV network, but a number of digital and social brands that leverage where millennials are," said Ben Amor.
The network hosts "edgy" news and commentary, as well as interactive features. More than half its offerings cater to people between 18-34—with brands like The Atlantic, Refinery 29, Buzzfeed and Vice. It began as a joint venture between Disney and Univision; the latter has since acquired Disney's stake in the company.
"Millennials have a trigger happy nature when it comes to the current events they're interested in," said Ben Amor.
In terms of achievements, one of its feature faces, Jorge Ramos, was the first journalist to ever be thrown out of a Trump rally. Below, check out a Fusion video of Ramos receiving a letter from that most orange of Presidential candidates.
Yeshuah Castillo, general manager of original productions at Olympusat, pitched Ultra Clásico, a Spanish language channel that includes over 350 digitally-restored classics of Mexican cinema.
"Our CEO had a vision of bringing classic films back to life," said Castillo. The films were restored "in a very tedious process we're very proud of."
To wit: "We dedicate 1000 man hours per film, going through each frame, removing every piece of dust or scratch." Audio and colour are then painstakingly optimised. "In our classics library are some of the best Mexican classics from the golden age," such as La Bestia Negra, he added.
The channel rotates movies monthly, and 530 films, resplendent in 4K, are now available for distribution. "Our target is the European market," said Castillo, adding that they are currently pursuing acquisitions and looking for non-Spanish films.
Find Ultra Clásico on Olympusat's Vemos OTT platform.
CEO Jon Cody of TV4 Entertainment presented The Sessions Project. Nourished by never-before-seen content from Norman Seeff, the world's greatest cultural icons, from Steve Jobs to Tina Turner, will expose their secrets to creative empowerment.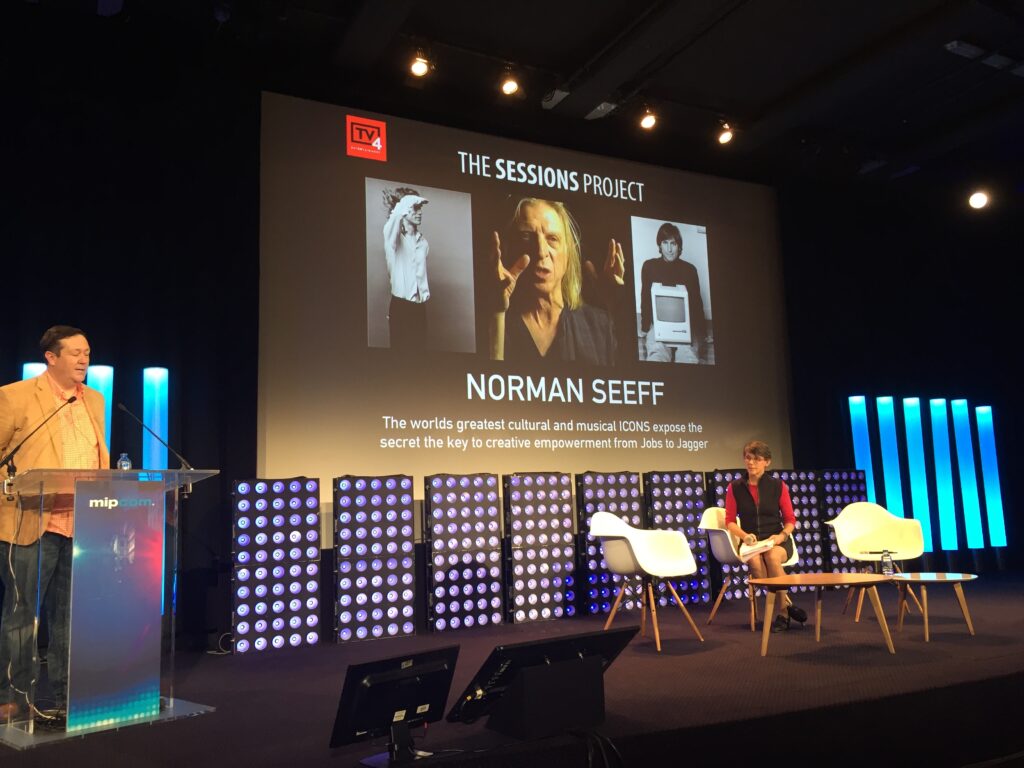 "If you're a distributor looking for compelling channels, and if you're a channel looking for compelling content, we are for you," Cody said.
TV4—whose tagline is "your passion plays here"—syndicates channels to third-party platforms. It has grown to 20 major digital providers worldwide.
"We look at engagement. We don't look at number of viewers. Are people sticking around, coming back? Are they going on social and saying 'I have never seen anything like this before'?" said Cody.
Here is an excerpt from The Sessions Project:
CEO/founder Scott Ehrlich presented The Qyou, which identifies and licenses "the best short form video."
The Qyou was initially focused on making cinema-quality content for the web, with the hope of bringing high-quality writing and performance skills online. "The internet product wasn't really seeing many people," Ehrlich admitted. "So I started thinking, 'why does no one put this stuff on TV?'"
That idea, born two years ago, was a winner. Today The Qyou feels kind of like MTV in the old days, spinning high quality videos from around the world, with veejays emphasising their curated quality. Expect up to 16 videos an hour, depending on length, with 5 minutes of presenter time.
The Qyou's "premium digital first content" seeks not just to address millennials but to "have a presence for internet culture on the dial," said Ehrlich. Its value ad is also practical: It takes all this great online storytelling, and curates them into commercially useful media vehicles—playlists for bars or restaurants, segments for airlines or hospitality venues, and even thematic shows: Qyou Sport has been whitelabeled Ziggo Sport in Holland and Fox Sports in the Middle East.
Qyou launched in LatAm, and most recently launched in India with Tata Sky. It has historically always been premium and ad-free, but will soon appear in the US with an ad-supported network.
Rie Hayashi, head of global strategy at the NHK, introduced NHK World TV, an international channel that brings all the magic of Japan to wherever screens can be found.
Among NHK World's diverse offerings is Sumopedia, making it the only channel in existence to offer extensive English-language coverage of "the unique and exotic sport" of sumo. There's also A Century on Film: "Travel in time through never-before-seen footage around the world!" Hayashi said. If you're an anime junkie, The Dragon Dentist, a new animated drama from the director who gave us Evangelion, is coming out in February 2017.
"We have vast visual archives, human resources, public funding, knowledge and expertise cultivated over time," said Hayashi. The NHK's network also spans much of Asia, bringing you "regional content and unrivalled news services."
And lest we forget, Tokyo 2020 is just around the corner. "The number of visitors to Japan has been rising sharply"—and demand for Japanese content will continue to grow, she added.
Expect to get it via satellite, cable operators, IPTV, and on Amazon Fire TV and Apple TV, among others. The best news of all? It's free. For more, visit the NHK World TV booth this week.
Insight TV's head of European channel distribution, Emma Masoni, and head of channel distribution in the UK and North America, Jonathan Shrank, pitched their own brand, "a fresh, exciting, innovative ultra HD channel," Shrank said.
"Whereas SD to HD was a partnership between tech channels and content owners, the path to Ultra HD is being spearheaded by TV manufacturers," said Shrank. By year's end, penetration of ultra HD TV sets will be 20 percent in Japan and 28 percent in western EU. Viewers are also prepared to pay more for premium ultra HD content.
But one of the problems with ultra HD is that there is so little content created for it. Critically, Insight TV promises to provide "the best quality you can get between UHD and HDR," per Masoni.
Two content offerings from Insight include:
Living Stone Botswana: In which 6 couples are dropped in the middle of Africa without creature comforts or luxuries, looking to get to Living Stone while completing challenges.
Dracula: Escape the Castle. This escape room-style show features two contestants, trapped inside Dracula's Transylvania castle. They must complete various challenges before night's end to find the key to their freedom.
"Our raison d'être is exciting, compelling, attention grabbing content that also happens to be made in Ultra HD," said Shrank—though, to reassure buyers, they make non-UHD content as well.
Insight TV turned one year old yesterday. It is now in Germany, Spain, the UK and North America. To get a sense of what it can offer, check out The Insight Experience—a big red cube—not far from the Grand Hotel.
Lastly, Tony Wawryk, vp of affiliate sales, presented Ginx, an esports TV network.
Ginx is geared toward consumers of competitive gaming content, and live events are key to its success. "Esports is a world with highly paid professional teams and players competing in huge arenas around the world," said Wawryk. "It's one of the fastest growth areas in sports entertainment, and has lived under the mainstream TV world. Until now."
For a sense of how significant esports is (and will become), its largest event is the DOTA 2 International tournament, whose prize pool is $22.5 million! (Ginx will, of course, be covering it.)
Ginx hopes to take esports mainstream with live coverage of major events, and premium coverage all week long. The 24h HD esports channel promises 1000 hours of fresh content yearly and over 700 hours of live broadcasting. Purchase full new media rights—OTT, catchup, VOD, and mobile. "We don't care!" Wawryk beams.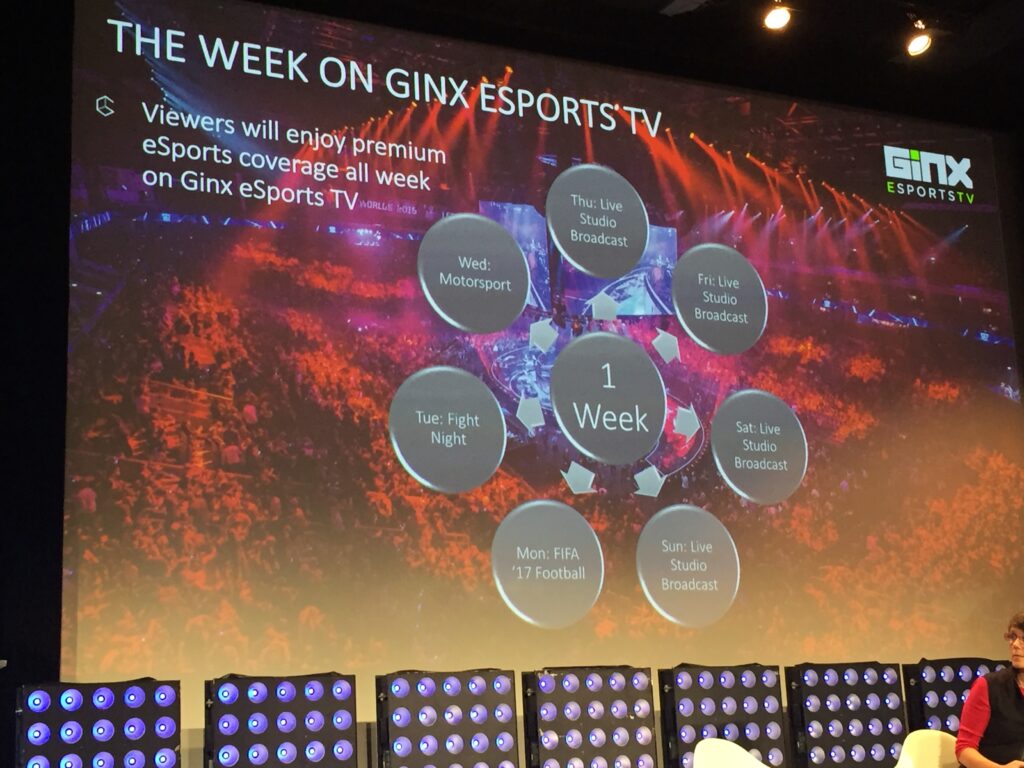 "When Sky and iTV came aboard, which was literally a game changer, we got the resources to build around this esports phenomenon," said Wawryk. "The live events in particular are spectacular to see." Like any other sport, Ginx will include hosts, analysis, and discussion. A relaunch of the channel is slated for mid-November.
Here's a delicious piece of content Ginx made, celebrating gaming villains.
"If you want to watch streaming, watch online. If you want to watch esports on TV, watch us," said Wawryk.