Beverley Knight sings a song, specially written for the show by Jamie Cullum, at the start of the Halcyon screening.
MIPCOM's evenings were enlivened this year by a series of world premiere screenings in the Grand Auditorium, with studio executives, directors and cast members on hand to give insight into the productions.
It started Sunday night, with Sony Pictures Television presenting new drama The Halycon. Produced by Left Bank Pictures, the eight-part show is set in London in 1940, telling the tale of a glamorous five-star hotel at the start of WWII.
Sony's president of distribution Keith LeGoy, and Left Bank chief executive Andy Harries, took part in a panel after the screening, along with cast members Olivia Williams, Steven Mackintosh, Matt Ryan and Kara Tointon, as well as executive producer Sharon Hughff and producer Chris Croucher.
Is this the new Downton Abbey? « I can understand how people are going to make the comparisons, but really they draw the line at it being a period drama. What we've tried to create with The Halcyon is really very different. It's a very urban show, » said Croucher. « The show has that pace and energy, and a very youthful feel about it. And music is a really big part of the show… as it was in 1940. So we've tried to create something that feels very different, and I hope audiences will feel the same. »
Hughff discussed the ensemble cast, and how Williams and Mackintosh's characters hate each other, but are bound together « in a terrible, terrible dark secret », with tension running throughout the series. « One of the joys of Lady Hamilton is that at the beginning she's not liked. It's fun to play a baddie. She's Cruella de Ville! » said Williams. But the character is more nuanced than that. « It was just such a joy to play every twist and turn of her unpleasantness, then her victimisation. »
Williams also stressed the diversity of the story: « We're seeing their lives in London from their point of view. I didn't want to do a generic period piece; I wanted to do something extraordinary, which I think we have, » she said.
Mackintosh, meanwhile, talked about his character's adaptability: « He's amazing at being discreet. He's brilliant at keeping secrets, but he also has the ability to use the power of his knowledge sometimes, if he really needs to—if he's up against it. He's a really interesting character to play. He's spinning plates. »
Tointon talked about her « tomboy alley-cat » character. « What was lovely for all of us was these characters fitted like gloves from the off, » she said. « The Halcyon Bar is this destination place. People come to listen to this band sing and to dance on that beautiful crystal dancefloor, and that is something that elevates this show. The music is the trap that kept people dancing when the bombs were falling, » added Williams.
« If you go back with these characters, you see it through their eyes, » said Hughff. « We wanted to feel that we captured what it was like, particularly with the younger members of the cast, what they'd be doing. »
« The sets that they built have just been absolutely fantastic to work on, » said Ryan. « It really has been a joy to play around in that sandpit. And against the backdrop of the war as well. »
Mackintosh also praised the production values: « It just fills you with such amazing confidence to do your best work. I was amazed by the standard of detail on the set: Tiny little things on the set that you'd be able to use for your performance. It was breathtaking. »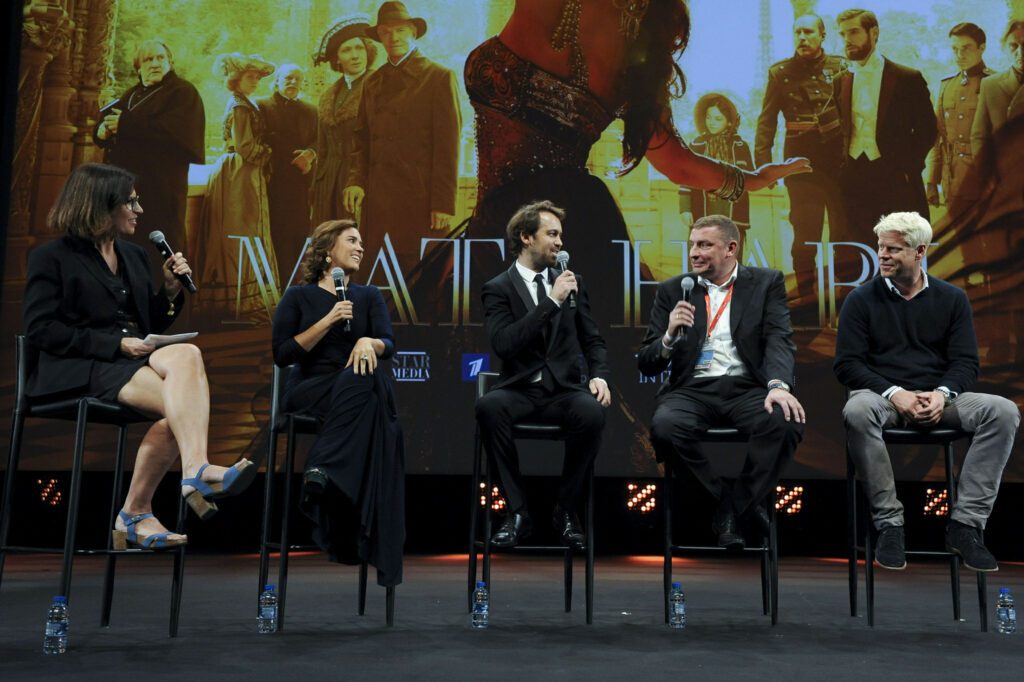 Also on Sunday was the premiere of Mata Hari, with a panel moderated by journalist Roxanne Frias, and featuring actors Vahina Giocante and Yehal Lazarov, director Julius Berg and associated producers.
Mata Hari is an epic drama that charts the extraordinary life of exotic dancer, courtesan and infamous spy Mata Hari, born Margaret Zelle, who informed for both German and French intelligence services. It was brought to Cannes by Red Arrow International.
On Monday, the premiere was for The Same Sky, a tale of 1970s Berlin with love and espionage brought to MIPCOM by Germany's Beta Film. The panel featured creator and writer Paula Milne, actors Tom Schilling, Friederike Becht and Sofia Helin; and producers Ferdinand Dohna of Beta Film, UFA's Benjamin Benedict, and Tracey Scoffield of Rainmark Films.
Milne spoke about the idea for the show, which sprung from writing a different show, six-part BBC2 series Die Kinder. « I was very intrigued by that part of history, so it was suggested I write something about this period. I came to it with some knowledge of that period, which I lived through. And I wanted to do it about divided families. »
The producers explained that the show explores a place—Berlin—with two completely different life conditions, living back-to-back. Scoffield talked about the nature of the coproduction between British and German teams. « It carries internationally, I think. It is such a unique space in time and history, and people's conditions and behaviour is very very fertile ground for a dramatist to explore. »
Helin explained what attracted her to the story. « I was thinking about the generation of my grandmother, and the women that have sacrificed their own lives for others, » she said. « I was so fascinated by this period: Berlin in the '70s was already something I'd studied. I'd watched documentaries and read books about it previously, so I was thrilled when this was the period in this story. »
« I think it's like a Shakespeare play, » said Becht. « Yes, I think so! It has so much different interesting characters inside it. It's not just about family, it's about inner conflict, it's about separated people, and it had so much. It's really like Shakespeare. »
Schilling said the show was very different from Generation War, a previous show in which he came to prominence. « What I was attracted to was basically the role, the character… someone who treats women that bad, you know, because of his ideology. Because he really believes in that system, and that's much worth to him than the personal tragedy. I found that very interesting. »
Asked about parallels between Berlin in the 1970s and the present day, Milne replied, « The NSA ran that listening station, although it was in the British sector, and they turned their sights west as well as east. We know they still do this: We live in a society now that has lots of surveillance. There are no secrets. When I found that station and that the NSA ran it, I knew you had a line to the present day. »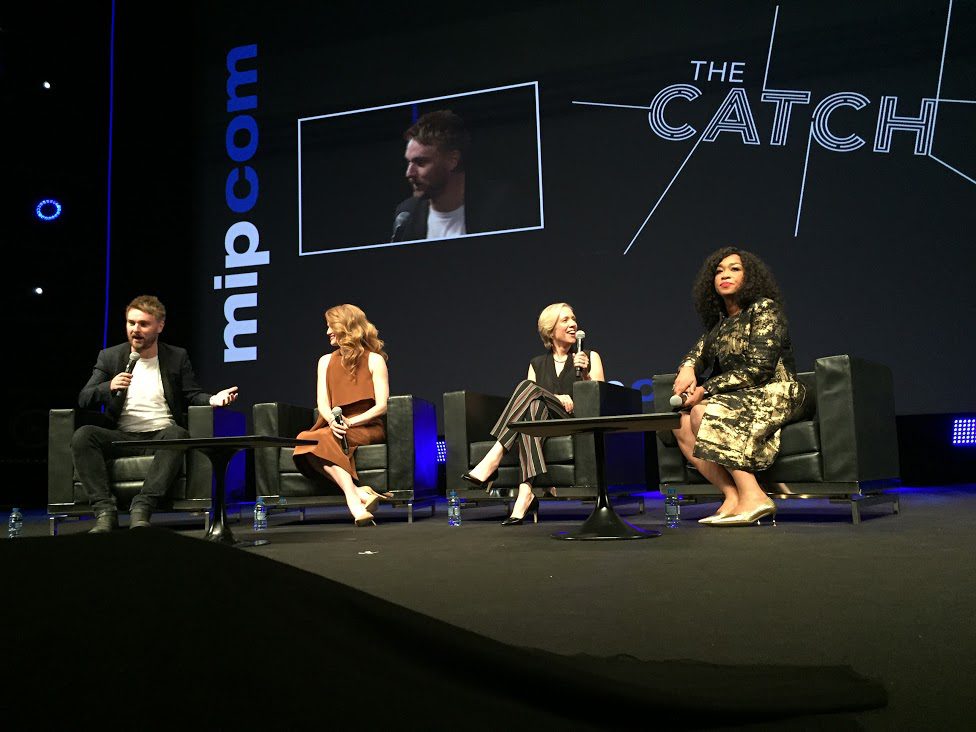 Tuesday we partook of the season 2 premiere of The Catch, a seductive story that follows the cat-and-mouse relationship between LA's top private investigator and the man she loves … who also happens to be the world's greatest con artist. International editor Peter White of Broadcast Magazine moderated the panel that followed, featuring actress Mireille Enos and executive producers Betsy Beers and Shonda Rhimes.
In The Catch, produced by ABC Studios and Shondaland, and distributed by Disney Media, con man Benjamin Jones (Peter Krause) turns himself in to the FBI to save his love, Alice Vaughan (Mireille Enos), from wrongful imprisonment. How will the pair game the system to stay together and overcome their spotted past?
« What I love about this show is that it feels fresh and different from our other shows [at Shondaland], » said Rhimes of the show's DNA. « I love that it has great, strong characters and smart writing—Allen [Heinberg] is a brilliant writer. It feels lighter and more optimistic. It has a bit of fun that most shows haven't had for awhile. » She admitted that, lately, « Television has been a little grim. »
The show also has a unique look and feel, something Enos playfully described as « styled somewhere between Ocean's Eleven and The Incredibles. »
« I think it's really beautiful. It's got a classic element, » said Rhimes. « Even the clothes, the music, the way it's shot really try to capture a more romantic, '60s style. »
« We wanted to show people a different side of LA, » said Beers. « There was something about going to mid-century architecture and the sexy martini land—the '60s—that I think a lot of the locations, and the lovely outfits, allude to. » She also said the way the screen moves—Kaleidescape— »gives it a really fun, snappy quality. »
Asked what she liked about playing Alice Vaughan, Enos was frank: « She's a pimp! » she exclaimed. « She's a tough girl who won't take no for an answer, who's a sharp dresser, and manages to get anything done without her hair being ruffled. She's got this complicated relationship, but she's optimistic and willing to forgive. »
Enos also revealed that, upon arriving for work, she was told that no bad apples were allowed. « It's the most integrated working environment I've ever had between cast and crew, producers and writers, » she said. « It's very collaborative and supportive, a very nice place to spend 15 bours every day. »
By and large, Beers and Rhimes confirmed this. « We joke about the basket of puppies we all kind of are, but we spend a lot of time together, » said Rhimes. 
Many collaborators, including actors and writers, have worked on past Shondaland productions before. Of their regulars, Beers added, « We'll take very great lengths not to let them leave. We have a number of people working with us whose duties we try to expand to keep them within the family. » 
« Each one of these shows is like a kid in a different age, » said Beers. « Grey's is in college; sometimes they come home and do their laundry. Scandal is in high school: Sometimes you have to check in. How to Get Away with Murder is in elementary school … and you know where we're going with this. »
The Catch, in contrast, is « a very giggly toddler. Which is delightful to be around! » Beers laughed.
The team also provided a sense of what to expect from the rest of season 2. Rhimes was frank about the creative process: « You really leave everything on the page at the end of every season and start fresh, » she said. « There's no other way to do it. If you're holding things back and know what's going to happen in the next season, then the season you've written is not as full as it could be. I think Allen goes for broke, then thinks about the next season, and the next, when it happens. »
« The plan for this season is to continue that element of having a case a week, » said Beers. « There is a heavily serialised aspect to this too. As you can see, we're starting a whole lot of problems in this episode that will not be solved easily. »
Enos added that characters you never expected to be together will get together in unexpected situations. She has it on good authority that « all the skeletons are gonna come out! »
« There is an interesting dark complexity in Alice has that I think is sexy and interesting … and that I'm always excited to see grow and see what happens with, » Rhimes said.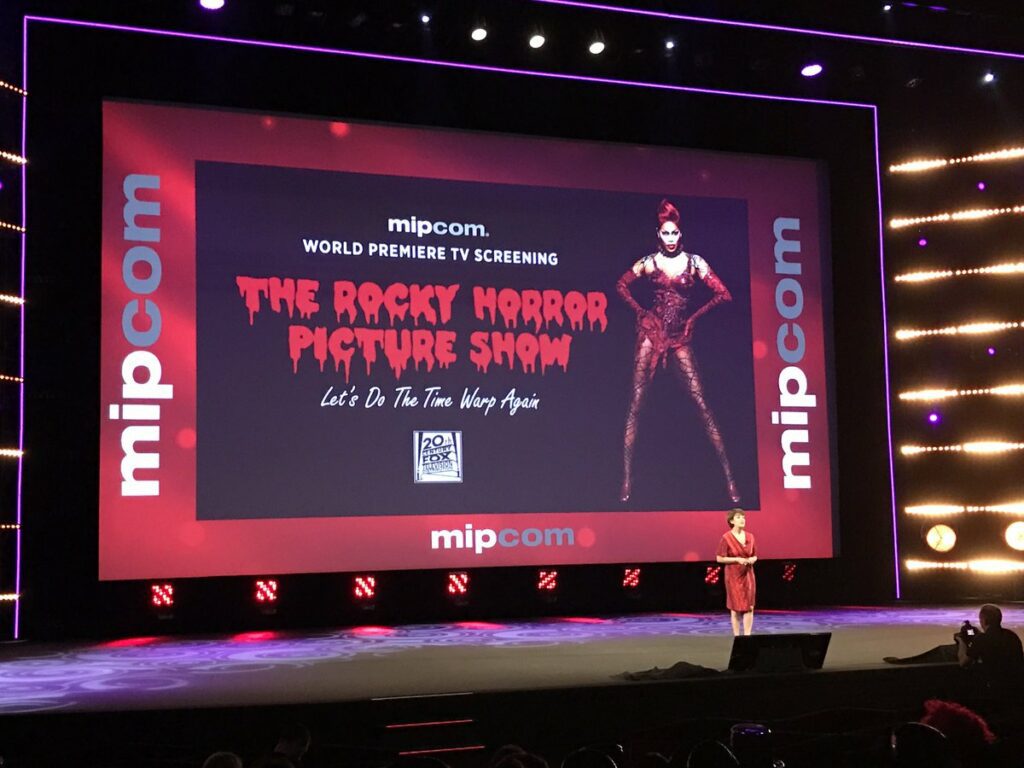 Lastly but not leastly, we were treated to a world premiere screening of 20th Century Fox's The Rocky Horror Picture Show, featuring Laverne Cox as Frank-N-Furter! Above, Reed MIDEM's Laurine Garaude introduces the spectacle.
The show, which was as much a romp as the original, was buttressed by costumed characters treating attendees to hats, boas and necklaces with the characteristic Rocky Horror lips. Audience members danced and shouted back at the screen, lighting up their iPhones and swinging them along to « There's a Light. »
Below are tweets from that evening. Ready to do the Time Warp again?
The temperature's a-rising on the steps of the Palais… #rockyhorror @20centuryfoxTV pic.twitter.com/EAHQnxXCoY

— MIP Markets (@mip) October 18, 2016
The fans are already ready for The Rocky Horror Picture Show – Let's Do the Time Warp Again! #MIPCOM pic.twitter.com/hCI8gchpZl

— MIP Markets (@mip) October 18, 2016
It's safe to say #MIPCOM has NEVER seen an audience like this! #rockyhorror @20centuryfoxtv pic.twitter.com/J9Q8mKCCjb

— MIP Markets (@mip) October 18, 2016