Marion Edwards has had a long career—one she wryly characterises by saying, "I've been in the business slightly over 40 years, while managing to remain about 40."
Edwards led international licensing at Universal, MGM and now Twentieth Century Fox film and series productions. She's seen the privatisation of TV in Europe, the launch of satellite and cable, digital and the rise of SVOD. She works with Twentieth Century Fox, Fox21, Fox Television Studios and FX Productions to provide international perspective on everything from storylines to casting. She also expanded the group to include executives who handle ratings and market research, international co-productions, format licensing and local production.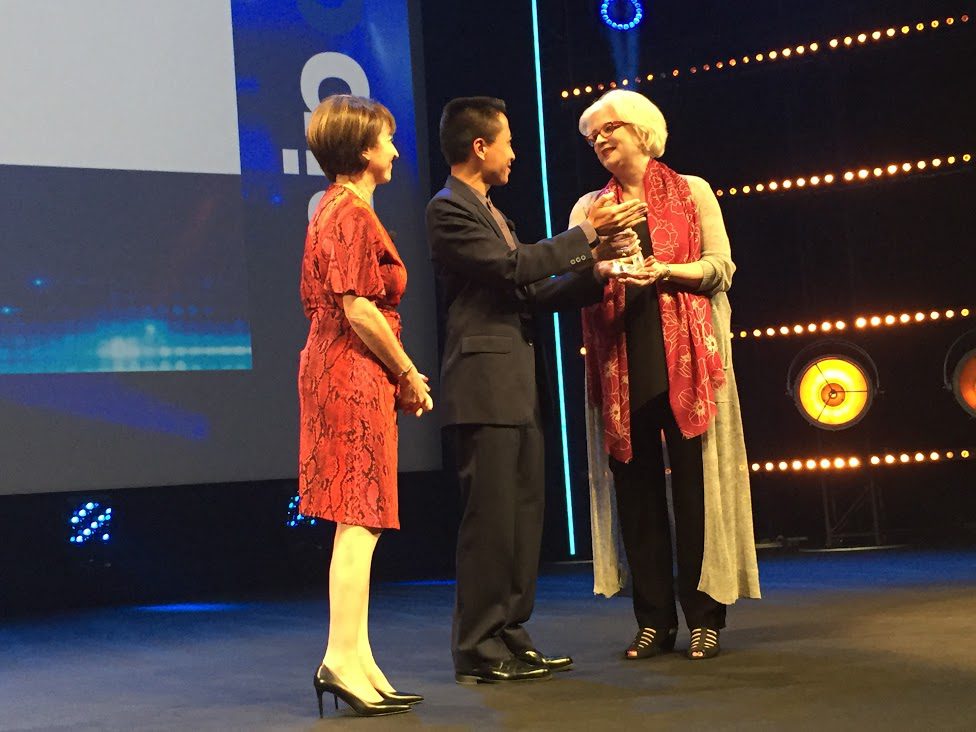 Today the 24-year veteran of Fox received the Variety Vanguard Award at MIPCOM. The honour recognises Edwards' contributions to global television. (Though to be fair, she should have received an award long ago, just for being the only person who championed Buffy the Vampire Slayer from day one.)
And she has a lot to say about where the industry is headed. In an interview this afternoon, Variety's Henry Chu asked whether the TV industry—now bursting at the seams with content—will experience a "subprime mortgage moment."
Edwards quoted John Landgraf, the president of FX Network. "Sometimes you feel like you're aboard a ship and everyone's run to one side. How long will it take for the boat to just roll over?" she mused. "What's happened so far is that the boat is still afloat, even though people are producing more dramas and comedies."
More worthy of attention is the US's growing awareness of the importance of the international community. "We are directly competing for timeslots in distribution. So clearly things will change," she said. "Things have continued to change. That is the one truth of the world we live in. But we know in entertainment that things evolve quickly, and will continue to. Challenges and opportunities come with that, and it is our job to find the opportunity, not just the challenge."
But the US, Chu observed, remains the No. 1 content market, famously resistant to foreign content. In this brave new world, can a foreign drama earn big ratings, especially on free-to-air?
"I'm a proud American, but I'm not sure Americans are ready to read their television," Edwards replied. She's currently working (the operative word) through season 2 of Narcos (Netflix), which has lots of Spanish dialogue. "Many of us do other things while watching TV. If you must read it, you cannot do other things. So it's less accessible to us because we don't have a history with it."
This is partly because of what the domestic industry has prioritised. "It's a shame that we didn't include subtitled or dubbed programming in our catalogue of viewership, but we were so focused on making our own stuff," she admitted. "It's difficult for a show in a foreign language."
Speaking of change—or not—Chu asked whether network TV is still the holy grail for producers.
"It's a brass ring for many. Depends what kind of content they want to make to some degree, but with a network hit, millions of people can watch it," said Edwards. "Millions can engage in a community dialogue about it. Television at its heart is best enjoyed together with other people."
And what people enjoy together is changing. "I'm sure my parents wouldn't have let me watch Family Guy, but for today's family it's a powerful viewing experience," she said. "That's the power of network TV."
When you've got Edwards in the room, it's an obligation to ask about Buffy the Vampire Slayer, an explosive show that, in the '90s, generated a cult following … but that, at outset, few besides Edwards believed in. People said it was crazy to make a show out of a movie that bombed, she recounted.
"When I talk about the shows that we have to people, I have such emotional connections," she said, and Buffy is a great example of this: "People were worried it was too violent, yet too young. They worried about time slot problems. It took a long time to convince people to watch more episodes."
She added, "It had such an extraordinary moral centre and emotional connection to more than a teen audience. It used its violence to enlarge a discussion rather than shock, or undermine the show."
Culturally, you'll never overcome certain things, she conceded. "But when you talk to people about shows, they sense what you love, like or feel passionate about. That helps bridge the gap."
As she retires her metaphorical stake in television, Edwards extended the following advice to people starting out in the industry: Don't give up.
"When you find something you love, just keep doing it," said Edwards. "Sometimes all it takes is tenacity. There were moments when I wondered if I should perhaps seek a different path. Not every day is a great day, but from my vantage point, there were more great days than not. Success is mostly about hard work."
She also noted, "There is no more derogatory word in the English language than old—but old media is still king." It's about grabbing that brass ring, and making a connection with as many people as you can.
"It's a bad word, but a great business."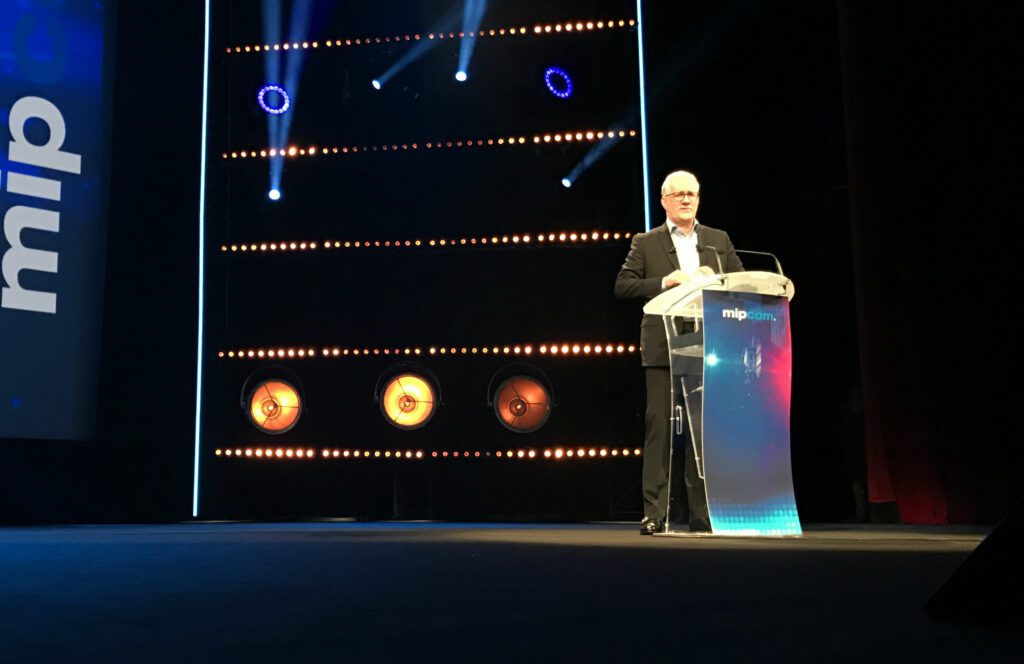 The afternoon's second keynote featured David Linde, CEO of Participant Media. Originally founded by entrepreneur and philanthropist Jeff Skoll, it focuses on films, TV shows and digital content that inspires social change. He was interviewed by Nancy Tartaglione, international editor at Deadline.
"Since Participant's first day we've been committed to work that inspires social change… I'm here because I actually think we can do better," he said. "I don't want to suggest that we were the first to connect storytelling to social causes. Gandhi, Schindler's List, Erin Brockovich, Brokeback Mountain…"
Its films have grossed more than $2bn at the global box office, won 11 Academy Awards and 50 Academy nominations. But Linde said they'd also raised awareness, contributed to behavioural change, and third by leading to policy change. An Inconvenient Truth, Food, Inc and Snitch being three films that, respectively, fuelled those achievements.
"That's what impact entertainment means, and what it can do. And by the way, each of these projects was profitable," said Linde. Participant Media has worked with a range of partners, from networks and production companies to new digital platforms like Netflix.
"We live in a world that is more connected, but is also more complex. There are so many interconnected challenges that the world faces," he said. "Content that can illuminate this complexity is a vital part of our industry."
Linde talked about younger viewers: the two billion millennials around the world. "It's not just their value, but what they value, and how they make decisions. They are socially conscious citizens who care about the world around them… There is a hunger for entertainment and a hunger for increased social action."
Appealing to those people requires expanding beyond film to other kinds of content, even as Participant Media remains committed to films. It has begun an expansion of television content in the last few months, including scripted series. "A steady drumbeat of content," said Linde, who said the company is "moving aggresively into shortform content".
It has acquired a company called SoulPancake, which already has 300m video views and 8.8m social media fans from its work across YouTube, Snapchat and other platforms. SoulPancake founder Rainn Wilson made a cameo appearance at this point, via a Snapchat video encouraging MIPCOM attendees to tweet and snap their own "environmental emoji" pictures:
.@rainnwilson is on the big screen in Cannes, via a Snapchat video! Talking about @soulpancake and @Participant Media #MIPCOM pic.twitter.com/ar7GrP6BuO

— MIP Markets (@mip) October 18, 2016
Linde said Participant Media remains keen to work with new production partners. "The time is really now," he said. "What we can all do is limitless."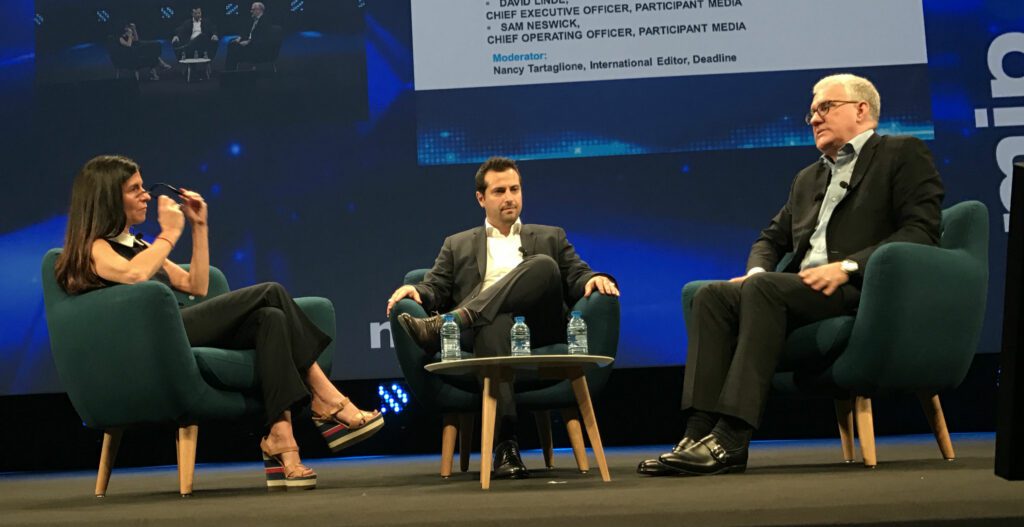 Linde was joined at this point by Tartaglione and Sam Neswick, chief operating officer at Participant Media. He talked about how all Participant's different businesses should inform one another, including its newest member. On its creators: "They're no longer confining themselves to one platform or media," he said. "We see SoulPancake as potentially an incubator for talent."
Neswick talked about the "perfect marriage" of the two companies before moving on to new platforms like Netflix and Amazon. "We've moved beyond the point of looking at these new platforms as an opportunity, and we're looking at them as a strategic imperative for us… It's an expansion of television," said Neswick. "They're all very different: they're not homogenous. Netflix and Amazon are going to be different from YouTube, and different from Facebook and so on."
Linde talked about competition from Vice, Discovery and other production companies. "We see all of these people as our potential partners," he said. "The differential that people should understand is at Participant, we have an entire department called our social impact department, which is not imitated by anyone else… They engage in discussing and reviewing what we want to make at a very early stage. They're thinking ahead about what can be done."
Linde said that the goal is to support the work that's being done out in the world, but also to "find ways of connecting the dots through content" – for example connecting an NGO fighting climate change with upcoming films, TV shows and shortform content from SoulPancake that's "going to be out there beating that drum".
He also talked about a documentary called The Look of Silence, directed by Joshua Oppenheimer, about a genocide in Indonesia. The government ultimately recognised the genocide – which it hadn't before – as a result of the film. "It was done by individuals. By a group of people who said they were going to take this movie and do something. And they did!"