Day two of MIPCOM saw Ben Sherwood, the co-chair of Disney Media Networks and president of Disney-ABC Television Group, talking about the company's preference for being an early mover creatively and technologically. He gave a speech, before sitting down for an interview with World Screen's Anna Carugati-Guise.
Sherwood began by noting the Disney family's roots in France, before turning to global matters. "We believe a commitment to the very best storytelling, and serving global audiences, is more important than ever," he said, talking not just about industry disruption times, but tumultuous events from the Bataclan attack in Paris to the US presidential election.
"We should meet this unsettled moment by doing what we've always done best: creating connection and understanding through the unifying power of great storytelling," he said. "To see the world as it is, and also to see the world as it could be… I'm not here to suggest we live in the best of all possible worlds." Including the current industry disruption.
"For the first time, consumers around the world will spend more time watching videos on their mobile devices than they will on desktops and smart TVs," said Sherwood. "More young children play computer games than can ride a bike or tie their shoes, or swim. And more video is uploaded onto YouTube in a 60-day period than the three major US television networks created in their first 60 years. In fairness, a lot of that is dogs on surfboards and kids opening toys…" But he pointed out that the quality on YouTube is growing too, beyond those categories.
"We believe there is an almost unlimited appetite and audience for truly great television," continued Sherwood, outlining Disney's belief that the best content, delivered in the most efficient and personalised ways, will win. "Many of us wonder and worry about the future of television, but we at Disney believe in the still-untapped power of television to transcend borders… We love that there are women in Latin America who see themselves in the pantheon of Disney princesses," he said, referring to Disney's Elena of Avalor show.
"We intend to develop and produce even more original, local content in many of our key territories," said Sherwood, before moving on to this year's MIPCOM Personality of the Year Shonda Rhimes. "Of course, she's more than just a personality. By the end of this year Shonda and her team will have delivered more than 588 episodes of television… every one of those minutes deeply compelling… She reflects our value as a company and our future as an industry. She reminds us that great storytelling is universal."
Sherwood also talked about storytelling's ability to bridge the gaps in our divided world, and to instil hope. "It's an incredible challenge, and it is also a great privilege," he said, before Carugati-Guise joined him for the Q&A segment of the keynote, and asked about his vision for the entertainment division.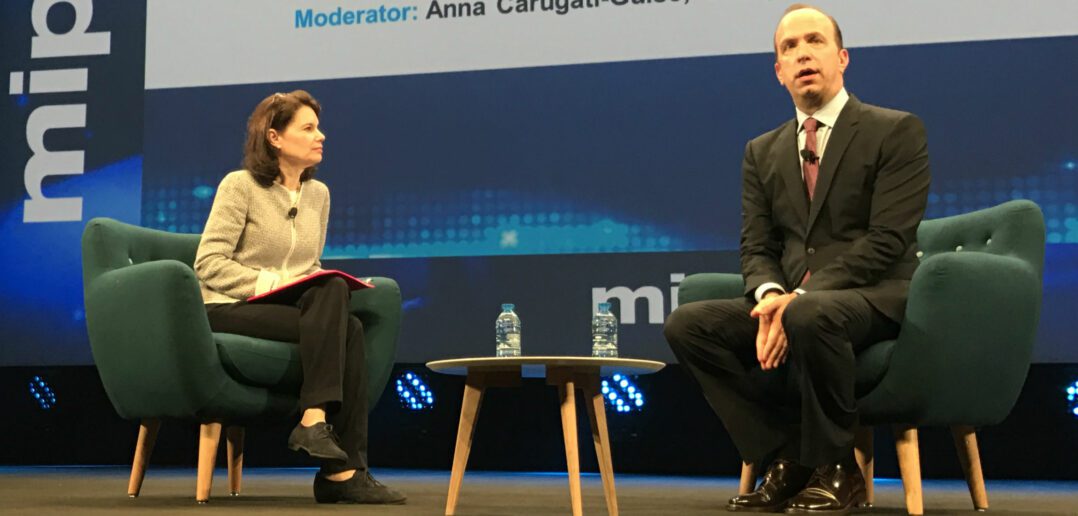 "We want to make hugely popular entertainment, for women and for men, that captures great emotion… a healthy mix of series and procedurals and comedies and reality, and television that will not just succeed in the United States, but will also travel to all the territories around the world," said Sherwood. "The international market is very important to us. In the last decade we've seen a doubling of revenue globally."
He also said that international production is important for Disney, with efforts to "go after new formats and new opportunities: local production, international coproduction" as well as unearthing new talent around the world. That includes an emphasis on diversity both on-screen and behind the cameras.
"It's not a strategy. It's the right thing to do," said Sherwood, noting that his predecessor Anne Sweeney had set the process in motion. "To make programmes on the air that reflect the rich diversity of the United States and the world… We believe that diversity isn't a requirement. It's the right thing to do. And it makes good business sense, but we want a diversity of opinion, a diversity of voices, a diversity of perspectives in everything we do: both on-screen and behind the scenes."
Sherwood talked about the successful rebranding of ABC Family as Freeform, before turning to that new Disney princess Elena of Avalor. "The first Latino princess in the 90 years of the Walt Disney Company," he said, expressing pride that she sprang from Disney's television group rather than its motion-pictures studio. "She embodies and celebrates community and family," he said. "We think that she is just the right princess at the right time for millions and millions of young people. She's empowering, she's a terrific new character in the Disney pantheon."
Carugati-Guise asked about technology, and how it's finding new ways to distribute its content. "We're very focused on making sure: the winning formula is great storytelling that is efficiently and easily distributed, where people want to see their stuff," he said, before citing a statistic he recently read. "53% of young people would rather give up their sense of smell than their mobile phone! That made me think that we have a lot of work to do to make sure we get into the pockets of every person in the world: all those billions and billions of smartphones."
Sherwood talked about two ideas he's learned from "survivors and thrivers" outside television. The first trait of survival: "Situational awareness. Do you have an accurate understanding of the challenge that you face, and the adversity that you face?" he said. "Most of us are eyes wide open to many of the different challenges that we face in our business."
But the second key survival trait is adaptation. "It means changing one's attitudes and one's actions in response to adversity. It's not enough to just change one's mind: to see something and know there's a problem out there. Adaptation also means you have to do something."