Japan is MIPCOM 2016's Country of Honour. Headlining the programme was Kazuo Hirai, President/CEO of Sony Corporation, with this morning's media mastermind keynote. Sony has the rare privilege of covering the complete value chain in consumer-facing goods, from hardware, to content creation, to production and distribution. It celebrates its 70th anniversary this year.
Hirai has led Sony Corp since April 2012, and was appointed director of the board in June of that year, having moved organically upward from Sony's music and gaming departments. His keynote was followed by a short Q&A moderated by Marcel Fenez, president of Fenez Media.
Hirai kicked off my reflecting on the notion of Japan's spirit of imagination. "During my tenure at Sony—and my time in Japan—I've seen the musings of the imagination become movies, games and real products," he said. "I see great opportunities for what we can accomplish as an industry, as we explore the synergies of storytelling and technology."
The fusion of storytelling and technology became the theme of his discourse. Hirai observed that Japan has powerful cultural capital throughout the world: Its art, food, fashion, technology and lifestyle set global trends. And it's likely to stay that way, because while Japan maintains a strong sense of its own history, it doesn't fear innovation—early adoption rates for new mobile technology are unsurpassed.
"With Playstation 4 and Playstation VR in the marketplace, Sony is the standard bearer for the state of the art," Hirai proclaimed. "We continually ask ourselves, how can storytelling be further transformed by technological innovation?"
He explained the importance of kando, the Japanese word for emotional involvement. "The promise to deliver kando means we are always thinking about not only what we can do, or how we create it, but why," he said. "Will our efforts make your life better, more rewarding or meaningful? This is why we have continually advanced visual imaging—to make the viewing experience better and more fulfilling."
Notably, Sony Pictures TV's latest scripted shows are now shot in 4K. These include Blacklist: Redemption, Kevin Can Wait, Notorious and Timeless. Meanwhile, in Japan, it's shooting shows in HDR—including Moribito II and Cold Case Japan, which will be screened this week.
But that's just the beginning.
"For decades, Japan has harnessed science, tech and engineering to enhance and enrich our lives through groundbreaking consumer technologies and unparalleled audiovisual experiences. Today it takes a giant leap forward with the introduction of virtual reality," said Hirai.
The Playstation VR entered the marketplace four days ago, and promises "an entirely new gaming experience." Hirai added, "We've also paid attention to early VR exposure by audiences and plan to respond with content beyond gaming."
Various Sony content divisions are currently working on VR experiences, including Sony Pictures—with Ghostbusters Dimension—and Sony Music's virtual reality experience for Kygo's Carry Me.
"My 32 years in this business tells me there is no limit to what is possible" if you listen to consumers, said Hirai.  "It is my conviction that emotional involvevemnt is at essence to what Sony brings to the marketplace."
He added that kando happens at the intersection of technology and storytelling, innovation and creativity, art and engineering. Once you hit that sweet spot, there are no limits to what is achievable.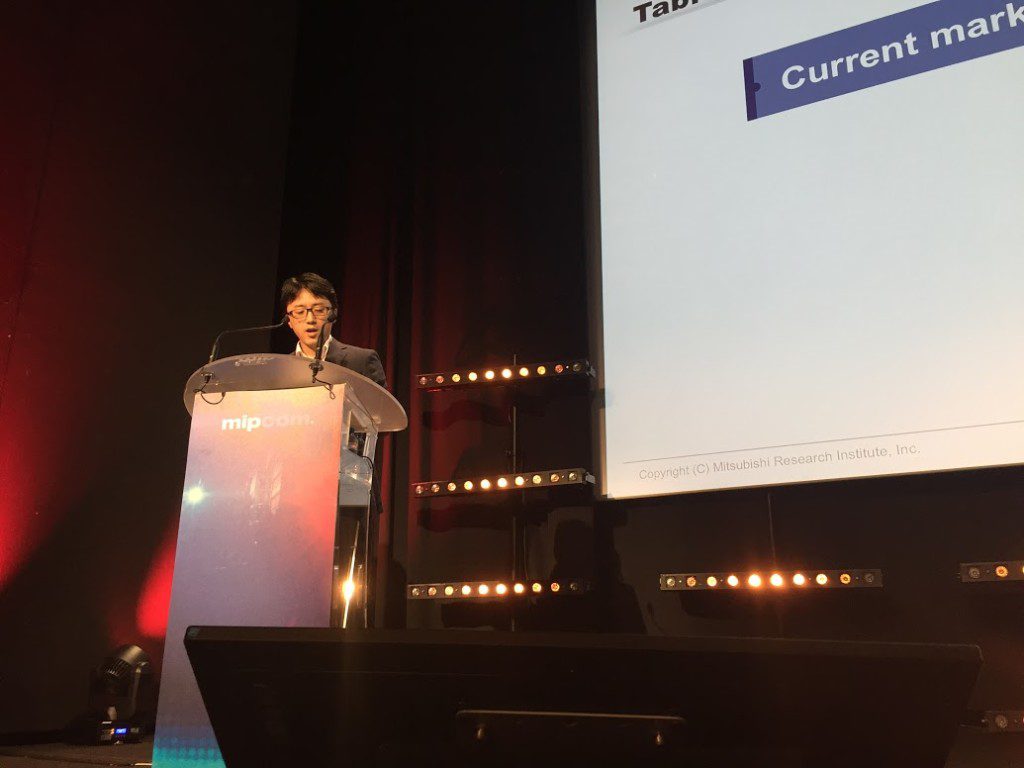 Earlier this morning we were treated to a market overview of Japan, this MIPCOM's Country of Honour. It was led by Yosuke Ito, senior consultant of Mitsubishi Research Institute.
With a population of 120 million, Japan is the 2nd largest audiovisual market after the US, with steady global market growth over over 2 percent year over year. There is one public broadcaster (NHK), and five commercial broadcast networks, all fed by hundreds of production companies. The market was fully digitised in 2011.
It has a wide variety of distribution models for its content-consuming market, but terrestrial remains its strongest lever: Japan's market is expected to grow through 2020 to the tune of 4.8 trillion yen (about US$46 billion), driven primarily by terrestrial broadcasting (at 62 percent); 24 percent of growth will come from cable.
"You can see Japan is mostly driven by terrestrial or advertising revenue. Terrestrial TV stations in Japan are vertically integrated: They engage in programme planning, scheduling and broadcasting," Ito said. Distribution variety and merchandise—like DVDs—are critical to growth.
One of the most relatable measures of Japanese content success is Pokémon, a prime example of a strong content lifecycle within the market.
"Pokémon has diffused its IP into various markets, after gaining attention and popularity through TV and gaming,"  said Ito. "Its revenue streams now include comics, animation, CDs, toys, and events—not to mention the technological innovation represented by Pokémon Go."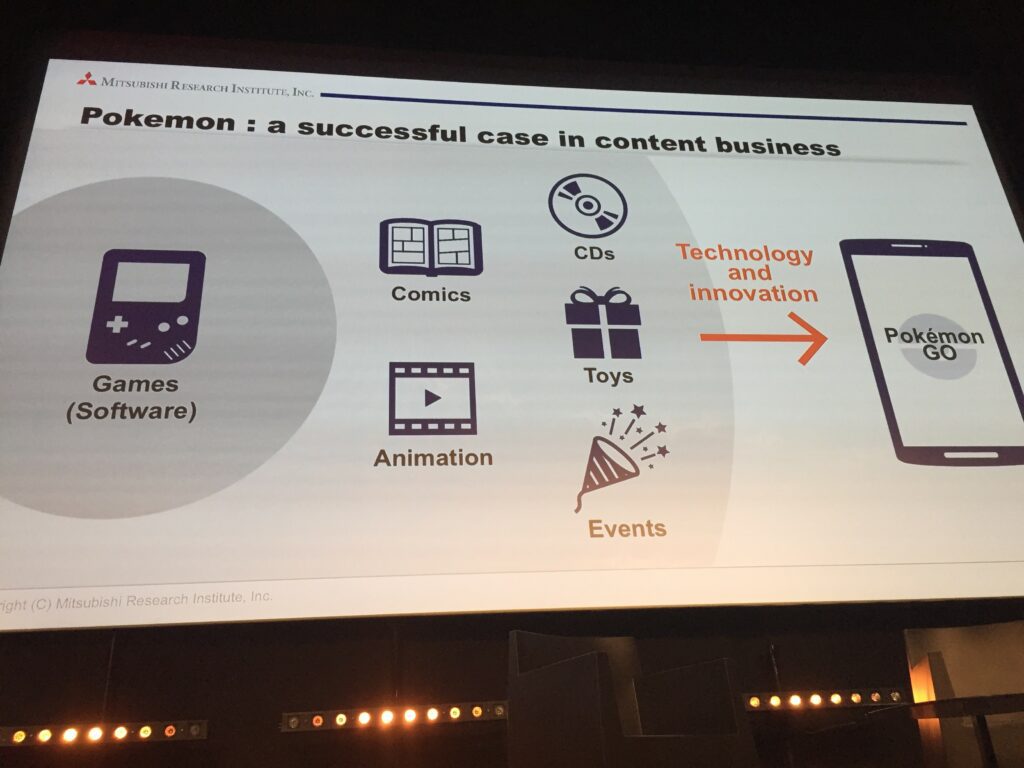 Japanese content is also popular elsewhere in the world, with overseas revenue rising steadily—from growth of 6.6 billion yen in 2010, to 18.3 billion yen in 2014, mainly driven by programme rebroadcasting rights and internet diffusion rights. A current initiative, "Cool Japan", is more aggressively promoting Japanese TV content in the global market.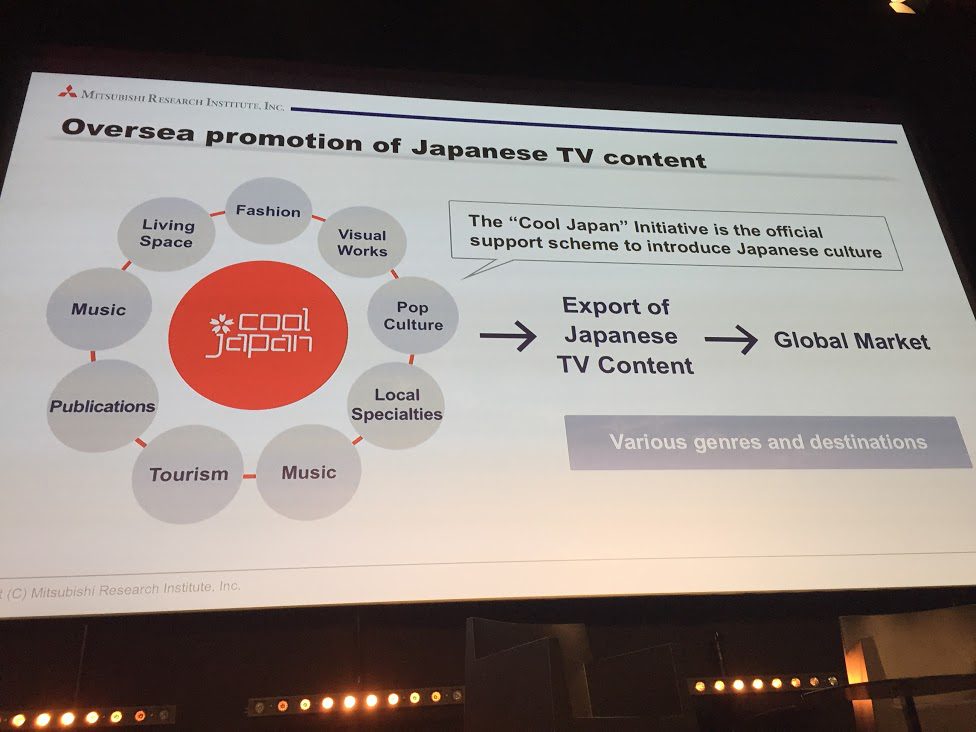 In sum, there are three elements to success in the Japanese market:
Have a strong IP (the most important element)
You need a business model that takes advantage of licensing and secondary usage
Business and regulatory platforms to support your model
"In the context of tech and innovation, it is not just about digitalisation or the internet. it is advanced tech that enhances the potential of content to travel into myriads of space, including the real world … which Pokémon Go has done," said Ito.
And Japan advances quickly. By the time the Tokyo Olympics happens, in 2020, Japan will be on 8K broadcast. "Over 50 percent of households will be installed with 8K compatible TVs by 2020," Ito went on. "The market will gain the opportunity to produce content for both 4K and 8K, which can be fundamentally diffferentiated in terms of type."
If you're curious about what 8K is like, try it this week at the Japan Plaza. "You won't want to go back to 2K or HD," Ito promised.

Afterward we experienced Treasure Box Japan, where key Japanese industry players introduced and discussed their latest format gems, led by The WIT's Virginia Mouseler.
Who Wants to Come to Japan?, a TV Tokyo show presented by Kei Kitamura, is about inviting foreigners who are obsessed with Japanese culture to visit Japan. In addition to charming emotional moments of discovery, the show is about "rediscovering your own country," Kitamura said.
The Pyramid Derby, presented by Masashi Yamamoto of Tokyo Broadcasting System (TBS) Television, is a footage-based game show where contestants are given physical and mental challenges, special challenges (like Rubik's cube speed tests) or cooking challenges. The goal is to successfully bet on the likelihood of your desired outcome.
"Five contestants to start with 10 coins and try winning 555 coins to win the grand prize," Yamamoto explained.
Next, Thomas Hiraoka of ABC Japan presented one of its most famous formats, Detective Night Scoop. If you've ever had a problem you couldn't solve—like your iPhone headset jack breaking and getting stuck inside its hole—you'll love this collection of crack detectives who set out to make life's daily mysteries a little less troubling. It's been broadcast for the last 28 years, and is suitable for any country, Hiraoka promises.
Norie Taga of Yomiuri Telecasting Corporation hit the stage next. Outfitted like she was about to embark on a biking marathon, helmet and all, Taga began by saying, "In Japan, your dreams can come true."
It turns out she was dressed for "the most intense race in the sky," where contestants "battle for distance, using only the power of the wind." Do you have what it takes to join The Birdman Rally? The show has even sparked clubs and live local events!
Man vs. Drone, presented by Yuka Kakui of TV Asahi, is basically hide-and-seek with drones (where the drone is "It"). Different types of drones can be used to make it more difficult.
"This concept is not only very simple; it's fun and fresh," Kakui said. So far there have been three broadcasts of the show in Japanese, and all have enjoyed high ratings.
Kakui also presented Sabi Sabi Karaoke—a karaoke show in which the song you choose matters more than how well you sing. If the audience knows the song you're singing, they push a button. You get points by choosing a song people have trouble recognising at first. The goal is to have the fewest people who recognise your song at outset, and the most people who recognise it at the end. (If too many people recognise the song right away, you are disqualified.)
Next, Fumi Nishibashi of Fuji TV presented Hole in the Road. An inspired sequel to the infamous Hole in the Wall format, this one features celebrities falling through holes they didn't expect were there. The funniest victim gets prize money.
Fuji TV is also hoping to cash in on the popularity of Pokémon Go, having invested in game developer Niantic recently. What they're working on remains secret, but "it could be something interesting to entertain the world," Nishibashi teased.
In Burning Questions, presented by Katie Yukiko Nakano for Nippon TV, the true-or-false quiz show gets a revamp. In each episode, celebrity contestants compete to answer the highest number of true/false questions correctly. Two different presenters, who—like lawyers—argue for both the "true" and "false" positions, make the situation even more confusing! (They are aptly dubbed Mr. True and Mr. False.)
Fairy Tales in Court, presented by NHK's Hisako Fujioka, puts classic fairy tale characters on trial. Will the three little pigs get off on a self-defense plea … or be convicted for premeditated murder? The results are based on actual Japanese law, and can easily be adapted to the laws of any country.
"With our legal system, and the world we live in, we are asked to hear both sides of the story before we decide anything. The more you hear, the more you become unsure what is good and what is bad," said Fujioka. "We don't give a final verdict. We give all the arguments, but keep it open-ended. We want to ask the viewers to think and decide for themselves."
Feedback so far is promising: Children who've seen the show are discussing the implications of the "trials" with family members and teachers.