This morning saw MIPCOM's first Diversity Summit gather a host of industry executives and creatives to talk about positive, commercial ways to increase inclusiveness both on and off screen. Held in the Carlton Hotel, the invitation-only event included speeches, panel sessions and roundtable discussion.
The first speaker was Tonjé Bakang (below), CEO of SVOD platform Afrostream, which has about 1,000 hours of content, with plans to acquire 3,000 hours by the end of the year, as well as making its own original content. It has more than 20,000 paying subscribers, but more than 130,000 members across the world "who ask for diverse content".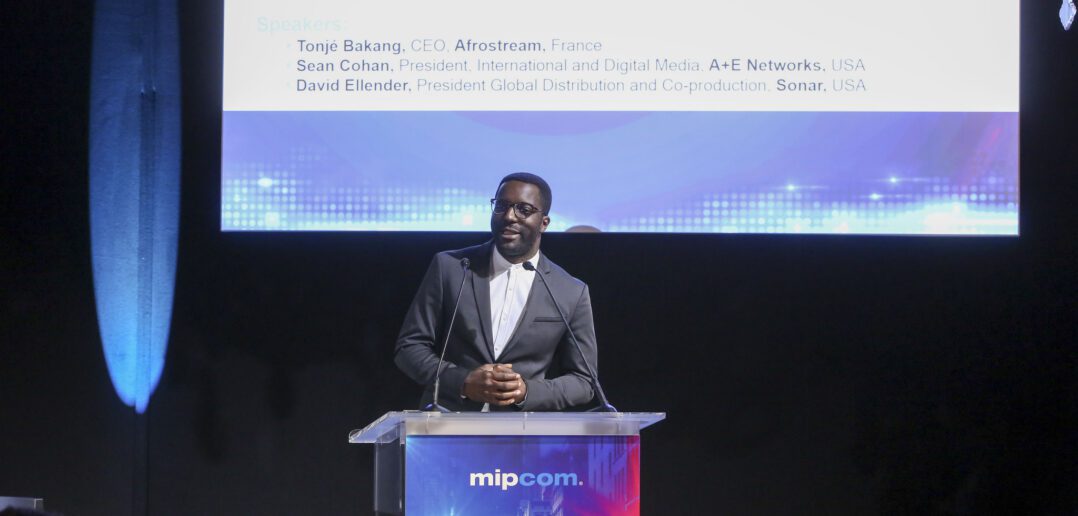 "Diversity is a business opportunity. It's not just something we do to look good. It's not just marketing," he said. "Think about millennials: millennials are open to diversity." Bakang called for studios and distributors to recognise the opportunity, and make content to meet this growing demand.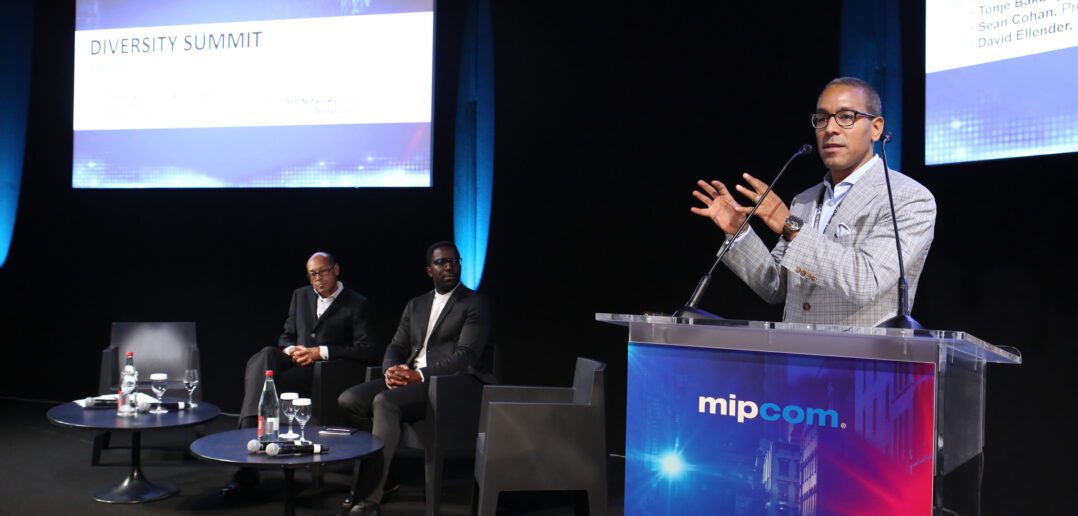 Sean Cohan, president, international and digital media, A+E Networks, spoke next, having attended MIPCOM for the last 14 years. "Up until a couple of years ago, I didn't even really grasp, recognise, think about the potential for a diversity conversation in this context," he said. "It's been a long time coming."
"The reality is, in 2016 we've made a little bit of progress," he continued. "When I say we, I mean people of colour, the cause for diversity in what's on and off screen." He cited Shonda Rhimes, Empire and Roots as examples.
"But there's still a lot to be done… We've finally got to a place where 'black doesn't sell' or 'black won't rate' is starting to turn. But we have major challenges in providing access to people in front and behind the camera with an eye to driving great stories and making great business out of it… There's not enough black folk, not enough women. So there's a great need for the conversation."
Cohan concluded. "I'm not blind to the fact that talking about solutions to the diversity challenge for a 20-minute, 30-minute or hour period, we're not going to get to a solution. But this event is part of the solution. It's the mentoring, the connecting. It's the talking, and then the acting… We can open up the industry and storytelling tools to more really talented people who can create great content for the world to see."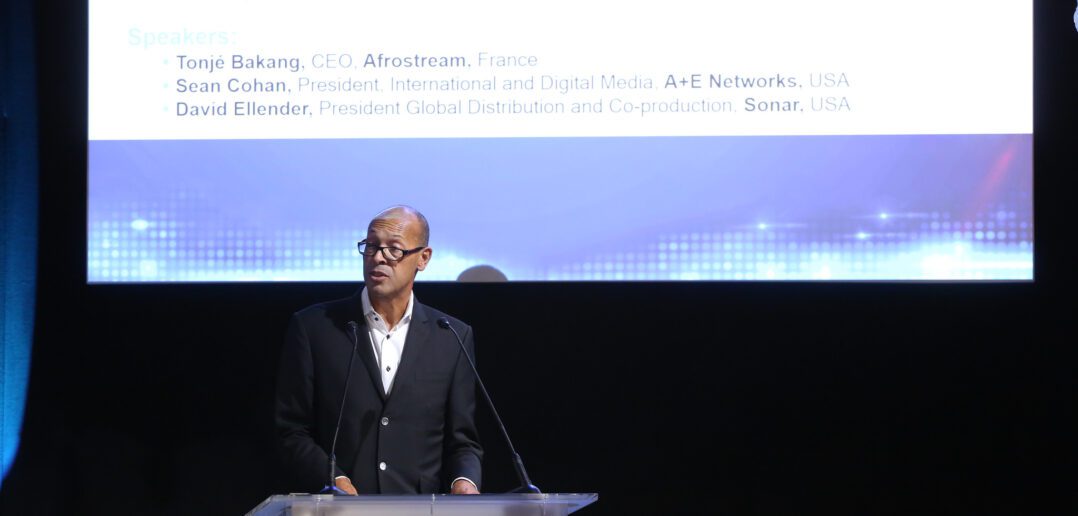 David Ellender, president, global distribution and co-productions at Sonar Entertainment took up the theme. "I'm not here to talk about black people or people of colour. I'm here to talk about diversity. Diversity in the modern world is not just about the colour of your skin," he said.
"It's about gender, it's about age, it's about disability, it's about sexual orientation, it's about social background. But most importantly, I think it's about diversity of thought," he said. "I'm not just a person of colour. I'm a TV executive, not a number nor a statistic… The fact is, I don't want to be pigeonholed. I'm asking the TV industry to think outside the box. In fact, get outside the box. This isn't about race, it's about imagination. It's about diversity of thought."
Ellender called for three things. First, a change of mindset. "Let's get commissioners and content creators to think about diversity at the beginning of the creative process, and not the end," he said. Second, transparency. "Implement systems to benchmark broadcasters about what they actually do. This will encourage everyone to do better." And third, a different approach to risk, including re-evaluating commercial risk.
"Too often commissioners look at diverse talent, and all they see is risk. Black actors are seen as a commercial risk. Female directors are seen as a commercial risk. Disabled actors are never seen," said Ellender. "All I'm asking for are three things: greater imagination, find untold stories, take the road less travelled."
The summit also saw some data presented by Nielsen Entertainment's head of consulting Guillaume Morel and All3Media International's SVP of format production Nick Smith. Smith pointed to McKinsey data suggesting that gender-diverse companies are 15% more likely to financially outperform their industry median, while ethnically-diverse companies are 35% more likely.
Morel showed how in the US, viewerships can be broken down demographically to understand who's watching, and perhaps change programmes in response. Smith talked about content that underperforms with minority groups in the UK. Silent Witness, Grantchester, Death in Paradise, Call the Midwife, Happy Valley… Spot the link yet?
"It's mainly dramas that are performing really badly among minority viewers. I could hypothesise on why that is. Maybe it's because people are not seeing themselves in the dramas. Maybe the writers, the directors are not from that background," said Smith.
A panel session gathered Mo Abudu, CEO of EbonyLife TV; Michael Armstrong, EVP and general manager, Viacom International Media Networks; and Keith Le Goy, president, international distribution, Sony Pictures Television (top photo), to discuss diversity, including the positive business case. Broadcaster Ali May moderated.
"Diversity is a good thing, it is a positive thing… but diversity for me also has a slightly different slant. I am a woman. I am an African woman, so therefore we have to look at diversity: not only are we saying people of colour need to be included, but we also need to include African content," said Abudu. "We know the battles that we have fought to get African content accepted, even by people of colour, in Europe and the United States. So diversity has many faces."
Abudu added that this has encouraged her company to look within the continent Africa and "build content that is speaking to us… you can group all people of colour together as one group, but the opportunity is creating content that speaks to the new Africa."
Abudu criticised western television for presenting a one-sided view of Africa – "I hear famine, I hear tragedy, I hear HIV" – and noted that she has been described as "the Oprah of Africa" which reveals that "there must be a comparison to the West" even for an executive and on-screen star who is forging her own path.
Armstrong talked about the need to "reflect and elevate the voice of African-Americans" in the US, and said that Viacom has made "very good business" out of that diversity in its output. He cited Viacom's acquisition of BET as a sign of the company's belief in that principle. "Our business every day is elevating those voices, elevating diversity within the African diaspora. And that doesn't just mean export of US content to the rest of the world," he said.
Le Goy gave Sony's view. "We need to tell stories that appeal to people all across the globe," he said. "The world is a diverse place. The thing we do know and we all recognise: people want to hear and see and connect with stories that resonate with their lives and their experiences of who they are… We make movies in China, we make movies in India, we make TV shows in Latin America…"
He said that it's important to recognise that there are Turkish and Korean dramas and Latin American telenovelas at MIPCOM, so there is a diversity of content out there ready to be bought, and to connect with viewers around the world.
Le Goy talked about the three levels of diversity: first, casting. "The notion that shows with diverse casts cannot sell commercially is nonsense… but at what point do you have black stories, or transgender stories, or gay stories? That's the next level of diversity. Those are harder, but important."
"When we tell stories, we need to be able to tell stories that are inclusive of everyone," said Abudu. "If we're looking for stories: the good, the bad and the ugly, believe me, they are in Africa. And even from a historical perspective, there are so many stories that need to be told."
Armstrong talked about the potential for content that can travel. "The key is figuring out the window. Mo has done what great entrepreneurs do: she's created her own opportunities," he said. "We are always having conversations about coproductions… One of the things we need to make sure we get over is the notion that we have to put an enormous amount of capital and risk to try something diverse and hope it works."
His point: that new, diverse formats and stories can be produced quickly and cheaply: diversity is not a commercial risk, it is an affordable risk worth taking.
Is it hard to sell diverse shows in markets that are not so diverse, like Scandinavia? "Fast and the Furious did a billion dollars at the global box office, and it has a diverse cast," said Le Goy, who pointed to the last Star Wars movie as another example. "Will Smith for a long time was the biggest movie star at our studio… So from that point of view no. It's about great stories, great acting, great writing."
But he added that when stories are told from (for example) a black or an LGBT perspective, this brings more challenges. "That is the next level of difficulty, and it probably requires… you've got to be twice as good in order to get the chance to be on air, to be scheduled at a time when people will find it, and to be marketed in a way that people will discover it's there," said Le Goy.
In conclusion: "There are 170 million people alone in Nigeria so therefore the business case is they want to see content that speaks to them," said Abudu. "The notion that you need to make a business case for diversity, I'd like to bury that in the sand today. Making diverse content IS the business case for being successful," said Armstrong. "We have to tell stories that reflect the world we're in," said Le Goy. "The things that connect and deliver the most value are the things with the greatest spectrum of diversity in their casts."
Le Goy was also asked about the increasing role played by recommendation algorithms on digital services like Netflix. Are they a concern, because they may recommend shows and films to people based on their own backgrounds? Or are they an opportunity, because they could put diverse content from around the world in front of a wider potential audience?
« I would hope the way that things recommended to you are based on what you actually watch. So if you watch a diverse range of content, then you are personally open to exploring stories from all walks of life, and you will get recommended more of those shows because the algorithm recognises what you want, » said Le Goy. « It's a great opportunity… it just allows more stories to flourish and find their place. »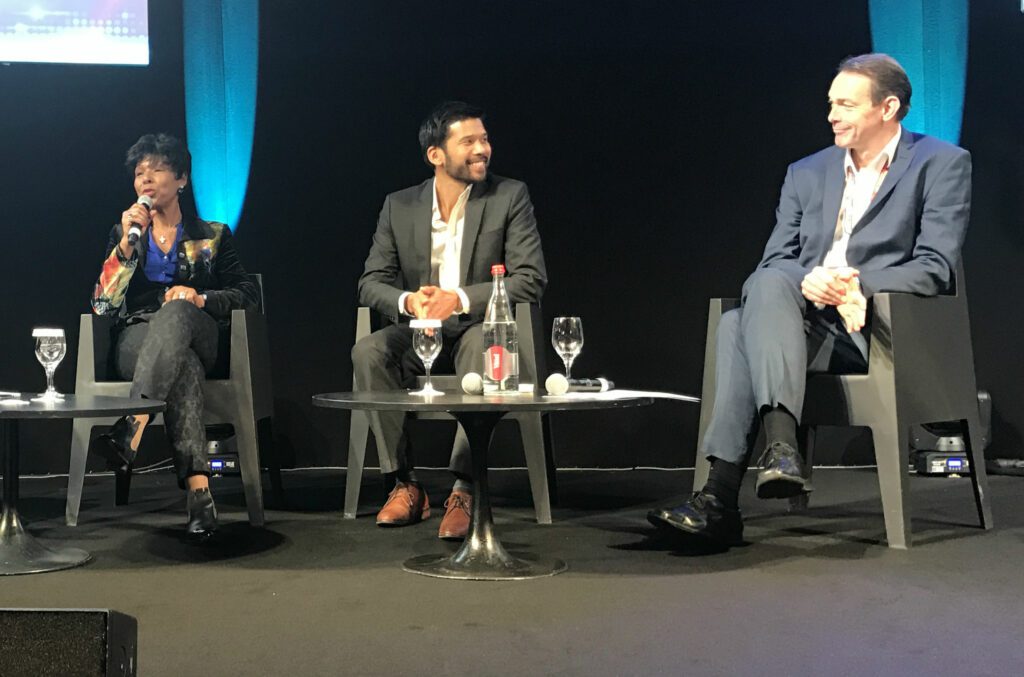 The final panel involved Euzhan Palcy, a director, screenwriter and producer; Paul Cabana, SVP programming History Channel at A+E Networks; and John McVay, CEO of Pact. May moderated again.
Palcy talked about the importance of mentoring: it's something she does on all her projects. Cabana talked about the role of a programmer: « One is big, bold action, » he said, citing the remake of Roots as an example. The network saw it as a big hit in waiting, not just « the most diverse » show. McVay, meanwhile, talked of the need to have diversity at the heart of all productions. « And you have to measure it. You have to know whether you're making a difference, » he added.
Cabana agreed with McVay: inclusiveness has to be applied across the whole year, in every programming decision, rather than in one-off projects. He also noted that the day-to-day work for programmers, schedulers and everyone else in this industry involves « choosing people: we have to choose people that have more points of view. »
« It's authenticity that matters, » said McVay, calling for producers and broadcasters to seize stories that reflect the real world around them. « If we don't grab those stories now, there are many other platforms, many other ways to go. »
« Television has been for a century shaping people's minds and tastes… and over and over showing the same kinds of things and the same kinds of people. The reason we are here today: this is a concern! We have to talk about it… so the key thing is the creative thing, » said Palcy, calling for people in key positions in the industry to bring those diverse stories to the screen. « The people need to have a sense of the role that they have to play. »
The conversation returned to risk: « Good talent isn't a risk. Great stories aren't a risk… People are desperate to find the right talent to get the stories, » said McVay, who suggested that the UK is going through a transition from inclusiveness being seen as risky to being seen as mainstream.
« A lot of day-to-day decisions ultimately aren't that risky, » agreed Cabana, giving the example of casting decisions. « It's a simple question of whether it's representative of the audience. « Instead of risk, the thing that people have to have an appetite for is discomfort and tension, » he added. One example: casting a black actor to play Hannibal, which generated some social-media feedback criticising the decision. « The most feedback we got was 'what a great story' and 'what a great production'. That thankfully overwhelms the negative feedback. It's a risk, but it's also a tolerance for discomfort. »
« Everything's a risk, you know! I think that when you create, you need to make sure that you have a great story, great cast, great writers, » said Palcy. « It takes courage, and you need to trust the audience as well. You can have the most fantastic thing, but that doesn't mean the movie will be successful… We have to have faith in what we are doing… I have faith in the future, and I think we all know that working together, we can accomplish beautiful things. »