FILM.UA producer Kateryna Vyshnevska says there are still important messages to communicate about the Ukraine's need for continued support from the international community. Speaking in Cannes to delegates at the MIP x CANNESERIES Connection event, she urged companies to keep investing in the country. While messages of support are important, Vyshnevska says continuing to work with Ukraine keeps people in their homes and jobs. Before the war, Vyshnevska spent a lot of time doing her work from London. But since the conflict started, she has been based primarily in Kyiv to stay closer to her beleaguered friends and family.
Journalist, author and content creator Rebecca Leffler presented the 10 MIPDrama finalists at the MIPDrama Screenings on the eve of MIPTV. Germany's House Of Promises was honoured with the prestigious Buyers' Coup de Coeur award at the end of the session. The romantic drama won the loudest applause from the MipDrama audience in the Debussy Theatre. MIPDrama received 41 submissions from 34 companies in 23 countries
Koran format specialist Something Special is attending MIPTV for the first time. Jin Woo Hwang (right), Something Special's president and executive producer, was recently appointed chairman of the KFA (Korean Format Alliance). He is pictured with Wonwoo Park, founder of Seoul-based production company DiTurn, which is repped by Something Special. The original creator of global mega-hit The Masked Singer, at MIPTV Park will be awarded the International Format Awards Gold Award. Park has recently signed a first-look deal with Fox Alternative Entertainment to develop series for their unscripted production division — and in 2021 Something Special signed a deal with VIS, part of ViacomCBS Networks International, to develop formats and shows; and also with My Entertainment to co-develop The Quizzy Horror Show, Smashed Hits and Inseparables
The cast of 1985, on the pink carpet for the series' Cannes screening. 1985, from Belgium's Eyeworks Film & TV Drama, tells the coming-of-age story of three close friends' loss of innocence.
DFW International, the sales division for Dutch FilmWorks, one of the leading film distributors in the Benelux region, is at MIPTV with a catalogue that includes Flemish drama series Hacked, a youth-skewed drama series, which has been selected for the Short Form Competition at CANNESERIES.
"Since we launched in 2019, we have steadily expanded our catalogue with a consistent focus on premium programming and are confident our current fare will not disappoint," CEO, DFW International, Willem Pruijssers, said. Further highlights include: documentary Van Gaal: The Man Behind The Legend (1 x 120 mins), a portrait of the Dutch football coach; Voices Of Liberation (11 x 52 mins), in which well-known hosts from various European countries retrace the liberation route of the Western Allies during WW2; Christmas film Hotel Sinestra; and family film Ninjas Down The Street. Pruijssers said he was happy to be back at a live market, "as nothing beats face-to-face interaction".
Spider Man: No Way Home star Jacob Batalon is in Cannes to introduce Reginald The Vampire to the international market. In the 10-part series, inspired by Johnny Truant's Fat Vampire novels, Reginald (Batalon), recently transformed into a vampire, enters a world populated by beautiful, but vain vampires ­– where he has to overcome a bullying boss, a human girl he has fallen for but can't have, and a vampire chieftain who wants him dead. But then he discovers he has a few powers of his own. Speaking to the MIPTV Blog, Batalon said working in TV was an eye-opening experience:
"I felt a lot more useful. We'd be shooting 10 or 11 pages of script every day and there was a lot of dialogue. It meant being really prepared so that I could show the same energy as everyone around me. I really liked the fact that the production team were willing to listen to my suggestions."
Reginald The Vampire is distributed by Cineflix Rights and available in most territories. Syfy has US rights and Amazon has streaming rights in Canada, Australia and New Zealand.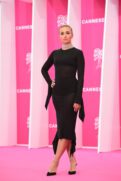 Chloé Jouannet, star of Derby Girl, a new series from France.tv Slash. She plays Lola Bouvier, a young woman who, banned from ice sports, plans to take up roller derby.
Connie Nielsen stars as Out Of Africa writer Karen Blixen, in The Dreamer — Becoming Karen Blixen, from Scandinavian streamer Viaplay
Discover more about our MIPTV Event, here and about our live coverage, here.
Login to the MIPTV platform now to continue your digital experience here