Eddy Moretti, chief creative officer of VICE Media and co-president of VICELAND, hit the stage at today's final MIP Digital Fronts session to talk mainly about VICELAND, their newest project. Above, here he is toasting with Jean-Marc Juramie, managing director of CANALSAT (right), to announce their partnership for the launch of VICELAND in France (which will happen later this year).
So what's been new with Vice since Moretti last took the stage? Last year, of course, they launched women's channel Broadly. And they plan to launch four more channels this year: For gaming, health, travel and money.
"Why money?" Moretti asked. "Young people are alienated by global financial nefariousness, as demonstrated by the Panama Papers. One generation of global leaders knows how to hide money all over the place, and young people are fucked."
In happier news, VICE's partnership with HBO is also growing. They're currently producing a series of documentary specials. In two months, Vice News Tonight will debut: Every night, "I think at 8pm, a half-hour show that covers all the most important, relevant news to young people," said Moretti. "No celebrity gossip, probably no sports scores. Other channels can take care of who won the soccer game the other night."
But the biggest new thing is VICELAND, which launched in Canada and the US on February 29th. "It's very exciting. We created all the content in-house," said Moretti. "Unlike most TV channels that outsource a lot of video production, we built all this video capacity online in our offices, so we just used that and created TV shows for the network."
Viceland will feature 250 hours of original primetime programming, plus various movie and documentary acquisitions. They are shooting for three more markets by year's end, and are have already inked a Sky collaboration for broadcast in the UK.
Here are some examples of VICELAND content:
"Weediquette is our top performing show," said Moretti, who emphasised that the latter and Gayland are "intensely personal to the people making those shows. We don't want to make formats that can be duplicated and reduplicated; we want to make shows with a deeply personal point of view."
That the shows are put together and feature real people is critical to the VICELAND model. For example, States of Undress is a fashion show featuring Hailey Gates, who will travel the world—outside the fashion capitols of Paris, London and New York—to score glimpses of the deeper meaning behind fashion.
There's also the gloriously emotional World of Sports:
"We're extremely proud of this content. It's beautiful, curious, made with passion," said Moretti. "With VICELAND, we're completing an ecosystem." He clarified by saying that VICE isn't moving into television; it is incorporating it into an already-existing wider constellation of platforms, which will only grow.
To wit: VICE recently also worked with Samsung and sponsor Unilever to create Beyond the Frame, a virtual reality experience.
"VR's in a tipping point," said Moretti. "People will be, once a week, twice a week, wearing VR glasses."
Beyond the Frame will feature six or seven virtual reality films, some of which will be 20 minutes long. The makings-of will themselves be packaged into TV programmes for the channel.
At this point, Moretti playfully announced the launch of VICELAND in French, with a spankin' new trailer in the Gallic tongue. After, he reappeared onstage clutching a glass of champagne, flanked by CANALSAT managing director Jean-Marc Juramie.
VICELAND will be a CANALSAT exclusive. For Juramie, equally jubilant, "We're really looking forward to launching the channel by the end of the year, so you won't have to wait a long time."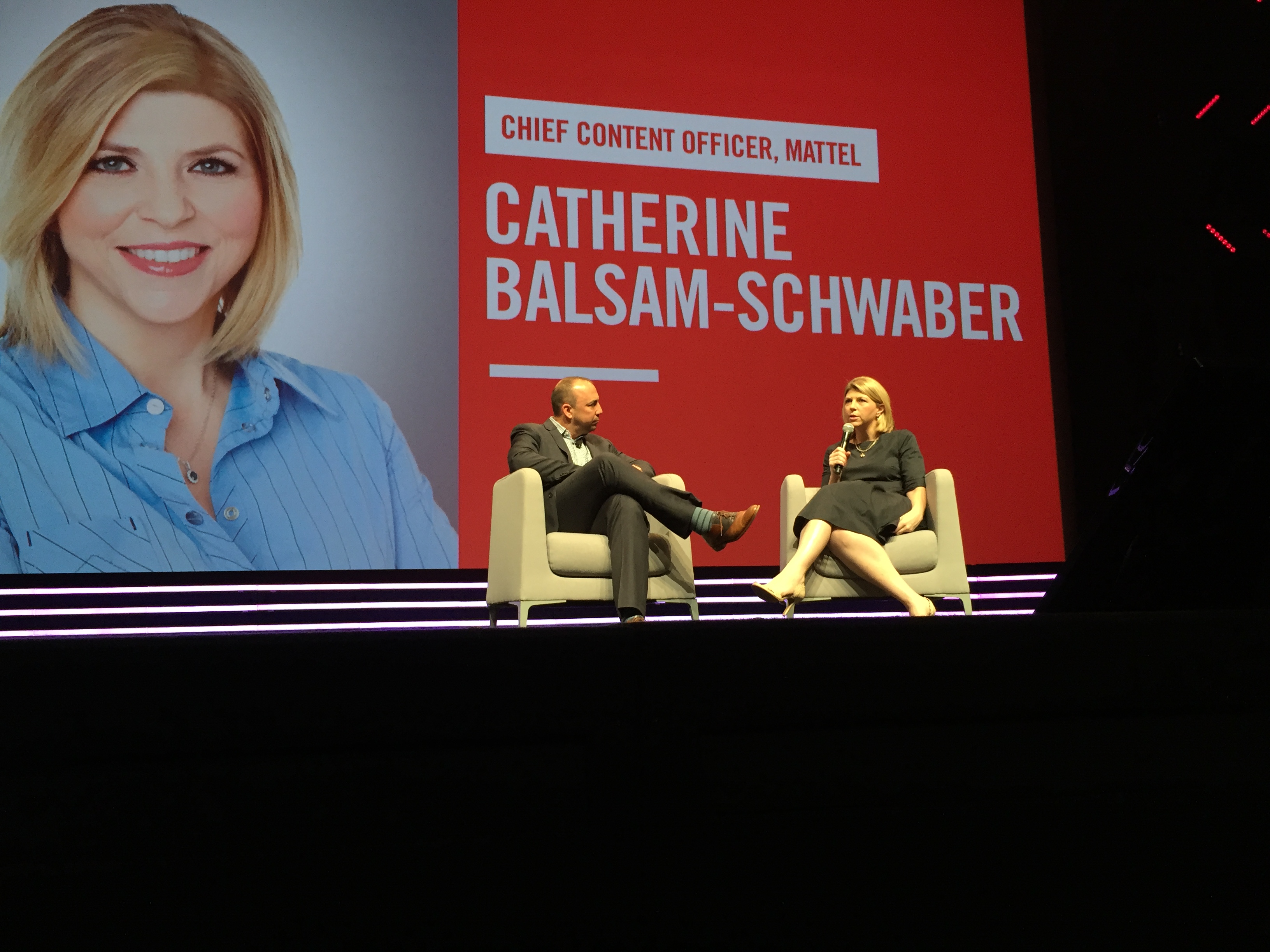 Earlier in the morning, Fullscreen graced the Grand Audi stage to talk about what's giving them the glees lately.
First up was Fullscreen, flanked by head of sales Kevin McGurn and vp-business development Damon Berger. The latter gave a few brief stats on what Fullscreen's all about (here's a handy review from October). Then McGurn and chief content officer Catherine Balsam-Schwaber of Mattel had a conversation (shown above) to reinforce the richesse of their partnership.
The millennial audience is getting harder to reach, said McGurn, and the TV audience is getting older. The median age of viewers in the United States is now 50, well outside of the 18-49 set that advertisers covet.
"It's not that millennials aren't watching TV; they are, in unmeasured ways," said McGurn. "That's a conundrum for advertisers and brand marketers in the room." So as audiences leave linear TV, it became critical for Fullscreen to understand why, what they watch, and when, as well as to find clever ways to build a brand relationship with them in order to fund content experiments.
One fruit of such research is Summer Break. Produced by AT&T, it's now going into its fourth season. "We wouldn't be surprised if it went into season five," McGurn added, probably because the desire by youths to extend their epic summer beyond its tiny window of a handful of months, making deep personal connections along the way, is preciously universal—at least in the US, when being in school is probably the only time you'll ever see a vacation again.
In classic transmedia style, Summer Break's content began on YouTube and slowly trickled outward toward other platforms, like little breadcrumbs leading back to the principle material.
Fullscreen's relationship with Mattel's stable of brands is socialised in much the same way. Here is a tiny chart of what Fullscreen does for 2016's Brand of the Year: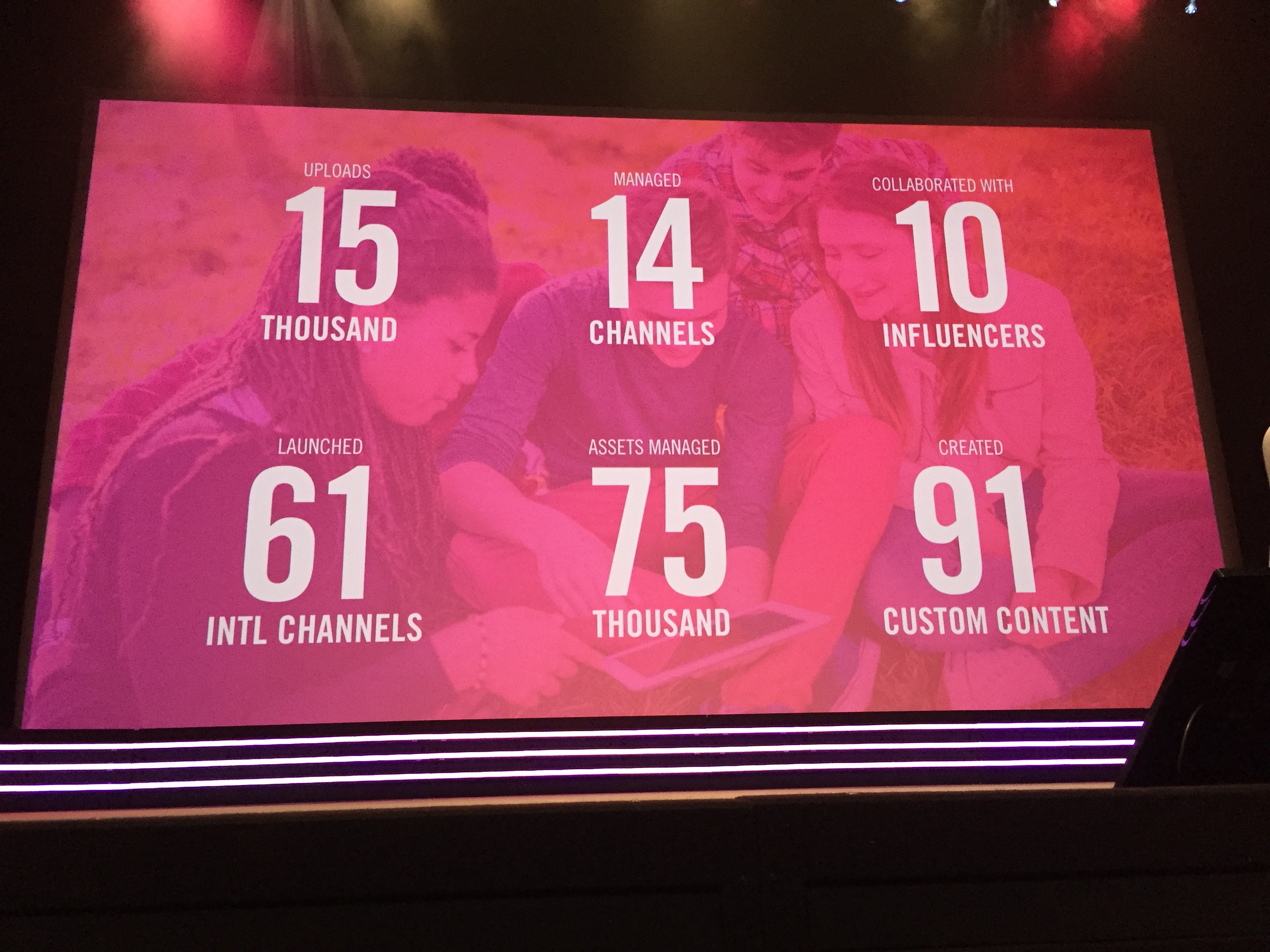 Content it helps Mattel package and diffuse includes Monster High, "A cool series that looks at the kids of the most famous monsters in history," said McGurn.
"We started with hero content, then ancillary content and fanned it out to drive tune-in and extend that relationship longer for fans," he went on.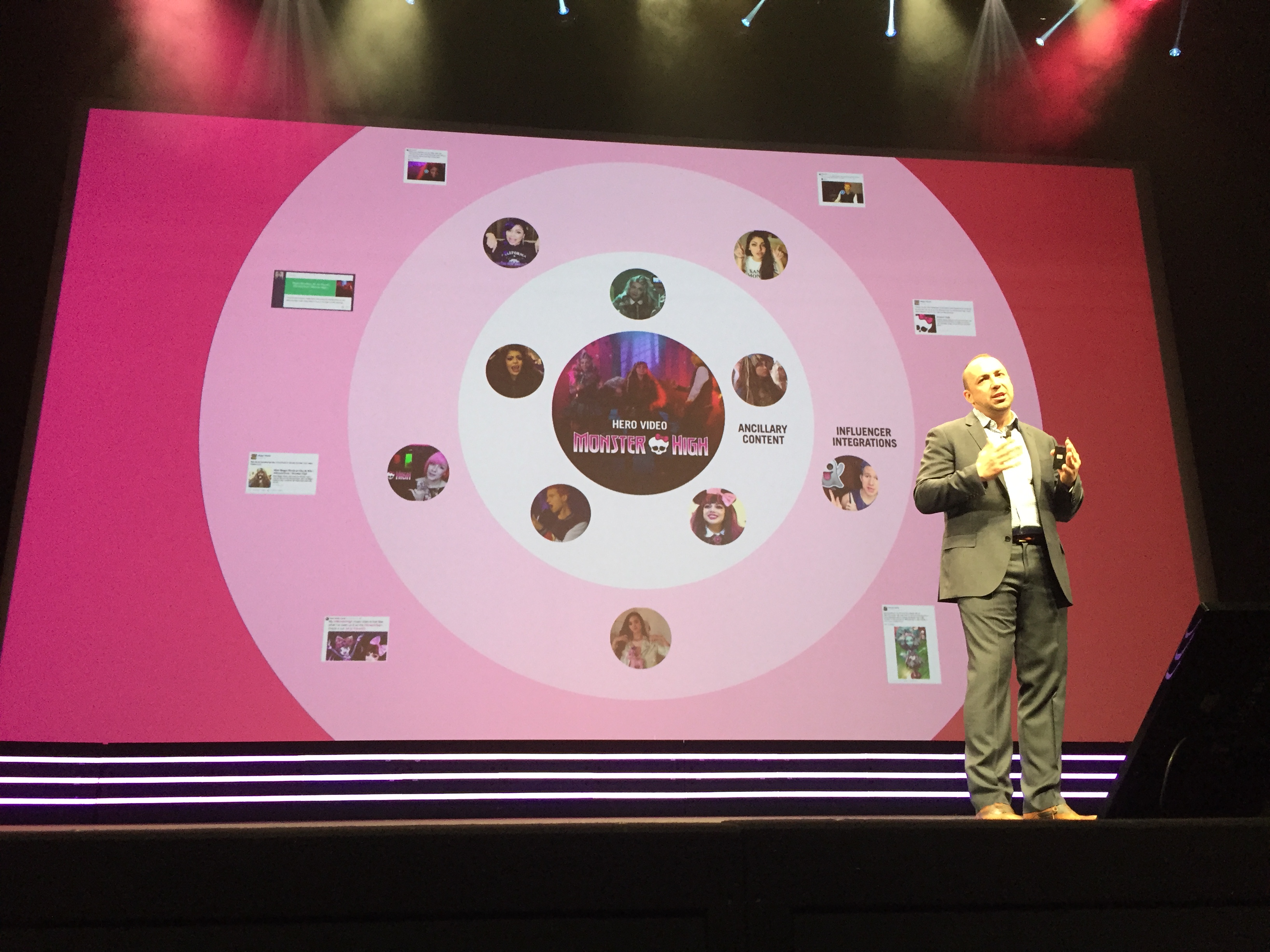 At this point, chief content officer Catherine Balsam-Schwaber of Mattel hit the stage to jam with McGurn about Mattel's origin story, the new Mattel Creations innovation hub (excellent synopsis here), and the evolution of Barbie.
McGurn began by confessing that two things fascinate him about Mattel's illustrious past: "That the original name was Mattel Creations, and secondly the partnership with Walt Disney. When you look at companies that are successful at reaching culture in general, most start with youth culture," said McGurn.
"At our core we're about the joy of childhood," said Balsam-Schwaber. "We have a really important job: To help the children of today, and decision-makers of tomorrow, form who they are. That starts with play."
Speaking of play, did you know Barbie was a vlogger? It's a whole new ballgame. McGurn said, "Barbie's 57 years old and has had an incredible evolution. Most recently she's become a Youtuber. How did you come up with the idea of making her an influencer?"
"I was a complete Barbie girl," Balsam-Schwaber gushed. "I played with her, imagined myself as a business person. What we tried to do is give her a voice. We had some success in the DVD movies, but she was always playing a character. We wanted to give Barbie a real identity, which we are only able to do through the vlogger. And through our partnership and work, we've had incredible success. That's among the few places you can see the true Barbie and how she imagines her life."
"It's wonderful standalone content, not an extension of the toy," said Balsam-Schwaber. "We do it using motion capture so it's also very fast to produce, and allows us to be more culturally relevant. That was a big part of giving her a voice that's also contemporary."
Asked about how amenable Barbie—who is already a prolific Instagrammer—is toward Snapchat, she said, "We're actively working on that. She's a fashion icon. So for those who follow Barbie on Twitter, she travels around the world, is involved in Fashion Week. We're finding her voice on social media, where every platform gets a little different slice of Barbie—and to be more authentically true to her, and Snapchat will be the next evolution of Barbie in vertical video."