Day-two conferences show diversity of content: Day-two conferences show diversity of content.
HBO Max targets global growth to match Netflix
JOHANNES Larcher, head of HBO Max International, used his media mastermind keynote to tell MIPTV delegates why WarnerMedia's new streaming platform is targeting aggressive international growth.
Using Netflix's growth curve as a benchmark, he said extra subscriptions accumulated through international expansion would generate the revenues required to fund content creation. The longer HBO Max leaves it to compete with Netflix and other global streamers, the bigger the funding gap will become. "We're all going global," Larcher said. "Right now, HBO Max is in 61 countries and has 74 million subscribers. But the goal is to be in 190 territories by 2026."
Larcher is confident that HBO Max's range of content, which covers everything from DC and Harry Potter movies to HBO originals to classic series like Friends, will enable the service to compete effectively with Netflix and Disney+. But he also stressed there will be a strong local component to the platform: "We are increasing our number of international commissions from 10 to 40 a year across scripted and non-scripted," he said. "We also have curators on the ground in key markets, whose job it is to give a local feel to our streaming service."
HBO Max has a higher price point that Disney+, but Larcher said this has not deterred people from signing up in markets around the world. It has also given the platform flexibility to introduce aggressive price promotions where necessary. In the Netherlands, for example, anyone who signed up in the first few weeks got 50% off the regular monthly price for the life of the subscription.
Following regulatory approval of the $43bn WarnerMedia/Discovery merger, HBO Max will soon be able to incorporate additional content from the factual and sports content powerhouse. Larcher could not comment on the deal but says HBO Max and Discovery content are "very complementary".
Scripted genre favours total collapses and explosive women
THE WIT CEO Virginia Mouseler explored new trends in scripted series on Tuesday morning in Fresh TV Fiction. Key themes she touched on included the collapse of companies and individuals, and a continued trend towards "explosive female characters".
Her top pick under the sub-heading The Great Collapse was This Is Going To Hurt, a BBC comedy drama about the stresses and strains that exist within the UK's National Health Service. Other examples of collapses included Inventing Anna, a Netflix series about charismatic fraudster Anna Delvey who conned vast sums of money out of New York High Society.
Mouseler's collapse-themed dramas were also largely based on true stories. Alongside Inventing Anna, she singled out WeCrashed, about the collapse of WeWork; The Dropout, about the decline and fall of entrepreneur Elizabeth Holmes; and Super Pumped: The Battle For Uber, about the ousting of controversial Uber founder Travis Kalanick.
Away from English-language content, she showcased French-Canadian drama How To Survive In the Wild, about a tech startup that claims to have created an app that can communicate with the dead.
Some of the above examples also aligned with Mouseler's explosive women theme. Other dramas that also fit this category included the UK's Trigger Point and Brazil's The Followers, about a social media influencer who becomes a serial killer to boost her followers. Mouseler also picked out two Portuguese series Vanda and Life Is Life. Vanda tells the true story of 'the Black Widow', a woman who goes on a bank robbery spree after her husband leaves her.
'Never been more crucial for doc-makers to report truth'
K7 MEDIA communications manager David Ciaramella used his Factual Trends session to outline current themes in documentary. In line with the current troubled state of the planet, his key categories mostly centred around conspiracy theories, the climate crisis, war and scammers. "In these current fraught times," he said, "it has never been more crucial or urgent for documentary-makers to report the truth".
One positive trend identified by Ciaramella was a drive towards greater diversity in TV content: "We're seeing more emphasis on subjects like neurodiversity, race, gender and disability," he said. Key shows at this market include Sweden's True Colours, Denmark's See Me As I Am, Ireland's Speechless, Vietnam's Children Of The Mist and Canada's Thunder Bay. The latter is an exploration of a series of race-related murders that took place in an Ontario city.
Ciaramella said popular and charismatic personalities continue to be a powerful tool in conveying stories. In a section of the session called Behind The Headlines, he gave examples such as Louis Theroux's Forbidden America and Huxi And The Conspiracy Theories (fronted by a Danish media host and satirist).
Growing interest in scamming as a topic follows the growing number of high-profile online-based frauds taking place. After the Tinder Swindler, new relationship-based series include Dating's Dangerous Secrets and You're Fucking With The Wrong People. Under his Saving Humanity heading, Ciaramella picked out Off the Fence's Ryan Reynolds-narrated documentary Curb Your Carbon.
'NFTs will disrupt the traditional distribution model'
THE MIPTV panel Can NFTs Really Revolutionise The TV Industry? started with a simple definition of what an NFT is: "They are one-of-a-kind verified assets that can be traded or exchanged on blockchain," multiplatform storyteller, Danielle Lauren, said. "We are moving into the era of web3, which is about ownership, and NFTs open the door for us to explore what ownership on the web through blockchain really means."
Blockchain Creative Labs CEO Scott Greenberg explained the connection with the TV industry: "We believe that NFTs and the blockchain will disrupt the traditional distribution model and that's mainly because NFTs can be used to unlock and access content, with a percentage going straight to the creator, cutting out all the barriers to being paid that currently exist. NFTs also mean that someone who has bought content from a creator keeps paying the creator if they sell it on, something that doesn't happen when, for example a DVD is sold-on after the initial purchase."
Greenberg also talked about how NFTs were starting to become part of the creative and televisual landscape: "We started with The Masked Singer, a show with a very sticky audience, and we launched a series of collectibles in the form of NFTs with the opportunity to sign up and get a digital wallet to keep NFTs in, and 400,000 viewers did so. We see this as an example of a new kind of relationship with the audience, and our goal is to work with producers of all kinds in order to connect with communities of viewers and fans," Greenberg added.
Mentors pass on valuable advice from diverse experiences
TUESDAY's Diversity & Inclusion Mentoring session saw MIPTV delegates engage in intimate and inspiring conversations with executives who have carved out successful careers in the global content industry while championing diverse perspectives.
Scorpion TV managing director David Cornwall led a roundtable discussion entitled Be Seen, Be Heard, during which he helped delegates understand what kind of content works and what doesn't for buyers. At another table, which captured the current zeitgeist in the TV business, Mounia Aram, founder and president of Mounia Aram Company, ran a discussion entitled Diversity Is Not A Trend, We Are Diversity!
Based in the Rivieria building's Marguerite suite, the seven D&I mentors leading the discussion were chosen not just because of their ability to offer advice but also because they could directly relate to delegate experiences. Myriam Taylor, social change entrepreneur and TV host, for example, is the only black female producer at Portuguese public broadcaster RTP and the first black talk-show presenter in Portugal. Her table explored how to catalyse change through content production.
The D&I Mentoring session covered several important areas. One topic that is now receiving belated attention is the importance of providing a platform for indigenous voices. Christina Fon, vice-president and executive producer at producer Rezolution, led a roundtable which explored opportunities for indigenous creators.
Other execs providing valuable mentoring and insights included Bunmi Akintonwa, CEO of the Little Black Book Company; Alexandra Finlay, vice-president, creative and co-productions, Shaftesbury; and Anyway Content's executive vice-president, content Francesca Johnson.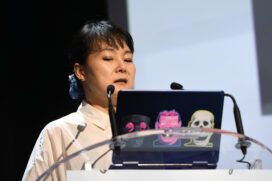 THE Korean OTT Pitching session presented by KCA yesterday featured three Korean production companies describing their latest projects including Soomin She, CEO of Lingaling, who presented the crime-detective show Hidy & Seek. Situated on a high-school campus, the show features a teacher with a knack for spotting clues and a young female detective based on the campus.
Login to the MIPTV platform now to continue your digital experience here
And more articles about our live coverage here.