MIPCOM got off to a sparky start this morning with two conference sessions in the Esterel room focusing on the value of content amid new digital distribution channels. The first saw Joachim Stephan, senior partner and MD of The Boston Consulting Group, and Bruce Mann, chief programming officer at Liberty Global, exploring MIPCOM 2016's theme: The New Television.
« More than $500bn are at stake. And they are at stake for all the incumbents across the video value chain: for the aggregators, for the content producers, for the curators, » said Stephen. « Content is basically at the centre of these changes. » And the dollars will be redistributed based on how the different players in this value chain, from incumbents to new players, who'll do the best job at defining « content as the key control point ».
Stephen presented some of the findings of a recent study conducted by Boston Consulting Group and Liberty Global. « We are completely aware there won't be one truth: one solution and one trend, but we are playing around with different scenarios, and also a combination of different scenarios, » said Stephan, before outlining the three key value chains in the industry: free-to-air, pay-TV, and the emerging online and mobile space.
Stephan noted that free-to-air and pay-TV relied on the same structure: content production, content aggregation and content distribution, with around a third of the value generated in creation and another third in aggregation. In the new online/mobile value chain, there are some disruptive changes afoot, with the likes of Hulu, Netflix, Amazon Prime as well as content companies addressing consumers directly, like HBO, Disney and ESPN.
« This new system triggers and drives new behaviour: new watching behaviour of consumers, especially in the area of nonlinear viewing, » said Stephan. « These players do not have to rely on infrastructure players, or operate a physical infrastructure, a physical network… And the online and mobile value chain has already led to market disruptions in the advertising space: in the US, television advertising spend is falling dramatically. »
Stephan noted that online video consumption continues to grow, but that viewing hours are shifting from traditional linear platforms to over-the-air equivalents: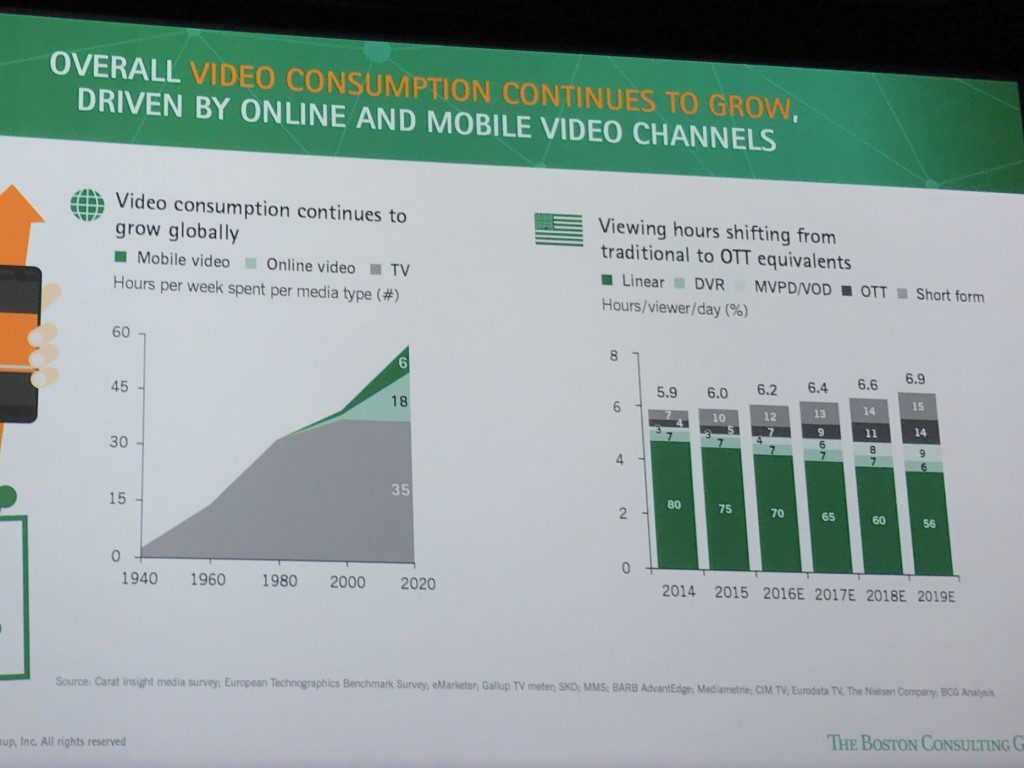 « All the growth is coming basically from online video and mobile video," he said. "It's going to rise from basically a few hours a week to 24 hours, which is pretty significant… Today already a third of total video consumption in the US is nonlinear." And this will rise to 50% by 2018 or 2019, according to Boston Consulting Group.
Stephan warned that not all nonlinear-viewed content is the same, separating out entertainment, sports and news content. Very little sports content is time-shifted and even less news, understandably, but it's a different story for entertainment. « 20% of entertainment content in the UK is time-shifted. This is only an average number. If we're looking into hit entertainment content we're talking about 60% rather than 20%, » said Stephan.
Stephan talked about a « dramatic slowdown » in the number of subscriptions to traditional pay-TV services, as well as a sharp anticipated rise in advertising revenues from online and mobile video services: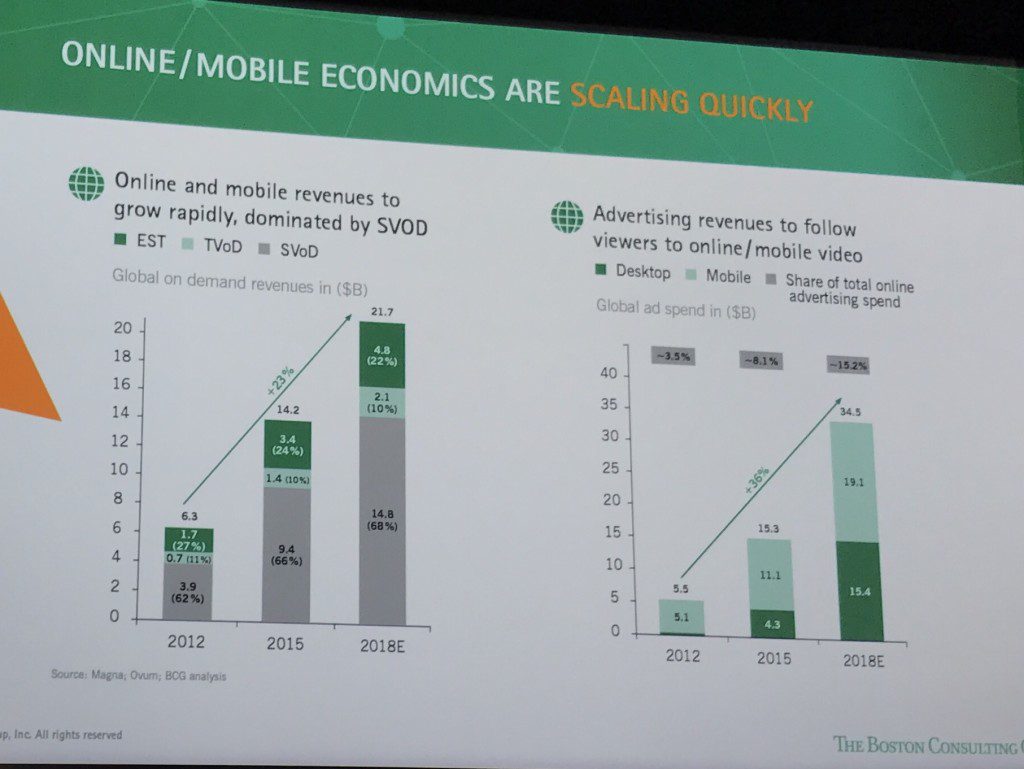 Stephan also warned about changing viewing habits: people will either watch hit shows or content that they're passionate about – but viewing of shows that fall between those two poles may collapse. Big hits may get bigger, excellent niche shows will find their audiences, but middle-of-the-road content may be in trouble.
He sat down with Liberty Global's Bruce Mann to discuss the ramifications. « Any established media company would prefer to have the gradual evolution, » he admitted before warning that shifts of this kind are often overestimated in the short term, and underestimated in the long term: Mann said the rapid decline in linear viewing for under-35s is a sign that the changes will be dramatic.
Liberty Global has been busily acquiring channels and rights to bulk up its content offering across Europe, said Mann, as it responds to renewed competition from telcos and other companies on the continent. Its stakes in production group All3Media and Lionsgate fall under this strategy too. Mann talked about exclusive content. « Our approach is to be strategic and surgical. The guys who are TV-only propositions have to make big bets… but if you're not careful, that could be a race to the bottom as well… We're not trying to get into an arms race with Netflix, for example, which is doing $5bn a year in production. »
Is all this going to lead to the end of linear television? « Linear's been dead for years according to convention! » joked Mann. « Linear's still a big part of our proposition. » He pointed to Liberty's Replay TV feature, where viewers can go back up to seven days and replay its schedule, has reimagined linear viewing as nonlinear.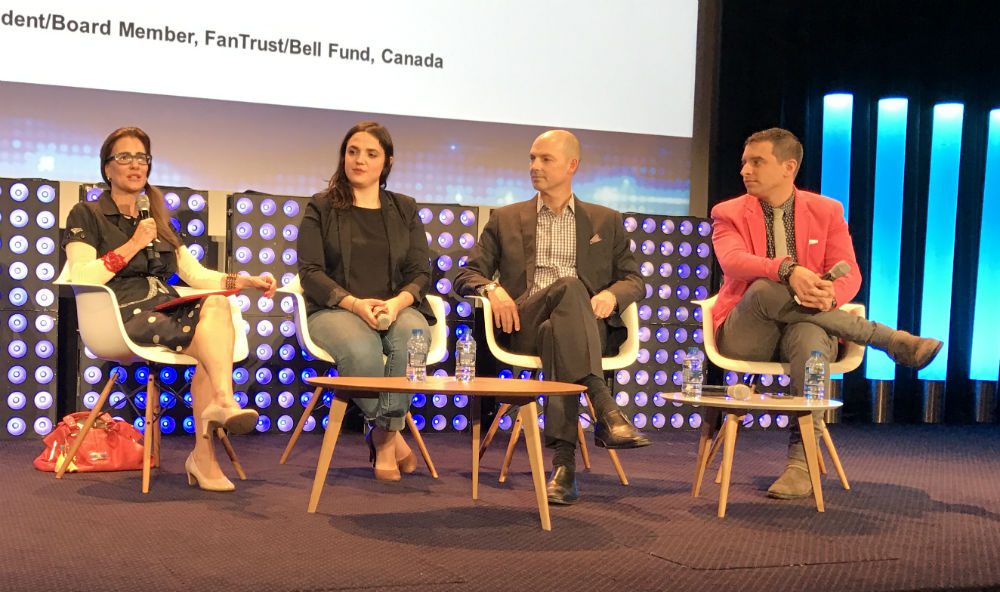 The second session was titled Tindering Content: Choosing the Best Outlet for your Content, examining some of the niche OTT platforms that are seeking content from producers. Its panel included Jeanne-Victoire David, co-founder, acquisitions and partnerships at French independent VOD service VODD; Greg Diefenbach, MD of American VOD network XiveTV; and Damian Pelliccione, CEO of LGBTQ streaming service REVRY. Catherine Warren of FanTrust Entertainment Strategies moderated.
« Subscription revenues from services like Netflix, Hulu and Amazon are expected to more-than double to $35bn over five years, up from $15bn this year, » said Warren. « And this streaming revenue is much greater when you consider different revenue models like advertising, transactional and even e-commerce. »
David kicked off by describing how VODD is finding its audience for independent films in France. « We used to pirate films: independent films from all over the world that we couldn't access, » she said, of French film fans. VODD has gathered more than 500 of these films in one place, and is working with external websites who can embed its player and curate the films their communities are most interested in.
Diefenbach talked about XiveTV's high-end, longform factual offering. « The existing platforms piss off the audience, and then they come find us! » he said. « It was born in 2009/2010 in a world where traditional documentary providers, Discovery and NatGeo, were migrating away from high-quality longform documentary, towards reality television. » He added that this coincided with the emergence of high-quality, reliable broadband networks so that people could seek out such content elsewhere.
Pelliccione said REVRY is finding its own distribution channels, from Apple TV and Roku to smartphone apps. « We're not just traditional-length media. Besides TV shows and feature films, we also host a plethora of other formats of content, » he said. From podcasts to YouTube influencer videos. « We shop for all formats, all types of content… before now, the gay market, the queer market as we call it in the States, was very focused on the white gay male. » But REVRY is working hard to focus on other members of the LGBTQ community, recognising that they haven't been served well enough.
XiveTV started life exclusively licensing content from distributors, but has since moved in to producing « a few hours every year » of its own content, from sharks to space science. « We're only producing about 4-10 hours a year internally. But our demand for content is something like 300 to 500 hours a year. So you can see that only a small percentage of our needs are served by in-house production, » said Diefenbach. XiveTV's business model has evolved from mostly advertising in its early years towards subscription revenues now – but there's still a dual stream.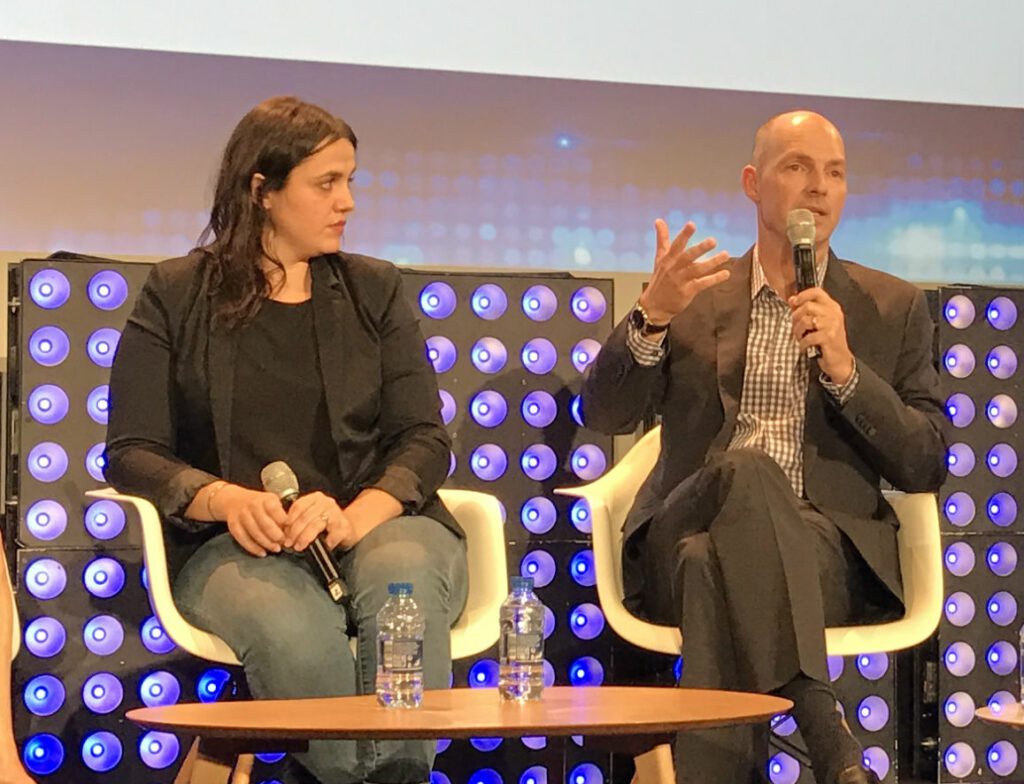 Pelliccione talked about REVRY's in-progress funding round, and how it plans to use the money. « Content acquisition and consumer acquisition, » he said. « We are announcing partnerships with all the major MCNs… production companies like Endemol Shine… We won't produce things in-house so much as partner with production companies to create originals. » REVRY is looking for lifestyle and reality formats from those partners. « Eventually we'll get into original scripted, » he added.
Warren picked up on the reference to MCNs, and how these companies are working with those companies and the influencers they represent. « Influencer content, especially on the LGBTQ front, doesn't have a play outside YouTube. But all the MCNs are looking for opportunities, » said Pelliccione. « We support that. We're not just licensing the content from YouTube… but what we're doing with these influencers is very unique. » It's launching something in 2017 called REVRY Live – essentially a Periscope-style live-streaming app for LGBTQ influencers.
David said that VODD's model is also based on influencers. « Bloggers, YouTubers. Their job is to talk about the movies, » she said. Hence the idea of making VODD's player shareable with these influencers' sites. « We are trying to support them where they already are on the internet. They already have great websites, or platforms, or databases about movies. We just supply them with movies. » She went on to describe VODD as « a Spotify of independent content » as it continues to build out its partnerships.
REVRY has built up its YouTube presence, and is experimenting with several other models – « testing the waters basically, and driving more subscriptions » said Pelliccione – exploring how its content can live on other services and social networks. « Especially Facebook, which we've built up heavily now… The biggest part of what we do with our brand is building community and awareness. Once you build community and awareness, you have brand trust… we're using the power of the internet and social influence to do it. And that's the most important thing to do when you're working in a niche market. »
Diefenbach noted that once this relationship exists, it's vital to live up to it « day in and day out », while David said the results can put a dent in piracy, particularly in France, where she estimated that film piracy remains popular. « I want to meet some French gay pirates! » quipped Pelliccione. « We're on the Riviera after all… »