For all the buzz around virtual reality technology, some children's brands are working more on 'immersive reality' – real-world experiences like theme-park rides, amusement parks and hotels. A panel session this morning at MIPJunior explored some of these experiences, as well as picking its experts' brains on virtual reality.
The panel comprised Henrietta Hurford-Jones, director of children at BBC Worldwide; Catherine Fulton, creative director for marketing strategy and engagement at Viacom Media Networks; and Helen Juguet, VP of business development, TV and digital production at Ubisoft. The moderator was David Kleeman, SVP of global trends at Dubit.
Kleeman highlighted two trends: first, the paradox of choice – "too much choice in kids' lives" – that has led them to migrate towards "brands that are platforms". When Dubit asked what children what brands they like, the overall number has increased. "The entertainment tail is getting longer… but inside this choice, it's fattening at the head of the tail. The top five brands that they talk about get a greater percentage of kids' entertainment time… Being discovered is harder, and even harder is becoming a fixture in kids' lives."
The second trend: parents remain very important for children in terms of the brands they choose to interact with. 70% of kids surveyed by Dubit say they choose content that their parents approve of, while 81% choose content with characters that their parents know. "Parents and kids are looking for shared experiences," said Kleeman.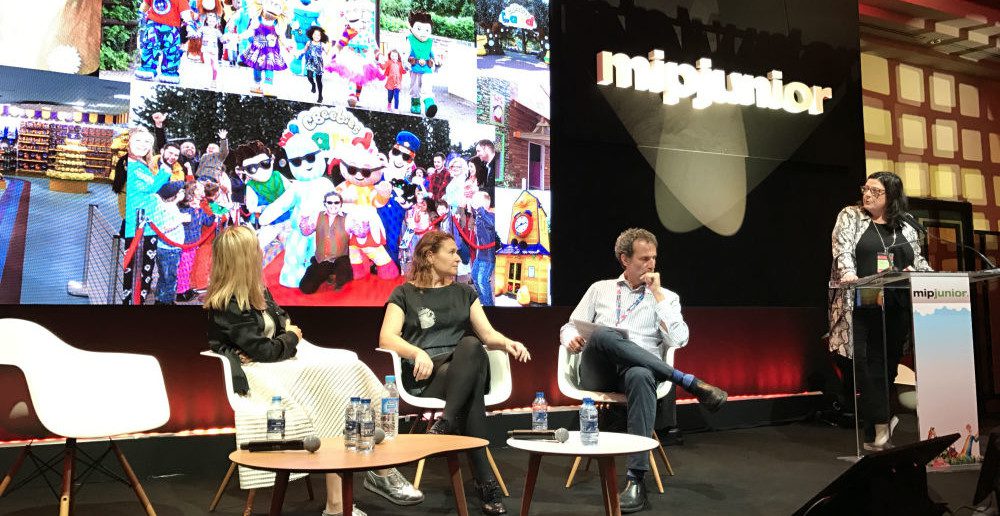 Hurford-Jones talked about BBC Worldwide's experiences with immersive reality: CBeebies Land at the Alton Towers Resort in the UK. "It has been a huge success," she said. "It's about taking small children into the world of their brands, and allowing them to enjoy them with their families. It's this shared experience: young families creating new experiences together, which is important… offering something outside the isolation that something being on a screen can create for children. And for adults too, for that matter."
CBeebies Land includes rides – "they're not screaming, white-knuckle rides!" – as well as 'touching and feeling' experiences like a garden based on the Mr Bloom character, and other zones based on CBeebies' brands. There are guest appearances from popular characters, which Hurford-Jones said creates great joy for the visiting children.
Fulton spoke next about what Viacom is doing. "We really know that when fans love something, they want to own it, see it, share it, co-create it," she said, referring to Nickelodeon's live theatrical events like a SpongeBob SquarePants musical, retail spaces and resort spaces in hotels around the world.
"Not only do fans want immersive experiences that they can share with people, but we saw in our TV shows that location itself is actually a major character. We looked at Airbnb and realised that people are going to new cities, and new locations, and experiencing things first-hand," said Fulton. Nickelodeon worked to make this happen around the new Teenage Mutant Ninja Turtles film, creating the lair from the movie and listing it on Airbnb so that parents and children could come to stay in it.
"We saw over 4m+ impressions over a month period. So this particular experience was a little bit more ephemeral. But we can see that we can use Airbnb as a native-advertising platform," said Fulton. And as a business model, ultimately, for more permanent installations based on Nickelodeon brands.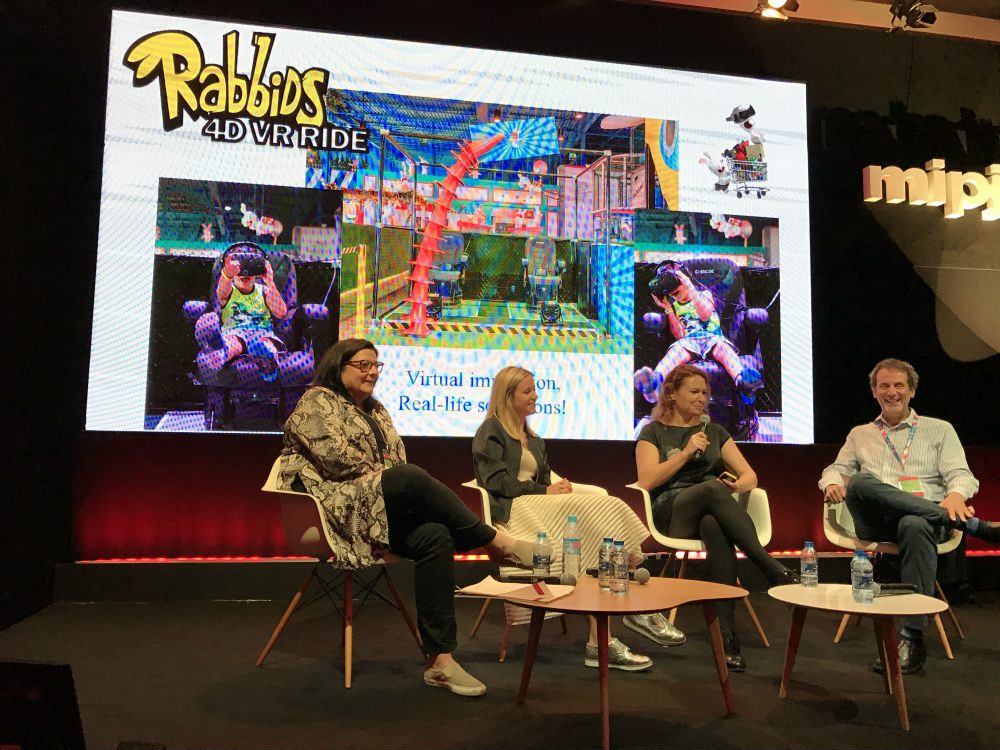 Over to Juguet, who talked about how Ubisoft has expanded its video games. "For most of the IP owners, they start with story. For video games, it's different: we actually start by building worlds, and then we put strong characters into them." But the players are the ones writing the stories. "For us, getting in the real world with some experiences is quite important: 'here are the kind of stories you can experience in our worlds'."
She added that with some parents still not entirely convinced of the benefits games can have for their children, creating shared experiences for parents and kids in the real world is an important part of Ubisoft's strategy to win them over. These include a 3D theme-park ride starring Ubisoft's Rabbids characters, as well as turning the waiting-lines for rides into mini-museums, with famous artworks customised with the Rabbids. There's also a Rabbids-branded 'Amusement Center' playground for kids, and a 4D VR ride in Montreal.
"It's pretty much a raving rollercoaster, but one you can experience even if you're below the height limit that you would have in a real rollercoaster, or if you're 77 years old and are afraid your heart would stop on the real rollercoaster!" said Juguet. "We get some amazing reactions."
Kleeman asked about the 'why' of these installations beyond marketing. "The importance of the family moment, and sharing moments together," said Juguet. "Building that kind of relationship is very important… but it also is something that we've been pushed to do by the fans, because we have very committed fans in the video-game industry. Usually they start those things by themselves: they create costumes, they do cosplay… they create movies online, user generated-content… So we have to give them that!"
Fulton suggested that "millennials and Gen-Z want to spend more on experiences than they do on material goods" and agreed on the popularity of living out the experiences seen in popular shows. Hurford-Jones, meanwhile, talked about the BBC's need to ensure that families find its immersive-reality genuine experiences, "not just a sales gathering" designed to sell merchandise.
How can these experiences be as fulfilling for parents as for children? Juguet talked about the chaotic but joyful Rabbids characters as representing what humans were when they were six years old. "It actually appeals to dads quite a lot! Even though the dads haven't necessarily played the video game, they relate to those little characters," said Juguet. Hurford-Jones said that for CBeebies Land, because it's very young children "the adults are taking their enjoyment from the enjoyment of the child… when you see a three year-old, four year-old, five year-old child react to these spaces and characters, you see why the parents are willing to do it."
The panel were asked about virtual reality, which isn't playing a huge role yet in these kinds of experiences. Not surprising, as most of the VR headsets aren't recommended to be used by people under 13.
"To us it comes naturally," said Juguet. "We're in research and development, and we try to see what it would be like: we turned our Rabbids TV series into virtual reality… But the truth is virtual reality takes its full power when it has a fourth dimension, which is the movement, which is when it becomes a real new experience," she said. "I think people are still looking for what's the perfect virtual reality experience, and the kids tend to get so involved… it can be a bit dangerous to get them too involved, because they don't have that capability of understanding what's real or what's not… It will be about short experiences that have a fourth dimension is most likely the best way to go for kids."
Fulton said that when kids do try a VR headset, they adapt to it very naturally, but she looked to Oculus Rift's parent company for one view on how the technology may evolve. "But Facebook are pushing it as another social environment: they don't see it as closed off," she said. "I think there's a huge potential for it to be a place where globally you can connect with other people, and you can be in these virtual spaces with other people. And that allows us to have parents involved in the experience too."
Hurford-Jones said the BBC is "so far, right back at the beginning: we're looking at first of all how we can use it in the adult entertainment – prime-time or grown-ups – and we haven't started to think about it for the young children we're serving at all. We're still in the stories and storytelling, starting with the content… For the older stuff you can see for Doctor Who there's a way of looking at that, but it's a different target."
"VR is about experiencing more than storytelling… it completely breaks the normal codes of storytelling," added Juguet. "Everyone has to relearn those rules and reinvent them."