This year's MIPJunior conference got off to a sparky start with two sessions of data and insight: first, with Eurodata TV Worldwide's "superfast binge session" on the TV shows children are loving around the world; and second, with a panel of commissioners outlining their desires for the year ahead.
Eurodata's session saw Sahar Baghery, head of global research and content strategy, and Avril Blondelot, international research manager (below), running through the highest-rated shows from around the world, and exploring which might go global. Where possible we have listed the distributor, and when not, the producer(s).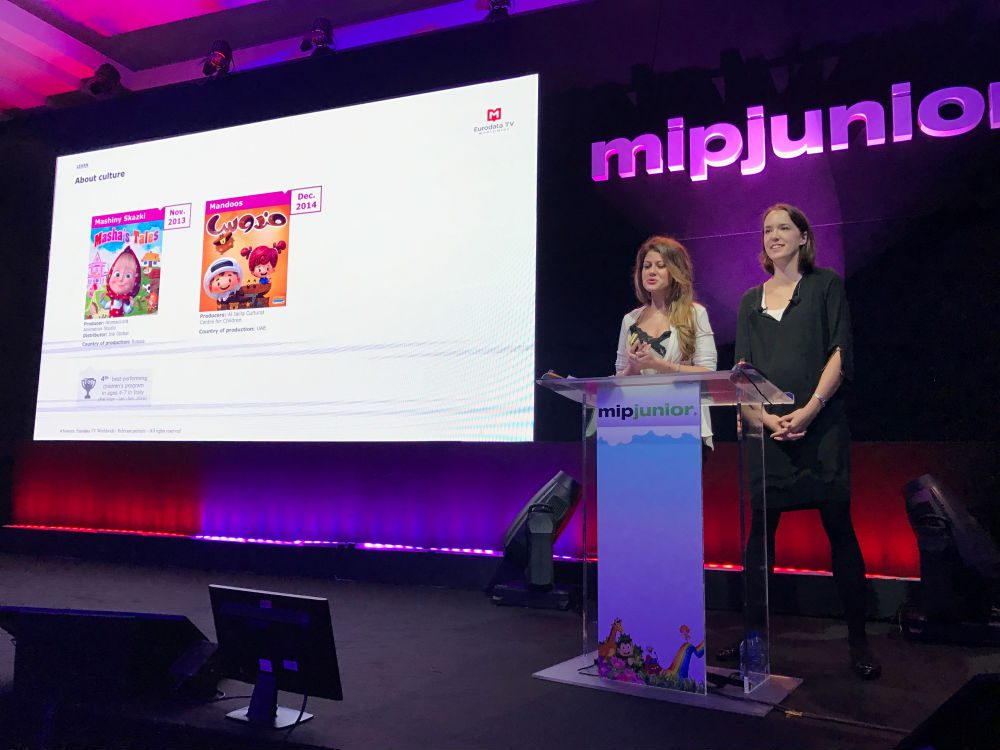 "What do kids like? They like learning, they like dreaming, they like exploring, and they want to have fun," said Baghery. "Children are curious: they want to find out about their world," added Blondelot.
Baghery added that children love nature, citing three series as examples: Octonauts (Silvergate Media), Nelly & Nora (BBC Worldwide) and Siyaya – Come Wild With Us (produced by Francois Odendaal Productions) as examples.
"Children love nature, but culture also matters to them," said Blondelot, citing Mashiny Skazki (Ink Global), Mandoos (Al Jalila Cultural Center for Children) and Moy Muzey (Karusel) – the latter a show where children present works of art.
The pair also showed off some science shows: Blaze and the Monster Machines (Viacom International Media Networks) and Los Creadores (Pol-ka Producciones / A365 Studios), which both introduce scientific concepts through animation. Dutch show Superbrein (Ecco Rights) is a studio-based science format, meanwhile.
"Children definitely like to go on adventures. They want to discover the world, explore it all and challenge their abilities," said Blondelot.
Programmes helping kids explore the world around them include Super Wings (EBS / FunnyFlux / KiKA / QianQi / Little Airplane Productions); Timi i Toma (Media I.M.) and Ranger Rob (Studio Liddell / Nelvana)
Shows solving mysteries include Noddy Toyland Detective (Classic Media Distribution Limited); Läsmysteriet (UR) – "it's Nordic noir for children!" said Baghery – and Ege & Gaga (Resimli Filim Animation Studio).
Superheroes remain popular too. PJ Masks (Entertainment One); Miraculous Ladybug (AB International Distribution) and Niko and the Sword of Light (Amazon Instant Video) all see their young characters changing their world with special powers.
"Children often escape reality: they imagine parallel, exciting worlds," said Baghery, noting that Pokémon (The Pokémon Company) continues to be a big hit, but that it's facing competition from fellow Japanese show Yo-Kai Watch (Viz Media Europe) and Korean series Jungle Survival (EBS / Electric Circus / XYZ Digital).
Some well-known heroes are returning in new formats. Jamillah and Aladdin (Imira Entertainment) and Regal Academy (Rainbow) – the latter finding a new spin on the Cinderella character – while Seven and Me (AB International Distribution) is a live-action-with-CGI series offering a new take on Snow White and the seven dwarves.
Another hybrid show is Mia and Me (Hahn & m4e Productions) with its magical focus. Also spreading stardust are stop-motion / papercraft animation Puerto Papel (Millimages) and "Mary Poppins meets Bewitched" show Miss Moon (PGS Entertainment).
There are shows putting toys on TV: Paw Patrol (Nickelodeon Network / Paramount Home Entertainment); Turning Mecard (Choirock Contents Factory / iheewon) and Skylanders Academy (Activision Blizzard) – the latter based on the popular 'toys-to-life' game series.
Meanwhile, Baghery presented some "crazy stories" like Chinese show Kung Food (Yi Animation), Swedish show Family Rysberg (Sveriges Television) and Winston Steinburger and Sir Dudley (Entertainment One Family) – "one of many shows with completely unlikely friendships," she said.
Blondelot celebrated modern slapstick shows such as Larva (Imira Entertainment); Grizzy and the Lemmings (Hari International) and Kikoumba (TF1 Production), suggesting they are following in the (often scorched or running off a mountain top) footsteps of Wile E. Coyote and Road Runner.
Those may be the shows that children are loving, but what are the people who commissioned them looking for in 2016 and beyond? A "What do Channels and Platforms Want?" panel asked them.
The panel included (left to right in top photo) Tara Sorensen, head of kids' programming at Amazon Studios; Laurence Blaevoet, head of children's programmes and channels at Canal+ Groupe; Marc Buhaj, SVP and general manager of Disney XD; and Sarah Muller, creative director, scripted, animation and co-productions at CBBC. The moderator was Anna Carugati, group editorial director at WorldScreen.
Sorensen talked about how Amazon approached its children's offering. It started with the pre-school age group. "Our curriculum really focuses on right-brain thinking, creativity, so we weren't really competing with the core curriculum of other channels," she said.
Buhaj talked about Disney XD as "the laboratory" for Disney: "The philosophy of us is we want to push, research, try things, and come up with storytelling, content and narrative that kids absolutely need."
Meanwhile, Muller talked about her mandate "to deliver a world view that includes all children: we hold a mirror up to reflect society for all children, so you will find the widest range of content on CBBC… everything from really quite hard-hitting documentary dealing with quite tough subjects like autism, bereavement and substance abuse within families, through to gender issues for children… through to news, sports, factual entertainment, comedy and drama."
So, what right now are these commissioners looking for? Sorensen said that innovation in design or storytelling is important for Amazon. "We are medium-agnostic, which is to say we will do live-action, we will do animation, we will do CG, we will do hybrid, we will do puppet," she said. "Right now we are looking to fill the pipeline in animation… but otherwise we are open to anything unique that hasn't been done before."
Blaevoet said that Canal+ is looking to be in "the French cultural footprint: French movies, French books, French games" as a counterpart to the US channels in France, before explaining one niche: "We want to go into sort-of spooky live-action."
"We are looking for stuff that's really really good, but incredibly cheap!" joked Buhaj. "It is really important to have a strong creative point of view… and at the end of the day we want to meet smart people and smart studios."
Muller gave a health warning – she is leaving the BBC at the end of this month, so "bear in mind that might change!" – and gave her best guess. "Generally everything starts with storytelling for us," she said, before talking about digital.
"The thing that still eludes us who are looking for gripping stories, great characters that you want to spend time with, is how that truly works as a digital property… none of us have really cracked that yet… How do we take all this clever technology and platforms, and our audience's ability to engage with content in different ways, and turn that into something special and revolutionary?"
"Make sure you're working with people who, if they say they're making digital, you get judged on its performance in the digital space, and not the linear space," added Buhaj. "Different content has different properties that work on the different platforms… we'll produce the content and then work out what platform it should lead from, but also put it up everywhere almost immediately. That's one of the mantras we have: get it out there where the kids are."
Muller said CBBC is thinking hard about how to create additional content for its big dramas and animations, so that even when there isn't a new series for kids to watch – because it's in production – there are online games, YouTube content and other digital activity going on to keep fans interested.
"We have to think about them as brands, not just programmes," she said. "You end up creating an ecosystem," agreed Buhaj, while warning that it's vital to break down any "egosystem" that might get in the way of making that content when several partners are involved.
The panel talked ratios of in-house content to bought-in shows. 10-15% of Amazon's lineup is either licensed or a co-production, rather than fully grown within Amazon Studios. For Canal+ the ratio is 50/50 – "we tripled our budget last year, which is good news," noted Blaevoet. Muller talked about CBBC's desire to acquire shows that take risks the BBC likely couldn't afford to take in-house, meanwhile.
And co-productions more specifically? Amazon works hard to make sure co-productions fit with its brand, with any other creative snaggles generally being solved once that's sorted. Blaevoet talked about the importance of curriculum-based aspects to Canal+ while Buhaj joked that Disney XD "like to arm-wrestle over whose voice will be loudest at the table: we get all of the partners in and one-by-one we arm-wrestle, and whoever wins has the loudest say!"
More seriously, he talked about Disney's past success with High School Musical, which went against the grain in terms of children at the time showing no great demand for musicals – until they were presented with a good one. "Great character, great story trumps everything"," said Buhaj.
Muller said CBBC looks for "storytelling that's truly international," suggesting that fantasy and magic are very strong on this aspect. Universal themes reduce the creative and editorial arm-wrestling: "Everyone recognises culturally what these things are meant to be about". And their universality means a broadcaster like the BBC can attract co-production partners to up the budgets for this kind of series.
The conversation turned to Brexit. How will the UK leaving the European Union – and the negotiations leading up to that – impact financing and co-production possibilities for children's shows? "None. Because if you speak about quotas, the UK is [still]European. In France we recognise Norwegian and Russian programmes as European, so it's okay for us," said Blaevoet.
"It's too early to tell," said Buhaj. "At the moment it's a little bit cheaper to buy stuff from the UK [due to currency fluctuations]but at the end of the day we need the creative community there working on lots of stuff."
Carugati asked how children's shows are addressing themes like diversity and inclusion. "Inclusiveness is important. Incredibly important. And you want a diversity of personality in any brand that you have. It can mean race, religion, ethnicity, gender, and personality… it's something we work on really hard, and it makes you stronger and more interesting," said Buhaj.
Muller said CBBC feels it's "not doing too badly" with its casting across races and disability. "What we are failing at is what happens behind the camera and at different parts of the process. It's still shocking that certain groups aren't as well represented in the production processes of the industry as they should be." She cited trying to get more women into comedy, and more ethnicity into different types of writing.
Sorensen said Amazon is also working hard to be more diverse behind the camera, citing one series where four of the 12 episodes were directed by women, some of whom had never directed before. "It does warrant all of us to take risks with that talent," she said: meaning giving a more diverse range of people these kinds of opportunities.
What's coming next, in the next 18-24 months? Buhaj said he's hoping for measuring systems to continue evolving, to ensure that content is measured across platforms effectively. Sorensen wants Amazon to think "outside the screen" in terms of storytelling. "There's an opportunity, as Amazon is a technology company, to do something more innovative in that space than we've done to date," she said.
Muller said that the BBC is currently doubling down on the content itself, the storytelling, having launched new platforms like its iPlayer Kids app. "It might be time to regroup a little bit," she said.
Sorensen also talked about what Amazon isn't looking for. "We're not looking for shortform content," she said. "I am not looking for reality programming, I am looking for scripted series with evergreen character and story that can live on our service for years to come." And she warned that "scatalogical content" is not as popular with Amazon's customers – parents – as it is with their children.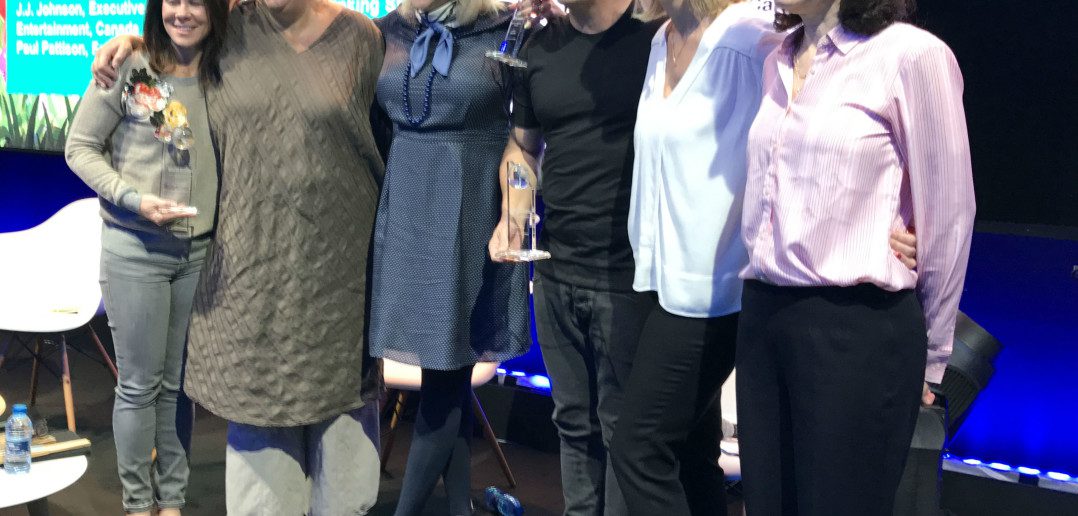 And one final piece of advice on pitching to broadcasters at MIPCOM, from Muller: "Don't be worried, don't be nervous: we're all approachable. But not in the toilet, please!" she said. The final touch was the presentation to each panelist of a World Screen Kids' Trendsetter award (top photo), to recognise their work within the industry.