The factual programming panel.
In a presentation on the rise of factual content in programming, Ali May of Mayhart moderated a panel featuring Angela Neillis, non-scripted director of the UK, EMEA and Asia Pacific at FremantleMedia International; Anand Gandhi, CEO of Memesys Culture Lab; Lisa Perrin, CEO of creative networks at Endemol Shine Group; and Marjorie Kaplan, content president at Discovery Networks International.
We've perhaps exhausted the term "golden age of storytelling." Perhaps as a result, factual programming has begun to change, resulting in enormous interest what it has to offer. (Consider the popularity of shows like The People Versus OJ Simpson or Making a Murderer, and Netflix's aggressive stance on acquiring documentary content.)
"Factual has begun to have a drama-like impact. Because viewers are binge-watching dramas, they're also watching factual in a different way," Perrin observed.
For Kaplan, understanding drama is critical to understanding how factual has changed. Drama techniques have begun seeping into the sector: Cliffhangers and humour make a big difference in getting people get hooked. "That's a storytelling decision. That's part of what makes it feel special and different," she said.
Neillis drew our attention to The Traffickers, an investigative series. Hosted by British journalist Nelufar Hedayat, and created with Lightbox, the show plunges viewers into eight different trafficking stories—including fake pharmaceuticals, wildlife and human organs. Character personalities, travel, and the creative processes that go into black market trafficking play as big a role as a facts.
"It was interesting to us because a passionate 28 year old Afghan UK journalist is a brilliant access point," said Neillis.
Kaplan also observed that locally-relevant content is becoming increasingly important. "The idea that you can build a business by having a big pipeline available to the world is not the same," she said. Now it's more like, "What can we find around the world that can be shows, that can move out of their regions?"
She recalled seeing Undressed in Italy. Kaplan thought, "People like to see naked people in bed with each other around the world. Sure!" Since then it's been sold in the UK and the Netherlands, among other territories.
"There are opportunities like that to incubate content around the world," said Kaplan, while acknowledging that some content "really is local—and that's okay, too."
"A good story can come from anywhere," Perrin said, relating a story about a political format Endemol recently launched from South Korea, in partnership with CJ. The Society Game explores how political systems—like dictatorships and democracies—affect communities. "It engaged young people in South Korea immensely," she said.
But the current paradigm change in politics gives this seemingly niche format global scale—consider Brexit and Trump. "People in the US, the UK are looking at this South Korean reality show," said Perrin. "The world has become exponentially smaller. It doesn't matter if (your content) is from India or South Korea. Everyone has a society or community; we're all part of the same thing. And if it touches you and talks to you, you want to watch it."
The panelists also engaged in a compelling discussion about the use of virtual reality in factual.
"It's a complement to TV, which is usually watched linearly. You can take the audience there—underwater, traveling around the globe," said Neillis.
For Perrin, VR is transforming the treatment of factual and deepening the emotional stakes around it—not unlike how dramatic storytelling has already changed the sector.
"You can see it in the use of news," Perrin said. "You can see a presenter going into a war zone, and as a viewer, taking that journey with them." She added, "I'm not sure it will enhance every factual series, but I can see it evolving in that way."
"VR is a tool. What'll happen over time is that people will learn to use that tool differently," Kaplan said. "Now we're thinking, 'where can we go and show people things?' But as creators get behind it, it will become a storytelling device. That will be very exciting."
On whether VR will disrupt the industry the same way the internet did, Gandhi replied, "Video didn't kill the radio star, and VR isn't likely to kill other media. As we evolve to other tools, we don't leave behind the languages we used in the past. We don't leave a painting behind because we invented photography."
"New technology gives you the opportunity to unobtrusively watch things happen and let people judge their faces, their reactions for themselves," said Perrin. "You don't have to overlay huge amounts of voiceover to get there. People get it now."
"We like to transmit our ideas, feelings to people around us and record them," using the many tools at our disposal, said Gandhi. "VR is one tool. Five, 10, 20 years from now, you can make time travel possible by creating a bubble of reality, and experience it for yourself."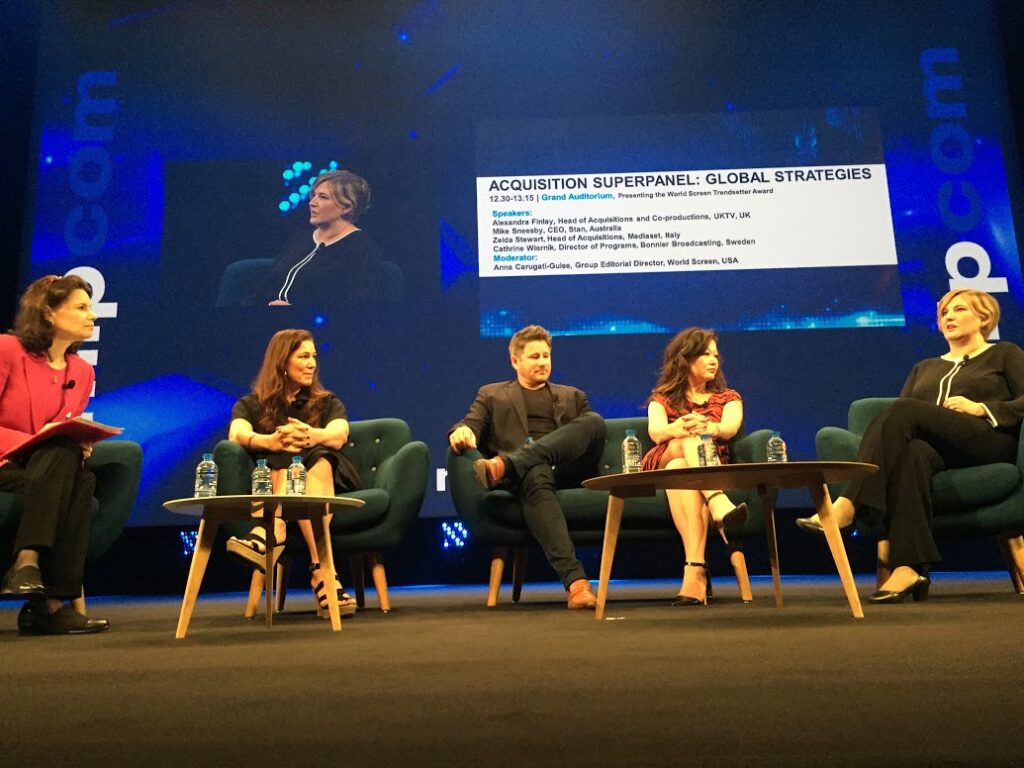 Acquisition Superpanel: Global strategies – Grand Audi, 12.30-13.15
Later, in a lively discussion on global acquisition trends, four international programming executives explained how to spot hit shows, moderated by World Screen's Anna Carugati-Guise. The panel included Cathrine Wiernik, director of programmes at Bonnier Broadcasting (Sweden); CEO Mike Sneesby of Stan (Australia); UKTV's head of acquisitions and co-productions, Alexandra Finlay; and Zelda Stewart, head of acquisitions of Mediaset (Italy).
As in factual, localised content has a growing importance in market differentiation for these programmers.
"We cherry-pick—series, movies, documentaries—for different channels and platforms," said Stewart. "There's a move in Europe for generalist channels: It'll always be more and more about in-house production, entertainment and local. Free TV and secondary channels will be more niche and acquisition-programmed. For Pay TV, it's almost exclusively acquired content. SVOD should be a home for everything, I think." Stewart buys about 1000 new hours a year, just for free TV channels.
"Our product is an important component of all network schedules," said Finlay. "Entertainment channels like W, Gold and Dave are quite mixed" between acquisition and in-house programming, but some portfolios have unique needs: The lifestyle portfolio has very high acquisition.
"Our first big exclusive shows were acquisitions," said Sneesby, who observed that Stan and Netflix are often compared in the Australian market. "Netflix are more into original production in their premium first-run slate; we focus on big network and studio shows. In January we did a deal with Showtime, so all their first-run production comes to Stan, as well as existing shows with Fox."
Stan started out with big network and studio shows, but actually commissioned its first-ever original show just six weeks after its launch (and before Netflix's invasion). That first show was No Activity, the first SVOD program ever nominated for a Logie Award in 2016.
"We had a strong sense of the Australian audience's demands and needs," said Sneesby. Like any audience, it is unique; "it wants localised content it can relate to." No Activity's success "shows us how important original Australian content is, and what it can do for your brand," Sneesby emphasised.
Season 2 of No Activity is coming out soon. Stan is also preparing to launch Wolf Creek, a series inspired by the movie franchise.
Wiernik, who hails from the highly saturated, competitive Swedish market, said her content needs vary for different channels. "Which wishlist are we talking about?" she laughed. "C More has a need for premium content. We are trying to be the local hero compared to Netflix and HBO Nordic."
She explained, "All the big dramas with a huge impact on linear are first premiering on C More. That will set the flow of windowing for that kind of rights, so local is very important. Acquired is as well, but as a pull-in to increase subscriptions and differentiate ourselves."
This year also, Bonnier Broadcasting also had a first for its primetime windows: "Our schedule last fall during peak time was composed of 100% local production," said Wiernik. "That's how important local is for the linear channels. Everything else is fragmented out in the competition and other platforms."
Her experience echoed that of Stewart's, earlier in this panel. "We've gone away from what used to be big deals and spreading it out, to very much cherry-picking," Wiernik said.
After the session, all four panelists were awarded the Content Trendsetter Award. Congratulations—and here's to a future packed with better (clearly more local) content.