The final two MIPTV Digital Fronts sessions of the day saw New Form Digital and Maker Studios parading their video wares – and some of their top talents – in the Grand Auditorium.
New Form Digital kicked things off, with chief creative officer Kathleen Grace and SVP of business development JC Cangilla introducing digital stars Mitchell Davis, Tony V, Jarrett Sleeper, Cyrina Fiallo, Mamrie Hart and Chris Kendall.
"Since our inception in late 2014, we've produced 30 pilots, 19 series and formed 10 different distribution partnerships," said Grace. "We've doubled the US market for scripted originals," added Cangilla, announcing plans for New Form's 'Incubator Series Three' to develop pilots into series for online video platforms. Eight pilots have been launched today on its YouTube channel.
Davis took the stage first to introduce Tony V and Jarrett Sleeper to talk about The Fourth Door. "For us it's about relationships. It's very simple: it's the journeys that we have to take to get over our own shit. To get past ourselves, y'know?" Sleeper said that the project is about love, rather than the "scary stuff" that the duo are best known for. "It's all about the story," added Tony V.
Oscar's Hotel for Fantastical Creatures was next to be showcased, with star Chris Kendall discussing a show that mixes YouTubers and spectacular puppets created by The Jim Henson Company. "There were a lot of YouTubers in the show that I love watching," he said. "It's so creative and visual: it was so crazy you can't really explain what was going on, and it was just so exciting… I was more nervous acting alongside puppets, because these puppets look just like the Jim Henson stuff… People kept telling me, look into the puppet's eyes, not the puppeteer's eyes!"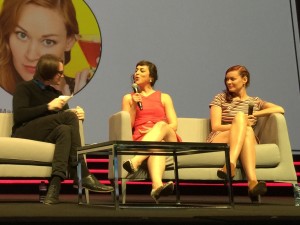 The next show was Replay, a clever drama whose heroine relives the same day over and over, with stars Cyrina Fiallo and Mamrie Hart. "It was my literal dream to have a kids' party as an adult," said Fiallo about the fun times that were had on set. "My favourite memory: I'm in two episodes but in one of them I have to eat a ton of brownies. I was like: 'Can I do another take?'" said Hart.
Fiallo said the process of making the show was collaborative and creative. Hart played a giant octopus in Oscar's Hotel. "A lot of time when digital talent works in a non-digital space, they are shepherded or handheld," she said, stressing that New Form gives creators more freedom. "New Form's like an octopus, it has eight arms and they're all working on different things, sucking it up," laughed Fiallo.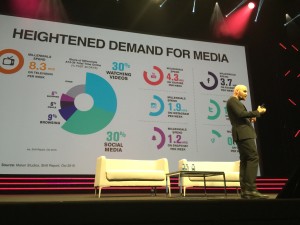 The last Digital Front of the day came from Maker Studios, with its chief content officer international Luke Hyams and its head of international Rene Rechtman introducing the MCN's stable of shows, as well as creator Callum McGinley (aka Callux).
"This year is different. It's not like in previous years. The last 12 months something crazy has happened in the industry. Sincerely crazy," said Rechtman, noting that British broadcaster has taken its BBC3 channel digital-only; Vice has launched 15 linear channels; YouTube star PewDiePie published a book; and YouTube launched its Red subscription service. "All within the last 12 months. So what do we take from this? What is happening? I believe that what we have talked about in the last 10 years: convergence, is finally happening. And it's accelerating… Time, place and device has so meaning any more. There's unlimited accessibility to content."
He added: The demand for media is just increasing with this new change: that time, device and place have no meaning. But everyone wants content… The average teen in the US is spending 11 hours a day in front of a screen." But creators need to remember that "you don't just take library content and place it out there, and it flies. You need to tell stories in a new way. You need to create new formats."
How can producers get through the noise? "We believe strongly that you need to create brands and franchises," said Rechtman. "You need to create brands, because we believe that the audience will be searching for shows, for brands, for franchises. And it's just accelerating how we're going to discover the content… But it all comes back to great content and storytelling."
Over to Hyams, who explained how Maker Studios is moving in new directions, categorising all its content into four verticals, relating to the audiences it most targets. It's also focusing on "super-short-form content… for the anti-social media generation" as well as a new slate of "long-form premium entertainment in both scripted and unscripted genres". Hyams pointed to recent studies showing that digital stars are "We are entering a new era in which musicians and pop idols, so to speak, are not the go-to main celebrity for young people. It is the digital celebrities, the digital influencers. And with that comes a bit of a generational divide."
He compared the bafflement with which many parents see YouTubers to past generational clashes over punk-rock or gangsta rap. "Now it's video genres that are the things that are causing these generational divides," he said. Hyam added there are ways to work with digital creators, and ways to not work with them. He noted that a pitch lands on his desk at least once a week: "Eight YouTubers in a house. Hilarity ensues." This is not a good idea, he said. "People have come forward in their thinking of how you work with these celebrities. And how you work with them is not as celebrities, but as creators. What you need to do is tap into the passions that got them the audiences in the beginning."
"We have the potential to become the innovation studio not just for the Walt Disney Company, but for the entire industry," continued Hyams, before talking about some of Maker's big stars like KSI, who has a new show on the way. "It takes KSI's gaming roots, it takes his desire to reinvent the chat-show, and it takes his talents as an entertainer," he said, showing a trailer for the new show called Chat Pad. Maker isn't saying for now where the show will make its debut.
Over to McGinley, who talked about his decision to go full-time making YouTube videos rather than pursue his university studies. "My mum went mad! She went crazy! I think there were a couple of tears… But don't worry, I think she's more than happy now." He now has 1.4m subscribers on YouTube, and is launching two new shows with Maker Studios. His ambition. "I'd love to have a show equivalent to Jimmy Kimmel or James Cordon," said McGinley. "That's dream-world. But I'd love to do it for the new millennial audience, my audience, who probably don't ever watch TV really."
His new shows include Local Legend, where Callux takes on people around the UK at a range of challenges ("and one test of testicles" as the trailer put it). The second new show is called BPM, which will see Callux travelling the world to "be put in some of the most horrific, life-changing experiences ever, where I'm going to be hooked up to a heart monitor and pitted against someone to see who can keep their heart-rate lowest in these situations". With a forfeit for the loser. The show will include footage shot on 360-degree headcams, giving a first-person twist.
Maker Studios will release two simultaneous trailers for the shows, and will gauge audience reaction to them across all the social platforms to decide which to make first. Hyams said it will also seed the trailers elsewhere on the web, to try to get feedback from people who aren't already fans of Callux too.