It's week's end! James Martin, Head of Social Media, MIP Markets, rounded up industry experts to synthesise the week's big themes. Panelists included Bunmi Akintonwa, CEO, Little Black Book; Justin Deimen, Group Managing Partner, Aurora Media Holdings; and Amanda Groom, Managing Director, The Bridge.
First up and as always, Martin shared a tag cloud of the most buzzworthy topics on social. These included Mark Gordon show The Rookie, where Nathan Fillion plays a middle-aged rookie cop. The Hows of Us (ABS-CBN), meanwhile, is the highest-grossing Philippine film to date; a single tweet about it generated over 3,500 social engagements.
"Interesting to see there's a huge wave of fandom behind this film we hadn't heard of before," said Martin. "Surprises always come out of conversations on the internet!"
#kidsTV also loomed large, thanks in part to MIPBlogger Stuart Dredge's MIPJunior kids tech session, where he explained the "MLG Peppa Pig" conundrum. "Because YouTube's recommendations work by algorithm, kids start off watching real Peppa Pig and end up watching MLG Peppa Pig, then think George smokes weed every day… so it's a big problem as algorithms increasingly decide what we watch," Martin reflected.
Akintonwa speculated this could present an "interesting marketing exercise… which [eOne] didn't expect, but it could be useful. It's a learning opportunity."
Other topics? Turkish drama, Project Blue Book and Travel with a Goat—which Groom called "brilliant" because its ludicrous surface hides a larger, deeper debate. And there was Way Too Kawaii, a Japanese show making waves well outside its own market and MIPCOM's Asian World Premiere Screening.
"We've optioned a few Japanese IPs," Deimen said. "They're a lot to do with lifestyle; they're good at coming up with gimmicks and very translatable, especially in countries that have a long-held fascination with Japan… Everybody knows what 'kawaii' means [so]depending on the kind of personality you get, I'm pretty sure you could remake this in Spanish territories as easily as in Southeast Asian territories."
Onto each panelist's own topic of the week: the one industry trend that stood out for them this market.

Akintonwa chose #inclusion.
"At the moment there's a bit of diversity fatigue," she began. "For some people it seems like a threat; they think means we won't be inclusive for those already there… but that's not true. What we're trying to do is make the world normal, representative—everybody included, a broad look at the entire world. That's inclusion, not just diversity."
We are, however, making headway. There are "stronger female roles, more ethnic minorities, LGBT programmes… we had the Diversify TV awards, with more entries this year than last," she observed. "People are looking outwards. »
This may be related to how content distribution has evolved, with the Amazons and Netflixes of the world enabling local programmes to go global instantly. "It changes how broadcasters approach programming; they had assumptions about what would work in certain markets, which leads would appeal, what young people want. They've been proved wrong."
La Casa de Papel is a good example of how wrong broadcasters can be about what the youth are into. "I was introduced to it by my daughter, and had no idea she was watching it," Akintonwa laughed. "All her friends were watching it. They didn't care about the language, the cast; they cared about the fact it's a fantastic programme. That's what inclusion brings: Variety, better programming."

Deimen's trend? #oldrulesgone.
"Over the last few years, purchasing and licensing prices have gone down; overheads and the license period buyers want has gone up," he began. Margins are now so low it isn't worth it anymore to keep working with traditional buyers in your own region.
Thus "people that didn't want to have a meeting 2-3 years ago are now open to meeting Asian buyers," Deimen observed. "Now they realise 'I can barely hit 10%; I have to look at my project and rejig it. Oh, NHK is actually paying more than they used to!'"
This yields other changes. Once you start working in Asia, co-production becomes the most sensible thing to do. "In Asia, they pay more in co-prod than just licensing," Deimen explained. "Licensing in Asia is still relatively low in terms of quantums; when you share rights, they can be more generous than even the Europeans or Americans."
Another result is that European and US producers have stopped thinking that the best way to penetrate the Asian market—any market, really—is to shoot some at home and export it out. Now "they just go to that region and go, 'what works? We'll bring you money'."
A virtuous cycle has been created. "It leads back to inclusiveness as well," Deimen said. "It just happens; you don't have to force it anymore."
Groom's topic was #cofinancing.
"A bank as traditional as Barclay's is now investing in content. It doesn't see it as a big risk; it sees it as naturally part of the ecosystem they want to be involved with," she pointed out. "For big budget projects like Game of Thrones, they are now cooperating with other banks to put enough money on table to create these very, very valuable properties. Even the banks are co-financing. It's as if everybody is cooperating to create something that keeps value there."
Barclay's isn't the only entity scaling out of its wheelhouse, and it is far from the only source of income. "Keshet International have a 65m$ fund; they're investing into properties," Groom said. "Anton Finance worked on Paddington 2, and operates "a different model entirely. And they all come in at a different point."
The partner you choose will need to make the most sense for your project, but options abound. "Somebody like Barclay's wants the whole thing signed, sealed and almost delivered, neatly wrapped up and they'll advance the money," Groom said. On the other hand, Globalgate "wants to begin an early conversation with producerss, directors and creators so they know what is being considered. They will continue to hold your hand during that process."
Whatever you opt for, Groom urged, "hold onto the value, don't give it away. There are various investment strategies: Ingenious Media in the UK, companies that take risks by inserting an executive producer but that also bring big funding with them, distributors that invest up-front, there's the model of pre-sales."
She summed up, "You have a number of models, not all good, but you need all those models to have a functioning system."
Below, check out wraps of other sessions over the past 24 hours.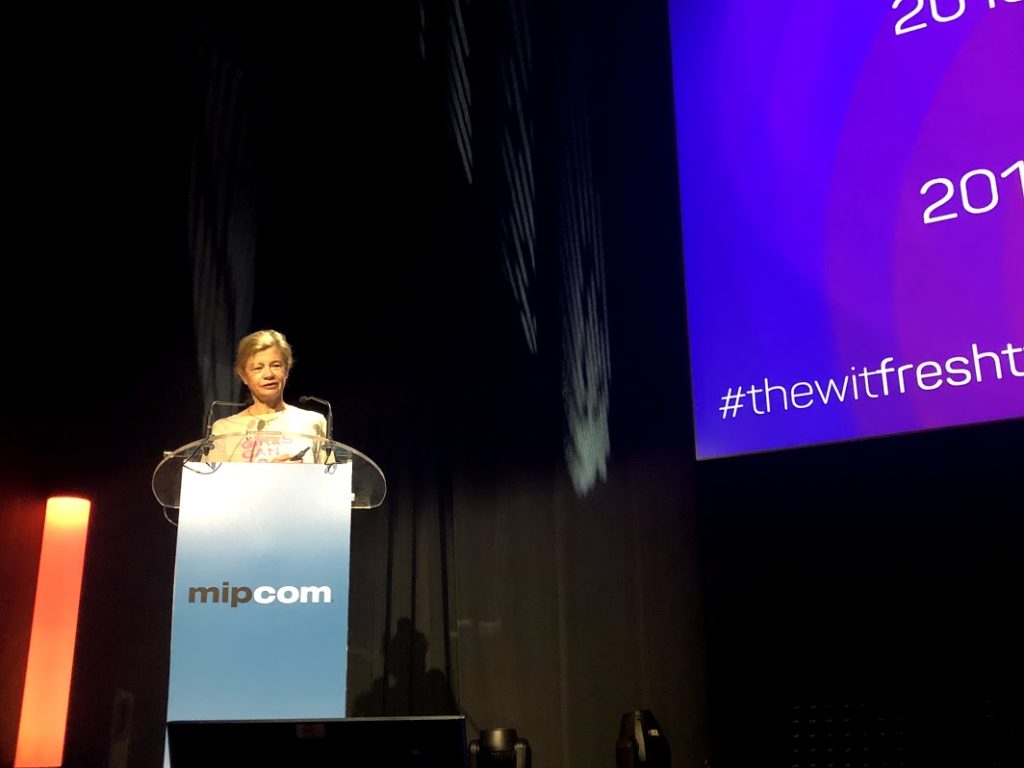 The Wit's 'Fresh TV' sessions have become a staple of MIPCOM and MIPTV, and Wednesday's Fresh TV Fiction presentation drew a big crowd as ever. CEO Virginia Mouseler noted that 22% of new dramas in 2018 have been based on IPs and real events, up 10% on 2017. So what are the new drama hits?
Manifest (distributed by WBITD) sees a plane disappear from radar-contact, before returning five years later. Where has it been in the meantime?
Bodyguard (distributed by ITV Studios GE) involves a heroic but volatile Gulf War veteran trying to protect the British home secretary, blending conspiracy and terrorism. Aired first on the BBC in the UK, it's going worldwide on Netflix this week.
The Cry (DRG) focuses on a young woman and her husband dealing with the disappearance of their baby, under public scrutiny and with ructions in their private life.
Strangers (All3Media International) explores the experience of a British university teacher whose wife is killed in a car accident, and who then discovers that she had a double life. Oh, and the 'accident' was murder…
The Game (Armoza Formats) is a French Canadian drama where a young video-game designer has to battle cyber-trolls after they start harassing her online. It's a timely drama given the #MeToo movement and stories around online harassment.
More Than 100 Lies (Atresmedia Distribution) is a digital-only teen drama, where the hacking of mobile phones in a school reveals secrets with tragic consequences.
I Know Who You Are (Filmax International) made its debut in the Netherlands: a Spanish scripted format about a missing young woman. Mouseler noted that 5% of new scripted shows are based on foreign scripted formats.
Escape From Mafia (RAI COM) tells the epic story of a family of Sicilian immigrants in America in the early 20th century.
Unauthorized Living (Mediaset Spain) features more gangsters: the Narcos family whose godfather figure is diagnosed with Alzheimer's disease, and must identify his successor while hiding his illness.
Victim No 8 (Imagina Sales) from Spain focuses on a jihadist attack in Bilbao's 'old town' district and its aftermath, but with an emphasis on the personal stories.
Jacqueline Sauvage: It Was Him or Me (TF1 Studio) from France is the story of a woman who killed her violent husband, but was then released from prison after being paroled. It's based on a book, which in turn was based on true events. 14% of all new scripted shows this year are based on books, explained Mouseler.
Bitter Lands (InterMedya) is set in 1970s Istanbul, and a man who commits a crime to protect the woman he loves. They're forced to flee together to the south of the country, to work on a farm.
100 Days to Fall in Love (VIMN) hails from Argentina: where two couples in their forties decided to live for 100 days as single people, to see if they can fall in love again and save their marriages.
M – A City Hunts a Murderer (Beta Film) sees a child-murderer terrorising the city of Vienna, and sparking a witch-hunt. It's adapted from the cult 1931 Fritz Lang film.
Project Blue Book (A+E Networks) is a US drama focusing on the true story of top-secret, United States Air Force-sponsored investigations into UFO-related phenomena in the 1950s and 1960s.
Harassment (Globo TV International) is from Brazil: another true story, this time about a doctor accused of raping 37 patients, who was sentenced to 278 years in prison.
Iron Island (Globo TV International) is a drama about people working on an oil platform, and the stresses that ensue from a mixture of power struggles, love stories and the possibility for explosions.
Impure (FNGCD) is about a young man whose brother is killed in a police operation. His chosen method of revenge? Working his way up the ranks to the top of one of the biggest criminal organisations in the world.
Butterfly (Fremantle) is a groundbreaking drama from the UK about an 11 year-old who was assigned male at birth, but who makes the decision to transition. But will her family accept her for who she is?
If you missed any Fresh TV sessions this week, Mouseler also led The Best of Fresh TV, a roundup of standouts in fiction and formats. The top 5 formats of 2018: The Wall, This Time Next Year, Masterchef + JR, Ex on the Beach, and The Four. Elsewhere in format standouts, of course the dancing shows made a big splash—Dance As One (Talpa), Dance Revolution (Armoza Formats) and Dance to the Music (BBC Studios).
And how could we forget Making Love (WeMake, MediaPro), where six singles try finding love by first making some? Voices from the Grave (A+E), where the dead return to loved ones as holograms, also got a shout-out, as did Travel with a Goat (Tuvalu), which pairs celebs with improbable pet animals, then springboards them into a remote community where that animal is customarily eaten. (Will they opt to slay their friend… or pay the price for their lives?)
"I presented this as a joke a few years ago… and a couple of years later it became a format in Holland," Mouseler said, assuming her (albeit small) role in its existence.
Fiction-wise, Bodyguard (ITV Studios GE), The Cry (DRG) and Unauthorized Living (Mediaset Spain) got encore mentions, as did Victim No 8 (Imagina Sales), Bitter Lands (InterMedya) and 100 Days to Fall in Love (VIMN), an Argentinian work where two couples in their forties live single for 100 days, to see if they can fall in love again and save their marriages. A scripted adaptation's being made in Chile now.
Rounding it out are Harassment (Globo TV International), the true story of a doctor accused of raping 37 patients; and M – A City Hunts a Murderer (Beta Film), adapted from the cult 1931 Fritz Lang film.
Mouseler concluded the session by telling us that new scripted shows on linear and digital rose 128%. If you'd like complete descriptions of these works, treat yourself to the Twitter feed on this session.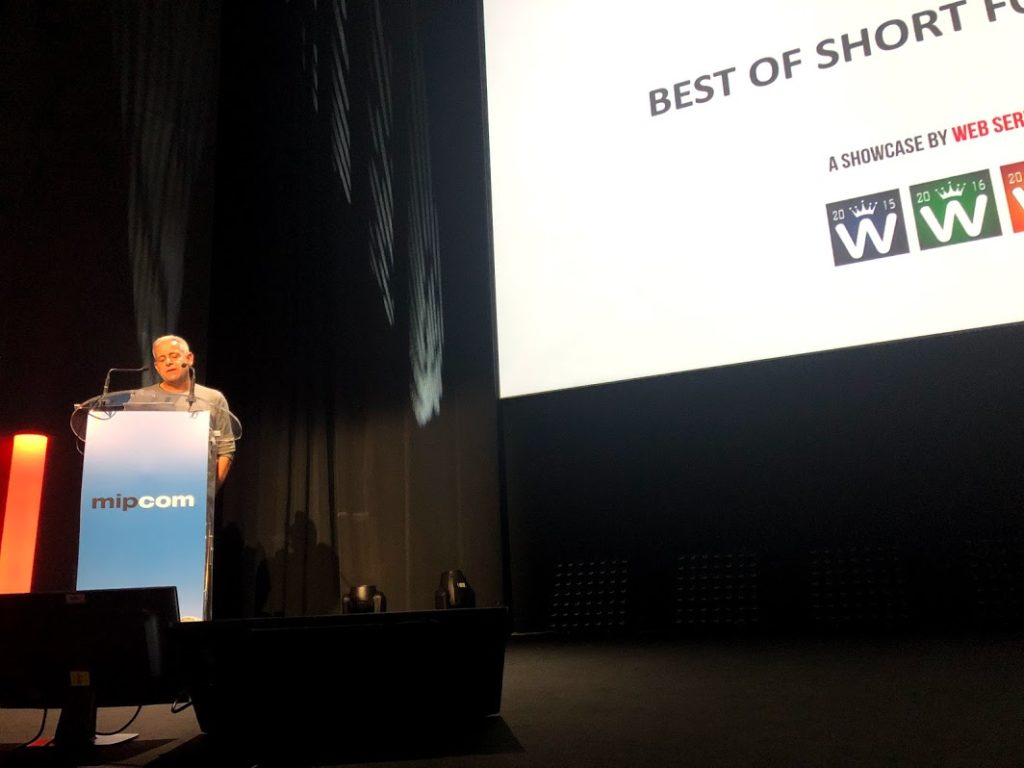 The rise of OTT platforms unleashed a booming demand for short series, churning up a perfect storm of commissions and creativity across genres. Joël Bassaget, consultant at Web Series Mag, curated the "best of the best" short form series, selected from major web fests across the globe and available now for global distribution.
Bassaget's curation stems from the 2018 Web Series World Cup, which itself draws from 21 festivals around the world, representing 740 shows from 44 countries.
He began with a few trends. "Web docs are booming. For the first time [this year]we're seeing a lot of web docs being submitted to festivals. It's a big trend right now—documentary on short form."
Web series are also now extremely popular in India, "a huge market that's only starting to flourish." This has yielded a production explosion.
And if you haven't heard already, Australia is killing it. "Australia won everything," Bassaget said. "They presented a lot of programmes to all these festivals, and all their programmes were rewarded more than other countries. The quality of short form in Australia is really rising. It's the phenomenon of this year."
As an example of that last point, and to start us off, This is Desmondo Ray is a mix of animation and live-action. It's about a peculiar man seeking love in a dark, troubling world.
Nemausus, meanwhile, is about a Roman gladiator who only speaks Latin and has somehow time-traveled to modernity.
What would you do if the world you always knew suddenly turned existentially inside-out? This is the question Soy Ander will perhaps answer.
In End Unsung, people from different timelines are affected by colliding realities and the unknown darkness dwelling between them. Bassaget calls this show a "great opportunity for adaptation in longer formats."
The Hidden Track, based on Valentina Nazarova's online bestseller, is the story of Nika, who's investigating the mysterious disappearance of her sister. With help from a social network, clues lead her into world of Brit rock n' roll.
1 Minute Meal is an excellent example of short web documentary. It's a collection of 60 one-minute documentaries, using food to reveal communities, legacies, dreams, realities and the unseen forces that shape life in New York City.
"This type of programme is very easy to produce and easy to brand," said Bassaget.
Lastly, we enjoyed the world premieres of Anomalie from Tag und Nacht Media, and Neptunia, from Gaston Armagno of Uruguay. The former is a coming-of-age mystery thriller; the latter about four friends spending a weekend in Neptunia, whose community hides a terrible secret: "It's a really dark, grotesque comedy like only Gaston can do," Bassaget promised.
He wrapped by telling us, "All 8 shows you've seen are independent shows, self-financed for the most part. This is why it's also very interesting to observe this movement. It's a totally independent, totally unique in the history of audiovisual so far."
In December, Bassaget will release an ebook he co-authored, titled Short, Narrative & Serialized. "We're working on a database of more than 6000 titles that allows us to observe the evolution and trends of web series," he said.
Peter Sykes, Strategic Technology Development Manager, Sony Professional Solutions Europe, hosted a session yesterday on how producers can better connect with their audiences using the technological advantages of UHD and UHR.
"Change in the industry is accelerating. In traditional pay TV and SVOD, a switchover is happening," Sykes began. "Through players like Netflix and Amazon, there's massive growth in this area." Between 2018-2019, SVOD will enjoy 24% growth, overtaking pay TV.
And the market is advancing at a steady clip. Over 80M 4K UHD TV sets shipped in 2018, of which 60% were in HDR ("high dynamic range", data via Futuresource).
Today there are 142 ultra HD/4K channels or feeds worldwide; 76 are in Europe, representing "a 15% increase since April," when last we caught up at MIPTV, Sykes explained.
4K screens are now everywhere. Consider just a few examples from Sony: Xperia phones, the Bravia line, Sony Digital Cinema, and Crystel LED—"a scalable format-independent system built of tiles that you can put on a huge wall," Sykes said. "It's incredibly impressive. You can see it at places like CES or any of the pro electronic shows."
Sony is also releasing an advanced home theatre projector: 5000lm with a laser light source. It also just released its Master Series Bravia display.
But why bother with UHD, 4K, or HDR in the first place? Sykes made a compelling case. In addition to storing the best-quality content for future distribution, and enjoying access to additional revenue streams for buyers seeking UHD or HDR, Sykes said this richer visual quality offers a new "arsenal of tools to tell your story."
He explained, "We can create an enhanced visual experience for the viewer" in sports, natural history or intensely ambient storytelling; premium period shows come to mind, like the upcoming War of the Worlds adaptation.
"We have lots of comments from people saying in natural history, they like to look at the condition of the animal—is it under stress, in a threatening position? If you can show that visually," you don't have to narrate it, Sykes pointed out.
Quite literally, it's picture that can spare you 1,000 words.
Additional reporting by Stuart Dredge