In between blogging sessions on the first day of MIPJunior, I found myself on the Grand Theatre stage presenting one: Child's Play – Tech for Kids Roundup. Having promised the audience a blog post full of links to the content and tech I talked about, here it is!
The talk was based on the tech I've seen as part of my job writing the apps, games and tech pages for UK magazine The Week Junior, which is aimed at 8-12 year-olds. I also recently wrote a series of articles for Medium about digital parenting, and run my own ContempoPlay site to write about these topics too.
The Child's Play talk started with the elephant in the room at any conference focusing on kids and entertainment in 2018 – Fortnite: Battle Royale. It launched a year ago as a free mode for an existing game called Fortnite, and is an action-packed game where 100 players skydive onto the same island, then run around shooting one another until only one survives – although there are also options to play in teams or duos.
Fortnite shouldn't be a 'children's game' really – it's age-rated 12, but it's become a craze for millions of kids as young as seven or eight. The game had 78.3 million players in August according to its developer, and although we don't know how many of those are children, anecdotally I'd say: lots!
Like Minecraft before it, Fortnite isn't just a game children love to play: it's a game they love to watch other people playing on YouTube. The game has created new stars like Ali-A (who has 15.2 million YouTube subscribers) and Tyler 'Ninja' Blevins (who has 18.9 million).
Videos like this ARE the new Saturday-morning children's TV for young Fortnite fans, long-range sniping headshots and close-range shotgun blasting included. That's something the kids' TV industry definitely needs to talk about, in terms of what it means for the appeal of their own shows – which (understandably!) veer clear of this kind of content.
I also talked about what's happening with Minecraft, the previous game-craze for kids. Its owner, Microsoft, is making a big push for it on the educational side, with Minecraft Education Edition – a version designed to be used in schools by teachers to teach… well, plenty of subjects: maths, physics, coding but also history and literature.
I mentioned a few interesting examples of Minecraft being put to educational use in the talk: a mod that introduces elements of climate change to the game, which players can try to manage; a project called Litcraft which recreates famous fictional settings (like Skeleton Island from the book Treasure Island) to inspire kids in their reading; a project where a teacher and their students created a recreation of ancient Baghdad; and English Heritage's drive in the UK to get children to make Minecraft versions of famous castles.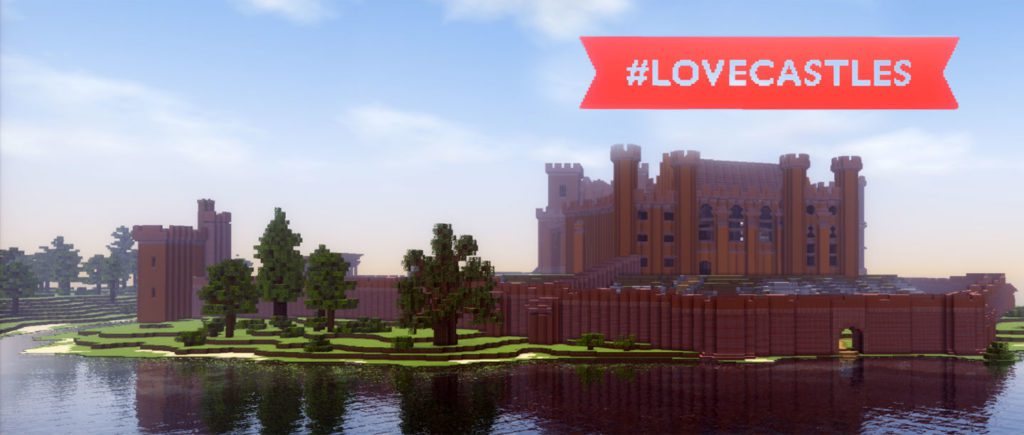 Minecraft is almost a way for children to become virtual TV-set designers: creating the environments within which they can then tell stories. But I also talked about some of the tools available for children to create their own games: Roblox, for example, which has 60 million players with around two million creating games for the community to play. It has had its controversies around extremely unsuitable content. But it has also, like Minecraft, launched an initiative to get teachers to use it in schools as a learning aid.
Another thing to look out for in 2019 is a PlayStation 4 game called Dreams, which will be a sandbox for all ages to create their own worlds, characters and game-rules.
The next part of my presentation focused on smart speakers like Amazon's Echo range, Google Home, Apple's HomePod and other voice-controlled devices with their own smart assistants (like Siri, Google Assistant or Alexa) built in. More than 100 million are predicted to be in use by the end of 2018, and they're in a lot of family homes, which means children are interacting with them.
There are some important discussion topics around this: privacy, for example, where smart speakers are recording, processing and storing data on the voice commands they've been given. But there are also some trusted children's brands experimenting with content and experiences for smart speakers: the BBC has a CBeebies 'skill' for Alexa; Disney has several games for Google Home; and Bandai Namco has a Pac-Man Stories skill for Alexa too. Expect more of this.
I also talked about When In Rome, a geography-focused family board game where Alexa is the host, and the questions are asked by the voices of real people around the world. And I noted the emergence of dedicated smart speakers for children, from Amazon's Echo Dot Kids Edition to Yoto, a startup with a device that uses physical cards to trigger music, stories and learning – with an emphasis on privacy protection too.
Talking about voice brought me on to experiments with artificial intelligence: can AI create content for kids? A company called Botnik was commissioned to write a 'new' Brothers Grimm Fairytale, for example, although its AI was complemented by three human writers who knocked the story in to shape.
The same company had previously explored writing a new Harry Potter story, although the part where Ron does a frenzied tap dance before eating Hermione's family suggests AI isn't quite ready to replace JK Rowling yet…
I also talked about an academic project to train an AI to understand, and then potentially create, Flintstones cartoons. There's potential here in the future: imagine training an AI on a world, its characters and a bunch of older storylines, then letting it loose for 'mass-customisation' – where every viewer gets a new episode tuned to their preferences. Although I worry that this ends with Barney Rubble doing a frenzied tap dance before eating Fred, Wilma and family!
More seriously: the emergence of creative AIs doesn't mean we could or should replace human writers, animators and showrunners. But this technology could perhaps have a role as a creative foil for those people, or even a creative tool for children who want to come up with their own stories.
The next section of my talk focused on interactive fiction, including apps like Episode and Choices that offer multiple-choice, branching-narrative animated comic-stories, for a teenage audience. Or chat-fiction apps like Yarn and Hooked, which present stories as strings of text messages, as if you were peeking at someone's WhatsApp messages. These are also aimed at teens – vampires, light horror, romance, high-school rivalries are key themes – but Amazon has an app called Amazon Rapids which deploys the chat-fiction format for younger readers.
The next part of my presentation explored the topic of children and STEM (science, technology, engineering and maths) – although this is sometimes expanded to STEAM (the A is for 'arts') too. There are lots of initiatives and gadgets getting children to build and code, and sometimes there are partnerships with children's brands around that.
Examples: British firm Kano's Harry Potter Kano Coding Kit, where children build their own magic wand then use it to learn programming skills. Or American company LittleBits' Avengers Hero Inventor Kit, where children build superhero arm-armour and then control its lights and sounds.
From the Sphero Bolt app-enabled robotic ball to the Tech Will Save Us Light Racer Kit, there's a lot of gadgets exploring this idea of children as makers, hackers, coders and creators. These companies are also working hard to make their products gender-neutral, equally appealing to girls and boys.
One of my favourite projects is called Detective Dot. It's a global spy network that your children can become members of, and when they do, they get a welcome pack in the post that includes a book of stories – which is where they'll learn programming concepts. So it's not pushing the idea of being the next Ada Lovelace or Margaret Hamilton or even Mark Zuckerberg – it's about the excitement of becoming a spy, but with coding skills part of the job! I also talked about a new device from Osmo and Disney, where kids can put their creativity to work on characters and stories on their iPad.
The presentation moved on to social apps, and the challenge for many parents that their kids gravitate towards the creativity and sharing features of apps like Instagram, often before they're officially old enough to use those apps. That's sparked some examples of attempts at answering the question 'what would an app where children can create and share safely look like? – from CBBC Buzz in the UK to PopJam.
We've also seen video apps for kids that aim to provide an educational, child-safe alternative to YouTube: like Kiddztube or Khan Academy Kids. And also YouTube Kids itself, of course, which has recently made some changes to try to extend its age-range upwards a little, and provide more tools for parents to control what content their children can access.
That was partly in response to the controversy around content like MLG Peppa Pig – a series of Peppa Pig parodies designed for adults, but which found their way through YouTube's recommendation algorithms to young fans. The big tech platforms are taking their responsibilities more seriously in 2018: witness Instagram's launch of a guide for parents, or Facebook's youth portal to give teens support in having a safe experience on its service.
My presentation finished off with some 'immersive' entertainment for kids using virtual and augmented reality. Projects I talked about included:
I also reminded the audience of the upcoming Harry Potter: Wizards Unite, a Potter-themed mobile game from the creators of Pokemon Go – as well as the enduring popularity of the latter game, which actually grew its audience of players this summer, two years after its initial release (and the craze around it).
I also noted that one of the interesting things about both games – and some of the other projects mentioned earlier – is their inter-generational aspects. Parents who grew up with Harry Potter or Pokemon can now play games based on them with their own children. At a time when we often worry that family life is fragmenting due to everyone being on their own screen, it's also true that some of the experiences being created for our devices can bring back communal, social activity. As long as we steer clear of frenzied tap dancing and cannibalism…