Armoza Formats has sold three scripted dramas into India. Indian content and IP-creation studio Applause Entertainment has taken the local rights to psychological crime thriller Hostages (22 x 60 mins), as well as the comedies La Famiglia (30 x 30 mins) and Honey Badgers (12 x 30 mins). "Writing, casting and production on the three Indian adaptations is already under way," said Sameer Neer, CEO of Applause. He added that Hostages, La Famiglia (shown above) and Honey Badgers were prime examples of Israel's ability to tell "incredibly universal" stories. Avi Armoza, CEO of Armoza Formats, said India was "one of the most important content arenas in the world".
The Africa Channel and Cote Ouest have signed a strategic alliance in which the parties will jointly pursue distribution, licensing and production opportunities across the globe. The Africa Channel is the largest broadcaster and producer of African-themed content in North America and Cote Ouest, based in Cote D'Ivoire, is the world's largest distributor of African content.  Under terms of the agreement, Cote Ouest will become a principal supplier of content for The Africa Channel's linear platform. Programmes supplied in 2018 include premium scripted series such as Shampaign (below), a series about the election of the first female Ghanaian president. Cote Ouest will also supply high-end content to The Africa Channel's digital platform, Demand Africa. The alliance also includes a distribution agreement, whereby Côte Ouest will provide The Africa Channel content to French-speaking territories worldwide; and a co-production agreement. "This strategic alliance brings together two of the world's leading providers of African-themed content, to the benefit of audiences in the US and around the globe," Narendra Reddy, EVP and general manager for The Africa Channel, said. "We look forward to co-producing new programming with Cote Ouest; to introducing our viewers to their outstanding content library; and to Cote Ouest's introduction of our content to French-speaking territories. This is a major step in our growth plans for 2018 and beyond."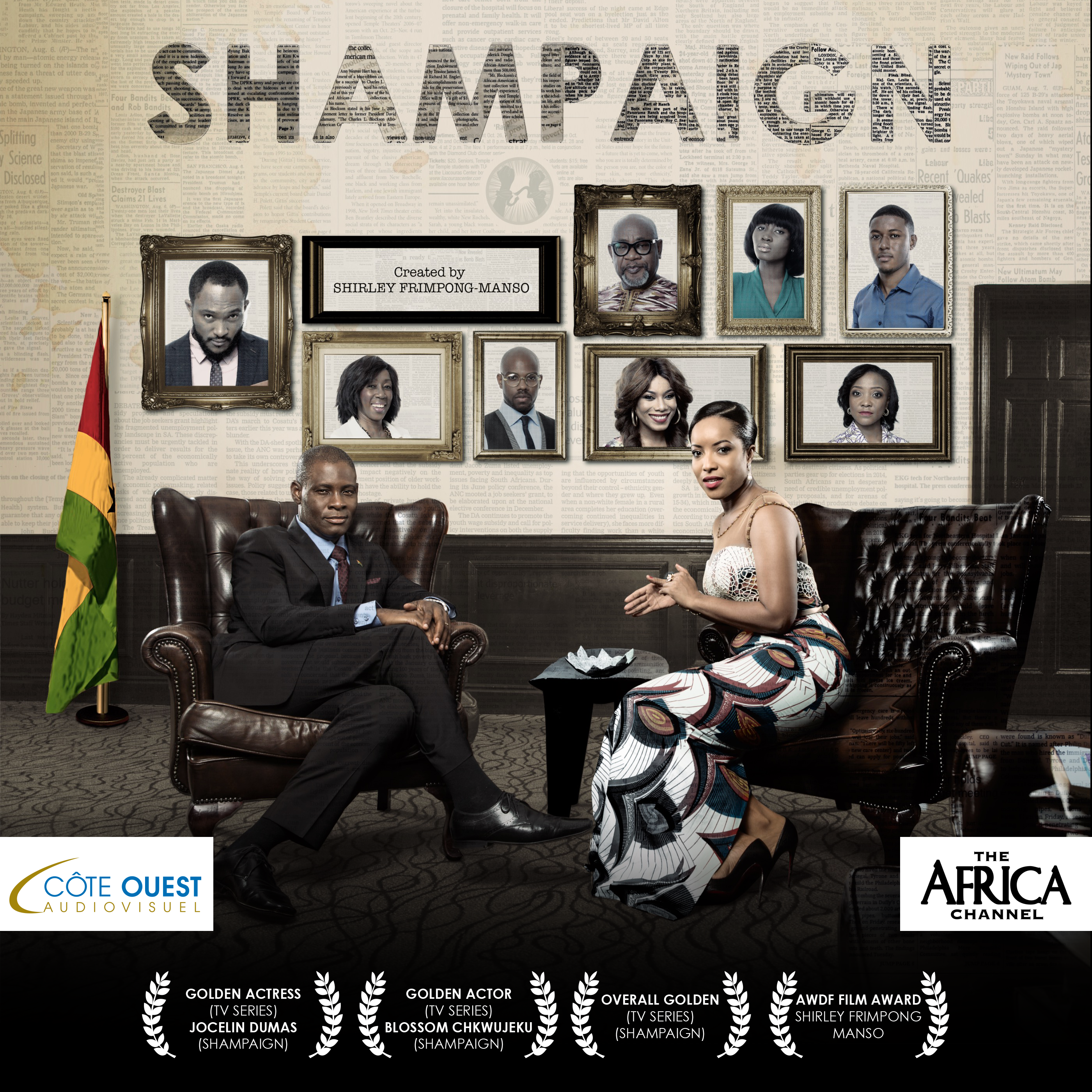 Fremantlemedia International has acquired the distribution rights to BBC Two's television adaptation of The Luminaries, the Man Booker Prize-winning novel by Eleanor Catton.The 6 x 60 mins drama is being produced by Working Title Television, in association with FremantleMedia International and Silver Reel TV. Set in the 1860s, it tells an epic tale of love, loss, murder and revenge against the backdrop of New Zealand's rowdy gold rush. The TV adaptation is being written by Catton. Rebecca Dundon, FremantleMedia International's director of acquisitions, said The Luminaries, with its "alluring characters, surprise twists and immaculate storyline", is the "perfect illustration" of the types of projects that FremantleMedia is seeking to add to its drama portfolio. Working Title Television's managing director, Andrew Woodhead, called The Luminaries a "beautiful and magical story". He added: "Working with Eleanor on our adaptation is such a privilege. She is an exceptional talent as a novelist and, now, screenwriter." For Claudia Bluemhuber, managing partner of Silver Reel TV, the drama "reflects today's zeitgeist of a strong female character finding her way and voice". She added: "Silver Reel's ambitions are to work on projects that enable us to bring our cinematic language and high production values to the small screen. With Working Title and FremantleMedia, we have found great partners with whom to do exactly that." The series is executive produced by Eleanor Catton, Andrew Woodhead, Tim Bevan and Eric Fellner for Working Title, Mona Qureshi for the BBC, Christian Vesper for FremantleMedia and Claudia Bluemhuber for Silver Reel.
Global entertainment production and distribution company DQ Entertainment has announced a raft of content acquisition deals for its flagship Jungle Book properties and other shows. "Viacom 18 India has acquired the rights for Jungle Book season three, as well as relicensing seasons one and two," said Manoj Mishra, chief operating officer of DQE, "while Malaysia's RTM has picked up Jungle Book Safari, our live-action and animation show. Discovery Latin America renewed rights for the Jungle Book Christmas special. "To date, we've sold the Jungle Book TV series to 140 countries," added Mishra. "We're completing production on season three this year." DQE has been producing classics since the beginning. We're on the second series of both Peter Pan and Robin Hood, our co-production with Method Animation, alongside ZDF Germany, TFI, Disney Channel France and DeAKids Italy. "Our latest IP — the Psammy Show — delves into the story of a sand fairy which can grant one wish every day. While the wish's effect fades at sunset, there are always consequences. Disney Germany is the co-producer on that and we've already sold it to SH Channel 8 for Israel."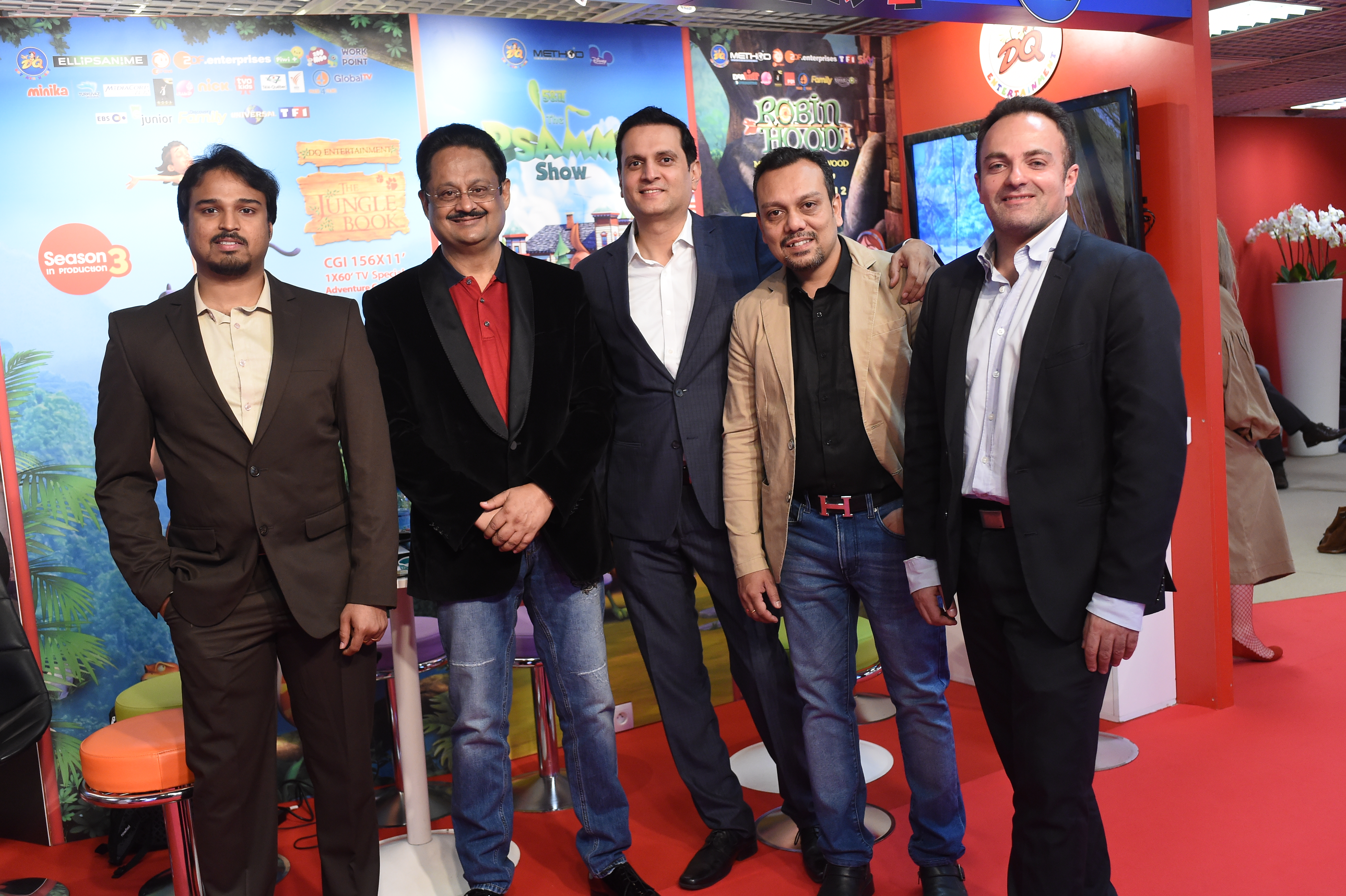 The DQE team at MIPTV: Vishnu Ravindranathan, manager – marketing & sales (left); Tapaas Chakravarti, chairman & CEO; Manoj Mishra, chief operating officer; Swastik Sekhar, assistant vice-president licensing & distribution; Laurent Amar, PR manager
Prime Entertainment Group has inked a deal with Turkish television network D-Smart for the series Hollywood's Best Film Directors (45 x 26 mins) in Cannes. The series will be broadcast on the network's premium cinema channel. "We have been long-term partners with D-Smart over the last 10 years for our movie-related catalogue and we are truly proud that this time they go for our renowned series about the best directors," said Alexandra Marguerite, head of sales, Prime Entertainment Group. "MIPTV is always the best opportunity for us to promote our content to our clients."
KSW, the Polish mixed martial arts organisation, has signed a license agreement with RTL Hrvatska, the Croatian commercial broadcaster, for the upcoming KSW43 Gala contests on April 14 in Wroclaw. RTL Hrvatska will be the exclusive television partner for the Gala, including the title defence of Croatia's MMA welterweight champion, Roberto Soldic. RTL has licensed an extensive media rights package, including live transmission, highlights, digital and archive material, to be shown across its different platforms. "We are partnering with a television powerhouse like RTL in order to bring the best of MMA to the fans in Croatia," Martin Lewandowski, co-owner of KSW, said. "This is another important step in our international growth strategy, and I am sure the audience will support the local champion Roberto Soldic in his first defence of the KSW belt in the welterweight division."
These articles were written by Gary Smith and Rachel Murrell for the MIPTV News magazine, and edited by Kristine Clifford. Read all MIPTV publications online here…