TV companies from Japan and Turkey are forming increasingly close ties through cross-border collaborations and joint development initiatives, the international sales head for a Japanese drama producer has said. Kazuhiro Sato, of Tokyo-based Kansai TV, said historical ties and a "similar mentality" between the two countries, both of which are previous MIPCOM Country Of Honour holders, meant that a strong working relationship was emerging. Celebrating a second major deal with Turkish production company MF Yapim, Sato said: "Japan and Turkey are building a very good relationship; the two countries have a similar mentality. We think this relationship will keep growing, and it has improved since we have each been Country Of Honour at MIPCOM." The deal between Kansai and MF Yapim, reached during this year's MIPTV, marks the two companies' second joint adaptation project. The latest agreement will see MF Yapim adapt a Kansai revenge drama, Final Cut, for broadcasting in Turkey. It follows a major collaborative development between the two, in which MF Yapim adapted Kansai's popular drama My Dangerous Wife for the Turkish audiences. Kansai TV general manager Miho Okada and MF Yapim chief executive Faruk Bayhan (shown above) met in Cannes yesterday to celebrate the Final Cut deal. In 2016 Japan was the holder of the Country of Honour at MIPCOM, MIPTV's sister conference. Turkey was awarded the honour the previous year.
FujiI TV is presenting a new entertaining comedy about a bizarre plan by three con artists to steal a large sum of money from unscrupulous company bosses and Mafia dons. The Confidence Man (below), a ten-part series which first aired in Japan in April 9, sees these partners-in-crime cheat and be cheated as they conjure every trick in the book to rob their targets. Ten deals for the new series were signed before it first aired on Monday, while remake deals had already been concluded with China and South Korea. The finished programme deals cover 80 countries across Asia, the US and Europe. "Recently we are trying not only to sell finished drama series, but also to sell remake rights as a scripted format outside Japan," explained Fumi Nishibashi, deputy director, international department,Kansai. The series was created in collaboration with scriptwriter Ryota Kosawa (Always – Sunset On Third Street), with the intention of being adapted. It is a new approach for Japanese broadcasters who tend to streamline productions for the domestic market. "Confidence Man is different because from the start we thought about Japanese, Chinese and Korean versions," said So Fujinuma, director worldwide production and business management, Fuji TV. "The scriptwriters were thinking how the programme could be localised in different cultures."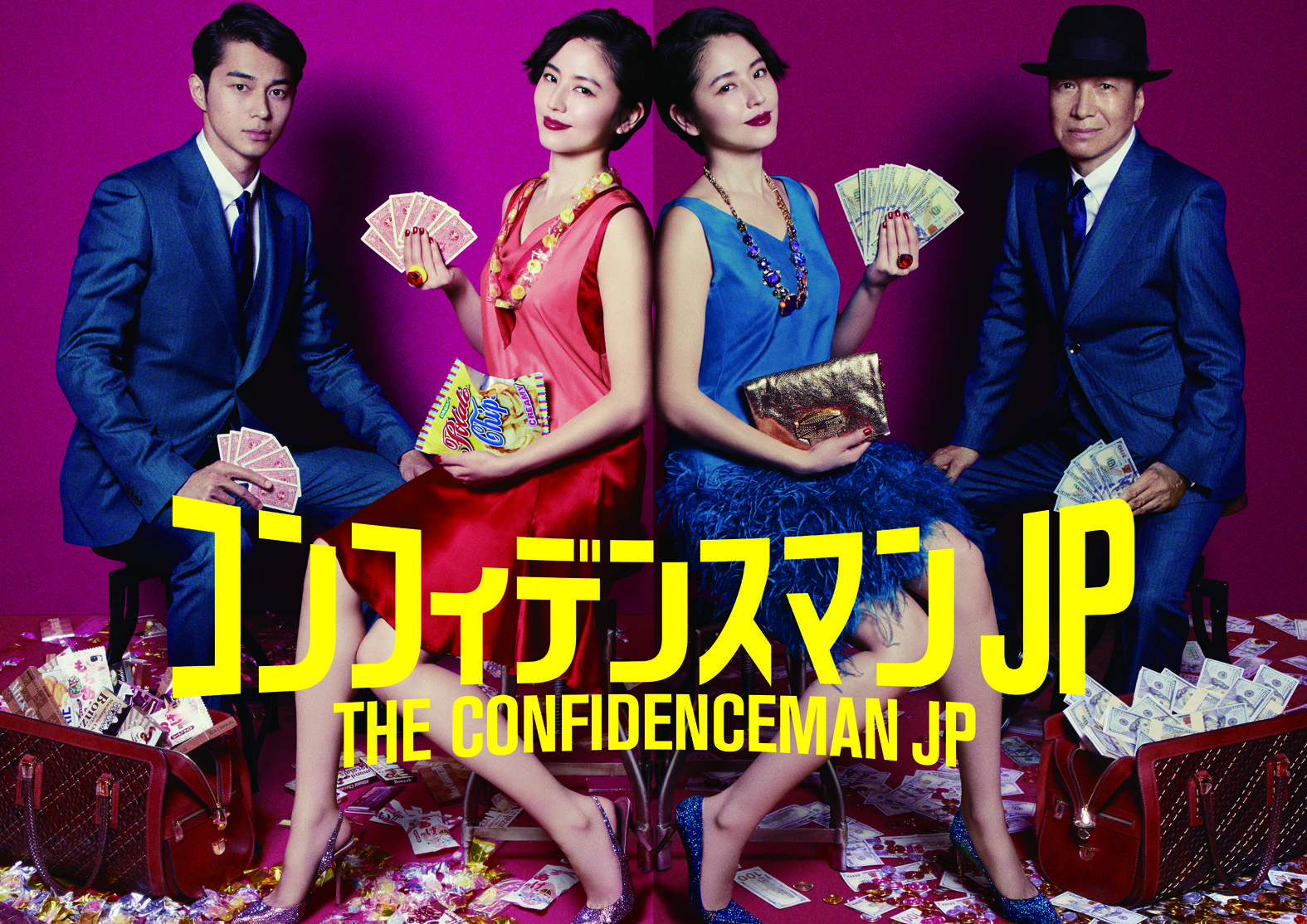 Toonz Media Group, Neon Creation and Backbones Entertainment have signed a co-production deal for Chi-Chi, The Apprentice Sorceress, an 11 x 52 mins 3D CGI animation series, based on the pop-up book by the same name. The show is due to be ready in mid-2019. Chi-Chi, aimed at four to six-year olds, is the story of a cheerful young girl, full of curiosity who, ever since she found a book of magic, constantly tests out new spells and potions. Toonz Media Group CEO, P Jayakumar said: "Chi-Chi is an amazing show that will entertain and enrich kids across the world. I am very happy that Toonz found the perfect partners in Neon Creation and Backbone Entertainment." The series will be distributed in Korea, Greater China and Thailand by Neon Creation, in Malaysia by Backbone, and for the rest of the world by Imira Entertainment, part of Toonz Media Group. Paul Robinson, Imira's CEO, said the series "takes kids on an imaginative problem-solving journey through which they can learn the importance of friendship, tolerance and solidarity, universal values that kids can relate to. We will be showing the first episodes at MIPCOM this year".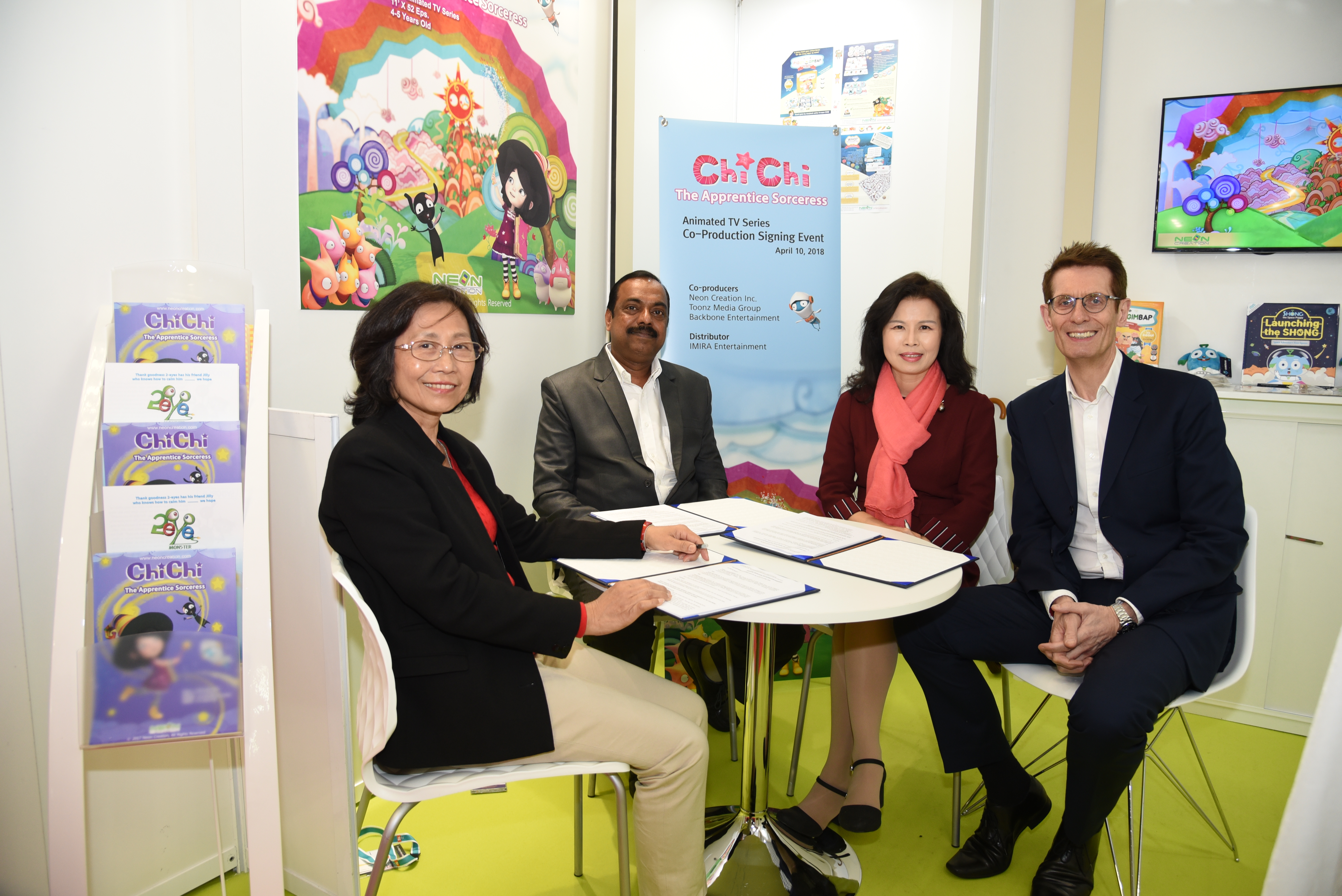 Backbone's Evelyn Lee (left); Toonz' P Jayakumar; Neon Creation's Sara Jyungwon Han-Williams and Imira's Paul Robinson
Distributor Kew Media Group has migrated the Frantic Films library onto its platform and, as of this market, is representing it internationally. The deal involves more than 450 hours of content, including true crime series In Plain Sight. A (52 x 30 mins) whodunit documentary series,  it explores disturbing real-life cases of murder where the culprit featured on TV news reports, was interviewed by the media, posted in social media or newspaper reports, or otherwise brazenly showed their face while all the time they had blood on their hands. Further Frantic Films' content now available from Kew includes lifestyle series Til Debt Do Us Part, Pitchin' In and Buy It, Fix It, Sell It. Frantic Films' CEO and executive producer Jamie Brown said: "Kew's track record in maximising the potential of each and every title across multiple channels and platforms worldwide is very impressive. Being part of the group has enabled us to expand our global ambitions." Greg Phillips, president of distribution at Kew Media Group, said the deal "will enable us to deliver an impressive array of new and existing high-quality content to our global clients."
These articles were written by Rachel Murrell, Gary Smith and Andy Fry for MIPTV News magazine, and edited by Kristine Clifford. Read all MIPTV publications online here…