Left to right: moderator Drew Baldwin, founder of Tubefilter; Carmilla actresses Natasha Negovanlis and Elise Bauman; svp branded entertainment Kaaren Whitney-Vernon, Shaftesbury; and Christina Jennings, Shaftesbury chairman and CEO.
The winner of this year's MIPTV 2018 Brand Content of the Year award is one with a difference: the scripted webseries Carmilla, which has become a transmedia brand all its own.
Produced by Shaftesbury with executive producer U by Kotex (Kimberly Clark), the series has over 71m views on YouTube channel KindaTV, the largest scripted YouTube channel for millennials in Canada. It's been viewed in 193 countries and translated into over 20 languages by fans.
Carmilla is a modern take on the cult classic gothic vampire novella by Joseph Sheridan Le Fanu. It passes the Bechdel test, and has a massive LGBTQ following. Done vlog-style, it follows university student Laura Hollis (Elise Bauman) whose world changes when a vampire, Carmilla Karnstein (Natasha Negovanlis), moves into her dorm room.
"We're proud to be part of something that's so daring, authentic and innovative. A vampire show for tampons—it's kinda genius!" said Bauman.
Whitney-Vernon noted that U by Kotex is a fairly new brand in a competitive space where young people have many distractions. "Instead of pushing our product out, what we've done forever, we thought, 'why not entertain them first?' Give them something of value, then they'll consider your product. We're onstage today because we did something different, and this brand is a brave brand."
In the same way shows care about ratings, brands care about awareness. In a video featuring Kimberly-Clark's global sector leader, Fiona Tomlin, we learned that 61 percent of people claim to have purchased U by Kotex as a result, and the brand now enjoys 89 percent unaided recall.
For all that, "there wasn't one tampon" in Carmilla, Jennings observes. "We kept the show pure; let it be the driver, the hero content. Then we took the characters out," and created mini-ads entirely outside of the story, the best-known of which is "Do Vampires Get Their Periods?"
"We took an idea and incubated it," said Jennings. "Kimberly-Clark is an EP on this series… It's a whole new economic model. I'll never forget the time [they actually received]a check for merch sales. They didn't know what to do with it! No one ever gave them a check, ever."
"I didn't even know what a web series was when I auditioned" said Negovanlis, who herself has won cult renown because of Carmilla. She also hailed the sizeable LGBTQ fanbase. "There are a lot of LGBTQ themes in the show. This is a wake up call for the industry. It was innovative of Kotex to take that chance."
Below, a photo of Barman and Negovanlis accepting the Brand of the Year award, given by Jerome Delhaye of Reed MIDEM.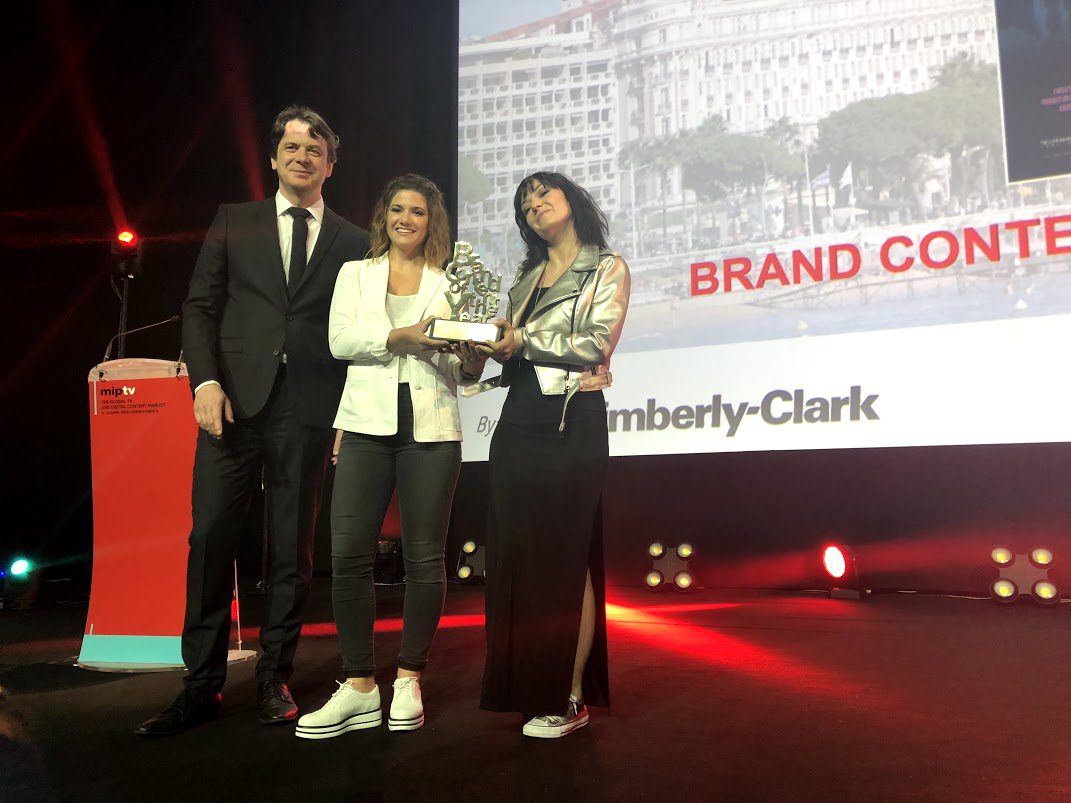 Since Carmilla's digital release, Shaftesbury and Cineplex Entertainment have partnered for a nation-wide stunt event screening series with The Carmilla Movie, playing for one night only at 35 Cineplex theatres across Canada. And in January 2018, The Carmilla Movie made its world television premiere on Hollywood Suite, preceded by an 18-hour marathon of series 1 through 3 of the web series, presented by U by Kotex.
KCP Loft, a division of Corus Entertainment, has optioned the world publishing rights.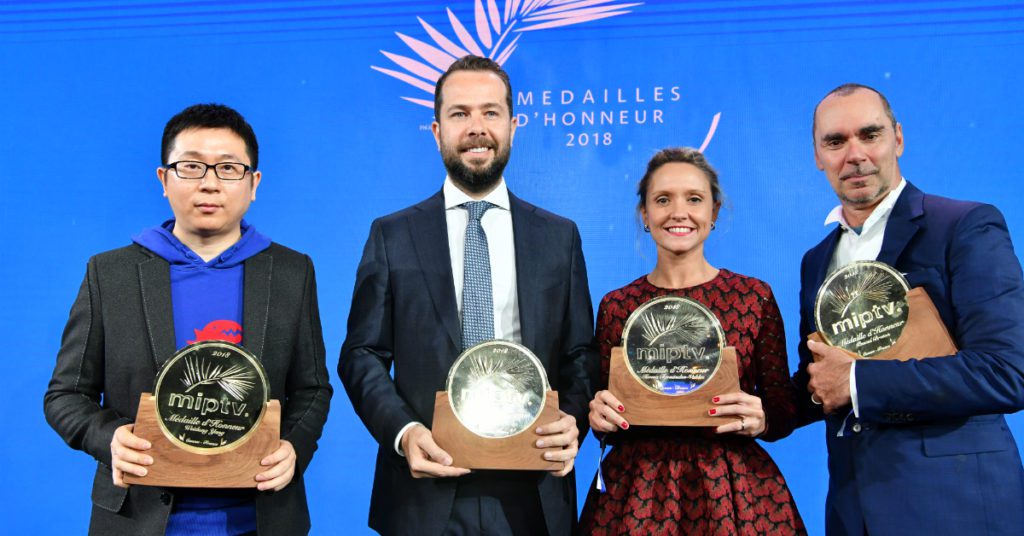 The Carmilla session was followed by a gala lunch, at which (left to right) Yang Weidong (Youku/Alibaba), Izzet Pinto (Global Agency), Teresa Fernandes-Valdes (Bambú Producciones) and Pascal Breton (Federation Entertainment), received MIPTV Médailles d'Honneur at a gala lunch in Cannes, for their outstanding contribution to the TV industry. "French like revolutions, but we also like freedom!" quipped Breton, accepting his award.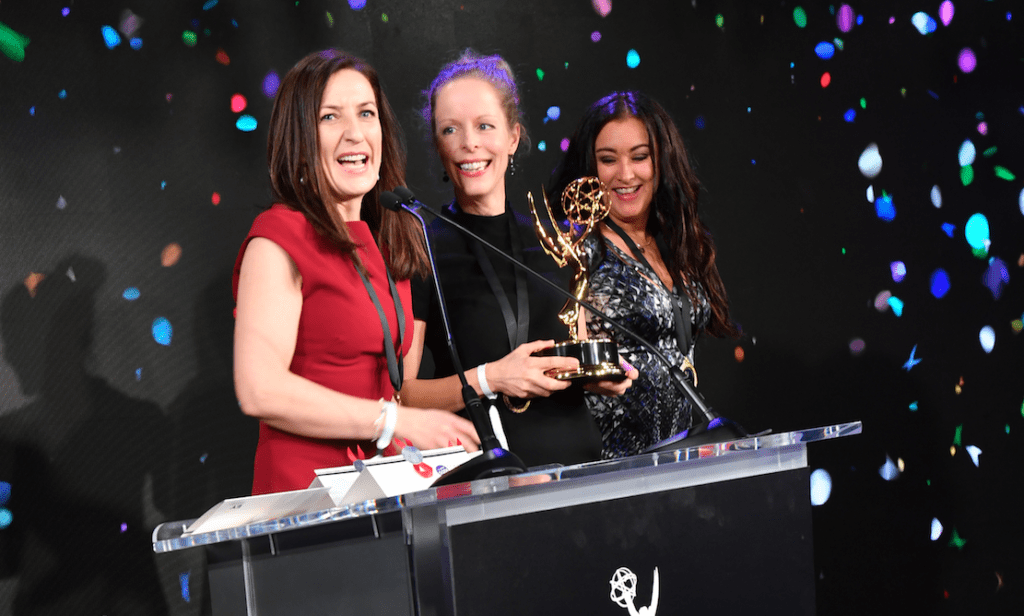 Last night saw the International Emmys Kids Awards, garlanding the cream of children's entertainment from the past year, with presenters including YouTube star El Rubius; the stars of webseries Carmilla, Elise Bauman and Natasha Negovanlis; and Miss Supranational Jenny Kim. The winners were drawn from Canada, France, Germany, Norway and the UK.
Congratulations to #iemmyKIDS winners: Berlin und wir (Factual); La Cabane à Histoires (Preschool); Snapshots (Non-Scripted); Hank Zipzer's Christmas Catastrophe (TV movie / mini-series); Jenter (Digital); Club der Roten Baender (Series) and Revolting Rhymes (Animation) pic.twitter.com/8Be6auboms

— MIP Markets (@mip) April 10, 2018
The prizewinners included: La Cabane à Histoires (Kids: Preschool); Revolting Rhymes (Kids: Animation); Berlin und wir (Kids: Factual); Snapshots (Kids: Non-Scripted Entertainment); Club der Roten Baender (Kids: Series); Jenter (Kids: Digital) and Hank Zipzer's Christmas Catastrophe (Kids: TV Movie/Mini-Series). Full details of winners and more here.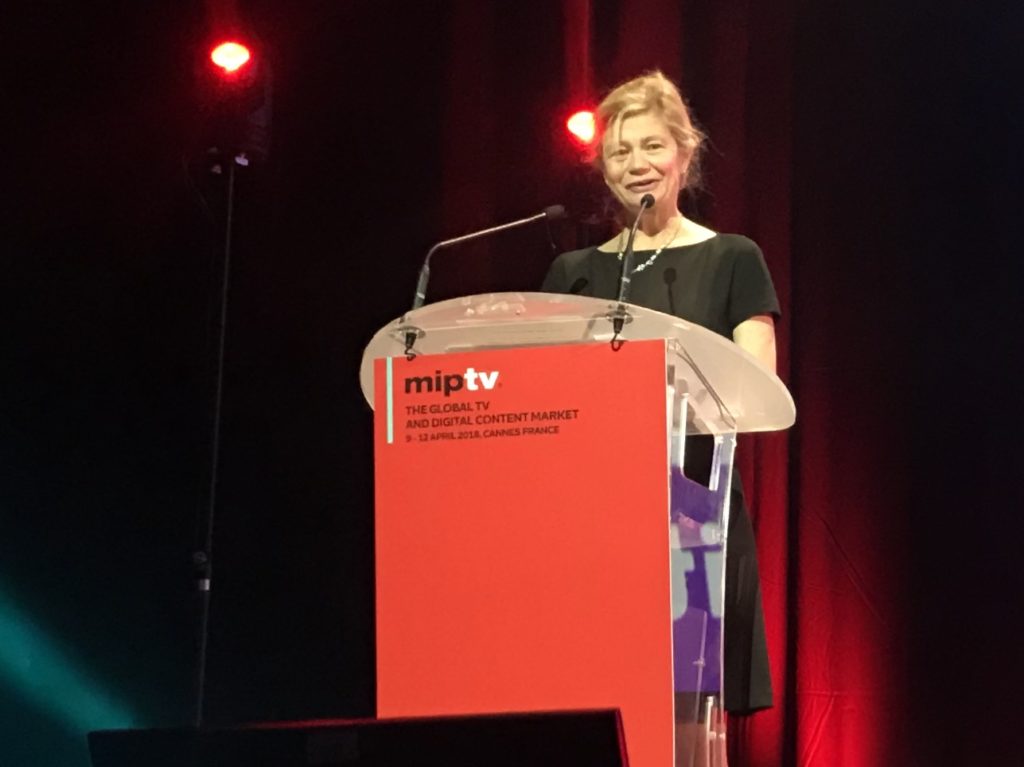 The morning also saw the final Fresh TV session presented by The Wit, with CEO Virginia Mouseler showing off the hottest new dramas from across the globe. Among the shows spotlighted was McMafia (distributed by BBC Worldwide) for its innovative distribution strategy: it aired on linear TV in the UK on BBC One, but each episode was then made available the day after globally through Amazon. "It shows that there is not a disruption between linear television and SVOD, but there is a more a fusion between the two platforms," said Mouseler.
A number of shows that she highlighted started on digital platforms and then made the journey to linear channels. Norwegian comedy Basic Bros (Feelgood Scene Film) focuses on a group of lads struggling to deal with adulthood in a mature way; while Brazilian drama 13 Days Away From The Sun (Globo TV International) blends catastrophe with financial skullduggery. There was also creative innovation, from Belgian drama The Day (Dynamic Television) which tells the story of a bank heist from two alternating perspectives: one episode from outside, and the police, then the next from the inside, with the criminals and hostages.
Finally, there was innovative interactive drama from Portugal in the form of APPaixonados (Ankylosaur) which is a drama about dating. The twist: viewers vote for who its heroine should go on a date with between Tuesday and Thursday, then the next episode is filmed over the weekend with their chosen character. At the end of the series, viewers vote again for which date should return for a second try at romance. See all the shows covered in our tweet thread from the session.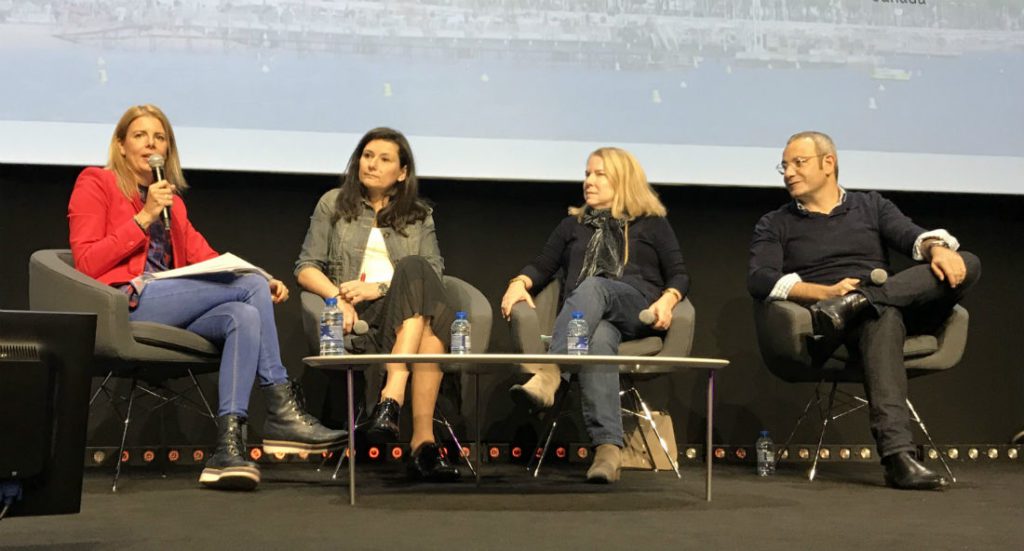 A panel this morning explored financing high-end live-action series for kids, considering whether the kinds of creative resources available for mainstream (adult) series can also be tapped into by children's producers. One key theme: making high-end live-action kids shows as an independent producer isn't (yet) a crowded space, if you can muster the budgets to do it. "There's very little independent live-action for kids. And premium live-action for kids is like a niche within a niche within a niche," said David Michel, CEO of Cottonwood Media. 
Cristiana Buzzelli, SVP of licensing and acquisitions at Rainbow, said that moving in to high-end live-action can be a shot of energy for a production company, even if the process can be exhausting. Furthermore, she agreed with Michel on the relatively uncrowded market. "There is not so much independent quality content out there," she said. "And of course, when you are stepping into a new arena where the big guys, the Disneys and Nickelodeons are dominant, you need to be innovative."
The impact of digital platforms like Netflix, Amazon and Hulu loomed large, with Michel praising Amazon for starting to commission high-end live-action kids shows four or five years ago. "At that time most of the kids live-action was multi-cam sitcoms… So it started with Amazon, and then Netflix came on board, started commissioning quite a bit. And now hopefully we'll have Apple as well, who might be interested in premium kids content," he said.
Joan Lambur, president of Lambur Productions, said she sees the SVOD platforms as less constrained in their commissioning than the big children's networks, because the latter have built strong brands around particular genres – comedy for Nickelodeon, for example. "Netflix and Hulu and Amazon, they're not making 'brand promises' to the parents and children so they have more freedom creatively," she said. "They're able to go out on these limbs and do things that are not going to interfere with any non-existent promises that they've made… they've got all this freedom and this open space to play in the kids space, which I think has prompted the higher end… I think it's really exciting."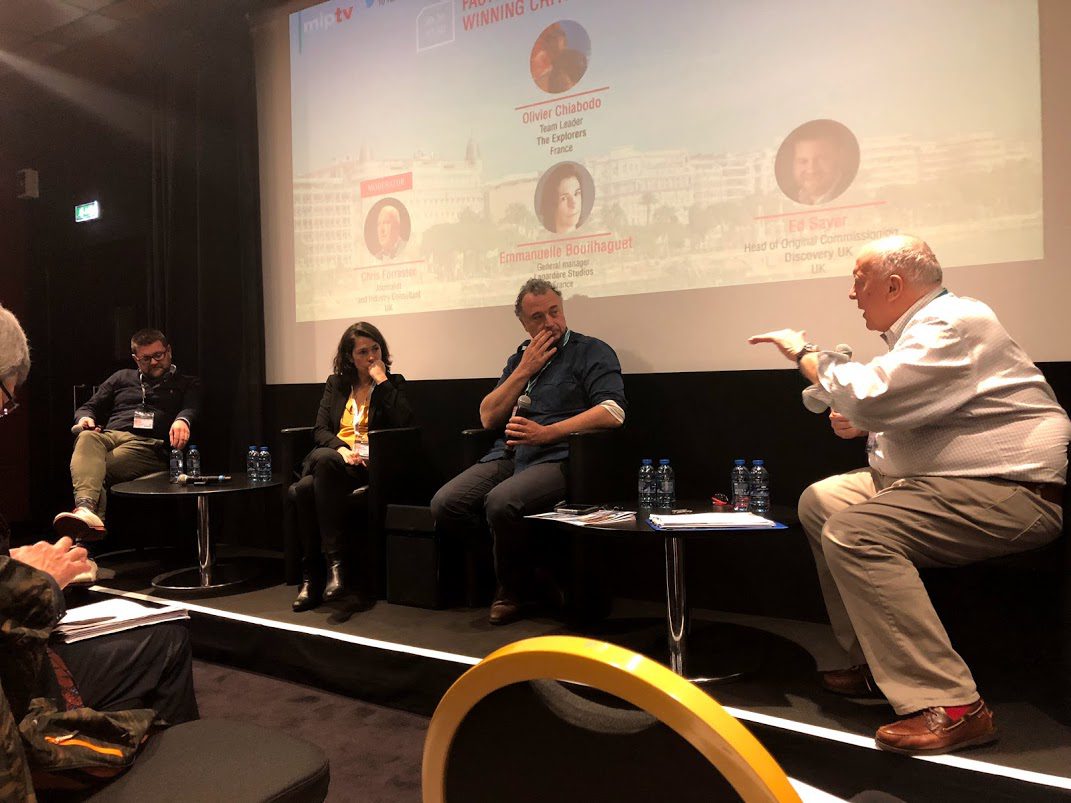 Then it was on to a key session in MIPTV's focus on ultra-high defitinion content. In the Factual in Ultra HD panel, experts included Ed Sayer, head of original commissioning at Discovery UK; Emmanuelle Bouilhaguet of Lagardère Studios France; team leader Olivier Chiabodo of The Explorers; and moderator Chris Forrester.
Sayer screened a couple of Discovery's latest clips: Above and Beyond, about NASA's effort to better understand our changing planet, and First Man Out, featuring Ed Stafford and "to my knowledge the first ever survival show shot in 4K."
He said 4K is getting more economical, but urged people not to "run out and shoot everything in 4K at the moment." In the case of First Man Out, "the frame rate made it very uncomfortable to the eye … the level of detail was so intense, there was so much movement." The crew opted to use the main 4K cameras for more static wide shots; GoPros ("not true 4K") were used for action shots "to make it more comfortable."
"The language of TV is very different from the language of feature documentaries," he said. "In TV you're doing extreme closeups… you don't really see that kind of language in feature documentaries."
We also screened The Explorers, which Chiabodo called a doctor's "checkup of the planet". Each year the team produces ten 52-minute films in ten different places in the world. They now have twenty such films and about 1200 hours of footage. 
"When working in the documentary market, you want high profile production," said Bouilhaguet with Lagardère Studios, which is helping find buyers. She emphasised that the goal is to furnish content, but also become more effective marketers, especially of 4K's long shelf-life of quality.
Broadcasters are buying two or three years down the line, she pointed out—so even if many don't have a channel today, rich 4K content is a worthy investment. "4K is like HD 15 years ago, you really see something is coming… it's beginning to be a necessity, even if you don't have a specific channel to broadcast in 4K."
"I envisage a world where one day everything is 4K," said Sayer. "At the moment [few broadcasters]broadcast in 4K [but]there's loads of people out there with 4K TVs, desperate for the content… it's not like 3D, which had a big shout and died."