The keynote star of MIPTV's first afternoon was Dato' Rohana Rozhan, group CEO and executive director of Astro Malaysia Holdings. She has been one of the driving forces behind the company, which started out as a satellite pay-TV service in Malaysia, but in the two decades since has expanded to encompass production, film and TV, new distribution modes like mobile platforms, and even e-commerce.
It now offers 188 channels, with more than 5m subscribers in Malaysia alone. It has moved into esports and gaming, and is now also expanding into the wider southeast Asia region. The moderator of her session was Henry Chu, international editor at Variety, who started by presenting her with Variety's 2018 Achievement in International Television award.
When Astro was founded, there were huge amounts of piracy in Malaysia, but Astro's satellite service offered 23 channels for a legal alternative, sourced from China and India. "We did really well up to a point, and the realisation was that… people need to see and hear the people and languages on TV that reflects the marketplace… So we started investing in Malay content. Done right, local vernacular content could be the differentiator. Could even, maybe, be the new premium," she said. "There is a place for higher-budget, higher-quality, Malay content."
Rozhan also addressed questions around censorship in Malaysia, particularly when buying in shows. "In today's world, while if you look at linear channels, our content code demands a certain censorship. OTT players, global challengers coming in, based on the internet, are not subject to that. So our stance for the regulators is hold on: same consumers, same marketplace, one set of rules, and an equal playing field so everyone can compete, and compete well."
What impact have Netflix and Amazon had in Malaysia? A lot of people talk about cord-cutting. We actually don't see that," said Rozhan. "Any one household in Malaysia arguably spend 10-12 hours within our ecosystem, and what we see with our customers is instead of cord-cutting, they're even more engaged with us."
She finished by talking about diversity within the TV industry, and putting more women into senior positions. "Our job is to tell stories, to empathise, to intuitively relate to the customers that we aspire to serve… And if the marketplace is 50/50 men and women, we should be that. If the market place is different races, different ethnicities, different religions, we should be that."
Let's move on to the next generation! During this next gen showcase, CEO Jonathan Skogmo of Jukin Media observed that "capturing and sharing video is now part of everyday life", driving his conviction that the future of storytelling is user-generated. Below are a few projects shared from Jukin's production line, which are now 50.000 content properties strong.
This is Happening is an 8-episode series for Verizon's go90. The docuseries was created using only user-generated content.
Fly Guys, based on Jukin's People Are Awesome property and presented last year, follows stuntmen and is now available on Facebook Watch.
The Pet Project premièred for the first time today, and is a 30-minute-per-episode show composed entirely of adorable pet videos people shot on their own.
Another new format is The E/O ("the extraordinary"), also spun off from People Are Awesome. Skogmo screened a four-minute episode in which we meet a wildly fit man of over 250 pounds who can scale obstacle courses like they're made of paper, do incredible flips and trampoline while weight-lifting. He is also very friendly, which is part of his social appeal.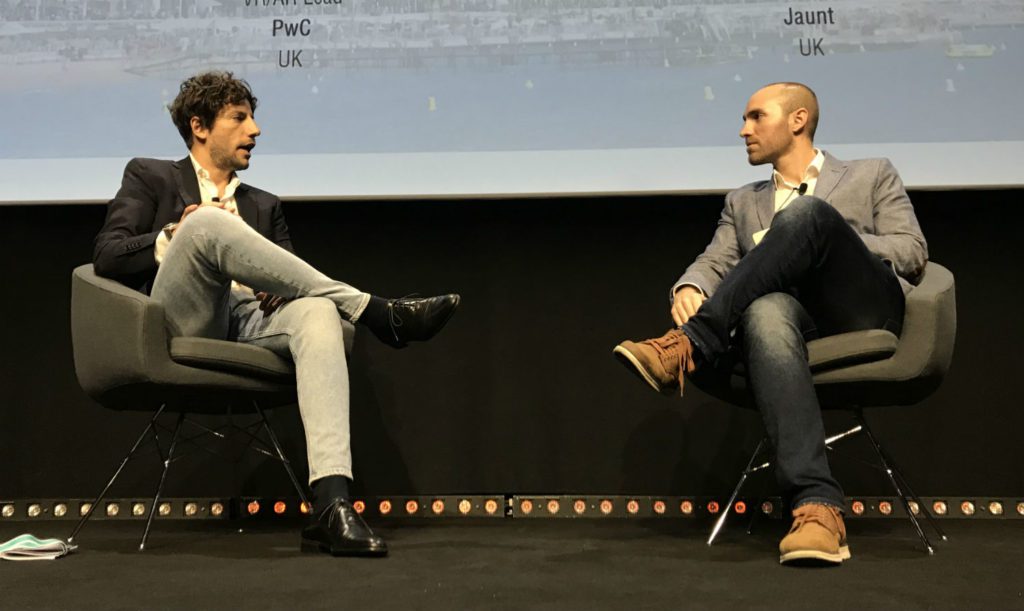 New technology was also at the heart of the session on the latest trends in virtual reality and augmented reality (VR and AR). The session saw PwC's VR/AR lead Jeremy Dalton give a presentation on the state of the market, before an interview with Marco Delvai, content partnerships director, EMEA at VR company Jaunt.
"Everyone talks about virtual reality versus augmented reality and which is going to beat the other… This is just a nonsense. Both virtual and augmented reality have different use cases," said Dalton. "Virtual reality is all about immersing yourself in a completely different world and time. Augmented reality is when you remain in the real world, and are presented with virtual objects and information on top of that real world, to contextualise it."
Dalton cited stats from research firm IDC predicting that the combined AR/VR market will grow from $17.8bn in 2018 to $143.3m in 2020 and $215m by 2021. Meanwhile, PwC's own research suggests that VR video revenues will exceed VR games and app revenues in 2019. "What is very exciting about virtual reality is it represents a new medium for humanity: in which we are no longer the spectator… but we are looking though the eyes as a protagonist in those stories. That makes a very big difference."
Barriers to mainstream adoption of VR include the price and setup complexities of high-end headsets, as well as availability of compelling content. He predicted that new 'standalone' headsets like the Oculus Go will also drive mainstream adoption. "Everything is self-contained within the headset itself: the processor, the screen, everything. And it reduces the friction for the consumer," he said. "This is simply analogous to taking out your smartphone and unlocking it. You pick the headset up and put it on."
The pair praised high-end, out-of-home VR experiences like Star Wars: Secrets of the Empire, where groups of friends play together as undercover Stormtroopers. "We all believe and hope that these super-premium experiences will obviously stimulate people to go and buy a headset and have a slightly-smaller experience on the sofa in their living rooms," said Delvai.
Dalton and Delvai circled back to standalone VR headsets to end their session. "Standalone devices will bring the best of all worlds, and make it a frictionless experience that will be appealing for the mass-market, hopefully," said Delvai. "2018 is the year of the standalone headset," agreed Dalton, who hopes that if these devices drive mainstream adoption, that will in turn make the business case for VR much more appealing for TV companies and brands alike.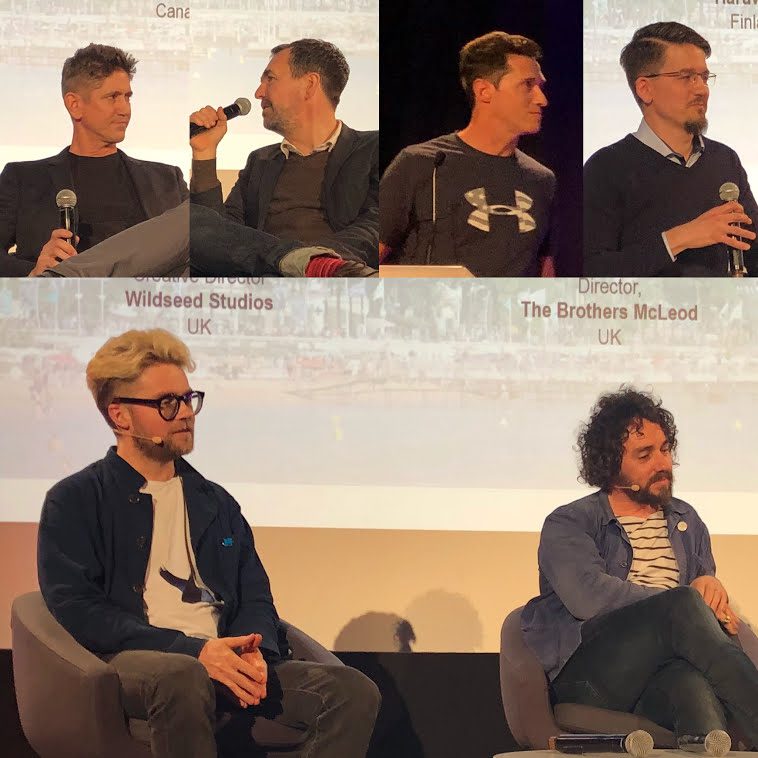 The afternoon kids animation panel was filled with creators building cross-platform IP for today's digital-savvy children. It included (clockwise, left to right) co-founder Devon Thagard of Skyship Entertainment, moderator Jesse Cleverly, creative director at Wildseed Studios; Colin Brown, COO of Skoolbo and ChuChuSchool; producer and CEO Nick Dorra of Haruworks Ltd., and the Brothers McLeod, director Greg McLeod and writer Myles McLeod.
Thagard presented his project for Skyship first. Its flagship, Super Simple Songs, was initially sold as CD sets that developed an audience internationally, notably in Japan. When Youtube came out, they launched a channel and the franchise went global online. By 2013, they saw 1B YouTube views; this year, they're up to 10B.
Today there's Super Simple TV, Super Simple ABCs and Super Simple Draw, not to mention multi-language channels and a live weekly preschool show on YouTube called Katie's Classroom.
"We create broadcast-quality content with the thinking we'll release it on YouTube, Amazon or other AVOD/SVOD platforms," said Thagard. "We can move forward with an idea because we're not thinking too hard about where it's going to live; we know there's an audience for it."
Here's a super-cute video of Leo Messi's son enjoying the Super Simple Songs franchise.
Brown came next to present Skoolbo and the ChuchuSchool franchise.
ChuChu TV grew from 55M views in 2013 to 17.3 billion views this year. It's educational, with over 5,000 learning activities for preschoolers; algorithms create a curriculum for each child. There is a web subscription and apps; ChuChuSchool marked the company's foray into "active edutainment versus passive edutainment."
"The big success with ChuChu TV was high quality content in the kids space, straight onto YouTube or Amazon," said Brown, who counseled people to "focus on a specific area and have control over the destiny as you develop content and channel structure."
Dorra then approached to share Haruworks' Toons.tv, which was conceived in "a simple idea of taking the install base of Angry Birds and inserting an AVOD." Drawing from values learned at Rovio, Haruworks' philosophy is to get fans on their side.
The company is pitching two projects this market: One Thousand and One Animals, about a girl who does nature documentaries with an animal crew; and Everyone's Invited, whose IP is already set for distribution in Finnish schools. Both are based on kids' books that came out in 2016, and have a social presence in the works.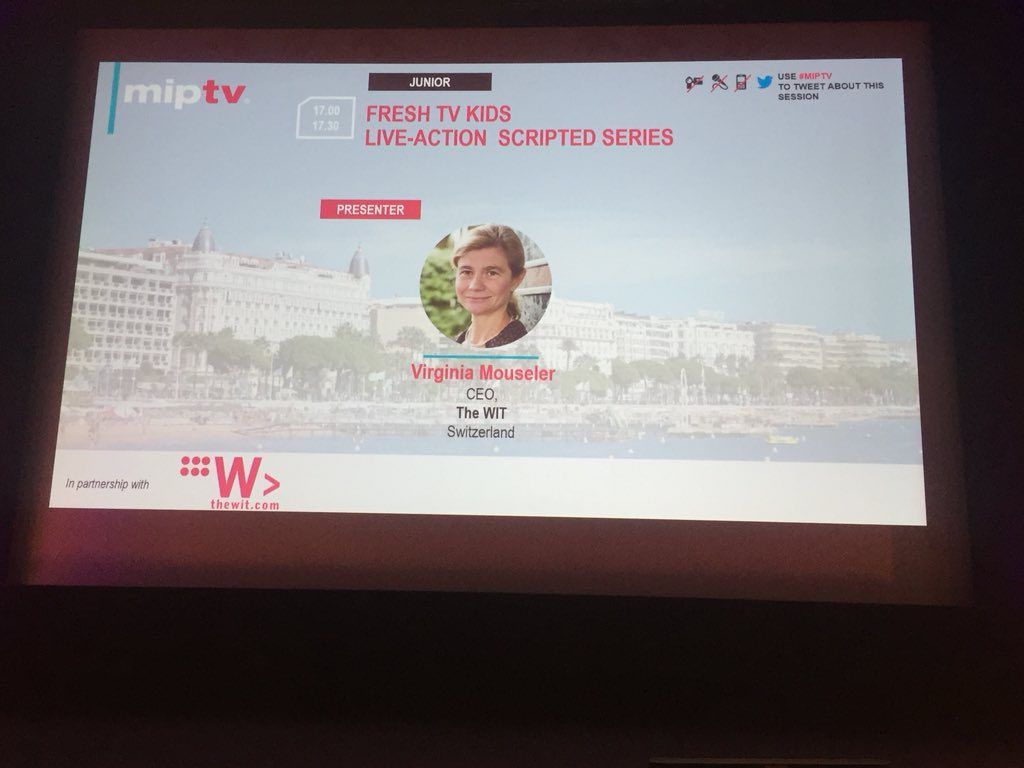 The WIT's CEO Virginia Mouseler treated us to another Fresh TV session, this time for kids live action. 
Travel (fantastical or not), entertainment and struggle appeared to be big themes. A few include Find Me in Paris (distributed by ZDF Enterprises and Federation Kids & Family, and MIPTV's Kids World Premiere TV Screening tomorrow), about the life of a Parisian teen ballet dancer. In Sara & Marti (Stand by Me), two motherless sisters move from London to Italy. Heidi (Mondo TV) adapts the classic novel, where Heidi moves from the countryside to the big city.
Meanwhile, a sister and her half-brother time-travel to the Middle Ages in Mehdi & Val (Slalom Productions). The Bureau of Magical Things (ZDF) follows the adventures of a teenage girl who is part human, elf and fairy. In Colony (Supersonic), a group of kids must learn to survive on a strange island.
Entertainment wise, look out for De Eindmusical (AvroTros), about a group of students prepping for their end-of-year musical. Baseboys (DR Sales) sees four friends working to become the country's newest boy band, and NOOBees (VIMN) is about video games, esports and love.
Finally, it wasn't all work for the MIPBlog team today. We also took 15 minutes out to visit the ITV Studios House, where stressed MIPTV attendees are being invited to book in for a massage or hair-and-makeup-refresh session in the broadcaster's Age Before Beauty salon, as a promotion for the show of the same name. It could become the must-visit location for buyers this show!
.@itvstudios is offering #MIPTV attendees pampering in the Age Before Beauty salon at ITV Studios House. 15-minute appointments for a massage or a hair-and-makeup refresh. Here's MIPBlogger @stuartdredge being loosened up (his hair and makeup were fine) earlier today! pic.twitter.com/V4ujFPgI6K

— MIP Markets (@mip) April 9, 2018