The second days of MIPFormats and MIPDoc 2018 yielded plenty of talking points about formats, factual and digital trends, including a MIPFormats keynote led by Kate Phillips (above, left), controller at BBC Entertainment. She was interviewed by Lisa Perrin (right), CEO of creative networks at Endemol Shine Group.
Phillips' career, like many in television, has meandered. "I never had a strategy; I'm sure no one here does, you never have a strategy in television," she said. Today her slate is formidable, with hits that include Strictly Come Dancing, The Apprentice and Dragon's Den.
Asked by Perrin how she perceives critiques about the BBC's capacity to innovate quickly, Phillips said it takes "balls, really. As a public service broadcaster, we have to take risks. I think I've taken a lot of risks since I've started and I have a team who feel passionately about new ideas. We work hand in hand with indies of all sizes; I will always take risks, and that won't stop."
A pertinent example of this is the just-commissioned All Together Now, distributed by Endemol Shine and airing on BBC One on Saturday nights:
"That was pitched as a paper treatment, on a side of A4," Phillips revealed. It was explained as a singing contest where "there's no panel of judges; it's a panel of people where if you like it you stand up and sing along." She called this pitch a perfect example of KISS, or "Keep It Simple, Stupid." Phillips greenlit the show because it felt fresh, funny and distinctive.
"We're always going to be looking for big Saturday night shows and that continues. Now we're looking at 2020 because it takes 1.5 years to get a show like this up and running."
Asked by Perrin how she feels about growing competition from sites like Amazon and Netflix, Phillips openly admitted she loves the Netflix format Nailed It.
"I think it's brilliant that people are putting up money to commission indies," she said. "In factual entertainment, they're definitely tough competition because people tend to binge factual. But in terms of our big Saturday night plays, I don't see them so much as competition. Saturday night shows are more like sporting events: A live sharing experience."
For the future, she encourages people not to be too slot-focused. "I still want to bring ideas that don't fit a model," she said. She also revealed a lesson, hard-earned over the course of an illustrious career: "Don't rush things to air too soon. Take your time, pilot it, try it out."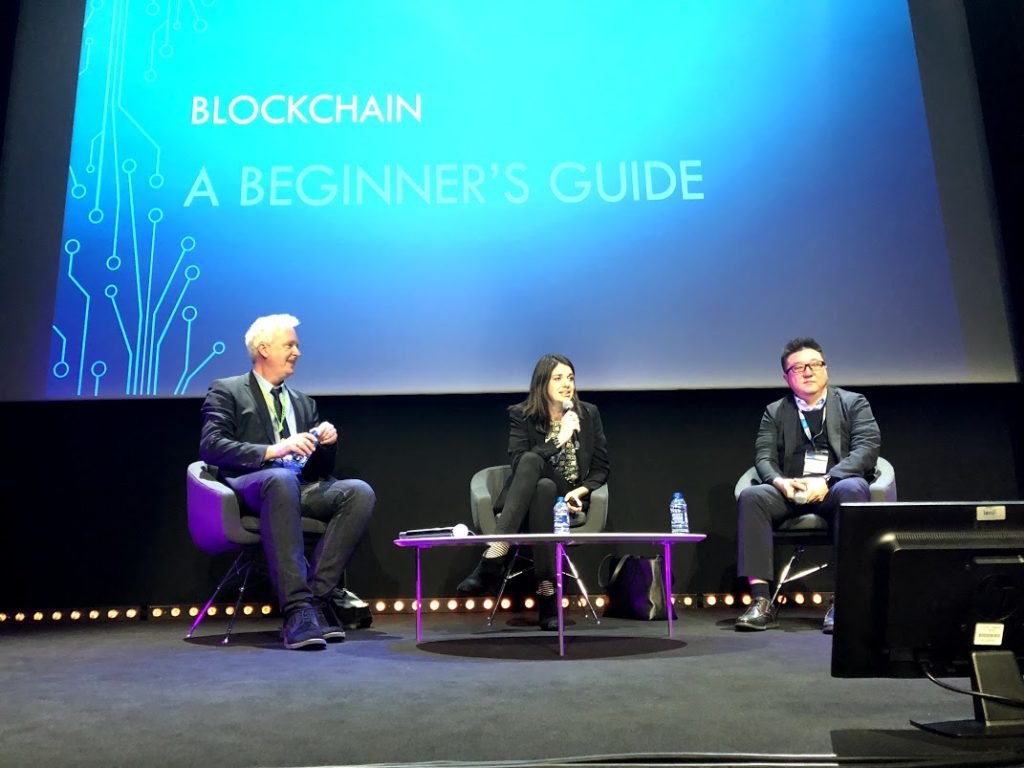 Just after breakfast, we were treated to Digital Protection of Your IP. Hosted by Jan Salling (left), CEO of Missing Link Media and co-chairman of FRAPA (Format Recognition and Protection Association), it included general manager/formats and development head Jin Woo Hwang of CJ E&M (right) and director Cheryl Clarke of Mushroom Media Ltd (centre).
During the session, Clarke went into some detail about blockchain and its potential industry applications.
"Blockchain represents Web 3.0, where the Web can run on a fully peer-chain basis," she explained, adding that the sector is moving at warp speed: "Cryptocurrency is now valued at $350 billion, all seeking real world applications."
"How is that real money?" Salling asked her.
"That's a much broader question, because then you go into, what is money?" Clarke replied. "Money in a bank is about trust between you and your bank. In blockchain, there's trust between people who own cryptocurrency and what they're buying it with. You can exchange cryptocurrency for items … or even fiat currency."
Philosophical pondering about money aside, Clarke also offered practical applications for blockchain in formats:
Funding: Tokenising IP

Protection: Protocols for immutable contracts

IP rights and distribution: Automated licensing

Streaming platforms: Netflix-style but owned by the community

Direct-to-audience sales and IP sharing deals
She urged people to keep an open mind, and to ask ourselves, "How can I reach new audiences, do business differently, in a world where I can transact directly between one person and another? Be creative, learn; don't shut it down because you don't understand."
As if to underscore the point, Salling added, "FRAPA has a format registration system, used by creatives all over the world for over a decade now. Blockchain could make that system redundant."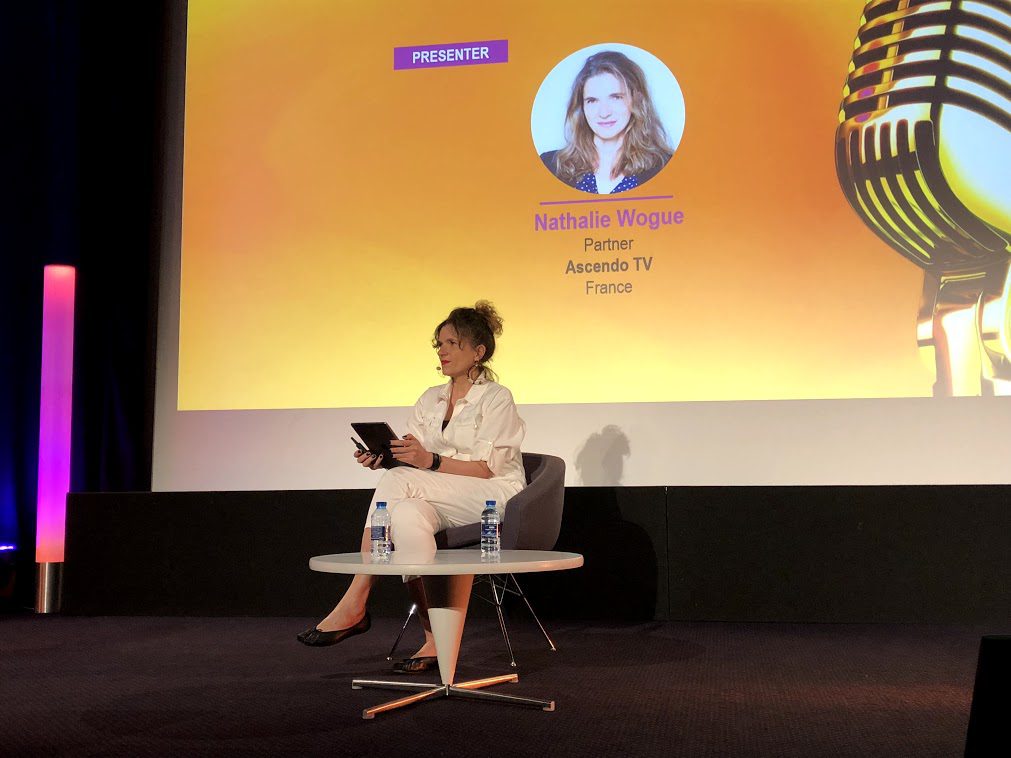 A recurring theme this past couple of days has been FAANGS (Facebook, Apple, Amazon, Netflix, Google & Snapchat) launching formatted programmes, at the same time traditional channels develop their own digital iterations. In When TV Formats Meet Digital, TV/web specialist Nathalie Wogue walked us through the best ideas at the intersection between digital and TV. Check out a few below.
Ellen DeGeneres makes the jump from television to YouTube Originals with the Show Me More Show:
Date or Dump, one of Unilad's first original shows, is closer to a traditional linear-format dating show, revamped for the digital age: Two single strangers go on "the weirdest date of their lives," where they're subject to multiple-choice trivia questions about each other's lives. The episodes culminate in one Tinder-style swipe: Do you opt to date, or dump? If both opt for Date, they split the cash over the date.
Virtually Dating sets up blind dates between strangers wearing VR headsets. Co-created with Condé Nast's Iris, you can find the show on Facebook. 
Netflix's Nailed it was enthusiastically hailed by Wogue as "an antidote to Instagram's perfect cooking syndrome."
Conclusion: the next big format is just as likely to come from the digital world as it is from 'traditional' TV…
Brands were also on the menu at MIPFormats, with a panel session on Brands Embracing Entertainment—literally using entertainment codes for TV and online campaigns. It featured moderator Gary Carter, non-executive director at KLOK; managing director Alex Connock of Missile; Rumpus Media's managing director Iain Wimbush; Petronella Panerus, CEO, Åkestam Holst; and executive creative director/partner Mikko Pietila of TBWA Helsinki (left to right, above).
"Brands are becoming entertainers. They're not shouting behind commercial messages; they need to be interesting. There needs to be believability, story, a mission," Pietila said during opening remarks. Connock also stressed that, while people's tolerance for brand exposure in their content is surprisingly high, there's a "cliff edge" where interest falls off a cliff. It's important for content creators and brands to be mindful of that.
But the examples that followed walked the line quite nicely.
Panérus shared the Åkestam Holst case study for Ikea's ongoing "Where Life Happens" campaign, whose diverse iterations include a print ad that doubles as a pregnancy test, short films about adoption, or adolescent family relationships and divorce, and pre-roll ads that, instead of being short enough to consume before a user skips, are interminably long and banal.
Carter called the campaign an expression of the "European soap opera tradition"—"a slice of life, very close to the experiences of real people."
"One reason we're successful is equality and diversity," Panérus stressed. "If you want to make ads for Sweden, which doesn't look like it did 20 years ago, you need representation." You simply can't make great branded content unless that's part of your DNA at outset.
Pietila of TBWA Helsinki shared the brand's "Life in Hel" campaign, sponsored by Finavia. In essence, it's a 30-day reality show that follows a Chinese man living in Helsinki airport for 30 days.
Finavia wanted to address potential Chinese clients, but building visibility in China for a Finnish brand the target doesn't already know could cost millions of euros. Thus TBWA burrowed into the culture to find another route.
"If we were going to do this, we needed to be transparent from end to end"—something TBWA stressed to Finavia, Pietila said. The Chinese protagonist had to be dropped in, and have real experiences, which put Finavia under pressure to rise to making those experiences as good as possible.
Gary Carter himself helped them build the campaign. "We're ad guys. We realised we'd need help from someone who's done reality TV," Pietila admitted.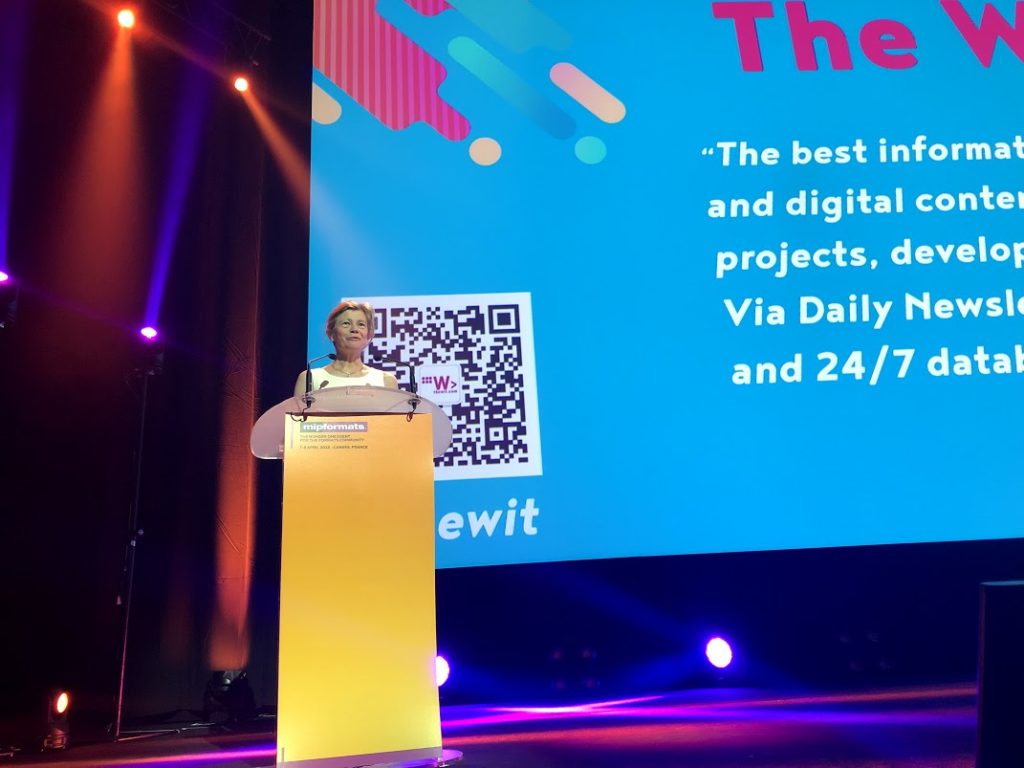 Sunday also gave us another chance to freshen up with Fresh TV: Factual Entertainment & Reality Shows, led by CEO Virginia Mouseler of The WIT.
She kicked off by sharing the top 5 formats of last year: First Dates (distributed by WBITVP in the UK), Dragons' Den (SPTI in Japan), Common Sense (All3Media, UK), Undressed (Banijay, Italy), and Married at First Sight (Red Arrow, Denmark). The best genres are quiz shows, celebrities and physical challenges, with talent shows, adventure, dating and cooking rounding out the list, but slightly declining.
Still, cooking kicked off our first course of factual and reality-show goodies: In High Cuisine (distributed by Totem Media), experienced chefs blend organic drug culture and haute cuisine while traveling. And in Food Switch (Borderline Media), two families switch shopping carts for a week and can only cook with those ingredients.
Among other formats to watch this year, you can also expect to encounter The Big Checkup (Newen Distribution), where hundreds of people compete for a checkup with a team of doctors; Weight for the Date (WeMake), which sees overweight singles matched by personality, and who do not meet in person for 90 days; Heritage (Global Agency), where six contestants compete to impress an old, rich widow without an heir; Everyone's a Critic (NBCU), where ordinary people become art critics; and Beat Your Teenager (Missing Link Media, shown above), where parents, trained by pro-gamers, learn to play esports like CounterStrike to bond with their teenagers.
Over at MIPDoc, meanwhile, the MIPDoc International Pitch saw five creators and producers pitching their most compelling new projects to a team of judges. The latter included Pamela Aguilar, senior director of programming and development at PBS; Elisabeth Hagstedt, head of acquisitions and coproductions at Histoire; Paul Heaney, CEO of TCB Media Rights; and Dr Kristina Hollstein, director of acquisitions and coproductions documentaries at ZDF.
The finalists included: Alzheimer's: Tracking the Assassin, presented by Moira Mann from Axolotl Films in the UK. It's a 90-minute documentary about the search for the toxin that may be causing Alzheimer's, Parkinson's and ALS, with some spin-off interactive videos; History Uncovered, pitched by Chloe Persyn Preljocaj, head of sales and acquisitions at ZED: a collection of documentaries revisiting key moments from history from a new perspective, from Hitler and Hiroshima to Mao; Man Vs Time, presented by Nicolas Boucher, CEO and executive producer of DBCOM Media: a series exploring ideas and objects that have had a significant effect on humans' relationship with time; and Next: Blockchain, pitched by Bianca Chen, producer at OX3 TV Production: an eight-episode documentary examining blockchain technology.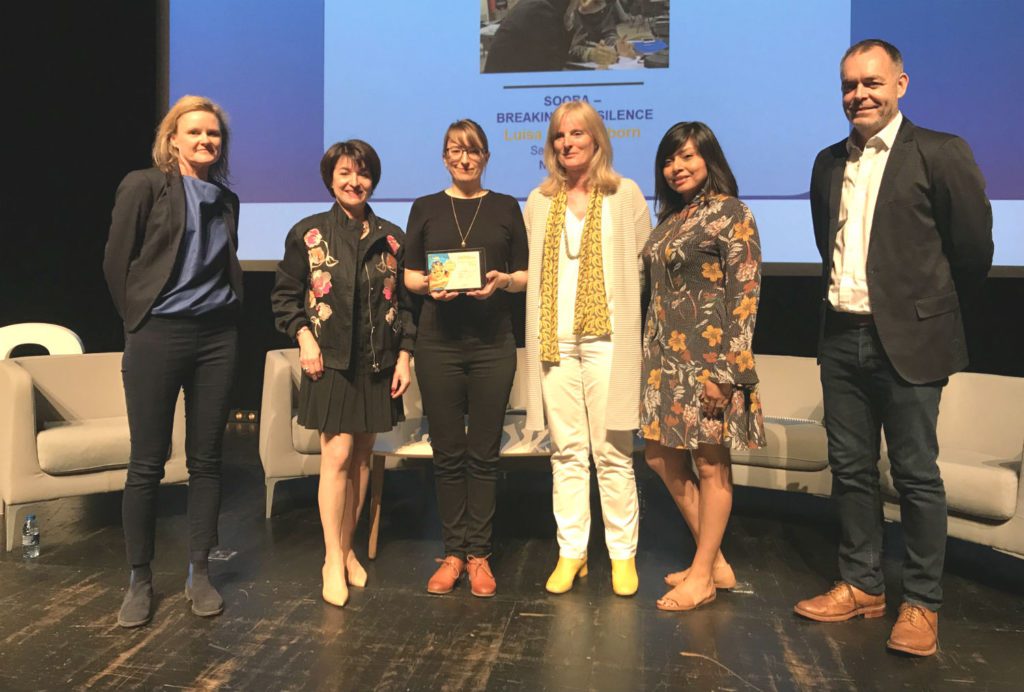 The winner, though, was Soora – Breaking the Silence, directed by Iranian filmmaker Mina Keshavarz and presented by Luisa Schwamborn, sales executive at Germany's New Docs (centre above). It focuses on Soora, a non-governmental organisation (NGO) founded in Iran by four feminists, campaigning (at great risk) for domestic violence to be made a crime in Iran. "I believe this topic is highly relevant for all of us," said Schwamborn in her pitch. "Women's issues are a very sensitive topic in Iran and freedom of speech does not exist." The film is planned to be complete by the end of 2018, with 52 and 90-minute versions. You can find out more about the project here.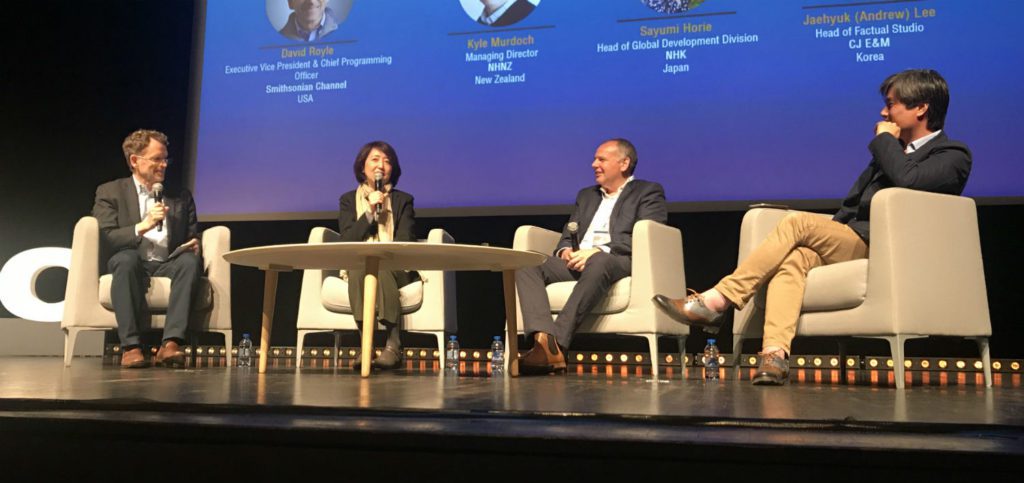 MIPDoc also had a pair of keynote panels today, including one on Asia's global ambitions around coproduction. Speakers included Sayumi Horie, head of global development division at NHK; Kyle Murdoch, managing director at NHNZ; and Jaehyuk Lee, head of factual studio at CJ E&M. The moderator was David Royle, EVP and chief programming officer at Smithsonian Channel.
Murdoch and Horie talked about coproduction relationships, referring to projects including Japan From Above (MIPDoc's World Premiere TV Screening this year) and How The Silk Road Made The World. "If it wasn't for international coproduction, NHNZ probably wouldn't exist. Or we'd be just two people in a little office somewhere… When we talk about coproduction, it's not a business transaction. It's actually a true partnership," said Murdoch. "It's like a marriage! You should be very faithful and you should be very patient," laughed Horie.
The panel talked about coproduction strategies. Horie suggested that acquisitions are often a good starting point for a relationship. "If we know that their minds and our minds are in the same direction, we keep talking. It takes time, three or four or five years to get to the right project. You should be very patient," she said.
Murdoch said that new financial models are emerging, for example in China. "The landscape is completely changing… and things change very quickly," he said. "The TV world is probably light-years ahead of the rest of the world in a lot of ways, especially when it comes to the VOD market." How so? "If you think Netflix is big, well, China basically has four companies bigger than Netflix, and they're all doing well… And when you talk about coproduction, what it enables us to do is to have more choice over how we work in China. We can work with a VOD company to come on board for the China rights. There's just much more breadth with what you can do with regards to coproduction there at the moment."
Horie added that Chinese VOD providers are very open to sharing their data with producers. And the numbers they are sharing can be huge: Murdoch said that one show, China From Above, has just reached 250m views in China, for example. Lee, meanwhile, talked about the dynamic South Korean market, describing it as "a factual bootcamp: if you can survive in Korea, you can survive anywhere".
The day's other MIPDoc keynote superpanel focused on independent filmmaking, which might just be the future of the documentary and factual industry. But what are the modern realities of survival as an indie filmmaker in a world of new platforms and global distribution? The panelists were Jamie Isaacs, CEO of Avalon Factual; Jane Root, CEO of Nutopia; and Ellen Windemuth, CEO of Off The Fence. The moderator was Derren Lawford, creative director at Woodcut Media.
Root compared the American and British markets. "It's become an absolute item of faith with British independents that rights are everything, and it's not the same in America. There's none of the government provisions that allow people to retain rights. You have to earn rights. So people have lots of different ways of creating businesses: there are lots of very successful American companies that have never owned rights."
Isaacs gave a perspective from Avalon Factual, whose volume of output represents a different strategy to Nutopia's. "The desire for volume is from a business perspective, that's about how you can make some money out of a project. It costs a lot of money to launch shows, get them on air and make them good. If you don't have volume, the sums don't work," he said.
Would Avalon Factual give up rights in the way that Root was describing? "No. Not unless someone was offering a lot of money as compensation for the loss of rights," he said. "There's a lot of talk about Netflix and Amazon and all these other people coming into the market with money to spend. But in my opinion it's still a minuscule part of the pie for a producer like me. It's a tiny bit of the target."
Nutopia is making two big shows for Netflix. "They're really great people, and it's just very different to dealing with somebody who has a schedule," said Root. "You're starting to see them do deals where they don't take [global]rights."
Windemuth said that new digital platforms had fuelled some of the possibilities here. "Netflix made it okay to have films for a purpose again. You can make a film like Blackfish [the 2013 documentary]and have more than 'I want to tell a story and I'd like to get paid for it'. We can work for a purpose," she said.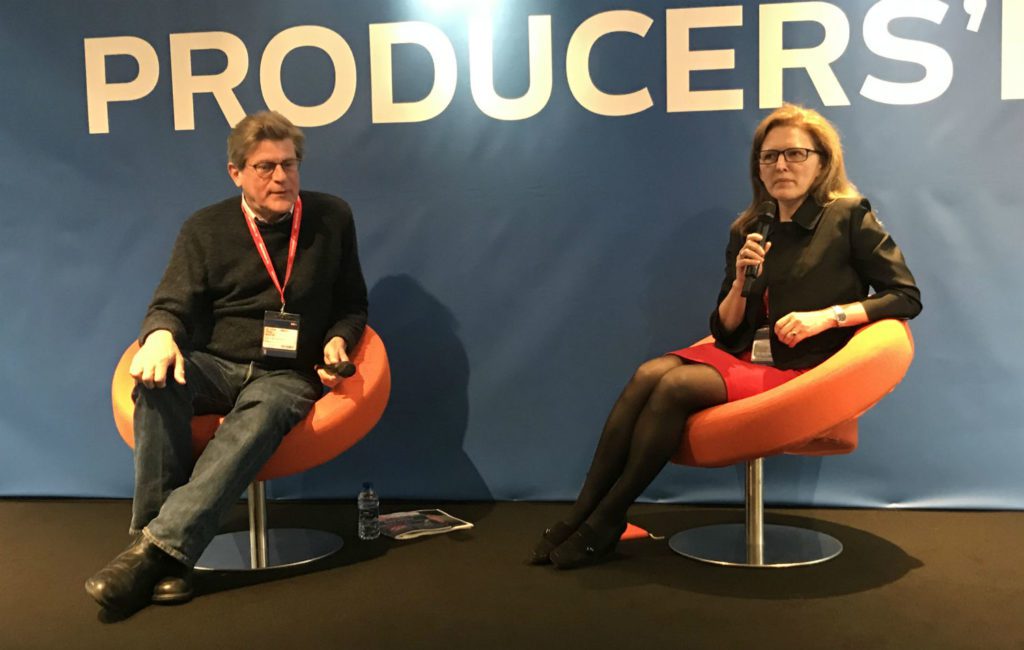 Earlier in the day, MIPDoc played host to a fireside chat with PBS International's MD of coproductions and drama acquisitions Germaine Deagan Sweet (right) and vice president Tom Koch. They explained how they approach their slate of almost-exclusively factual programming, which is distributed worldwide.
"We do not do formats! That's not something we do," noted Koch, adding that pop-culture projects require a hinterland. "We have not done a profile of Madonna, for example, but we will do a profile of Sammy Davis… really understanding who Sammy Davis was in the context of his time, in the context of race relations… It's pretty high-end stuff."
They also showed a clip of another project trying to bring a new perspective to an historical event: the Apollo 11 Moon landing. "It became clear there was a wealth of material that hadn't been seen before. It meant the story could be much bigger, and the material was there to support it," said Deagan Sweet. She said this should encourage producers to not feel constrained by the standard schedule-slots of broadcasters, if a project warrants it.
"If the story is good enough and you have the material, you shouldn't necessarily have the constraints… it can be what the story needs to be. I don't think we hear that often enough… If you've got a good story, the broadcaster will find the time."
The pair also talked about how documentaries are evolving in response to the demands of younger viewers, who have an appetite for history and science, but who may not respond well to some of the traditional tropes of these genres.
"We're using original narratives, trying not to have as many interviews, especially in historical pieces, where you cut from the narratives to see an older person. It keeps you in the story," said Deagan Sweet. "It keeps it looking relevant in that respect, and in the moment. I think we're able to engage younger audiences by keeping them in the story that way. Less 'Voice of God' narration is a path that many broadcasters are taking, and certainly some of the partners we're working with."
Additional reporting by Stuart Dredge