In Development, the first ever Cannes Drama Creative Forum, kicked off yesterday with pitching sessions, conferences, and networking opportunities. The centrepiece of In Development is "Oh my Pitch!" – where the officially selected In Development projects are being pitched. 8 projects in development and 4 early-stage projects have been selected by members of the In Development Advisory Board amongst a massive response of 344 submissions from 46 countries.
The selected creators pitching at In Development receive immediate feedback by a panel of key decision-makers. The panel of international key decision makers for yesterday's afternoon session existed of: Ozge Bulut Marasli, CEO, Kanal D & Production Companies, Kanal D, Jimmy Desmarais, Co-Managing Director, Atlantique Productions, Jane Gogan, Head of Drama, RTÉ, Christian Wikander, Director of Co-Production, Twelve Town, Alexander Tsekalo, General Producer, Sreda Production, and Carrie Stein, EVP Global Scripted Series, Kew Media.
First project being pitched was the epic and internationally-known story of Victor Hugo's Les Misérables reimagined as a contemporary series. Who could these iconic protagonists be today? The story begins in 1999 and continues into the early 2000s, with Jean Valjean as a successful resorts owner and Fantine as a single mum who will die from Aids. This version of Les Mis is produced by Elephant Story, created & written by Marc Herpoux, Jean-Xavier de Lestrade & Sheila O'Connor.
Icelandic project Violator (below) is one of the early-stage projects and depicts the story of two police detectives three decades apart. It's created and written by Jon Atli Jonasson and Ragnar Jonsson.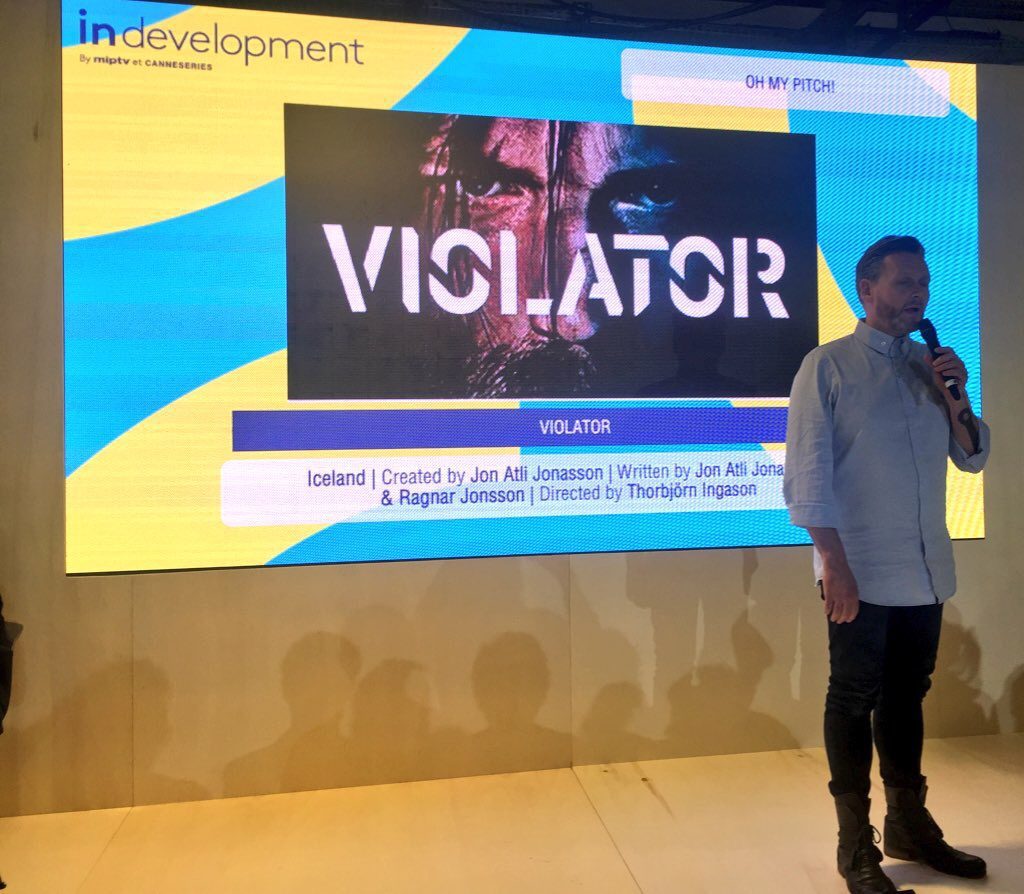 The last project pitched at In Development yesterday was Whatever, Linda, created and written by Hannah Cheesman and Julian De Zotti from Canada. It's produced by The Donaldson Company and about women in high finance. "It's the MeToo movement coming to Wall Street.", said Hannah Cheesman. It's based on a web series and the creators are looking for international distribution and co-prodution partners.
The In Development pitch session continued today with the following TV experts offering feedback: Tara Cook, Development Producer, Carnival Films, Erik Pack, Head of International Distribution & Co-Production, Platform One Media, Ben Donald, Executive Producer, International Drama, BBC Worldwide, Vanessa Shapiro, President, WW TV Distribution & International Co-Production, Gaumont Television, and Aline Marrache-Tesseraud, SVP International SVOD Acquisitions, Canal+ Group, Vivendi Content, Studio+.
First project being pitched was called Angelica. It's created & written by Eliza Lee & Jen McGowan from USA, produced by Twothreefive. The series follows the story of 4 women in a small town that will soon be left with the only abortion clinic in the state. The creators are looking for partners who lean in with them and help them making the series seen. 
Early-stage project Class A is created & written by Charley Packham, Oliver Deacon and Simon Schneider from the UK. It's Breaking Bad meets The Inbetweeners.  A cutting edge teenage drama about a new breed of drug dealer, 16-year-old Kurtis. Charting his meteoric rise from class loner to bitcoin baron and internet drug lord, what happens when the tangled deep web collides with the offline world of awkward adolescence? The young creators of Class A are looking for mentors who help them create the show.
The Machinery produced by Anagram Sverige AB (Sweden) is the third In Development project being pitched this morning. It's about an ordinary guy who wakes up on the ferry between Sweden and Norway with a bag full of money, a gun, and no memory of how he got there. It's created and written by Kjersti Ugelstad, Maja Winkler, Håkan Lindhé, Peter Arrhenius, Peter Lindmark and Jimmy Lindgren. They already have 85% of the budget with broadcasters TV3 in Norway and Sweden, as well as Viaplay attached to it. But they look for broadcasters to pre-buy the show as well as for co-production partners.
Back at MIPTV for the second year in a row, the Digital Short Form Series Pitch is the top-notch event for creators and producers of digital short form drama series. The competition sets out to find the best creative talent and to provide a unique opportunity for creators to be spotted on the international scene and meet key decision makers. The selection jury consists of: Lauren Anderson, Chief Content Officer, NBC/Snap Joint Venture, Ivana Kirkbride, Chief Content Officer, go90 & Verizon Digital Entertainment, Qiang Li, Director of Media Acquisition & Cooperation, Alibaba Media & Entertainment Group, Marcelo Liberini, VP Digital, Caracol Television, Aline Marrache-Tesseraud, SVP International SVOD Acquisitions, Canal+ Group, Vivendi Content, Studio+, and Claire McArdle, VP Multiplatform, Comedy Central, Viacom International Media Networks.
The first project being pitched at the Digital Short Form Series Pitch was called Big G. Producer Jaoa Vinhas from Belgian Filmmaking Agency Octopods says: "Big G is a comedy about a great game of human evolution." Players have to play evolution on a virgin planet by controlling a Humans, a character that looks like a human. The series is targeting gamers and reality TV fans.
The second project was from Argentina and is called Dead Line (above). This transmedia series is a black comedy about a YouTuber who discovers that his cellphone has such a powerful sensor that it can digitally record ghosts, explained creator Sofia Szelske from Nativa.
The pitch session continued with South-Korean project dxyz. What makes this series special is that the dialogue between two girls provides a rhythm similar to lyrics. "We wanted to emphasise the effects of art and music in a way that blends better with the text", said Chiehwan Sung from 72Seconds.
The next digital project was from Canada and called Made with Love. It's a character-driven show about a lesbian who hits rock bottom and starts a clothing line called "Made with Love", explained creators Erin Carter, Justine Stevens and Andrew Nicolas McCann Smith from First Love Films.
The G.O.A.T. is a comedy set in the world of E-Sports. This project from Australia and presented at the Digital Short Form Series Pitch by Luke Eve from More Sauce, is about two incredibly different, ambitious and flawed men who strive for greatness.
Apart from the pitching sessions, another important part of In Development are the conferences covering topics such as anticipating the storytelling of the future and using AI in the creative process.
Our culture is evolving faster than we can change tabs on our browsers, with more scripted content being created and an ever increasing number of ways it can be consumed. How do you create stories now that will resonate with audiences in 2020? What elements will still apply and what new directions will be worth exploring to help future-proof the viewer's commitment to TV? In his session Jumping Ahead: Anticipating the Storytelling of 2020, Paul Youngbluth from Tape Consultancy answered these questions. He said that their research identified key drivers which subconsciously condition, and underpin audience appeal.The key appeal drivers are: Relevancy (topical, local resonance, authentic), accessibility (familiar, escapist, compelling) and emotionality (affecting, characterful, identifiable). To capture tomorrow's audience Youngbluth concluded: "Storytelling remains key, Technology such as VR/AR is not a substitute for good storytelling, and viewers want to be led on a journey."
Could AI replace the traditional creative process? It's a question many are asking. In this session moderated by Barbara Chazelle from France Télévisions, panelists Marina Pavolvic Rivas from LLimn (Canada), Nadira Azermi from Scriptbook (Belgium) and Claire Lemaréchal from Azad Films (France) tried to shed some light. Scriptbook has created an artificial intelligent script analysis system that analyses everything from emotions by scene, gender equality, even predicts box office numbers. It helps writers to see "what can be improved in their scripts", said CEO  Nadira Azermi. French writer Claire Lemaréchal replied she believes that AI can help by providing analysis on what's been done and worked before. "But the limit of AI today is replacing the unique vision and voice of a creator." She added: "Maybe you will have a label at some point saying created by humans and maybe it will be a niche, but we (human writers) will survive."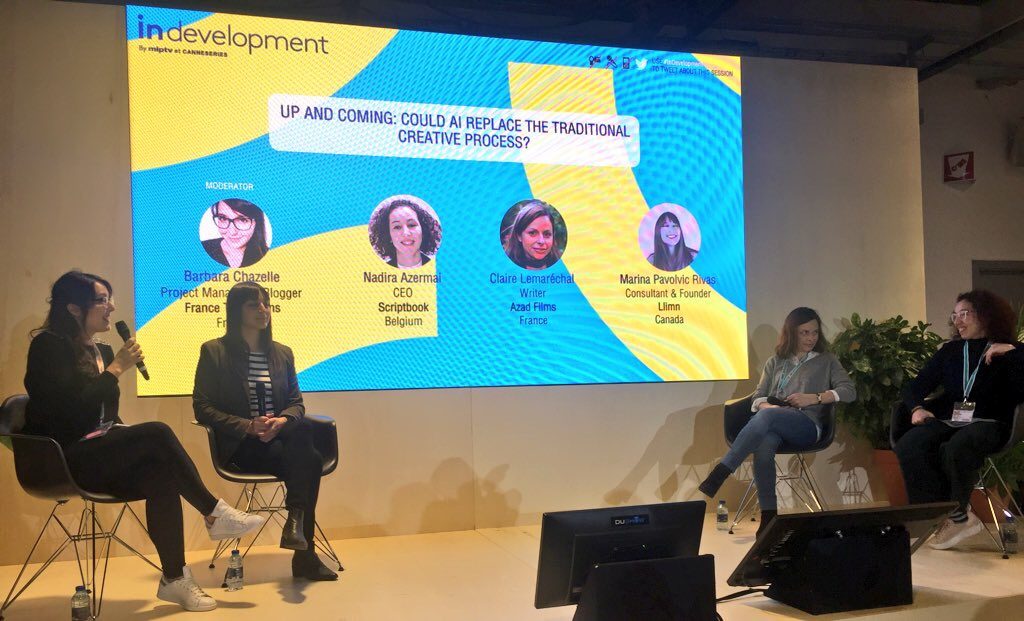 Last night's CANNESERIES pink carpet saw amongst others the cast of Norwegian CANNESERIES Official Competition show State of Happiness (Lykkeland). It is a historical series set in Norway in 1969. The actors (pictured below) explained at the press conference yesterday that the music, costumes and set design got them in the right mood for 1969. "It felt like you travelled in time.", so actor Amund Harboe who made his acting debut on the show. State of Happiness is about a changing nation, a Klondike town, and four young people who are thrown into a whirlwind of opportunities.It's the summer of 1969 in the small coastal town of Stavanger. International oil companies have been test-drilling for years, but nothing has been found and they are in the process of leaving. The night before Christmas 1969, the gas flare at the oil rig Ocean Viking is lit and everything is about to change. For British actor Bart Edwards (UnREAL), who had never been to Norway before, working on this show has been a joy and he's proud that the whole world finds out about this story of a changing nation now. The producers are already working on season 2.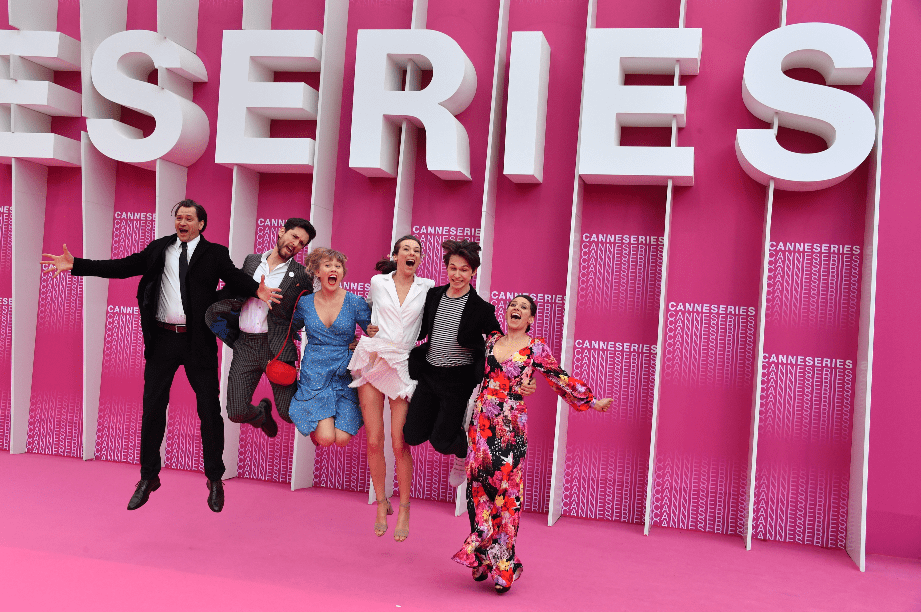 The highlight on the pink carpet last night, was Spain's biggest YouTuber biggest El Rubius, aka Rubén Doblas Gundersen. He is here in Cannes to promote animated series Virtual Hero, together with Movistar+.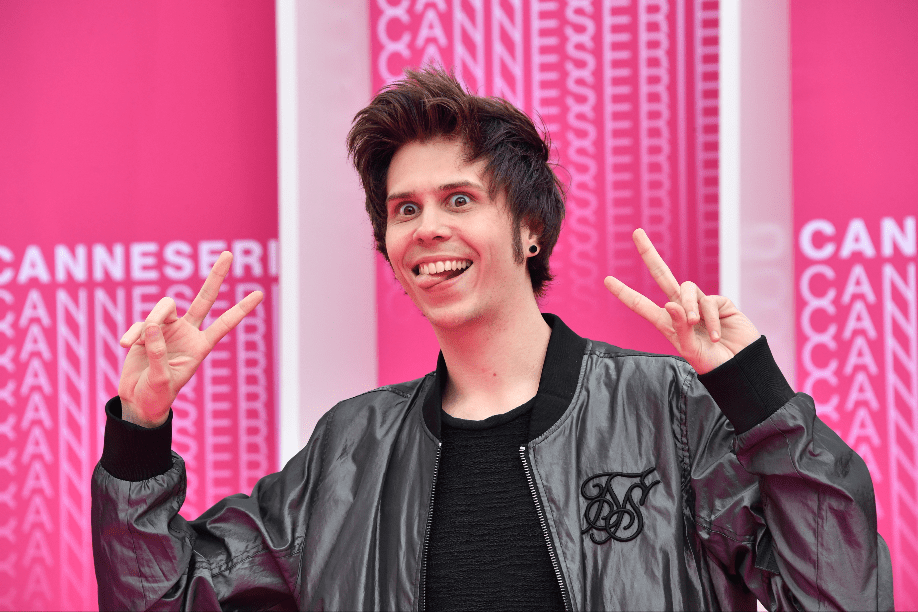 More pink carpet star photos in our Twitter thread!