CANNESERIES' Official Competition-selected shows The Typist, Killing Eve and Mother have one thing in common: they all depict female-driven stories. Actress Sandra Oh, best-known for her role in Grey's Anatomy, stated at the Killing Eve press conference today: " TV has moved into this space, where those stories and voices are more welcome than in film." And writer Phoebe Waller-Bridge added: "These are stories that need to be told and people are becoming more and more open to hear these stories." 
The second day of CANNESERIES was filled with exclusive screenings of innovative high-end drama and glamourous appearances on the pink carpet. The German crew and cast of German show The Typist even enjoyed being on the CANNESERIES pink carpet twice.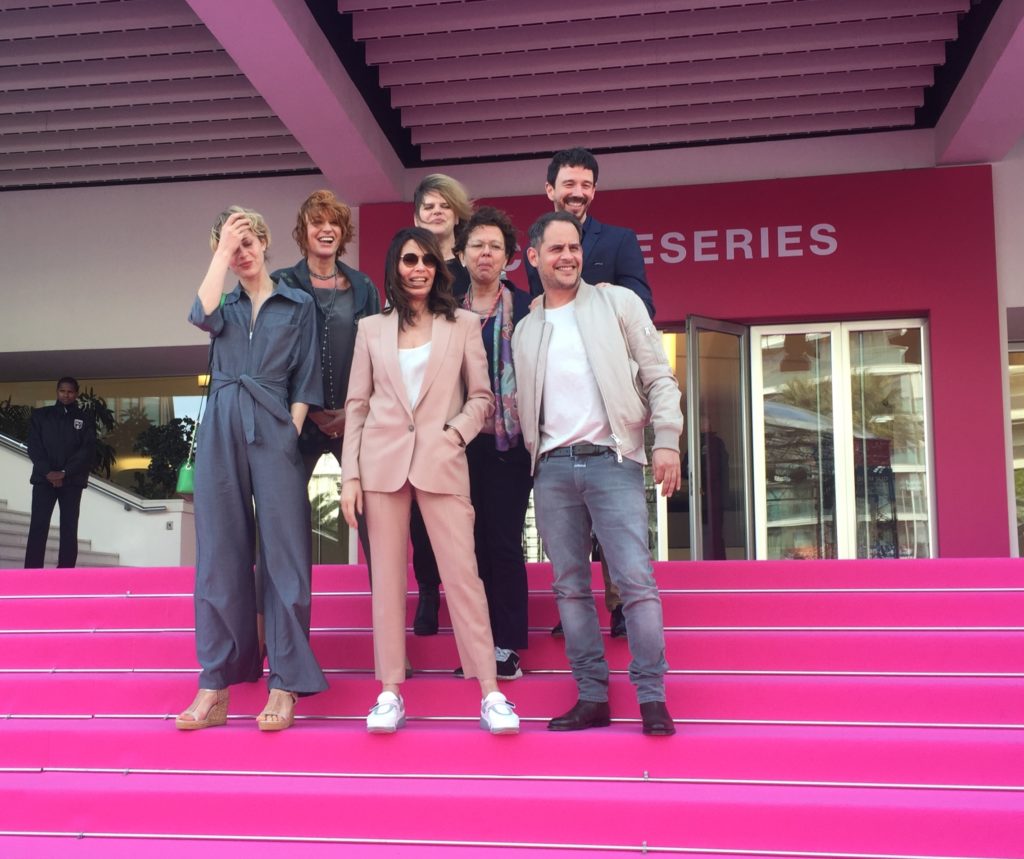 The Typist (Die Protokollantin) is about Freya Becker (played by Iris Berben) who works as a typist with the Homicide division of the Berlin police. Since the tragic loss of her daughter Marie, who disappeared eleven years ago without a trace, she lives a secluded life. When the only man who might give her information about Marie's fate is released from prison, she sets out for a painful journey to finally get to the bottom of the truth about what happened to her daughter.

Crime thrillers and missing girl mysteries are very common on German TV. But its high-quality writing and production as well as the star-power of the main protagonists made it into a high-end drama. Moritz Bleibtreu, who plays Freya's brother and is best known for Run Lola Run, is the latest movie star who makes his move to the small screen. He and Iris Berben, grande dame of German TV, made this show into a primetime series. When asked about his move into TV, Bleibtreu said at the press conference yesterday: "It's great that in TV you are able to go into depth of stories." and Berben added: "TV gives you time to develop your character, to show all emotions." 
It was very windy in Cannes yesterday, which made the pink carpet appearances challenging for some of the ladies! Luckily, Félix actor Leonardo Sbaraglia helped out his colleague Mi Hoa Lee (below). 
Another pink carpet highlight was the Killing Eve cast and crew. Actresses Sandra Oh and Jodie Comer as well as writer Phoebe Waller-Bridge — best known for cult series Fleabag — added some Hollywood glamour to the pink carpet last night (top photo).
Phoebe Waller-Bridge's buzzed-about Killing Eve stars Sandra Oh as an MI5 agent on the trail of a female killer, screened last night in the Palais. The screening coincided with its US premiere on BBC America and it was announced that the series has already been renewed for a second season. 
The series challenges the typical spy-action thriller as these two fiercely intelligent women, equally obsessed with each other, go head to head in an epic game of cat and mouse. When asked about what makes this show so special, creator Phoebe Waller-Bridge replied at the press conference: "These guys", pointing at actresses Sandra Oh and Jodie Comer, "their performances." Sandra Oh jumped in saying: "That's funny that you're saying this, Phoebe, because for me it's your writing. Phoebe's voice and her tone captured a unique and fresh spirit." Phoebe added that she tries to give a real voice to her female characters and Jodie Comer added: "These  women are strong but also fragile. It was very exciting to explore all these emotions." 
Sandra Oh said she would like to adapt more of Eve's fearlessness. "Villanelle (played by Comer) ignites a sense of vitality in Eve." So, what would you do if you woke up one day and had no fear anymore?
Another female-led drama at CANNESERIES' Official Competition is South-Korean show Mother. Creator Park Jee-Young bought the copyright to the Japanese TV show in 2011, after it aired on Nippon TV in 2010. She said at the press conference today: "I was very touched by the story and really wanted to make a remake."
Mother is the story of a woman who never wanted children, and yet kidnaps a girl to become her mother. When teacher Su-jin meets student Hye-na the student, she finds out that the little girl is being abused by her mother and her mother's boyfriend. Su-jin cannot accept to leave Hye-na being mistreated and decides to kidnap her.
When asked about the main differences between the Japanese original and the Korean remake, writer Chung Seo-Kyung replied that the Korean drama has more episodes, she expanded the thriller part and added more details into the family relationship. Director Kim Cheol-Gyu further explained that while Japanese drama is "quite simple, plain and minimalist", Korean drama expresses big emotions, so he added "Korean emotions into the story." Creator Park Jee-Young ended the press conference with the promise of a perfect happy ending. "Audiences said that they felt sad watching the show, but the ending made them happy."