Alexandre Amancio, Founder and CCO, Reflector Entertainment, and former Creative Director for Assassins Creed: Revelations and Unity, led a powerful keynote today on overcoming media silos (or "How I Learned to Embrace Technology and Trust the Audience," a charming wink to Dr. Strangelove).
"Depending on from which perspective you look, people have a very different view of content today," he began. "From the company's perspective, it's all about media. Companies still identify themselves by the media they produce… but from the audience's perspective, all they care about are the audiences they love and the worlds they inhabit."
In the past, media was about siloes, or "push" media. If a person wanted to access content, they had to use a silo. But "pull" media has taken over.
"Today, it's all about screens," Amancio said. "People have small screens, medium screens and large screens, but all of them are just windows, and they're windows to an ocean of content… Now the audience controls what they consume and how."
Naturally, a new content strategy is called for: Transmedia, not to be mistaken for crossmedia.
"Crossmedia takes one universe and deploys a lot of different media to create a content catalogue. But if you look at all these individual products, they don't stack up to create anything coherent," Amancio explained. "If you look at transmedia, there's complementarity in the way these stories are told across media. If you start putting  them together, a pattern emerges. A meta story emerges… and the audience itself is part of that recipe."
Transmedia has three crucial ingredients: A distinctive, coherent universe, with many compelling moving parts that can stand alone even if the main character is not involved. ""One could very easily imagine having a film set in the John Wick universe without the title character," as opposed to Die Hard, which revolves around John McClane, Amancio pointed out.
The second is complementary storytelling. "That means that the story that you tell in one medium isn't adapted from another medium. You're not adapting a film from a book or a book from a video game. You're creating content specific for this tailored medium using its strengths and avoiding its weaknesses," said Amancio.
Rule No. 3: Fanbase, or community reciprocity. "A lot of these huge universes have a strong active fanbase and cult following… but that's not what I'm talking about. I'm talking about the creators actually developing, into their strategy, means with which the fans can interact and almost be part of the universes."
Amancio used the example of Conspiracy for Good, an execution for Tim Kring's Heroes. It was a large treasure hunt conducted worldwide, where people felt like active participants in the show's world.
"If you look at the way ent companies today are treating transmedia, they're treating it in much the same way that was defined by Walt Disney in the 1950s: They have a tentpole product—whatever they're focusing on… then you look at all other potential products and sell the rights to produce an auxiliary set of products to amplify and maximise profits of your tentpole," said Amancio.
"Replace that tentpole from a product to a story world, or the IP itself. Then treat every single one of these different potential media like sections in an orchestra, all contributing to this cinema that is the IP or the universe. If you do this, every single product becomes a potential acquisition channel."
He is confident that this approach is a universal one.
"I think that every single IP out there can switch to this [transmedia]approach, which more closely matches what fans are already doing… it's also the way they already perceive the world… so this is a first great step for the world of entertainment and the industry itself, one where content will transcend the media it inhabits," Amancio said.
As part of our market research and intelligence series, Duncan Stewart, Director of Research at Deloitte Canada presented on the future of work and mobility, and its impact on media consumption. He was joined by CBC/Radio Canada's Executive Vice President Claude Galipeau.
"Trust and lack of sensationalism is a fairly significant driver of media consumption from home," said Stewart.
He also put great emphasis on how commuting was key to certain kinds of consumption.
"62% of radio listeners age 13-34 only listen in their car," he said. "It isn't just that the car is a big chunk of audio entertainment, the car is sometimes the only place where people are listening… We expect to see the number of people commuting and the number of people working from home to shift, even post pandemic."
"The pandemic was an accelerant for trends that existed before the pandemic," Galipeau added. "One of the trends is our preference for digital… and also use of mobile access to media. We've found that our streaming services went up significantly, and in particular our radio/audio apps."
CBC podcasts went up 40 percent during the pandemic, crime formats in particular, he said.  
"When the pandemic started we definitely saw a flight toward live TV, and in particular, news," Galipeau went on. "News consumption went up significantly and so did entertainment consumption… We pumped up a lot of kids' content across our platforms, and we also did a lot of shows that brought Canadians together." Kids content also grew; CBC's kids content visits rose 70 percent, with 2,5x growth for Radio Canada.
"We opened up some of the content that was otherwise under subscription, in particular our news channels. We made them free in linear and in OTT, and that really increased a lot of our traffic," said Galipeau. "It was kind of an unplanned experiment in free sampling – our subscriptions also went up during this period."
He emphasised that in times of crisis, media is as important as ever.
"The thing for us going forward is to really focus on what we can do locally, how we can be proximate and therefore relevant, focus on our trust factors because we are one of the most trusted media organizations in the country. We can provide trusted news and safe and trustworthy environments for the family, which not everyone can provide, particularly on digital platforms – so that's what you need to focus on."
MIDiA Research's Lead Video Analyst, Tim Mulligan, led a panel on post-disruption production and scheduling recovery, with an interview of Viasat World's Vice President of Channels & Products Lead Video Analyst, Karin Heijink.
"In 2019, the challenge was 'peak attention' – the idea that there was no more free time left available for new direct consumer services. Fast forward only 6 months, and suddenly there's an extra 15 percent of weekly entertainment time available for consumers. This is a result of lockdown… spending more time on home-based pursuits," said Mulligan.
Markets like Italy saw  a 72 percent increase in TV consumption in 2020, and the US a 56 percent increase, with the UK slightly behind at 49 percent. "Video streaming is also up dramatically, by a quarter or more in leading markets," he added.
"The end of Q1 2020 and all of Q2 saw an unprecedented stagnation of TV and film production. This has had a dramatic impact, something we researchers are describing as a 'production deficit' that is looming for the end of this year and a substantial part of next year as well."
Echoing Galipeau, he said Covid-19 and lockdown accelerated underlying trends and facilitated a shift toward digital consumption.
"In 2019 in the US, we had 532 scripted dramas completed, brought in to market. In 2020, we are estimating there's only going to be 279 completed shows. Last year we had a 100 percent completion rate; this year it's only a 48 percent completion rate. We are losing half of the scheduled output, which will have significant ramifications for the next 12-15 months."
"I'm not worried about (the production deficit), because there is a lot of content out there," Heijink said.
"Over the last couple of years, I think instead of having a deficit, we've had a production surplus," she elaborated. "So there are still a lot of shows that we didn't buy this year or last year, not because we didn't think they were good, because we only have 24 hours in a day that we can schedule. We didn't have the space for it. So maybe it's a balancing out of production, and we come to more normal levels of what people can actually consume and what broadcasters can place on their channels as well."
3Vision Director Hayley Bull and CEO Toby Russel presented on content distribution in a vertically integrated world, with Fremantle's International CEO, Jens Richter.
"The global market for content has always seen change, but over the last years we have seen unprecedented evolution: in the US alone, scripted series production has increased over 150 percent since 2010," Bull began.
"We are seeing increased selling-to-self activity by the studios, but there is a clear variation by studio and by market, and distribution to third parties remains where it is considered the best route to monetising," she added. "Time will tell what all this change will mean for the overall market for content distribution. Although at the moment there is a huge amount of excitement for D2C activity, it is very arguable that some of these services will struggle, and only a couple will cut through."
"Three to four years ago, the market looked completely different," Richter said. "Studios had output deals on a local basis, that will be less and less. I believe the gap will be widening."
He elaborated, "All these local players are going non-linear, or already are non-linear… The local and regional market is very busy and is going to be busier. There's a lot of money being invested on those platforms, so with those platforms having less access to studio product going forward, there is a gap."
He also feels that "A lot of those local players will become more local; they will serve more the needs of their local audiences. That's a normal reaction, because you have American product coming in on more and more streaming platforms. So what is a local player doing? The local player has to become more local to play to its own strengths."
Reaching the Audience: Distribution Strategies of On-Demand Providers was led by OMDIA's Tony Gunnarsson, Principal Analyst, Media & Entertainment; followed by an interview with Jacob Ahlin, Director of Digital Propositions at A+E Networks.
"Global online video has converged with and surpassed pay-TV, making for a very historical event. Currently, for the first time ever, more people are buying online video services than pay-TV in the world," said Gunnarsson.
"Streaming services, which we know are in a phase of growing very rapidly, have actually started to accelerate in terms of audience uptake. During the lockdown period of this year many streaming services have reported record numbers."
He added, "2020 was always going to be a special year, because of all of the entry of multiple next-gen US streaming services, such as Disney+, HBO Max, Apple TV+, and recent brands like Paramount+, and others yet to come, are suggesting very strongly that we are entering a new era for streaming."
Today there are 264 million SVOD subscribers in the US., likely to increase to 340m by 2024. And of 60 SVOD services in the US in total, around 25 have more than one million subscribers currently. By 2024, more than 30 services will have at least 1m subscriptions individually, in addition to the big US players.
"We're talking a lot about online video being OTT, direct to consumer, but in reality few video services can actually supply without partners. Netflix & Amazon have been the pioneers in 2010s… but today we see most streaming services are relying on partnerships to market their services, particularly when launching in to new markets," Gunnarsson continued.
"Traditional TV is in retreat, and more so than ever in 2020, and operators instead are assuming a role as aggregators or super-aggregators of online video services."
"As a broadcaster, our channels, such as The History Channel, is already reaching an audience of 70m across 100+ countries. We achieve that through partnerships with around 350 operators," Ahlin said.
"One of the great things about working with the likes of Amazon and Apple is that they help us reach a much wider audience, a different audience. And we help them get great content, great brands, great value."
He observed, "The SVOD market is getting hugely competitive, but competition is conducive of innovation, and the subscription model itself is evolving – being available from weekend passes to annual passes, or whether its bundled with other subscription services."
We also looked at global commissioning and production trends, with Ampere Analysis' Executive Director, Guy Bisson, and Moritz von Kruedener, Managing Director, BetaFilm GmbH; Ruth Berry, Managing Director of ITV Studios; and Tim Mutimer, EVP EMEA for Banijay Rights.
"Scripted content has been disproportionately impacted, a significant drop on the volume of commissions that we saw in the same period of last year, and that drop really kicked off in March, when much of the world went into lockdown," said Bisson.
"The sort of content we thought of as SVOD content which was largely scripted, is now shifting to embrace more unscripted… it's more than doubled in the last few years. Unscripted is a new area of activity for the likes of Netflix and other major streamers, and that is a shift bringing them more into the realm that we associated with linear broadcasters in the past."
He continued, "We've seen a very noticeable upswing in content that is embracing diversity of voice. One area to look at is LGBT+ content which has been on a significant upswing over the last 18 months… Diversity of content isn't just about gender or sexuality, but it's also embracing different diverse ways of looking at the world."
In other trends, "Mental health issues have been on the upswing, both in scripted and unscripted content. We're seeing protagonists enter drama with diversity of voice that we wouldn't have seen 18 months ago – nine series commissionings featuring autistic characters, five of whom were the main protagonist. This is a growing trend. Diversity of voice is key in the commissioning landscape going forward."
"For unscripted content, there is demand – a lot of people weren't able to produce their local reality shows… so that means there is a demand for high-end reality [content]," Mutimer added.
"I don't feel a shortage of content for us as a distribution business. What's really happened was, as the productions were delayed, the shows will come back, just later," Berry said. "There wasn't a need to commission new, because they hadn't gotten through the pipeline of shows already lined up… It's a trend we've seen the last few years – and hence, we've pivoted towards international and European drama in particular. The talent in Europe has grown and the demand to view that content has grown."
"I don't believe that integrated and fully concentrated systems are the best basis for innovation or for creating innovative content," von Kruedener said. "I think there will always be a door open for independent content. The situation right now is ideal… doors are still open on those platforms for non-major studio content."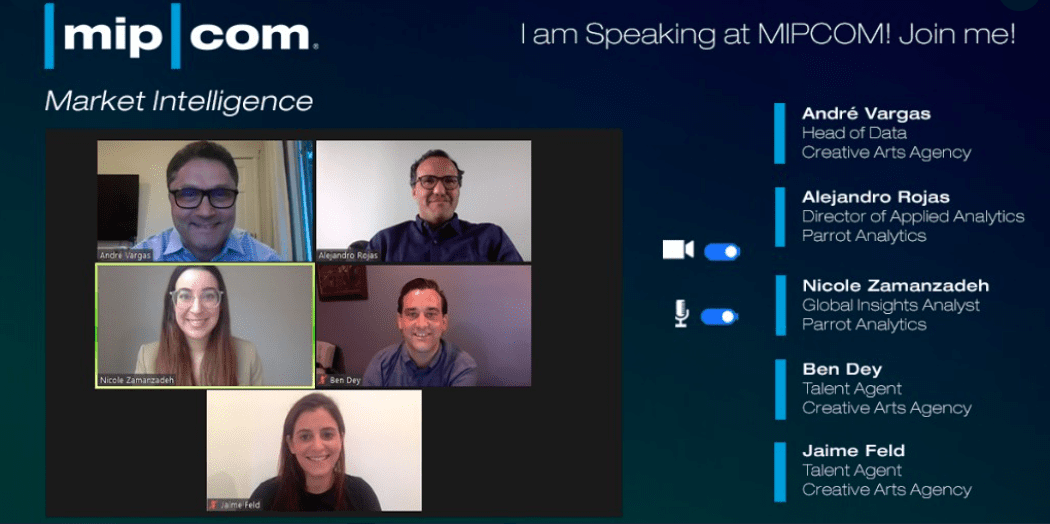 Parrot Analytics' Global Insights Analyst, Nicole Zamanzadeh, looked at the global impact of talent diversity on audience demand for TV. This included comments from André Vargas, Head of Data, and Jaime Feld and Ben Dey, Co-Heads of TV talent of Creative Arts Agency (CAA); and Alejandro Rojas, Director of Applied Analytics for Parrot Analytics.
"Diversity is an increasingly important topic in the US, because we are seeing demographic changes in the US population… as well as cultural changes in diversity with growing demands for equity and representation… coming from within the industry as well as outside the industry," Zamanzadeh said.
"Shows that qualify as diverse must reflect at least the percentage of diversity we see in the US population – 40 percent," she observed. "When we look at diverse debuts, those that meet a 40 percent minimum of talent diversity, we see that supply has grown. At 2019 we meet a turning point where there are more diverse debuts than non-diverse debuts."
Thus, "The popularity and demand for diverse debuts has doubled over the last 3 years. They now surpass the popularity of non-diverse debuts. So yes – audiences are connecting with and resonating with and demanding diverse content."
In terms of representation, Hispanics or Latinos are the most underrepresented group in talent. "While they make up 18 percent of the US population, they only represented 5 percent of the series regulars that were cast in debuts from 2017-2019. This indicates there is great room for growth and opportunity to bring in more audiences," said Zamanzadeh.
"The biggest challenge in making content that feels representative is making sure that it feels authentic, and that characters of all races and ethnicities are real characters with real lives," said Dey. "We need all sorts of types of people creating and ordering these shows, and we need to make sure there is an extra process of thought and consideration, and education about the types of roles that are written and created, and the types of roles that are played in those parts… it's the right thing to do and as the study shows, it's just good business."