In the fast-changing TV landscape, approaches to TV drama production have changed. The SVOD companies have opened up the marketplace and, while quality is key, today almost anything goes where fiction is concerned. Andy Fry asked Christina Jennings what producers should know in this Golden Age of TV drama…
Launched in 1987, Canadian producer Shaftesbury has grown into one of international market's most successful indie production companies – with particular expertise in co-productions. Founded by Christina Jennings, the company is active across drama, kids and family and has both branded content and future-facing tech divisions. In TV drama production, Shaftesbury's slate includes more than 200 episodes of Murdoch Mysteries as well as Frankie Drake Mysteries, Hudson & Rex, Departure, Dead Still, The Sounds and Slasher. Here, Jennings shares her scripted experience with MIPBlog.
A drama TV show: coming up with the idea…
We wanted to do a co-production with Australia/New Zealand for years; so at a recent MIP I scheduled a working dinner with Kelly Martin of South Pacific Pictures (above) to find a show. We started with no ideas. Instead the first question was – how do we make a show work for both our territories? There weren't a lot of examples to turn to so, we made a list of the things that each of us could bring to the table. For example, New Zealand has unique exotic settings like the South Island – so we decided to look at the idea of a Canadian protagonist located there in a kind of fish-out-of-water story. We thought about the cost of shooting and decided New Zealand made sense, but we wanted a North American style directing sensibility. We talked around issues like where to do post-production. Once we had our criteria we looked at 15-20 ideas and agreed on The Sounds. We developed it together – then once we had a script and a bible we started thinking about how to raise the finance. So even though we established a lot of criteria upfront, it's important to stress that this co-production didn't start as a business deal. It always has to be a creative-led partnership.
When to reveal what's in development…
We're a well-established firm, so our rule is not to go public early. We don't want our ideas for TV dramas out there when we haven't fully figured them out. You don't want your ideas to be old news by the time you have a script and bible ready, because that may impact on what buyers think. That said, there might be tactical reasons for going early – for example if you acquire book rights and it would have a positive impact on international sales if the author can say the rights have been sold to TV. Also, it can be different for a young firm. There's some logic for emerging producers to get involved in pitching forums.
When to bring in domestic broadcasters…
It's still a common option with a TV drama production to go to your domestic broadcaster first; but the international market is so flexible now that you don't have to do that. With The Sounds, we starting by seeing what we could raise internally and via soft incentives, tax credits etc. Then, the first place we went to fund the gap was SVOD platform Acorn Media Enterprises. We knew them already and felt this female protagonist thriller could work for them. After they signed up, there was still a gap so South Pacific took the idea to distributor All3Media International, which is part of the same group as them. All along, we had a line in our budget for Canada – but public broadcaster CBC Canada was actually the last place we went to. 10 years ago we probably would have gone to CBC right out of the gate, but our instinct with this show was not to sell Canadian rights too early. As a company, we're comfortable with the new options in the market because we've been doing co-production from the start. It's not that different.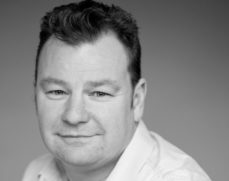 Choosing co-pro and distribution partners…
Co-production partners have got to be compatible – because you're spending millions of dollars. We're looking for kindred spirits, with a similar ethos, sensibility and work ethic. With The Sounds, it was easy because I'd known Kelly for many years. But that doesn't mean you can't form new relationships – which is where markets like MIPTV and MIPCOM are important. For example, we recently got involved with Ireland's Deadpan on Dead Still. That TV drama production was totally up our street, so we set up a call with Deadpan's Paul Donovan (above) and got on really well. As for distributors, sometimes the decision is made for you by the terms of the deal – for example Beta Film own the IP to Hudson & Rex, which we adapted for Canada. But in general we are distributor-agnostic. We ask whether they are the best fit for that show. What skillsets do they have? What genre and geography are they strongest in? That's why we have a range of partners including ZDFE, ITVSGE, Kew Media and All3Media International.
How to manage the co-production process and beyond…
Above all, TV drama production requires level-headed people and clarity from the outset. Co-production can turn into a nightmare if you don't make sure that everyone agrees on what the show is at the start. You've got to be completely transparent with funding partners and production partners. Assuming you've chosen the right producers and executive producers, then once you're in production you can trust everyone to get on with their jobs. If you do that, you don't need to be scrutinising every decision they make. For the period after production is finished, when you work in production, you learn that you should never let a show go. You haven't gone through such a challenging experience and spent all that money to stop caring. The job isn't done. For example, you need to maintain a strong relationship with the actors so that they promote the show – so it's important that they have had a positive experience. My team also does a lot of work on marketing and social media to keep driving engagement with the show. Our decision to hire Dylen Postnikoff as vice-president, global brand strategy, feeds into that. We do as much as we can because the ultimate goal with TV drama is to get a returnable show.