The highlight of this afternoon's MIPJunior sessions was a 'keynote superpanel' of producers and distributors discussing the challenges and opportunities in the children's market. The panelists included Genevieve Dexter, CEO of Serious Lunch Distribution and Eye Present Productions; Andy Heyward, Chairman and CEO at Genius Brands International and Josh Scherba, President at WildBrain. The moderator was World Screen Group Editorial director Anna Carugati-Guise, and the conversation quickly focused on streaming.
"Every kid that you see is the first and earliest adopter of these new technologies, and I think all the streaming services are going to be very, very successful," said Heyward. "Streaming services taking kids seriously has been a pretty important factor in the growth of the industry," agreed Scherba. "We continue to see how front and centre it becomes with all of these services."
Scherba later talked about the need for a new kids' brand to be ubiquitous: "Kids don't decipher between platforms. Sure, they identify Netflix, they identify YouTube, but they go between these platforms seamlessly. So when you're looking to establish a brand in the world, you have to be on all these platforms."
Dexter talked about why a producer might not choose to go with a global streaming deal for a new series, referring to a recent show she launched. "We felt that the licensing and merchandising potential, and particularly the gaming potential for that property, was paramount – and that we wouldn't necessarily achieve that on a streamer. So we've targeted a global pay-TV network, and then we'll do the streaming deal afterwards. »
Heyward agreed that choosing a single platform only – like a Netflix or an Amazon – can be problematic. "The market is so fragmented and cannibalised. The pie is divided into so many little slivers, the ability of any one service to get a big audience is so limited today. You have to be on multiple platforms… you have to be advertising your brand, you have to have a YouTube presence. There is no way you can launch a brand and not be on YouTube today."
The morning saw a 'Creators Superpanel' featuring this year's recipients of World Screen's Trendsetter awards. Brown Bag Films' Bronagh O'Hanlon (creator of Sadie Sparks), Green Gold Animation's Rajiv Chilaka (Chhuta Beem), Xilam's Marc Du Pontavice (Oggy & the Cockroaches) and Rainbow's Iginio Straffi (Winx Club) discussed the sources of their creativity with Anna Carugati-Guise; starting with children themselves, of course!
"Kids can be an inspiration", says Rainbow's Straffi, whose daughter inspired his newest creation, 44 Cats: "She likes to listen to traditional Italian songs, including one about 44 cats; so we gave the cats different roles, and I created the series, which is now getting great ratings."
Chilaka then explained the genesis of the massively popular Chhota Beem: "what if we took Bima, one of the characters from (epic Indian legend) Mahabharat, and make his strengths into a character? It took 5 years' development, and finally went on air in 2008." The latest iteration is Mighty Little Beem, for Netflix; delegates were treated to a sneak preview.
Inspiration can, of course, come from others, admitted O'Hanlon, who told the panel how the Doc McStuffins series came about: "I read one pitch – Dr Doolittle crossed with Toy Story – and thought "how come nobody thought of this before?" Today, it's lovely to see how kids have reacted to it."
Should you create your show with a channel in mind? Du Pontavice was not convinced. "You can't think 'this is for Netflix, this is for TF1'; it's not about finding a home, but finding a partner that shares your passion for the project. It can take five years from idea to screen, so you need someone who'll put everything behind your project."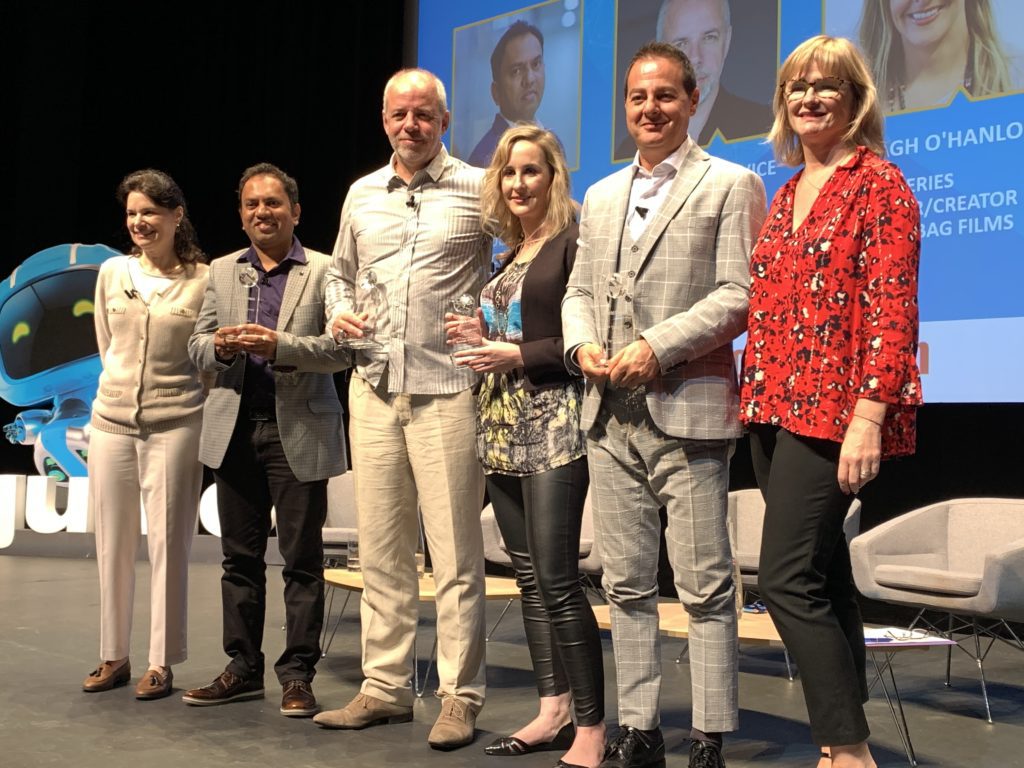 The four creatives were then given their Worldscreen Kids Trendsetter Awards by Anna Carugati-Guise, and Reed MIDEM's Lucy Smith. Congratulations!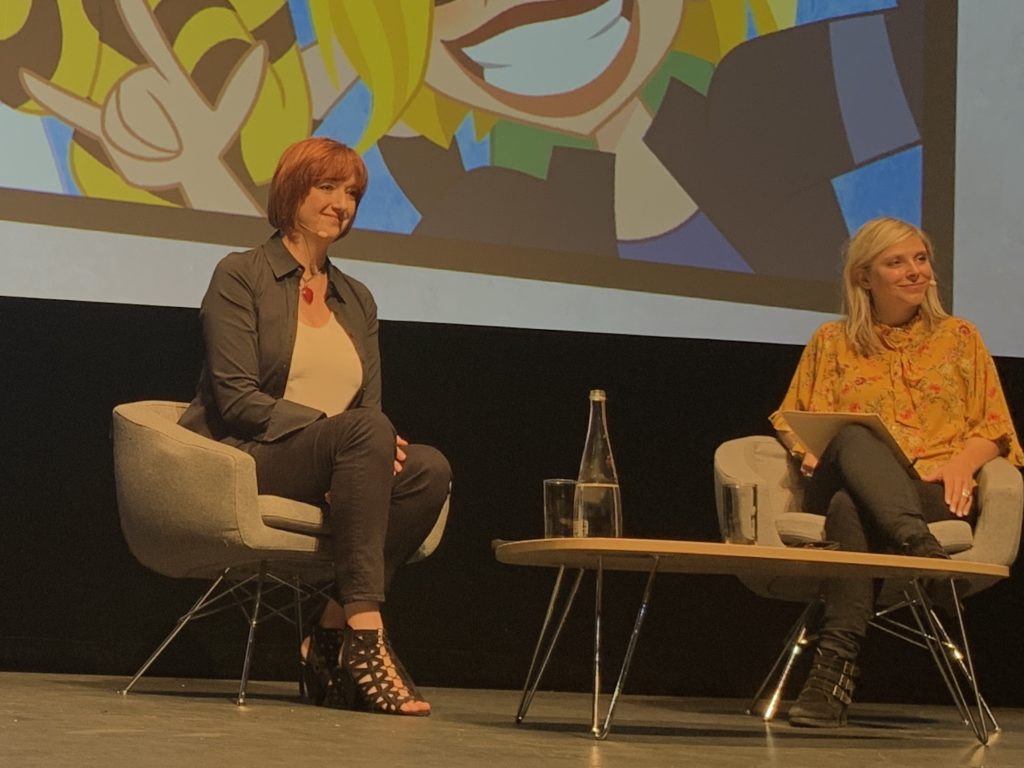 Wonder Woman, Supergirl and Batgirl are among the superheroes being reinvented, again, for Cartoon Network and Warner Bros Animation's new series DC Super Hero Girls. Series creator Lauren Faust told MIPJunior how she's working to break gender stereotypes, in an on-stage interview with World Screen & TV Kids Executive Editor Kristin Brzoznowski.
"It's a show about balancing your super-life with your teenage life, and finding the metaphors of teenager-type coming-of-age stories and how that might work for a superhero," she said. "One thing I really wanted to bring back was the idea of secret identities. The girls have a regular teenage life, they go to a regular school, and they're superheroes at night when they need to fight crimes!"
The show aims to balance the cute, the comedic and the cool aspects of its characters. "I think girls get short-changed in the cool department way too often. And way too many shows for girls are less about inspiring them… and reflecting their experiences back to them, and too often come across as lectures on how we expect girls to behave," said Faust. "We see girls portrayed as perfect angels all the time, but our girls have flaws. They mess up!"
She also stressed that breaking down gender stereotypes is a key function of the show. "We're living in a very interesting time right now in terms of gender politics. Things are changing faster than they have in a long time. There's more and more women coming in to animation, and we have a lot of women working on this show. These young women are able to bring their own experiences and feelings to these stories, » she said. « And they're not just guessing. 'Hmm, what would a girl think about this?' They know, and it comes through in the storytelling, and I'm exceptionally proud of that," she said.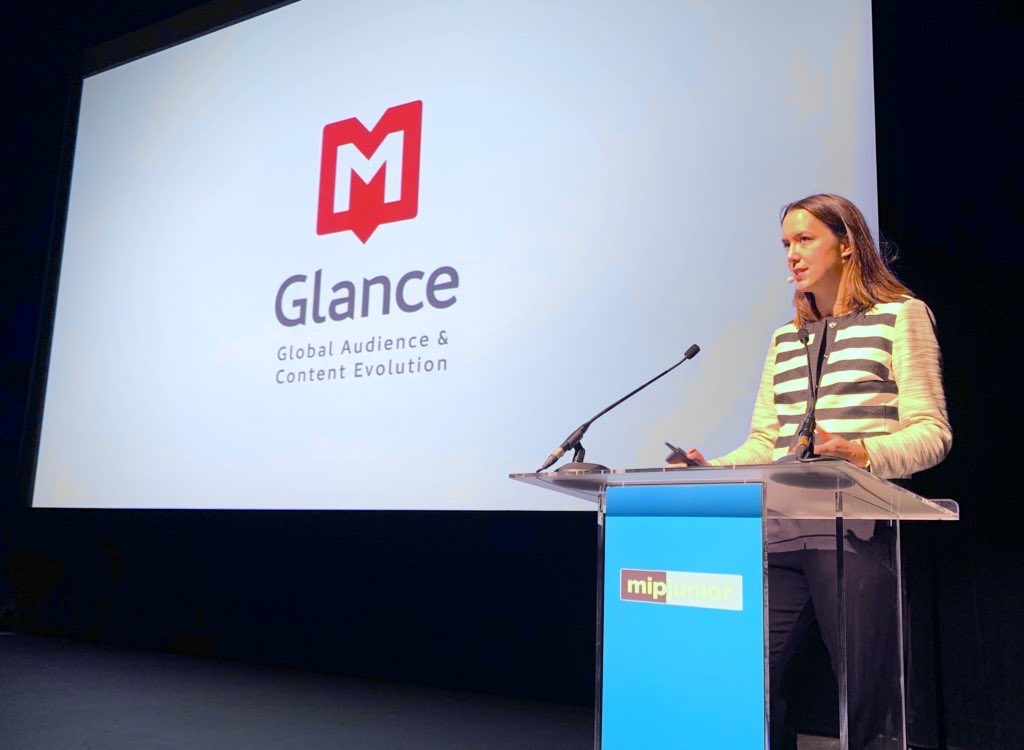 As ever, MIPJunior gave attendees the chance to catch up on some of the latest data and trends around children's entertainment habits. The day started with Avril Blondelot, Head of Content Insight at Eurodata TV Worldwide – the company to be known from now on as Glance – running through the latest hit shows from around the world, grouping them by trends.
Investigative duos or teams are one big trend in animation, said Blondelot: Grosha & Mr B, from FranceTélévisions; Hard Boiled, from Singapore's One Animation; & Triggerfish/Cake Animation's Mama K's Team 4 are all proving successful at the moment.
Puppets are also a big kids TV trend noted by Glance: Turkey's Kuklali Kosk (Fiyaka Film Prod); Trio!, from Fragment Media (Russia); and Teddy Telephone Show (Limitless/RTVE/Patito Prod), the best-performing show in Spain for 4-6 year olds.
Young presenters are also a hit in global kids TV, said Blondelot. For example, FYI/For Your Info (Fresh Start Media & Magnify Media) is a UK news show presented only by kids; and Mick The Kobold-Chef, is a stand-out a Franco-German coproduction where kids cook with a miniature CGI chef.
Teenagers bieng given major roles is another big trend spotted by Glance. Of particular note are Dream, a Swedish coming-of-age series from Sony Pictures TV; The Unlisted, an Australian ABC/Netflix series; The Station (Israel) and Avec Moi, about a French-Canadian vlogger.
Diversity was the final trend, and one we'll be hearing a lot more about this week. The Casagrandes, for example, features a Down's syndrome character voiced by a handicapped actor; Catie's Amazing Machine sees a young woman testing sports cars and monster trucks, reversing gender tropes; The Bravest Knight, a Hulu original about two princely dads and their adopted daughter; and First Day, about a boy attending school for the first time… as a girl (ABC).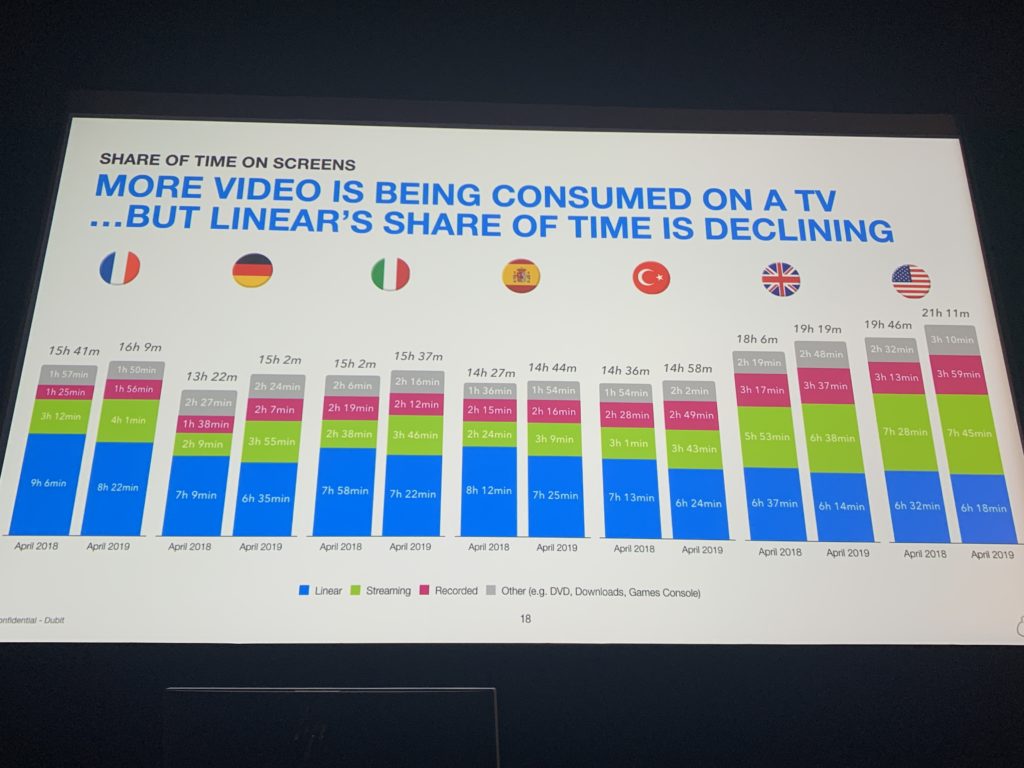 Have you heard of the 'Middle Kingdom'? No, it's not the setting for a new fantasy-themed TV show. It's the phrase used by research firm Dubit to describe 6-10 year-old children, who have aged out of preschool content, but aren't quite ready for adolescent issues. Dubit's SVP of Media Insights, Adam Woodgate, explained that these kids' media habits mean for the TV industry.
This group are hard to target with content, because their interests and passions are diverging and fragmented. "They're outgrowing tablets but are only just starting to migrate to smartphones," he said. "There is no one-size-fits-all solution that product-makers can use to connect with this group at scale."
In terms of device ownership, 6-10 year-olds' access to a television is ubiquitous, although ownership of their own TVs has actually been falling. "Today, kids' rite of passage isn't getting their first TV, it's getting their first smartphone," he said.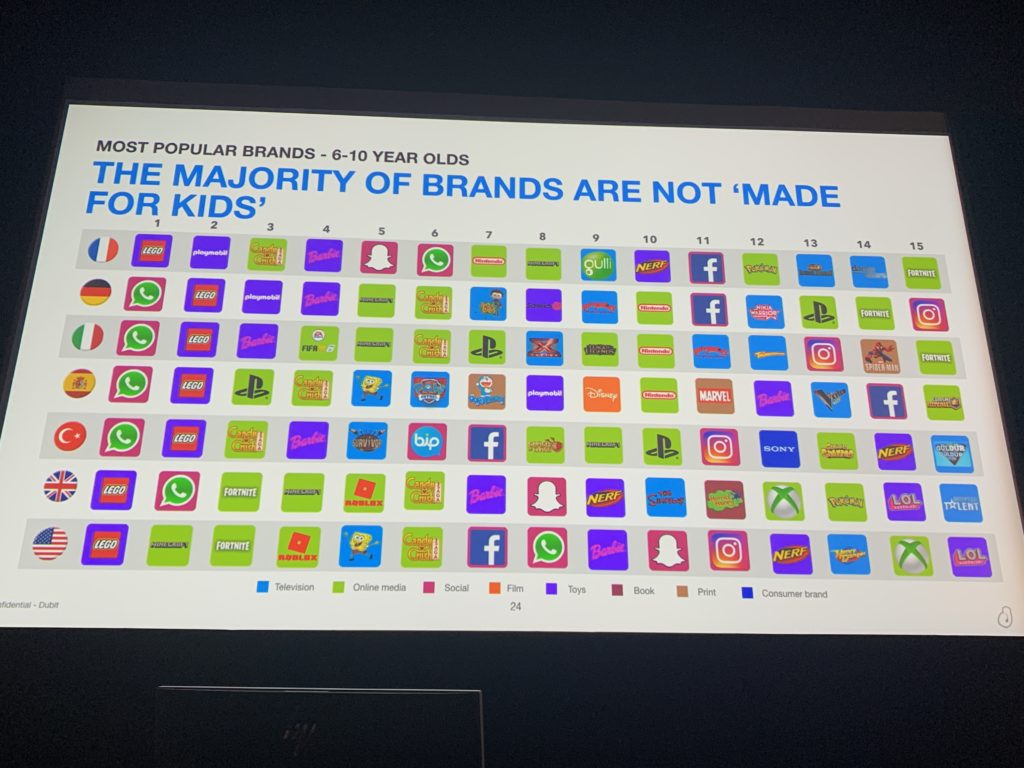 More video is being consumed, but linear's share of children's time is declining – with streaming, games and other content responsible. "YouTube already owns gaming, and now it's taken music from linear television, » said Woodgate, who also showed a slide (see above) making it clear that many of children's favourite brands now originate as games, social apps or toys, rather than TV shows.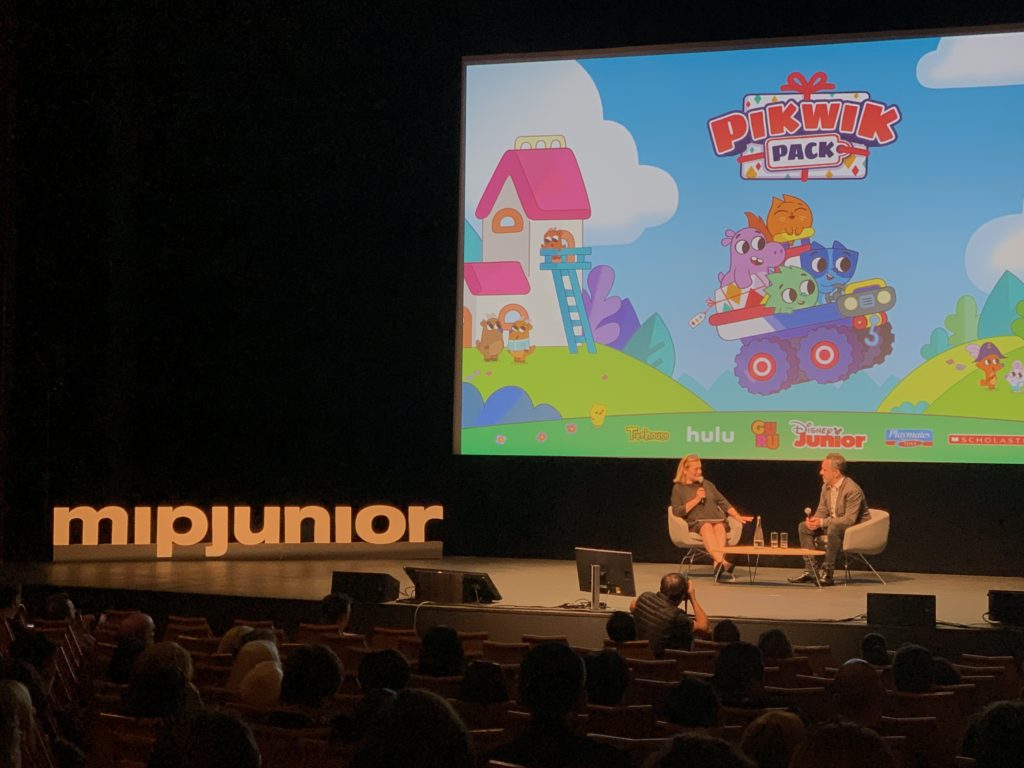 The first day of MIPJunior ended with a world premiere TV screening, of new series Pikwik Pack, presented by Guru Studio. VP of Creative Development Rachel Marcus, and VP of Sales and Business Development Jonathan Abraham introduced the screening, while after it, President and Executive Creative Director Frank Falcone was interviewed by The Creative Garden CEO Sarah Baynes about the project and the company behind it.
"For us, I like to avoid a house style. So for Guru, me being an artist and an animator, I'll get bored very easily if we're doing the same thing over and over again!" he said, before flagging up the teamwork required.
"There's a myth of the creator being this genius who goes into the woods for a month and comes up with a show idea for children and comes back with it all completed. That's rare! It may happen, but it's a process… and it involves lots of people. It involves teamwork, and a creative community," he added.
Pikwik Pack was a deliberate attempt to rein in the complexity and deliver something more simple in its appeal to children. "We wanted a simple show. We felt that a lot of shows were getting very energetic and sophisticated for pre-schoolers," he said. "And CG [computer-generated animation] can be a little bit of an assault on the senses. We do a lot of CG, so I'm not disparaging it, but I think there's room for children to watch things that are easier to take in. »