MIPCOM is over for another year, but the final day's conferences included the annual 'Trending Topics' panel, picking over some of the key trends that had people talking at this year's market. Panelists included Deborah Williams, CEO of The Creative Diversity Network; Jack Davison, EVP of 3Vision; Steve Langdon, Director of Partnerships at Parrot Analytics and Omri Marcus, head of Screenz Originals at Screenz. The moderator was MIPBlog's own James Martin, head of social media for MIP Markets.
First up, Martin shared a tag cloud showing the most buzzworthy topics of the market, then revealed the top 50 hashtags of the week at MIPCOM & MIPJunior. Of those, 22 referred to drama from Turkey, with #canyaman second on the list. 
"What's really fascinating about Turkish fans on social, and especially on Twitter, is that they post a lot. Their goal is to get their own favorite show trending", Martin said.
The number one tag was The Head, the six-part series from Mediapro. An Agatha-Christie-like thriller set on an Antarctic research station, it was created by Ran Tellem and features a cast from all over the world, including Tomohisa Yamashita and Alvaro Morte, which greatly has helped push the show on social media (more on that in our report, here). "What I liked most about it was the pitch", Martin said. "On a research station, everyone dies, except two persons… and both think the other one did it"
Other tags on the top of the list included #mipjunior and #kidstv, as well as hashtag connected to somewhat unexpected shows, like #thegiftsendoff, for Malaysian drama The Gift, where the most shared post was of a MIPCOM attendee in front of the poster of the show.
The panelists had all chosen one topic they felt was the most trending one from this years market. For Williams, the topic was diversity, an area where she saw a lot of movement this year.
"Overall it has been very much about supply. There is now a much larger demand for diverse content", she said, and pointed to data that backed up her position. "The more layers of diversity you have, the more likely the content is to succeed – and this goes for non-diverse audiences as well"
This has also brought more conversations around diversity."People in the market had a real interest in diversity" Williams said. "And these were often people I would not regularly have though would have an interest." 
She did note that continuous discussion can come with a price. "Diversity is sellable on a global market, but people are tired of talking about it", she noted. As a suggestion, she would want to start a hashtag – #howto, rather than #metoo – to share knowledge about how people can produce more diverse TV.
"Bring something new to the table that is not necessary already there", was Williams' advice.
But diversity needs to be authentic, she noted. "The word I like is 'sincere'. It can't be only about ticking boxes (to enable and promote diversity) – then you can lose people very quickly, and it will be hard to get them back".
One area of diversity Williams sees as one that requires more effort is that of disability. "When diversity is discussed, disability is often not on the table", she said. "We are now working to double the number of people (with disabilities) off-screen in the UK".
For Marcus, the trending topic of the market was social awareness. Marcus mentioned shows like Lodgers and Meat The Family (see previous reports on Fresh TV sessions) as examples. "I think we are going to see more and more of those shows", Marcus said, pointing at all the new platforms available for distribution. "We feel we have a responsibility, we feel we want to change the world."
"What is interesting about social issues is that people feel disempowered"; Williams said, and pointed out that these shows can help people feel that they can have an impact. "We usually see a correlation between tougher times in society and lighter drama", Marcus pointed out. Langdon agreed – "Our research showed that after the last presidential elections in the US there was a ten percent increase in comedy compared to drama."
Davison saw AVOD – Ad-driven VOD – as the trending topic of the market. "There seemed to be a hype around it on the market, but more importantly, we see that there is a lot of licensing going on around AVOD." 
"It's a big area", he continued, looking at everything from players like Tubi to people self-publishing, and broadcasters' own catch-up services. He also saw an increase in broadcasters enhancing their AVOD offering with exclusive content.
If broadcasters are investing, that must surely mean they get a return? "It's a tricky balance for them. You don't want to trade down. We will see a lot more experimentation," Davison predicted. "Everyone wants to binge now, and they (broadcasters) have to respond to that."
There are a lot of companies that can create hybrid services, according to Langdon. "I think everything is waking up to getting all the rights and maximising the business opportunities", he commented.
Langdon in turn had identified de-risking investments as the trending topic of the market. He began by explaining how Twin Peaks was received by ABC back in the day – "that is weird, that is too dark for network TV", execs were saying – and what consequently happened with the series as the network got cold feet and made changes to the show halfway through the second series. 
"If Twin Peaks would have been on Netflix", Langdon asked, "would we now see a series that would be on its 27th season and we still don't know who killed Laura Palmer?"
This reflects on how broadcasters need to approach new content today. "The risk is definitely increasing", Langdon said. "The margin of error is falling. The market is too competitive."
To mitigate risk, he sees data as being able to give a helping hand. Metadata is key, allowing us to look into a production and see what works and what doesn't. This can be done at a very early stage of a show's life. Already when developing a show you can compare with similar shows around the world, according to Langdon."You can see not only if it 's going to work in your territory, but in India, or anywhere", he said. This works by comparing the content to a database of thousands of similar shows in different territories. This demand includes everything, from buzz on social media to piracy.
"The data can give them (the TV industry) a little bit a of a jump on their creativity" Langdon concluded. "Data is at the nexus of where the industry is going." 
The panel also discussed the streaming offensive, MIPCOM's theme this year, as OTT platforms and other players have continued to up their game, capture audiences and churn out impressive content. "Broadcast television can't be risk-averse", Marcus pointed out, mentioning meetings he had during the market with broadcasters who were not willing to recognise that changes were happening. "If you don't take risks, you will find no one or your channels, everyone will be on OTT (platforms)", Marcus concluded.
"Do you think that all of these new platforms will be risk averse, launch and go for the big hits?", Martin asked. "They've already done that", Williams said. "They've launched, and gone for the big stuff, even though it might be framed in another way."
Davison pointed out that players like Apple and Amazon can afford to spend a lot of money on shows that might or might not succeed. They don't really care, as their core business lies elsewhere. "I think we need to redefine the word 'risk'", Williams concluded.
The latest Fresh TV session took place on Wednesday afternoon, with The Wit CEO Virginia Mouseler offering a snapshot of the hottest dramas from around the world. Highlights included A Confession from UK and ITV Studios GE. The drama series centers around a missing young woman and the task of finding a serial killer. From French Canada comes Alert Amber, a series distributed by Pixcom. The story starts out with a missing child with autism, but as the story progresses, family secrets come to the fore. 
Mouseler revealed the most successful dramas of the year, with Norway's Shame top of the list. The drama, which tells the story of young people and their challenges, told in an authentic and relatable way, has been adapted in seven territories. The Bridge from Sweden and Mistresses from the UK were number two and three on the list, adapted in three territories each. In fourth place was Good Doctor, which was the base for one of the dramas highlighted in the session – A Miracle, produced in Turkey by Madd Entertainment.
One noticeable trend has been the rise of dramas about young people on the verge of coming of age in the challenging world of social media and sharing. Nudes, from Norway / Wild Bunch tells the story of young people facing harassment due to their nude pictures being shared online. In the same vein, High School Slut from Holland and Stepping Stone tells the story of when private life becomes public property in a high school setting. The drama series is in its fourth season, with the three previous being on VOD and the fourth now moving to linear. 
Bathroom Stories from Finland and YLE in co production with DR and NRK features two broke girls in a bathroom. That's where they stay since that's the only place in their flat where they can get access to free WiFi from their neighbour. The series deals with topics like love, sex, lies and feminism. Stuck in another location is the main charater in Diary of an Uber Driver from All3Media in Australia, a comedy drama about an Uber driver and the stories told to him and around him – often from the back seat of his ride. The series started out as a blog which then was adapted as a book.
A second trend that Mouseler identified was a rise in IP-based drama, as 17% of all new fiction is based on books while 26% of VOD projects are book-based. A third trend is drama based on true events, a number that's 7.1% of all new fiction in 2019, compared to 5.2% in 2018. On teh VOD side, projects based on true events are at 9.6% 
One example is Hernan from Latin America & Spain and A+E Networks. The series is a combination of SVOD, Pay TV and free to air and tells the story of Hernan Cortez, the Spanish Conquistador. There are also a growing number of drama series based on podcasts. This year two have been produced, but Mouseler sees up to 25 projects in the making at the moment that have podcasts as their base. One example is Limetown, which premiered at the time of the presentation. The series is a mystery sci-fi series based on a podcast fiction series and is available worldwide via Facebook Watch.
Thursday saw a re-cap session of the best formats – scripted and unscripted – where Mouseler revealed some more data on what categories are on the rise this year. The data says that three categories, comedy shows, talent shows and quiz shows are on the rise. Two other categories, celebrity formats and dating formats, stayed largely the same while variety shows are down slightly.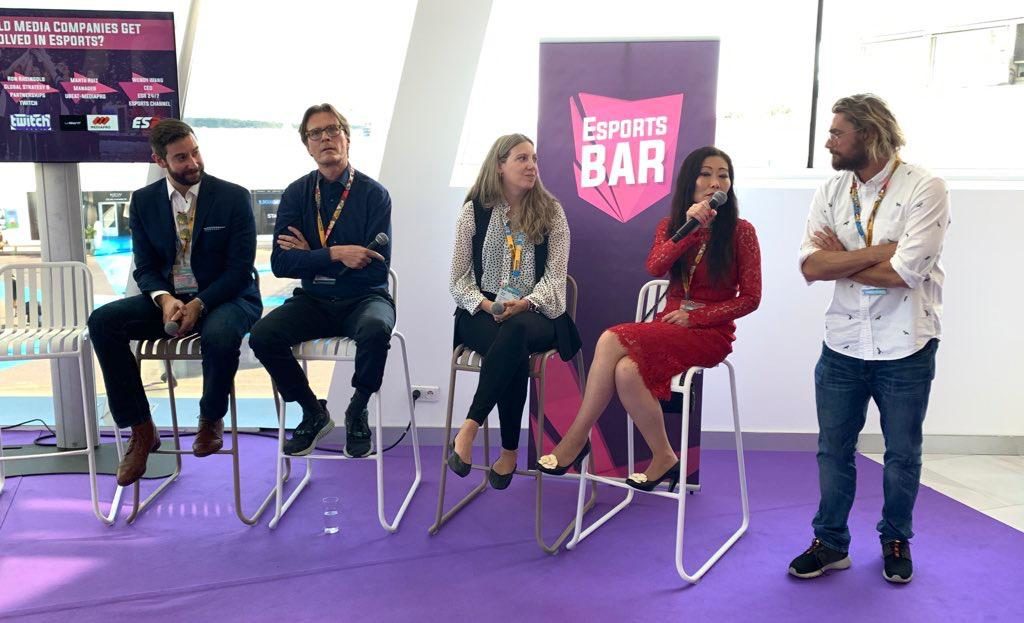 Meanwhile, Wednesday at MIPCOM saw the third of this market's sessions on esports, on the theme of "Why should media companies get involved in the world of professional, competitive gaming?" GINX's Michiel Bakker, Twitch's Ron Rheingold, UBEAT/MediaPro's Marta Ruiz & ESR's Wendy Wang discussed why, with moderator Barrick Prince, of Enigmedia. The panel shared their insights on bridges between the TV and esports sectors.
"The traditional entertainment industry is very excited by this space (esports). I'm glad to be a part of that" said Rheingold, whose Amazon-owned platform is dominated by video game livestreaming. "MIPCOM has been an eye opening experience; people here were eager to take meetings," he enthused.
Bakker agreed, noting that the TV industry's "doors are now open (to esports)… we had to kick them in before! The question now is where does esports fit in the schedule with regards to traditional sports. There's education to be done, and that's a challenge. We've been working on that with ITV, for example, but we're not there yet."
"Our priorities are how to monetise our investment in this new content", said UBEAT's Ruiz. "Esports audiences are used to having everything in a freemium way. We need to level up esports content to make it more mainstream." 
"The budget is pretty huge, it's a challenge to produce a lot of hours", said Wang. "Plus distribution is a challenge… (overall, it's) is hard to monetise. It'd be good if Jeff Bezos could invest in our company!"
"I don't have his number!" joked  Twitch's's Rheingold, who went on to identify esports' number 1 challenge: "finding bigger audiences." Message received, TV business? 😉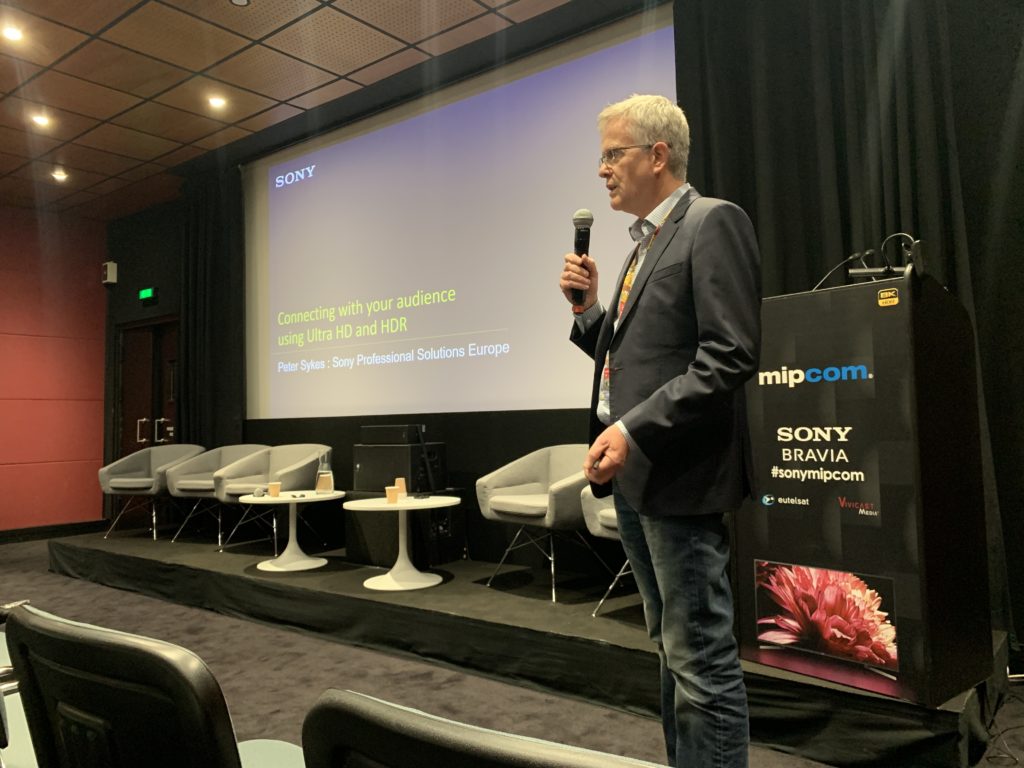 Wednesday also saw the finale of Sony's 4K / 8K Ultra HD Theater program, with the company's strategic technology development manager Peter Sykes giving producers some tips to getting the most out of new, higher-resolution tech.
"The way that pay-TV and subscription video-on-demand is working, really dominant players have come in and changed the landscape. It's much more competitive: to get your content consumed is even more challenging," he said.
More than 80 million 4K UHD TV sets shipped in 2018, 60% with HDR [high dynamic range]. "The screens are now starting to get everywhere," he added, from smartphones to TV sets. Sony's Xperia 1 can deliver 21:9 aspect-ratio cinematic viewing, for example.
There are now 190 UHD 4K channels or feeds available worldwide. "The devices to display the content is there, and the need for content and the services and channels available are increasing," said Sykes.
Sykes ran through some of the technical decisions producers have to make when creating UHD content, and making use of HDR and WCG's [Wide Color Gamut's) capability for brighter highlights, deeper blacks and richer colours.
He also warned that producers must have a good grasp of the different standards and formats involved – and specifically, what's required by the broadcaster or streaming platform they're producing for. "You've got to be sure what you're doing before you shoot and provide your content," he warned.
Additional reporting by Stuart Dredge