One of MIPJunior's most highly-anticipated events took place this afternoon: the 2019 MIPJunior Project Pitch saw five producers seeking financing for projects in development pitching to a panel of judges… and the MIPJunior audience.
Projects ranged from a series about a little curious owl to grand – albeit clumsy – Christmas adventures, from an intrepid team of friends tackling challenges with their best bus buddy to small ghosts facing their own fears, and a girl whose curiosity can transform her into anything. The projects were Gogo Bus & Team Steam produced by Guang Dong Winsing Company; Little Who Who from Recircle; Quirkistador: Book of Tales from ZEIL; Spookies from Wolkenlenker (above); and The Curious world of Linda from Taktoon.
As the stellar jury, consisting of Jo Allen from the BBC, Massimo Bruno from De Agostini, children's media consultant Paula Taborda dos Guaranys, Nina Hahn from Nickelodeon and Julian Borde from Turner withdrew to deliberate over the winner, the audience got to hear from a former finalist, Dandelooo and their project Stinky Dog. Producer Emmanuelle Petry-Sirvin told us about how to turn a beloved book character into a successful TV series.
The book series has sold over 1 million copies in France alone and has been translated to ten other languages. The TV series is 52 x 13 minutes, but has had to undergo some changes in comparison to the books. "Thanks to our talented writers, we were able to turn him from a victim to a lovable character" added Petry-Sirvin.
The final winner of the MIPJunior project pitch was Little Who Who, by Croatian production company Recircle (top photo). Reed MIDEM's Laurine Garaude awarded director and producer Vjeko Zivkovic (right) the prize. Congratulations!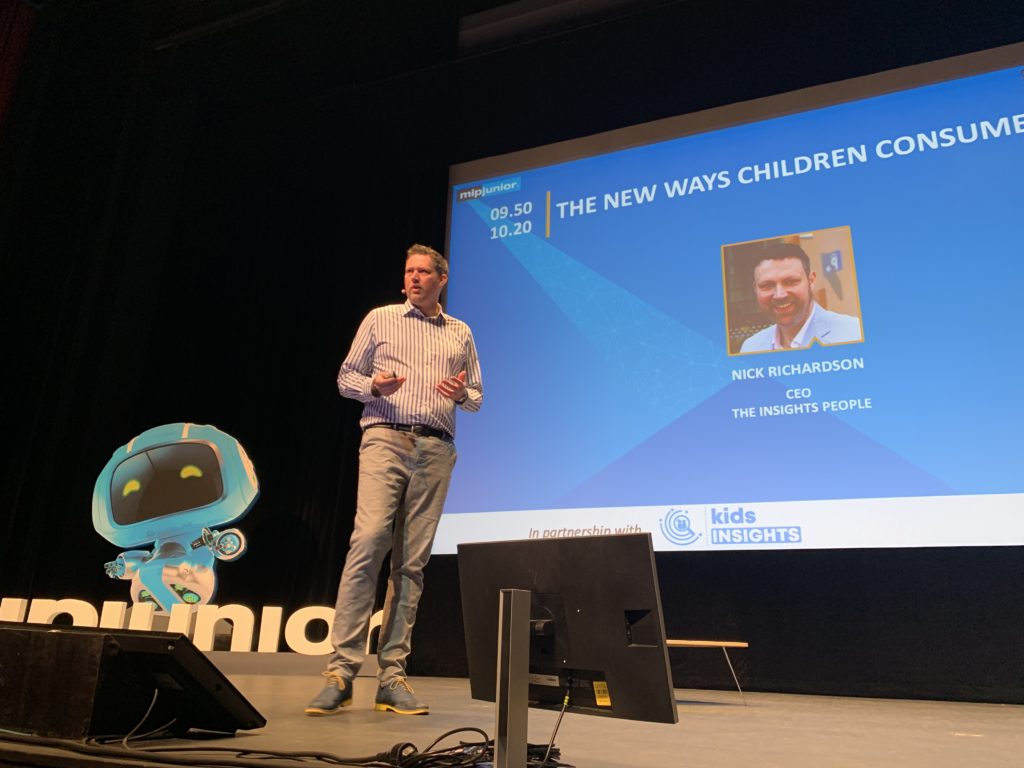 The TV industry is super-keen to understand the ever-evolving digital habits of children, especially when those habits involve media that aren't television. Research firm The Insights People offered a session looking at how children's device ownership is changing their habits, based on a study in seven countries. CEO Nick Richardson dished the data.
Is Kids Insights division surveys more than 105,000 children annually – more than 2,000 a week across the UK, US, France, Germany, Italy, Spain and India. The data is showing rapid change: 81% of four year-olds in the UK have access to a tablet device; 9% of eight year-olds spend their money using a cash card; and the average age for getting their first mobile phone is now 10 years old.
Richardson also pointed to data suggesting that Netflix has just overtaken linear TV for children's viewing in the UK, although linear TV is still ahead in Spain, Germany, France and Italy.
Richardson outlined some trends that Kids Insights has picked up on. We've moved from 'generation swipe' to the next generation of kids: 'generation speak'. 12% of 3-12 year-olds say they prefer to control their tablet with their voice rather than their fingers, he added. "There will be a big thing in the next 12-18 months that comes from Generation Speak… there's some really cool toys coming out that are going to start to interlink the Amazon smart speaker with gaming and toy-play."
Another trend was what Richardson described as the 'gaming revolution'. In the UK, 3-12 year-olds spend about 44 hours a month watching TV, but 40 hours a month playing video games and apps: the latter category is catching the former up fast. Meanwhile, six in 10 girls in the UK say they play games regularly, while in the US, 45% of kids who say Minecraft is their favourite game are girls. "There's a real empowerment here, and a real opportunity for brands," said Richardson. He also hailed the emergence of 'in-experience purchasing' (INXP for short). "According to our data, the UK kid-app market is worth over half a billion pounds. That's just children spending their own money on apps."
The morning also saw MIPJunior's "Innovative Tech Showcase" session, where Shaftesbury, Ubisoft and Duckling Media talked about their latest tech-infused children's projects, with Wildseed Studios creative director Jesse Cleverly on hosting duties.
Ted Biggs from Shaftesbury (above) explained how they are working with hospitals and clinics on innovative ways to alleviate stress and pain through the use of VR games. Their work so far has showed great potential. Each different VR game session adapts to the needs of the individual user to achieve the greatest possible effect. The effects are also long lasting – children who have tried out the VR games in order to alleviate school stress have seen effects last for as long as a month.
The VR rollercoaster "Rabbids" was presented by Melanie de Riberolles from Ubisoft. Using haptic feedback, combined with storytelling and a host of other sensations, it aims to give the full rollercoaster experience in VR without inducing motion sickness. New experiences are also underway, for more action based virtual realities.
"One strength of virtual reality experiences is that it is possible to introduce more levels as needed," said de Riberolles, something that she foresees will help producers and creators offer users a much deeper connection with their favorite heroes.
Fuzzy Duckling Media's Chrissy Metge presented their way of working with their 3D animation series PandaMonium. They wanted to create an atmosphere that would make children watching feel at home. But working cross border was a challenge. By creating a pipeline for production using Unreal Engine and a host of other application, Fuzzy Duckling managed to create a virtual reality production environment.
"Essentially, the director could walk around virtually in the animation set to see how it should be shaped?", asked moderator Jesse Cleverly. "It's a big change," said Metge.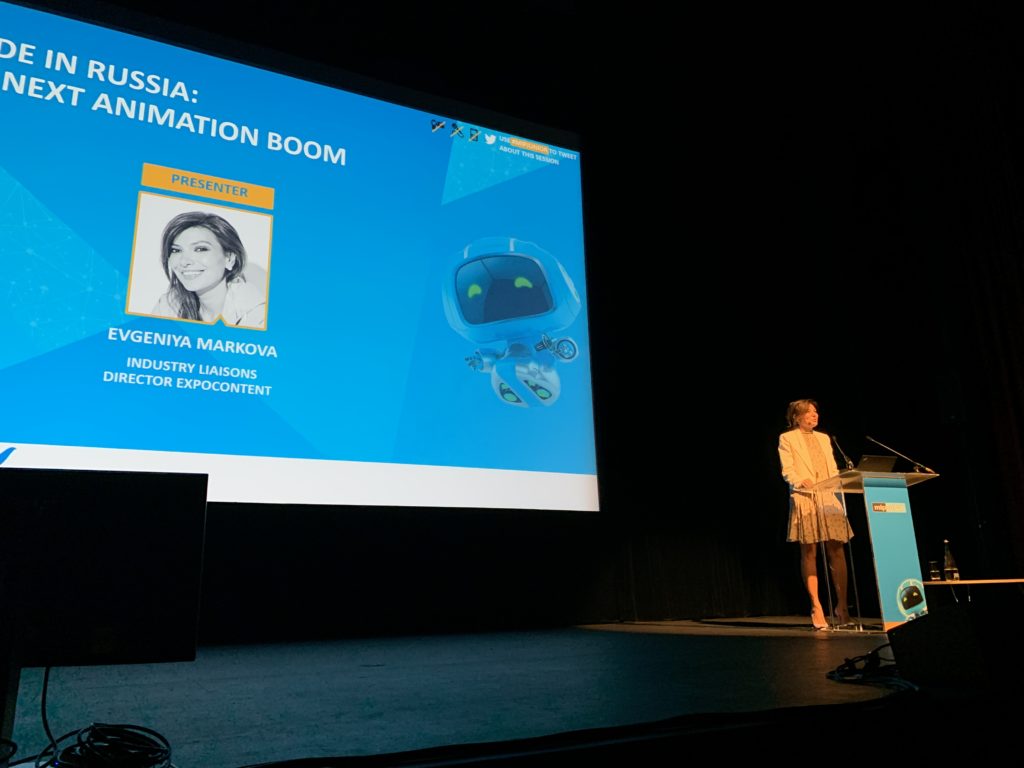 Where will the next wave of well-crafted kids' animation come from? Russia is in the frame: a group of Russian animation companies showed off their latest projects at MIPJunior's 'Made in Russia' session today, presented by Evgeniya Markova, Industry Liaisons Director at Expocontent.
Among the highlights: Crabots, a show starring a group of little robots and their human friends, introducing science to kids in a simple, accessible way; Afanassii: The Road to the Other End of the World, a family-oriented animation with a traditional visual style; The Farm, where a 10 year-old boy finds himself in an alternate reality encapsulated in the show's subtitle: 'Why do zombie veggies hunt my uncle?'; and Blinky & Knobby, a series of short, animated tales designed to be watched by kids on digital devices.
The session was followed by a snack lunch at the Majestic Hotel's Renoir Terrace, where MIPJunior attendees were able to ease their hunger and thirst, while chatting about the broad range of animated shows they'd just seen in the session. You can read our full tweet-thread of the shows here.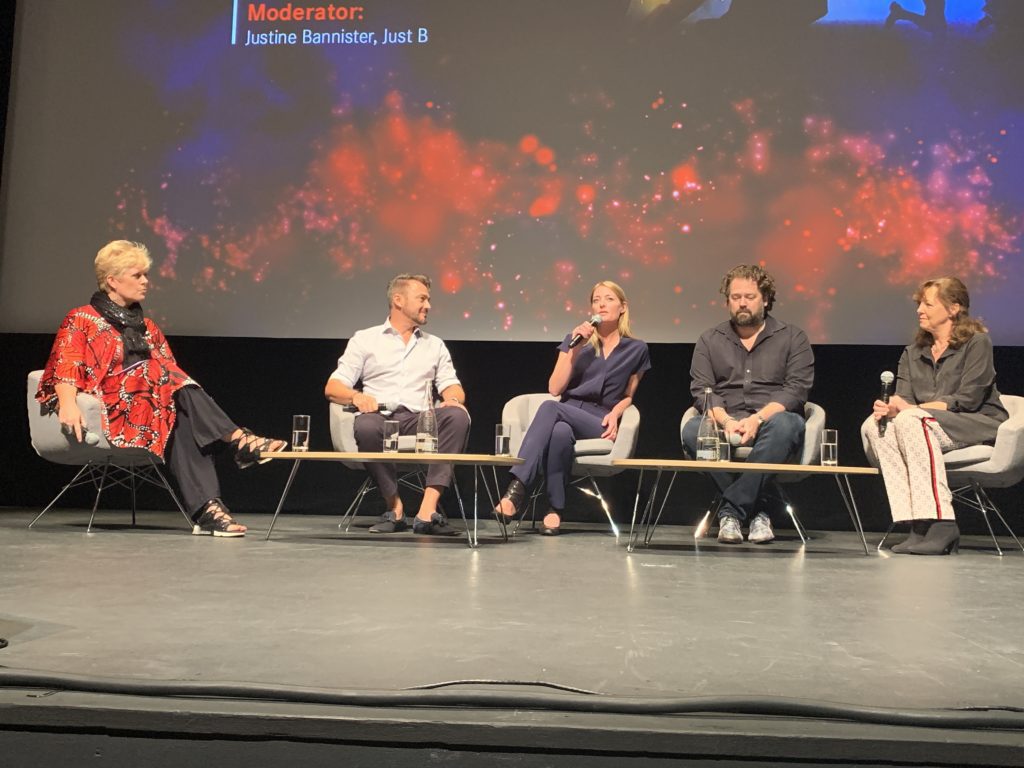 This year's MIPJunior ended with another World Premiere Screening, this time for Heirs of the Night, presented by ZDF Enterprises. The show follows a school for young vampires. Arne Lohmann, VP ZDFE.junior; Fleur Winters, co-CEO and producer at Lemming Film BV; Diederik van Rooijen, the show's director; and Sandra Le Blanc-Marissal, commissioning editor at NDR, were on hand to chat, moderated by Just B founder Justine Bannister.
Winters described the show. "It's set in 1889 and there are basically five vampire clans remaining. And a prophet gives them a message that they're going to become extinct unless they unite," she said. It's based on a German book, which was developed into the show.
"We've done a lot of international co-productions, and we were waiting for a new project to commit to. And with this wonderful topic and theme, we were immediately on board," said Le Blanc-Marissal. "It's a timeless classic: vampires… And also we're trying to hit an audience that is not usually respected. There's so little for this audience, 10-plus, on television, especially national broadcasters."
Lohmann said that the partners are hoping to make a splash at this MIPCOM. "We want to find in all territories a good home for the show. It has strong brand appeal, so we want partners to come on board that we can continue the journey with. We have right now those two seasons, but of course, there's more to tell."
"It was something I would wanna see when I was young," added van Rooijen, who said the child actors are the real stars of the show. "It's great to tell a lot of things which you want your kids to know, through these kids… There's a lot of themes in the show which are universal, for kids but also for parents… If you watch them all you're rooting for these kids to make it, and to fight… It's set in the 1880s, but it's got themes that are relatable right now, in classrooms."
Additional reporting for this post was by Simon Staffans.