Ruth Berry (above), Managing Director, Global Distribution at ITV Studios, gave one of two MIPCOM keynotes today. She talked about how television is 'shaping culture around the world', referring to shows including Love Island, Noughts + Crosses and World on Fire. She was interviewed by Manori Ravindran, International Editor, TBI Magazine.
"For us it's very much about how the power of television can connect with audiences," said Berry. "And how we can connect with those audiences increasingly on a global level." She talked about the so-called golden age of television. "We're still in a golden age of television. It's glimmering its way along the Croisette very well!"
But she added, while brandishing her smartphone, that: "The challenge for television at the moment is the different ways in which we consume. These devices that are also televisions to many, particular younger generations… where we are competing with WhatsApp, Snapchat, Instagram." She said that Love Island is one show that is competing well. "About 20% of the viewing in the UK for Love Island is not on the main big screen, it's actually on devices and tablets… It's a golden age of television, but alongside a digital revolution too."
ITV Studios is showing its new project, Noughts + Crosses, based on the books by Malorie Blackman. "Off the back of the base of a phenomenal book… although it's rooted in the UK it's absolutely not a British story. It draws on various points in history that have been very powerful… It's an incredibly poignant and powerful story that they're telling, but in the backdrop of a love story." She added: "You'll have moments of light-heartedness, and you'll have moments where you're absolutely enraged… There's something in there that really stirs you."
Berry also talked about World on Fire, which is set during the second world war. "It's not about soldiers, politics, war. It's about how people lived… whether that be in Warsaw, Berlin, the UK, Paris. It's a hugely relatable story that way," said Berry. But it's also "exquisitely painful" at certain points in the story, although Berry noted that there are light-hearted moments too.
Meanwhile, Love Island continues to move audiences, in 13 territories now. "It's been incredible the way that it's gripped young audiences," she said. "Love Island has engaged younger audiences like no other that I've seen in a long, long time, especially in that 16-39 demographic… As a format what it does so incredibly well is it works alongside social media, and is able to use that feedback loop to help structure the reality… And of course, it's in the casting too."
"In nine territories Love Island is the number one app. We have a global Love Island YouTube channel, and we've got over 1.5 billion views on that YouTube channel," she added. One clip from the Swedish version of the show has more than 93m views "and a third of those views have come from India!" Plus: "Love Island's Instagram has more followers than the Kardashians!" [By which she meant the official Keeping Up With The Kardashians Instagram account, rather than the individuals within the clan].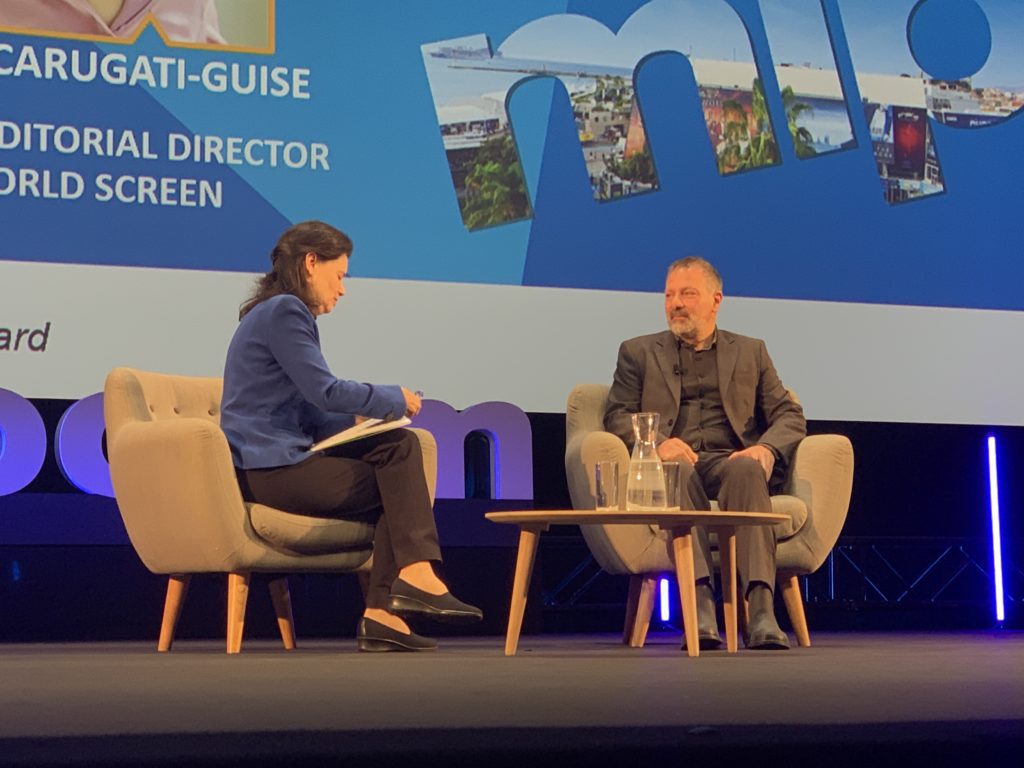 British screenwriter and showrunner Jed Mercurio has continued his run of stellar dramas with Bodyguard and the latest series of Line of Duty. His MIPCOM keynote today saw him discuss the responsibilities of his craft, interviewed by World Screen's group editorial director Anna Carugati-Guise.
Cardiac Arrest was Mercurio's first series, starting as an adviser. "They asked me to develop some storylines, which they preferred to the ones they were getting from writers who had no direct experience of the medical world. They challenged me to write a script, and paid me as little as they possibly could!" Mercurio was already interested in writing thrillers, however, which led him to Strike Back and the first series of Line of Duty.
Mercurio talked about his characters' inner depths. "What's interesting for the dramas is exploring their conscience. It's important to get the characters into a situation where they make plausible moral and ethical decisions," he said. "I'm trying to write about how institutions sometimes fail… they tend to fail for the same reasons. They tend to fail because they are very reluctant to admit error. As a result of that defensive posture against reputational damage, that then creates the ethical dilemmas of people who are involved in those organisations, who encounter error or misconduct."
Mercurio and other writers for television have faced criticism from some of the institutions that they have portrayed, but he said it's important to push back at this. "There are a lot of very senior police officers who go on public platforms and say 'We don't do the kind of things depicted in these shows'. And you can produce a link to a news story that shows not only do they do these things, but that they did it themselves!"
He also talked about shades of grey in the characters. "What we didn't want were clearcut heroes who always succeed in doing right and avoiding doing wrong… The antagonist is operating in a moral grey area. They're not out-and-out evil… We want the audience to sympathise and even endorse what they're doing," he said.
Mercurio is now a showrunner, a title that's becoming more popular in the UK. Although he's had some experience directing, he said he prefers not to combine the two. "I think the showrunner role is best done when you're not directing," added Mercurio, pointing out that other elements of the showrunner's role include writing, editing and other duties away from the set itself. "If I'm just on the set directing, then I can't take part in those other things. I find it a much more effective role, a more influential role, that I can be where I need to be, and I can take a step back and look at the bigger picture."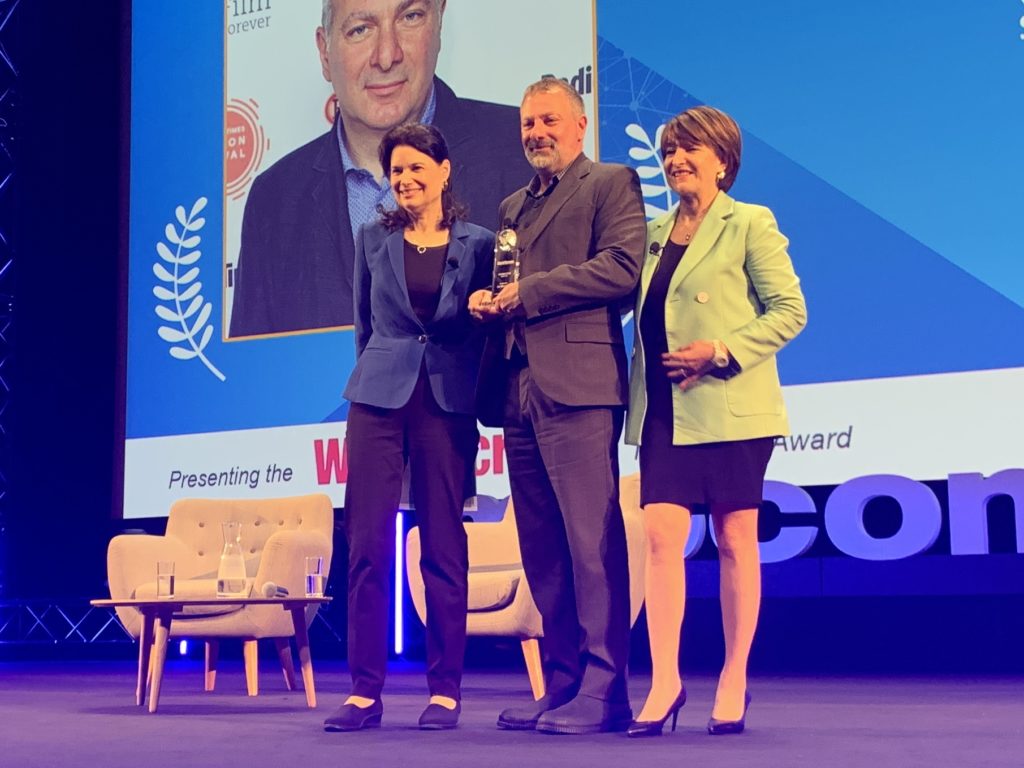 What's next for Mercurio? We're doing more Line of Duty. We're at the planning stage of the next season," he said. But when invited to reveal some of the last series' mysteries: who 'H' is and whether the Ted Hastings character is corrupt, Mercurio simply smiled. "No no, you'll have to watch the show for that!" He then collected his World Screen Trendsettter Award from Carugati-Guise and Reed MIDEM's Laurine Garaude (above).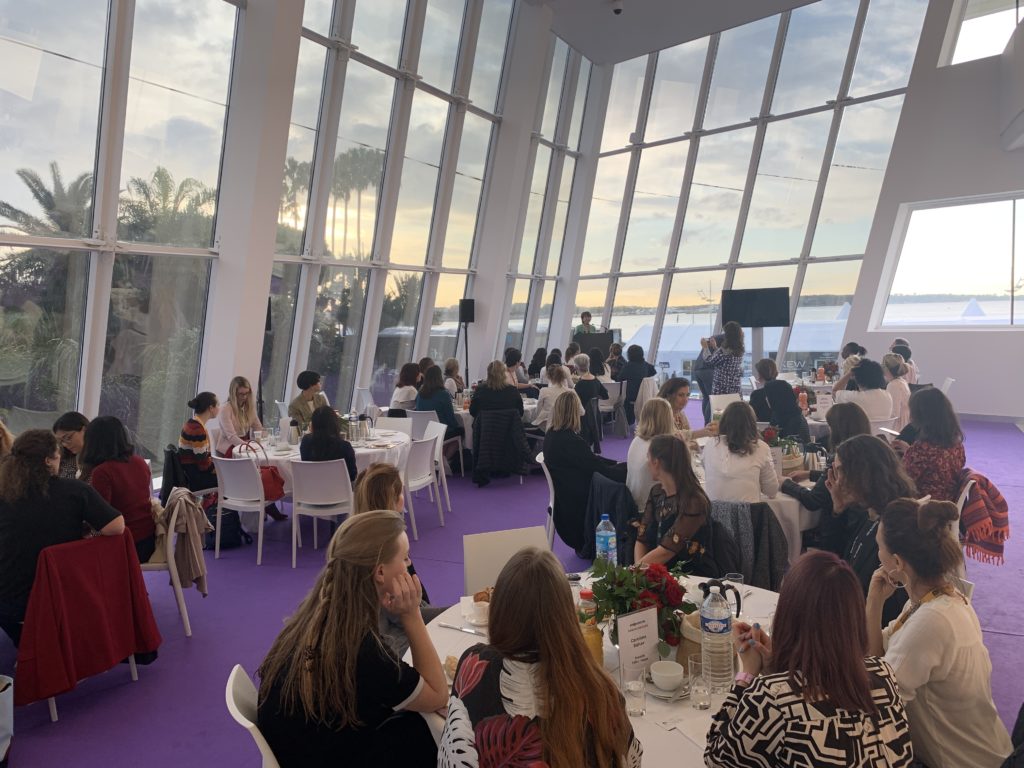 The morning began with a "Getting to the Top – Insight & Tips from – and for – Women in the Media" mentoring breakfast, co-hosted with MediaClub'Elles. Industry veterans including France Televisions' Caroline Behar; TwoFour54's H.E. Maryam AlMheiri; All3media's Louise Pedersen; Cartoon Networks' Adina Pitt; RMC Decouverte's Guenaelle Troly; and Fuzzy Duckling Media's Sam Witters shared their experiences and advice.
The breakfast was divided into tables, for attendees to connect and discuss the issues that are important to them in 2019. At the end of the event, each table's representative stood up to share some of the talking points. Among those points:
"When you feel you are really doing the best you can, and you are spending a lot of energy for that, then you shouldn't be so hard on judging the result"
"Make sure you are taking care of your physical and mental health… If you are taking care of yourself, you will definitely be able to take care of everything else around you"
"We have to fight for what we deserve. Even if we don't have a family, we can ask for more money!"
"We as women have to come together and do as the good old boys do, and help each other climb to the next level, start referring each other, keep a contact and not be intimidated by each other!"
"Don't apologise. Don't say 'I'm sorry I'm late'. Don't say 'I'm sorry I had to take my kid to the paediatrician'. Why are you sorry you're taking your kid to the paediatrician?!"
"Think about people in your community that you can network with, and invite them to lunch. Make a plan, twice a month, to take someone new out. By the end of the year you end up with dozens of people you've lunched with, and you start building your network. And encourage your team to do this as well."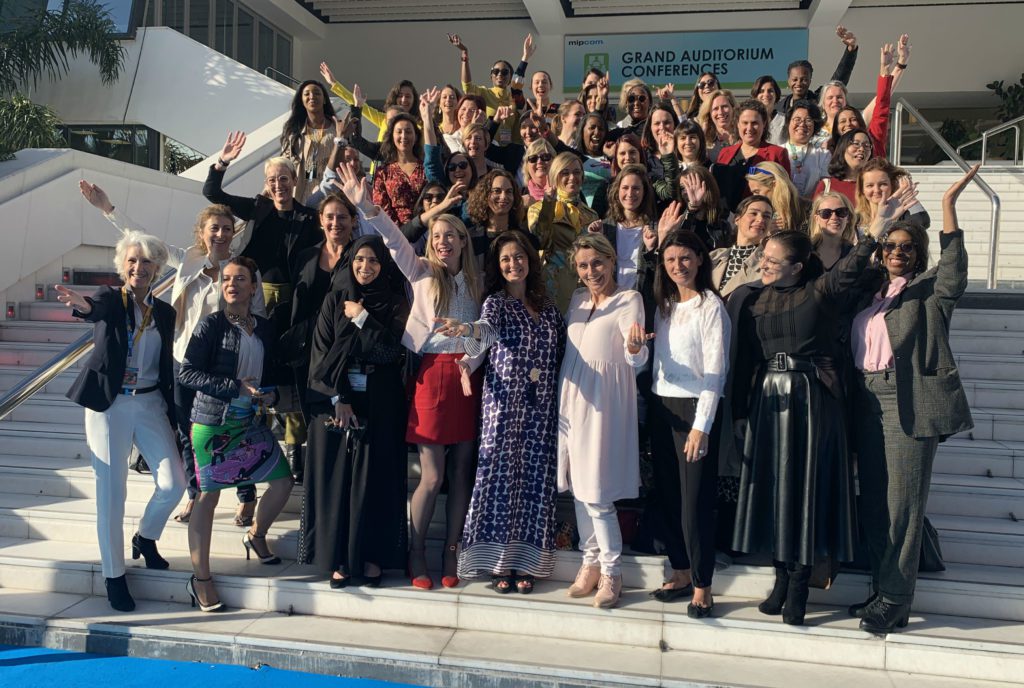 The event ended with a photo-call on the steps in front of the Palais, where spirits were high!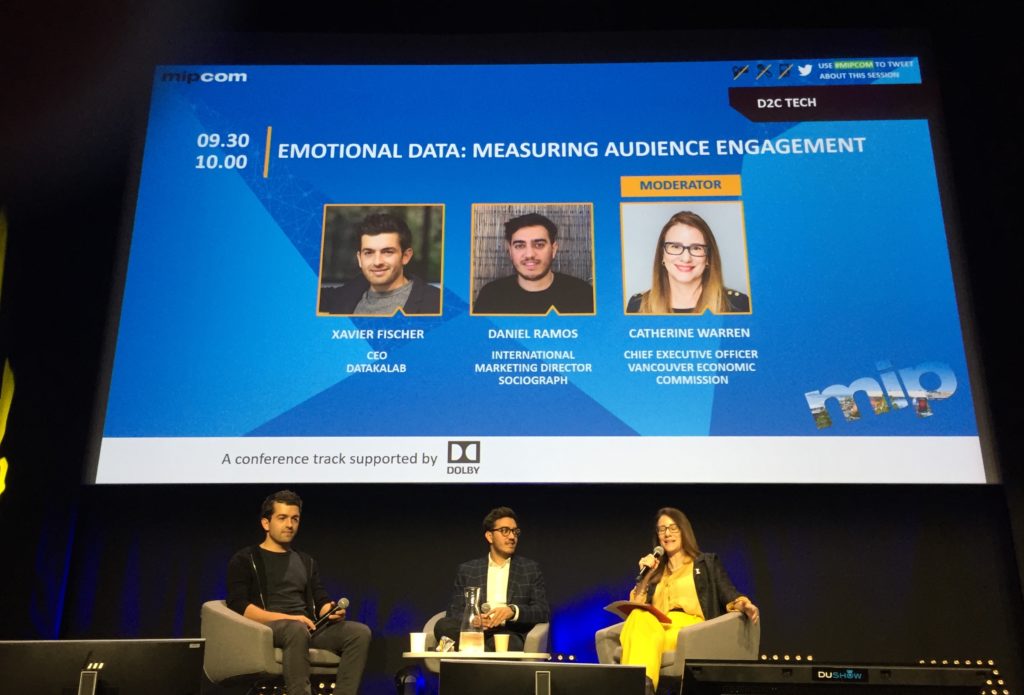 Two sessions in Auditorium A this morning focused on data, and how it can be used for creative purposes. First, the "Emotional Data: Measuring Audience Engagement" panel with speakers Xavier Fischer, CEO of Datakalab and Daniel Ramos, International Marketing Director at Sociograph. The moderator was Vancouver Economic Commission CEO Catherine Warren.
The deep learning solutions offered by Datakalab combine with facial coding to help measure audiences emotions. "As human beings, we don't have the processing power to remember what we felt just minutes ago", Fischer said. "We can follow  if people actually look at the content in front of them or if they are looking at something else, and furthermore what they are feeling when they are doing that"
These solutions can also be adapted to, for instance, cinemas, where Datakalab has already seen it being used to measure audience emotions and resulting in a re-edit of the film in question. "We believe in the integration of traditional research and new methods", Ramos explained. An example was an assignment for Mediaset, who wanted to test content they did not feel would be successful with their audience. Tests were conducted and the results pointed in a positive direction. Subsequently, the series was released and was a success.
These new areas of research can impact many parts of the production process. "We are using our solution for the cast, if a certain talent works with a certain show. We are testing all types of formats and different kinds of experiences – we want the audience to participate actively", Ramos said. "We always use the example of the iceberg – traditional research shows what's on the surface but now we can see everything that can be found beneath"
This deep research can also uncover new knowledge, applicable on many sectors. "Looking at advertising and music, we found that using a well-known song attracts more attention, but less positive emotions", Fischer said. "The young generation quickly feels that they are being used for advertisement purposes."
This new wealth of knowledge could see the advent of new kinds of content, Fischer predicts: "Not far from now we will see interactive content that adapts itself in accordance with the emotional readings of the audience."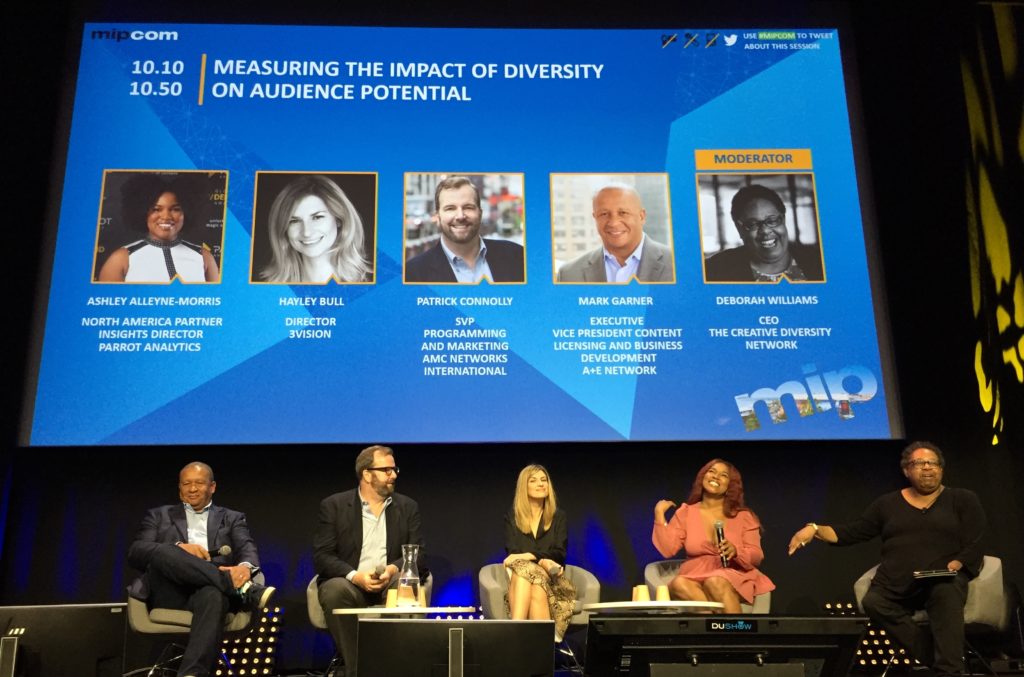 The second data session explored how producers and broadcasters can measure the impact of diversity on audience potential. Speakers included Ashley Alleyne-Morris, North America Partner Insights Director at Parrot Analytics; Hayley Bull, Director at 3Vision; Patrick Connolly, SVP, Programming and Marketing at AMC Networks International; and Mark Garner, EVP, Content Licensing and Business Development at A+E Networks. The moderator was Deborah Williams, CEO at The Creative Diversity Network.
The data indicates that there is a demand for more diverse cast in content, but authenticity plays a role. "When we measured the impact of transgender people playing transgender roles, we saw a 20% increase in demand", Alleyne-Morris said. This differed positively from the demand seen if transgender roles were played by non-transgender cast. "People want to see this and people want content with diversity", Alleyne-Morris concluded. "It all goes back to creating that opportunity. It's using the data to start creating those story lines."
Regarding distribution, the rise of streaming services, SVoD and AVoD opportunities has increased possibilities, according to Bull.  "This is a really positive time for diversity. Right now, there are so many services to make deals with, and we are no longer tied to schedules", she said.
Channels are also seeing new possibilities. Patrick Connolly highlighted the AMC show The Terror, starring Derek Mio. "It's really exciting to see Asian Americans on screen as main characters, not as a side character", Connolly said. "It's encouraging to see that people are eager to see diverse content. When you have an opportunity to have a trans person play a transgender role, it's encouraging to see that people respond to that." 
Garner pointed out that a more diverse approach can also reap benefits when it comes to reaching new audiences: "Something that often gets lost is how to attract different target groups. This is something that gets lost when you aim for a mass audience", he said, adding some advice for people looking to acquire or commission new content. "Take the sales call from someone different. Go outside your comfort zone. You might see something that you didn't know you wanted, something that will make you go wow!" 
"We need to push more on the commissioning side regarding diversity", Williams concluded, as the data shows that if there is a supply there is a demand.