This morning's big keynote at MIPCOM was Darren Star, creator and executive producer of shows including Sex and the City, Beverly Hills 90210 and Melrose Place, as well as his current hit, Younger. He was interviewed by Jill Offman, EVP at Paramount Network / Comedy Central.
He started by talking about Emily in Paris, his new drama-comedy. "Americans certainly have this wonderful romantic relationship with Paris, and I think we've seen it in movies, books… I don't think there's been a TV series that's really captured it," he said. "What's wonderful about television now is it's become so expensive that we can film an entire series here! That wasn't quite as possible a few years ago, and the definition of what television is has expanded so much that what would have been a feature is now a TV series."
Is it different shooting in Paris to shooting in the US? "The lunches are a lot better!" He also praised the French crew. "They're so professional, they're so fast and they all speak English. The locations we've been able to film at has been beyond my expectations."
Offman asked Star about the cultural specificity in his shows, and also the way he "taps into the zeitgeist" through fashion. "I can't really take creative credit for the wardrobe. I can take credit for bringing Patricia [Field – costume designer/stylist] on, and letting her do her thing… She dresses these characters, especially Emily, with such a sense of humour. And she wants to entertain," he said. "I decided a long time ago with Sex and the City that I would divorce myself from reality when it comes to wardrobe. The audience couldn't care less about where the clothes had come from or if they could afford them!"
Star talked admiringly about his early partnerships with production legend Aaron Spelling. "He is a legend. You learn so much being with somebody like that just by osmosis," he said. "He was a master storyteller, and I really picked up a lot of the basics in how to engage an audience." Star added that for Spelling, sympathetic characters were always key. "I think television has changed a lot. There's a lot of anti-heroes on television. I wouldn't say that would have been something he'd have liked… Engaging with likeable, sympathetic characters is something I saw in the success of 90210."
Not every character in Emily in Paris is sympathetic: Emily's boss Sylvie, for example, will provide some of the elements of conflict, or at least culture clash. "What makes a show interesting is you can talk about areas of commonality, but here's always going to be points of differences where two cultures are never gonna meet… and I think those points of difference are great to celebrate as well."
Star's keynote also saw him talk about his women characters. "I enjoy writing female characters because I feel like they're emotionally very open, very expressive. They're funny. I've had a lot of strong women in my life," he said. "What women have is great sense of humour, and also just very expressive. I think if you put men in the same situation, you just wouldn't be able to tell the same kind of stories."
The final question focused on the recent reboot of Beverly Hills 90210, and how Star feels as a creator about shows returning and evolving long after their original incarnations. "That's something you can't really imagine when you're doing the show initially. I wasn't involved in the latest remake, but friends of mine produced it and I think they did a terrific job," he said. "It's incredibly gratifying to see something like that continue. But at the same time for me, remakes aren't something that I'm creatively that excited about. When I've done something once, I can't imagine doing it again."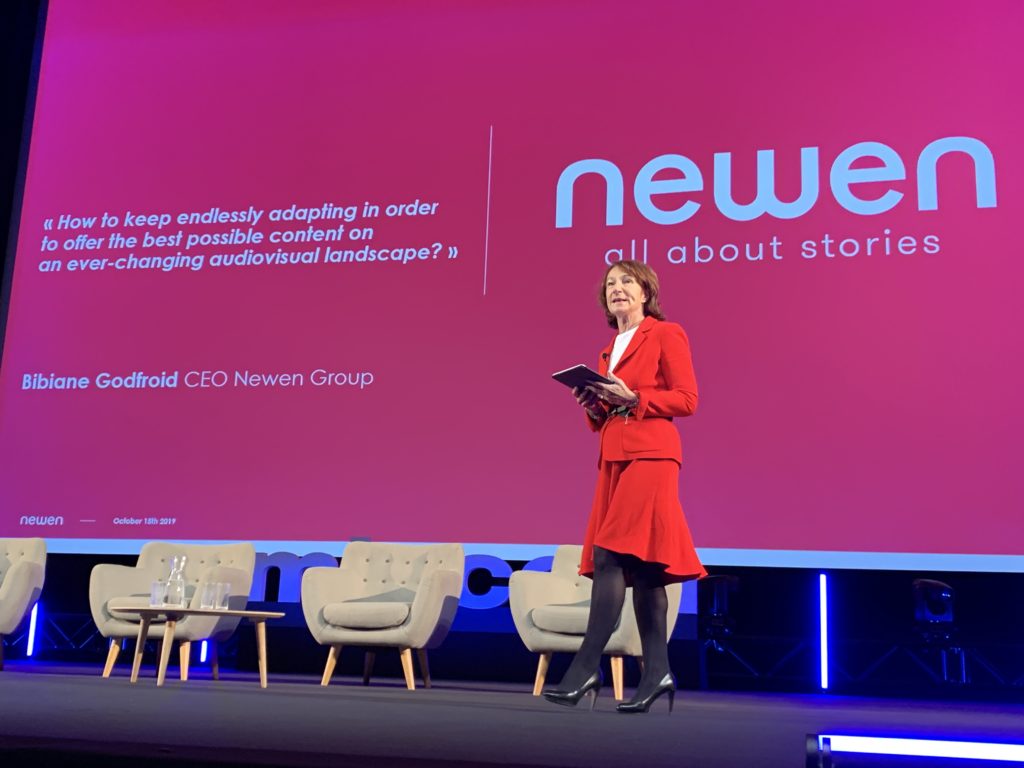 The morning's other keynote came from Bibiane Godfroid, CEO of Newen. Part of the TF1 Group, it's France's leading producer of audiovisual content, working across a variety of platforms.
She talked about Newen's ever-wider portfolio, and its growth from four years ago when it was producing primarily for two French channels. Now, under TF1's 100% ownership, it has widened its approach to a range of international platforms – linear and digital alike.
"The commitment from TF1 allows us to accelerate global expansion and to create synergy between the different companies of the group," she said.
"We now work with all broadcasters existing in the different companies in which we operate, as well as with Netflix, Amazon and other existing and new platforms… My major challenge is, of course, the constant search for new talent, because talent is key, and Newen is all about stories… One of the most important things is to tell stories… and to tell stories which interest the public, the audience. It's simple to say that, but it's not always the case!"
Godfroid was then joined by World Screen's Anna Carugati-Guise and two of her colleagues from Newen, Managing Director Romain Bessi, and the Managing Director of its Capa subsidiary Guillaume Thouret.
Bessi talked about expansion. "We don't need to grow, but we want to grow if it makes sense organically," he said. "In Europe, we are going to consider all the countries, and possibly go to the English-speaking markets and further… if we can make it through the Eurostar after the 31st October!"
Thouret talked about the opportunities offered by streaming services. "The opportunity to diversify the genres, because the streaming platforms are commissioning all genres of series," he said. "It gave us the ability to develop sci-fi, to develop horror, and to develop comedy," he said. "On the financial side, once again new commerce means a growing market, so it's good news. Then the way we develop and produce with the streaming platforms is the same way we have always done with others. We are partners, we are working together. The main difference is the legal framework… We don't retain any rights. The platforms are for now at least taking all the rights for a long period of time. Those are the rules of the game, we play with it… We are able to adapt to it."
Godfroid returned to the theme of talent. "This is a key point both in France and internationally. I think we have to seek every day after talent. Not just writers but directing, writing, management… It's a real job!" she said. "Talent will be key, and today more than ever… The level of quality demanded by all the channels, not only the platforms, is going up and up. It's really a good thing." And then as a parting note: "Stories on screen and stories between people? It's the best way to make good television in a changing world that's very dynamic, because we never know what tomorrow will be."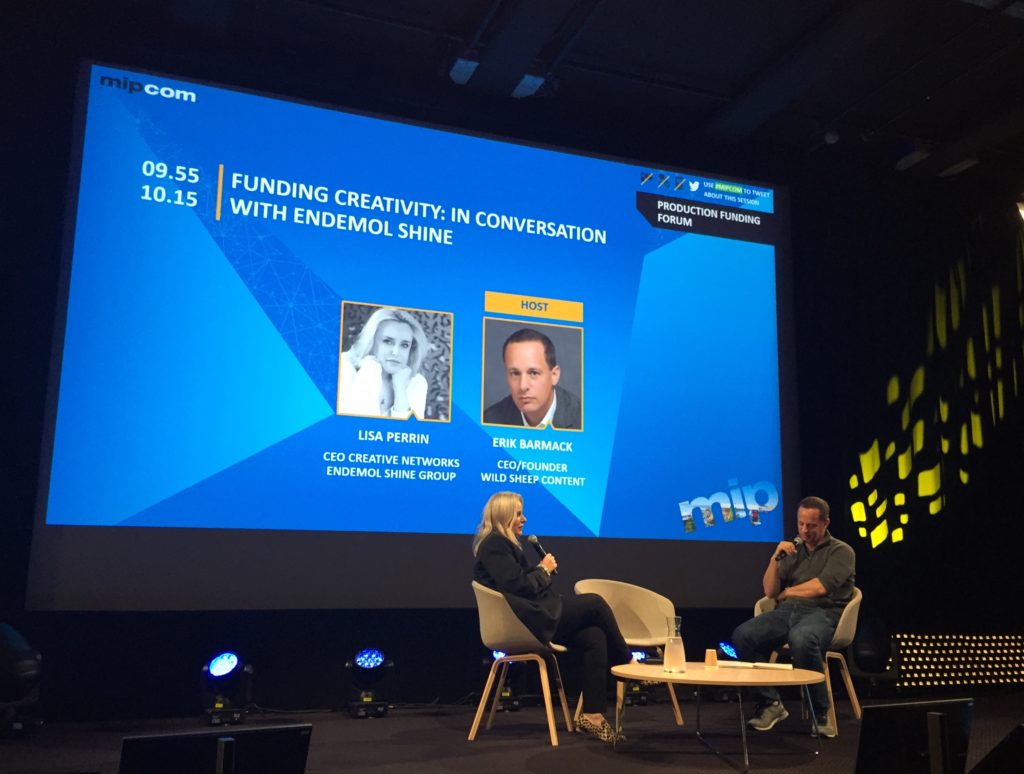 MIPCOM's 'Funding Creativity' strand continued this morning, with Endemol Shine's CEO of Creative Networks Lisa Perrin (above) talking about the company's approach to developing, financing, producing and distributing content. She was interviewed by Erik Barmack, CEO of Wild Sheep Content.
Endemol Shine has over 3 billion views of their content over all platforms monthly. While new content is always being developed and produced, many of the shows are long-running enterprises.
"Big Brothers is in its 20th year now", Perrin said. "It still travels around the world. The show reflects the audience very well. But how to innovate around formats like this, that takes skill."
The landscape has also changed considerably when it comes to talking to commissioners and buyers, as everything is more connected than before. "You can't go to pitch a show in LA and then try to pitch it in London. Everyone talks to everyone. If it's a no in LA, it's going to be a no in London, so the burn rate of ideas is huge. This is challenging for small and big companies", Perrin said. 
The changing landscape with streamers and linear broadcasters prominent brings possibilities but also challenges. "Streamers are pushing into territories that linear broadcasters perhaps would not go into yet", said Perrin. "Streamers want to talk to talented companies, and want to deal with us as a studio. They don't want to do 50 different deals and legal teams. We're feeling our way as everyone else, and so do the streamers"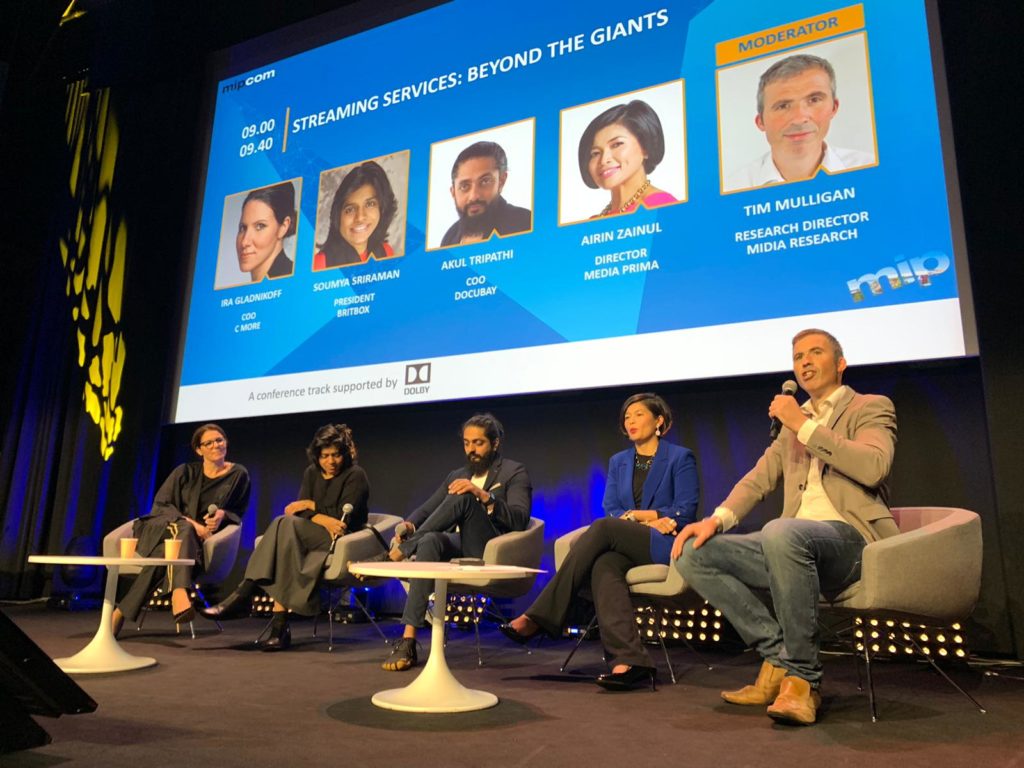 You'll hear lots about Netflix, Apple, WarnerMedia and other giant streaming services this market, but there's life beyond those platforms. A session called "Streaming Services: Beyond the Giants" looked at how domestic and regional players are thriving. Speakers included DocuBay COO Akul Tripathi; BritBox President Soumya Sriraman; and Media Prima Director, Digital Asset Management Unit, IP-Animation and Licensing & Merchandising, Airin Zainul. The moderator was Midia Research's Tim Mulligan.
When asked if there was room for these smaller players, what with Netflix, Amazon and its imminent global rivals, the panel's answer was, naturally, "yes", but with conditions. "Britbox's growth and engagement have been great, since our launch two years ago, so there's definitely space", said Sriraman. "We have a clear proposition and we don't try to be something for everyone. Access, discovery and community are the 3 keys to succeeding in the SVOD space: people have to believe they're part of something. If you build it, they will not come."
"The word now is 'coopetition'," said Zainul, of Media Prima's tonton platform. "Partnerships with YouTube or Dailymotion have allowed us to keep our service afloat", she said.
"The average Swede has 3.7 VOD services," said Gladnikoff. "One is your baseline, and the rest is for different stages and needs. So we've tried to offer major sports leagues, plus local and global content, to make sure we're the base service. Very few VOD services can offer that."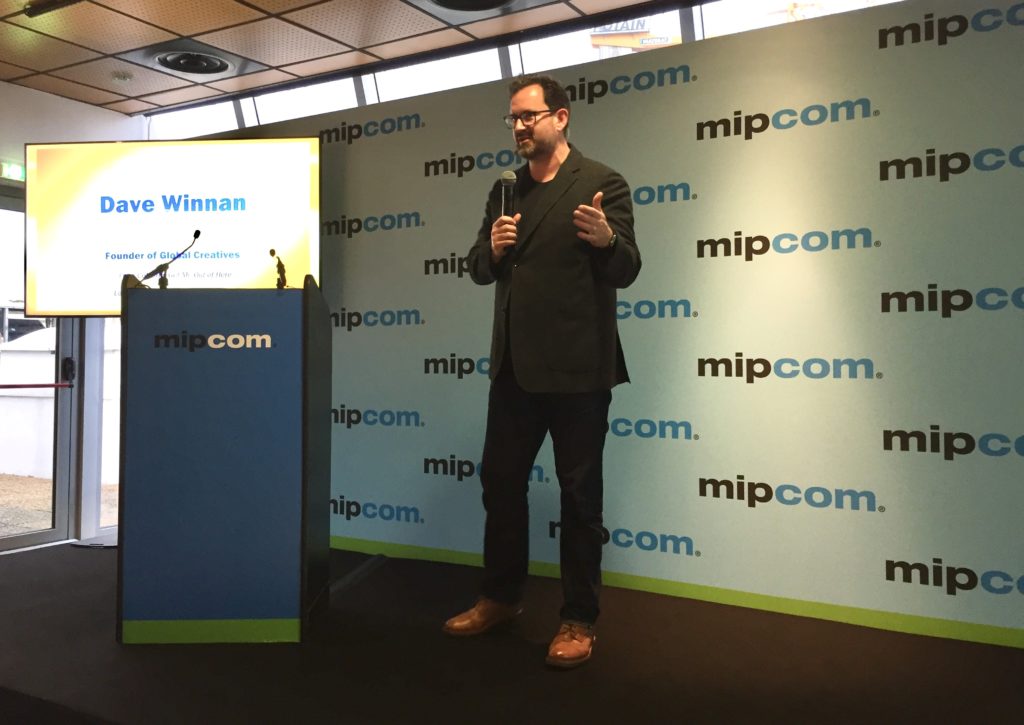 MIPCOM's second morning had kicked off with a session showcasing 'crazy formats from Japan', introducing a partnership between Tokyo Broadcasting System (TBS) and Global Creatives founder Dave Winnan (above).
The first format from the partnership is the game show Time is Money, where celebrities and regular people reveal their best – or worst – life hacks. The best of these life hacks move on to a final, where the participants how manage to do the hack fastest wins a cash prize.  The hacks cover everything from peeling eggs – including an onstage demonstration with delegates taking part! – to overcoming dizziness and moving heavy furniture, and come with a lot of product integration.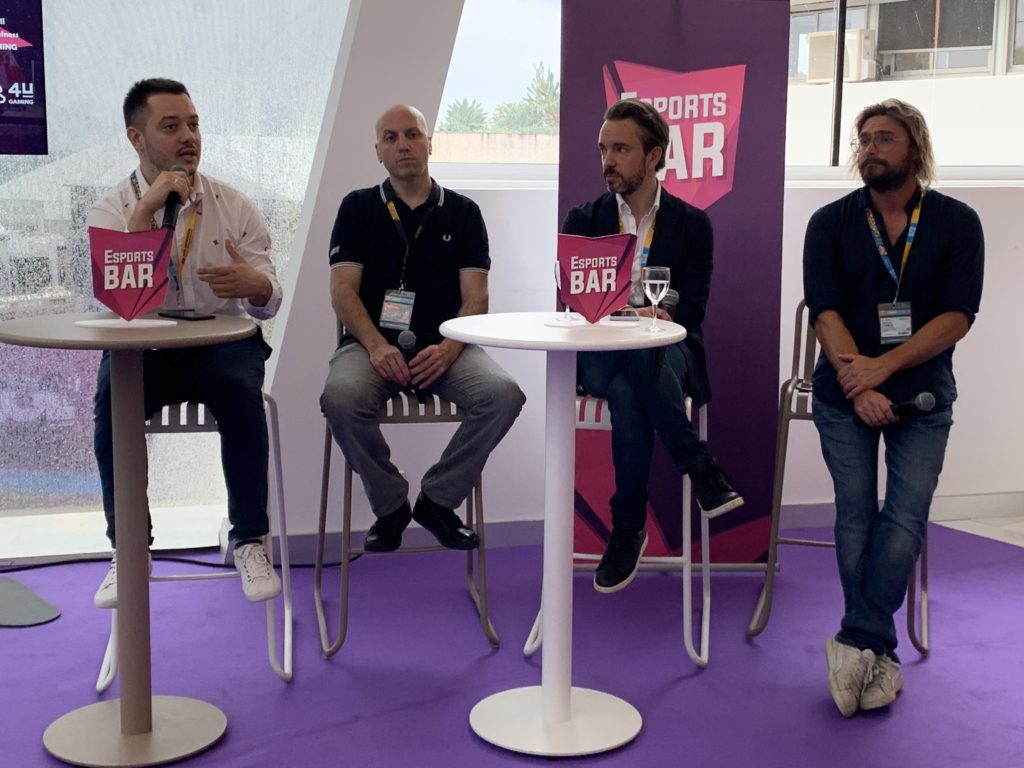 The world of professional, competitive gaming was also on the agenda at MIPCOM this morning, with a session answering the question "Why are brands investing more and more in esports?". One answer being the fact that by 2021, it's predicted that there will be around half a billion people watching competitive gaming on a regular basis.
Barrick Prince, founder of Enigmedia, moderated a conversation about brands' role in the growth of esports. "It's a no-brainer right now. We have an ecosystem that is growing by two digits every year," said Samy Ouerfelli, Head of New Business, Freaks 4U Gaming. "The growth is insane. Esports is already filling stadiums at an international level, and it is also starting to be attractive at the very-grassroots level… You can't do what you do on TV: you can advertise from January to December, on the same product, with the same narrative."
"If you take the whole entertainment industry and slice it into different parts, you will see that gaming video content is huge," added Dmitriy Karpenko, Chief Business Development, WePlay! Esports. "In terms of the brands… brands are always looking for new opportunities where their consumers are, where their attention is. Gaming is something that is really native to the millennials, and these new consumers. They're born in a world where games are a part of their lives… Brands are always looking for the opportunities to be part of that life experience, because the attention of the consumer is there."
Romain Cousi, Head of Content, Webedia talked about challenges in the world of big media agencies. "Esports is definitely a buzzword, but media agencies don't know how to handle it, so they need to rely on third parties like our companies, otherwise they're going to make mistakes," he said. Ouerfelli agreed. "Most of the media agencies that work with big brands are quite afraid of agencies like ours… they are afraid that we will steal their customers! But we can work together."
Authenticity is key. "For me, it must be authentic, and to be authentic the brand must learn the ecosystem and learn the games. Because the games are different… You need to deep-dive into this community, and then you can work on the ads," said Ouerfelli. Meanwhile, Cousi hailed the impact of Fortnite. "It's not just about gamer addicts: it's about everyone, from nine years old to 45!" That may open up esports to brands more, he suggested: with games that are understandable for as wide an audience as possible.
Additional reporting by Simon Staffans