Amazon is one of the powerhouses of the subscription video-on-demand (SVOD) sector. Today at MIPCOM, we learned more about the tech giant's TV strategy, courtesy of a keynote with Amazon Studios' Head of International Originals James Farrell and Director of European Originals Georgia Brown. Peter White, Deadline's International TV Editor, moderated the conversation.
Amazon Prime Video is in about 20 countries outside the US now, and those are the markets where Amazon Studios is trying to make original programming. "It's not a quantity play, it's a quality play," he said. It's working across scripted, unscripted and film. "Anything that's being under-served!"
Brown talked about the content mix. "In the co-production space we've had a fantastic couple of years… and that's something we're going to continue to do," she said. "We want to engage customers on any level we can. It's not just about giving them originals, at Amazon we can offer them shows from lots of different people."
Fleabag is one of the co-productions that has been cleaning up at awards recently. Does this mean Brown's bosses at Amazon are now tasking her with finding the next Fleabag? "It's just not how we work. It's all about finding content that we think will resonate," she said. "Fleabag is one example of a great show, but we're working on a huge variety of different scale of shows… It's about meeting those producers, those writers, those new talents coming through and thinking how can we best support these people?"
Farrell offered his take on the international picture, including India. "The whole premium scripted drama area is pretty much a white space in India, where they make great films, great soap operas… but nobody is really making high-budget, high-quality, 8-10 episode scripted drama." And these shows can travel. "We're past that 'well are we going to make it global or local? Let's just make it really great and specific," he said. Partly in India's case because there's a large and loyal diaspora, but also because Amazon's recommendation algorithm can put its Indian shows in front of people who enjoy a specific genre.
"We don't have that many opportunities a year that we can waste them on something that's just been rushed into production," he added, saying that Amazon would rather put in the time with creators pre-production to ensure shows match its quality demands. Amazon is also looking for formats: it has The Bachelor and The Bachelorette in Japan, for example. "We took a flyer on that, we're in the third season… and it's doing phenomenally well. The reason that's hit for us is there was nothing else like it [in Japan]… it stands out and it does really well."
He also talked about how Amazon decides whether to recommission shows. "One of the key data points we look at… is how many people are actually making it to the end? A lot of people might click on it, but how many people actually finish the season? The numbers on The Bachelor are phenomenal." Meanwhile, Brown reiterated that Amazon is thinking hard about its unscripted strategy. "What in the unscripted space works sat behind a paywall?" she said. "For us to compete in that space… how do we reshape these or elevate them in different ways to make them suitable for a streamer?… It's not so obvious."
Brown reiterated Amazon's focus on great local shows. "When we commission we really are looking specifically locally. It's great for us if shows break out and travel around the world. But we are focused on 'will this show be incremental in its home territory?'… We're going for very specifically local shows. [But] the universality of some of these stories? They absolutely will travel."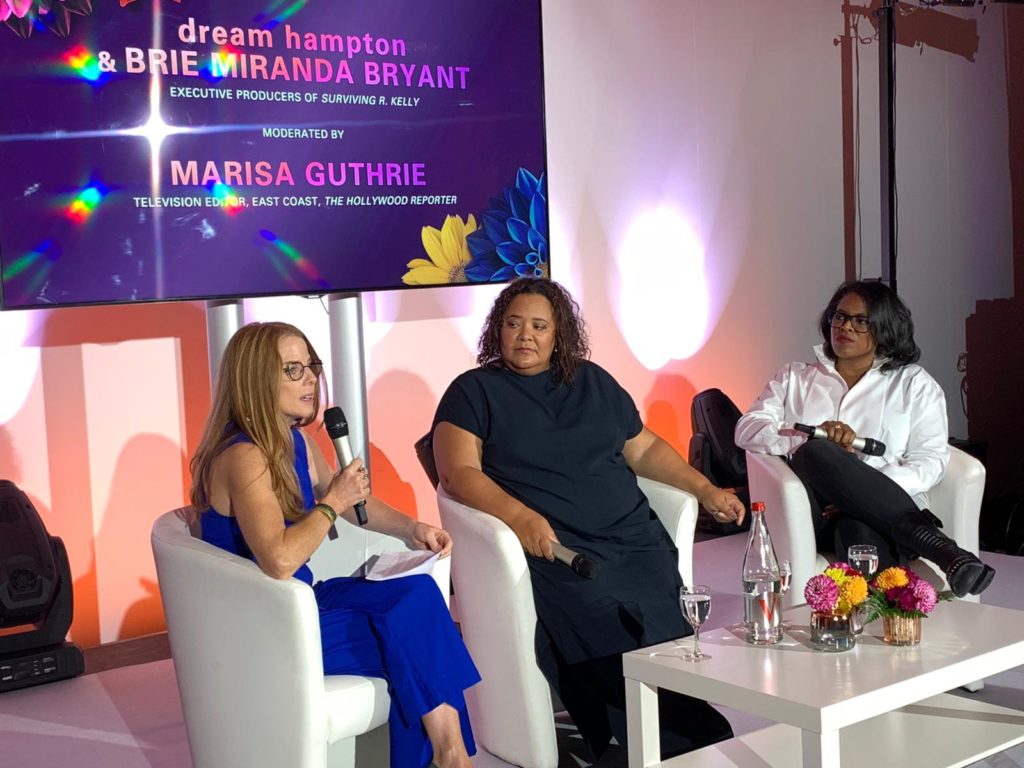 Another highlight of MIPCOM's first day was the Women in Global Entertainment Power Lunch, with A+E Networks and The Hollywood Reporter. Reed MIDEM's Laurine Garaude began by welcoming some of the most influential women in the TV business today, notably introducing Newen CEO Bibiane Godefroid, who presented Pour les femmes dans les médias, a French movement to stop sexual harassment in media companies, initially conceived at this very lunch.
Then it was on to the main attraction: dream hampton and Brie Miranda Bryant, Executive Producers of documentary Surviving R Kelly, were interviewed by THR's Marisa Guthrie. « We initially conceived it as a 90 minute documentary, » said Bryant; « we sat down 54 people, and ended up with 6 hours. We didn't expect it to reach so many people – I even received mail in Mandarin – but that doesn't make life any easier for the survivors. »
« I wanted to make something (as impactful as landmark doc) Blackfish; that made me want to stop going to Seaworld. There are ways we can seek justice outside of the legal system, » said hampton, who went on to compare NDAs used by harassers to keep their victims quiet to workplace safety documents: « If we took sexual harassment claims as seriously as safety issues at work, it would make a huge difference, » she said.
After 26 million views for their game-changing documentary, the pair are now working on a follow-up, which focuses on the theme of 'whose girls are these?', digging deeper into the story, for example what in Kelly's upbringing turned him into a sexual predator in later life. « We need to stand up for each other, » said Bryant.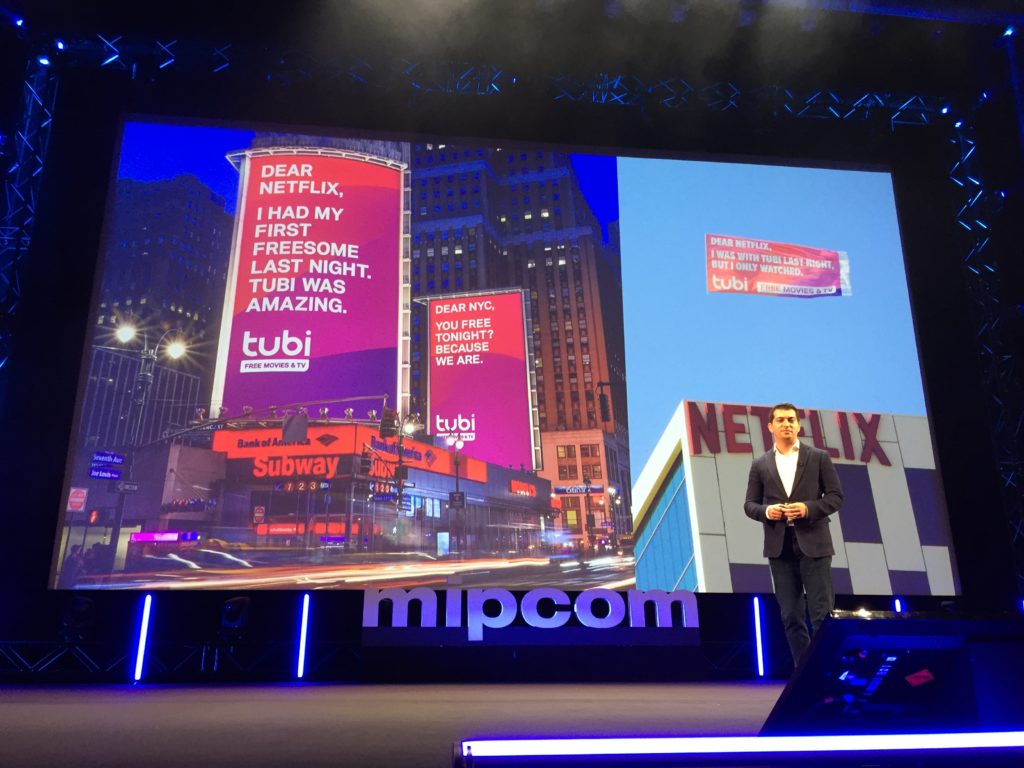 The morning's second keynote focused on the world of advertising-supported video-on-demand (AVOD), and specifically on Tubi, which claims to be the world's largest free movie and TV streaming service. CEO Farhad Massoudi (above) and chief content officer Adam Lewinson talked about their strategy, and the wider trends around AVOD in 2019.
The session was introduced by Jim Packer, president of Lionsgate. "We've seen a rise in VOD platforms over the past years. Tubi has grown in a way that represents Hollywood", he said as he welcomed Massoudi on to the stage.
Massoudi started by comparing the TV industry to other content industries: "The music industry has seen a 60% increase in revenue due to streaming. Radical change is coming to TV and I'm excited to be part of it." 
That change looks to be unavoidable, looking at the stats. "Linear viewership is in decline. How you make money in this era will completely change" said Massoudi. While sports are still doing comparatively ok, TV ratings for people under 34 are down more than 50% since 2010, he added.
Tubi differs from platforms like Netflix in that they don't rely on a subscription model. But there are other differences as well: "At Tubi we don't have to rely on original content. We rely on a huge library of content for the user, available for free. Do we compete with Netflix? No, we complement them", Massoudi explained.
The model has been successful, with Tubi boasting a 40% increase in viewing over the past four months alone. "If you believe your content is relevant worldwide, you should consider AVoD", Massoudi concluded, as he welcomed Tubi COO Adam Lewinson onto the stage. 
Lewinson talked about the new media landscape and how to operate in it: "It's an exciting time to be in AVoD. I used to schedule movies and series – and I don't do that anymore. Today, everyone is a curator, which essentially means that my audience is doing part of my job for me", he said. 
Lewinson took the opportunity to tell about Tubi's new service for the younger audience, Tubi Kids, soon to be launched. "As a parent it's hard to shield your kids from harmful content. We're now introducing Tubi Kids, a separate section within the Tubi app, focusing on the needs of parents and children" he said. "We respect children's privacy, and so we will not target them with ads. The content will be age appropriate, and without community features – that means no unpacking videos, for instance, and no possibilities for predators to reach children. And Tubi Kids has a massive library, growing quicky".
Finally Massoudi and Lewinson revealed that Tubi is launching in the UK in early 2020. "Our mission is to connect the world with content. Hope you can join us on that mission", Massouidi concluded.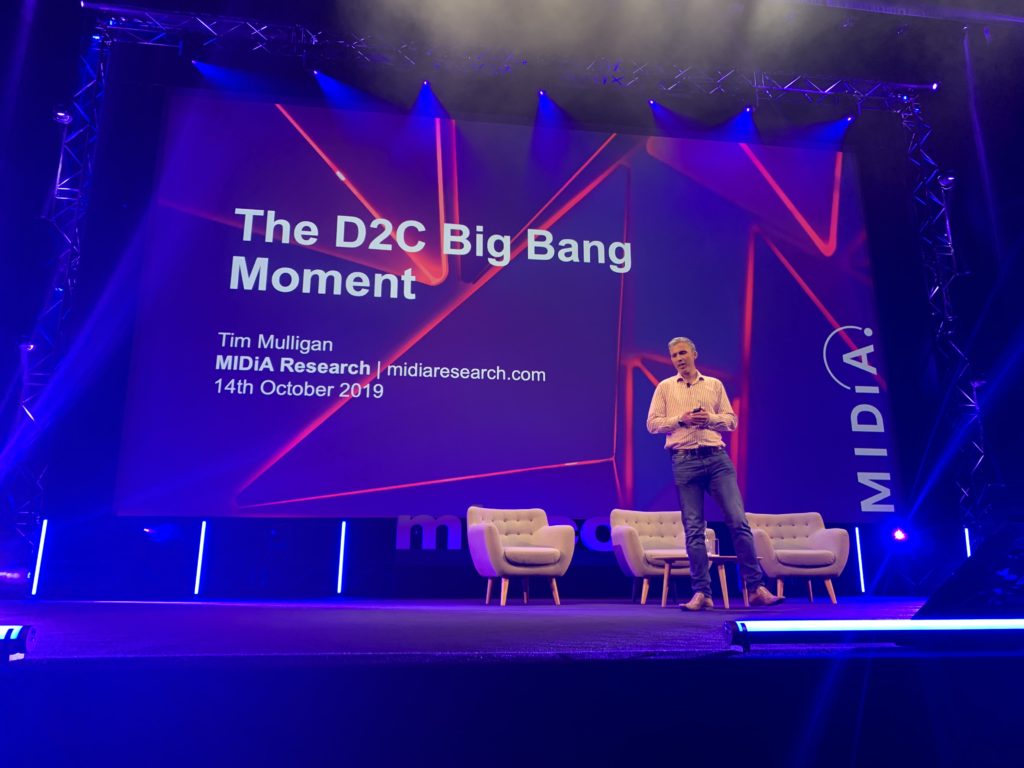 Another session at MIPCOM this morning focused on the 'D2C big bang moment'. Midia Research's EVP and Research Director Tim Mulligan explored the challenges for SVOD and direct-to-consumer in 2019.
"What could be arguably the biggest, pivotal moment of the history of media in the digital landscape," said Mulligan, citing four new launches in the next six months: Apple TV+, Disney+, HBO Max and Peacock. "The big media players are coalescing with the big tech players to make streaming central to their existence," he said.
Among the meta-trends identified by Mulligan: the fact that a company like Netflix sees itself as competing as much with video games like Fortnite, and even sleep, than with a direct rival like HBO. He noted that according to public figures, the average US Netflix subscriber spent 617 hours a year engaging with its content in 2015. And in 2018? That had fallen slightly to 616 hours. "Despite the business being three times as big and expensive to run in 2018 as it was in 2015, we see a slight decline," said Mulligan, suggesting that games like Fortnite are a key factor. "There are only so many hours in the day. This is why Netflix is competing against sleep, and also against Fortnite."
Mulligan also talked about "fragmented fandom", where cultural movements are about a multiplicity of niches, rather than huge, mass fanbases. "In some ways it's even more powerful than what we had before, but they're by their very nature niche, as opposed to mass, and mainstream," he said, before moving on to the way "Netflix has weaponised TV production, because networks are effectively utilities for audiences. Netflix has made a conscious decision to get beyond that trap by creating sentiment – fandom – around particular titles."
"Streaming is now becoming mainstream. In key developed markets, streaming is now a mainstream activity: approximately 50% [penetration]. But we're still seeing a lag in the monetisation as compared to the actual engagement… There's still some way to go to bridge the divide," he said, before moving on to the 'big four' new video-streaming services listed above.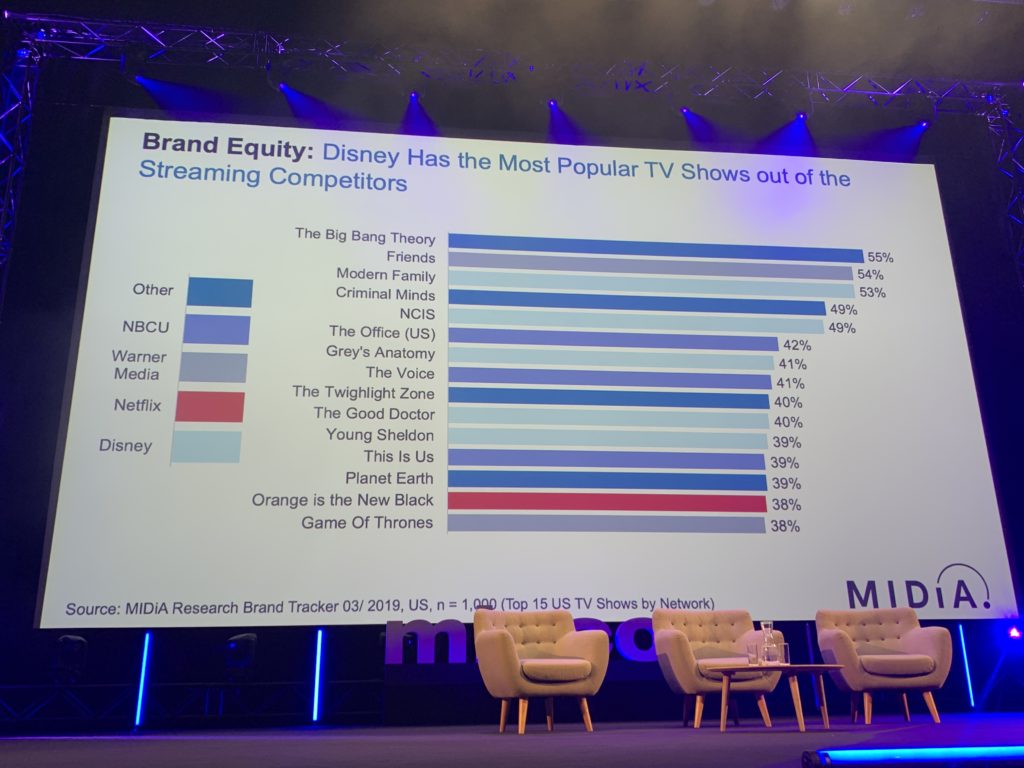 Mulligan said that market positioning will dictate which are successful: from Disney's emphasis on its brands, to HBO Max and Peacock's leveraging of their wider ecosystems, and Apple TV+'s creator focus.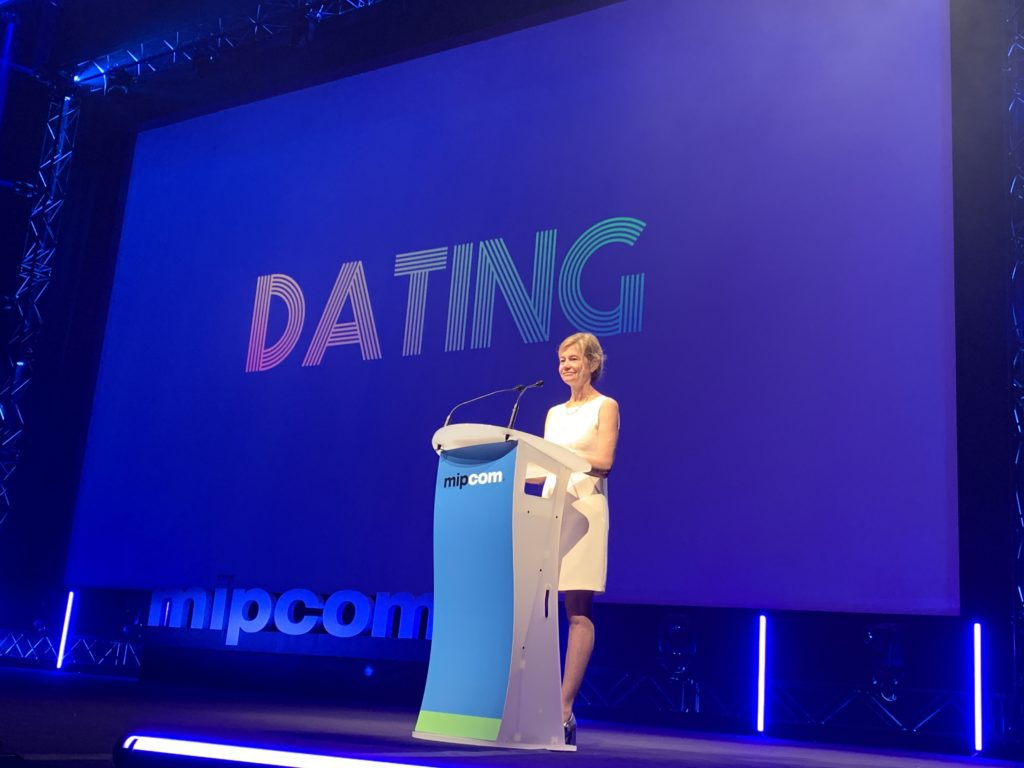 The Fresh TV sessions presented by The Wit CEO Virginia Mouseler continue to be huge draws at MIPCOM. This morning's session, focusing on the latest formats from around the world, packed in the crowds as usual.
There was plenty of dating action in her selection, with highlights including Israeli format Queens of Love (represented by Armoza Formats) where three fabulous drag queens mentor a singleton who's been unlucky in love; Singletown (Keshet International) where five couples press pause on their relationships for a summer of single life, before deciding whether to get back together or not; and Undercover Twins (The Story Lab) where two identical twins look for love by pretending to be one person, while being wooed by eight suitors at a luxury location.
Older people are also having a moment in the spotlight, said Mouseler. Lodgers (Banijay Rights) and OAP B&B (BBC Studios) both use the format of getting young millennials who can't afford to get on the property ladder to move in with older people who have space in their homes, paying rent in the form of chores and companionship. Meanwhile, Take Over, Take Care (All3Media International) sees six Dutch celebrities replacing caregivers in charge of dependent people.
Other highlights from the sparky selection: Meat the Family (Red Arrow International) gets a family of meat-eaters to live with a new pet: the animal they most like to eat! At the end of the show, they either decide to go vegetarian, or they have to kill their new friend. The Cocaine Trails (ESG) takes a group of young cocaine-users to see the brutal origins of the drugs they are buying and using. Drive Master (Keshet International) uses a giant parking-lot set to get ordinary people trained to do extraordinary vehicle stunts. And Laughing All the Way to the Bank (Gil Formats) offers people cash prizes if they can make an « austere » accountant laugh during a ride to their bank.
Read our full Twitter thread from the Fresh TV Formats session, covering every format shown by Mouseler.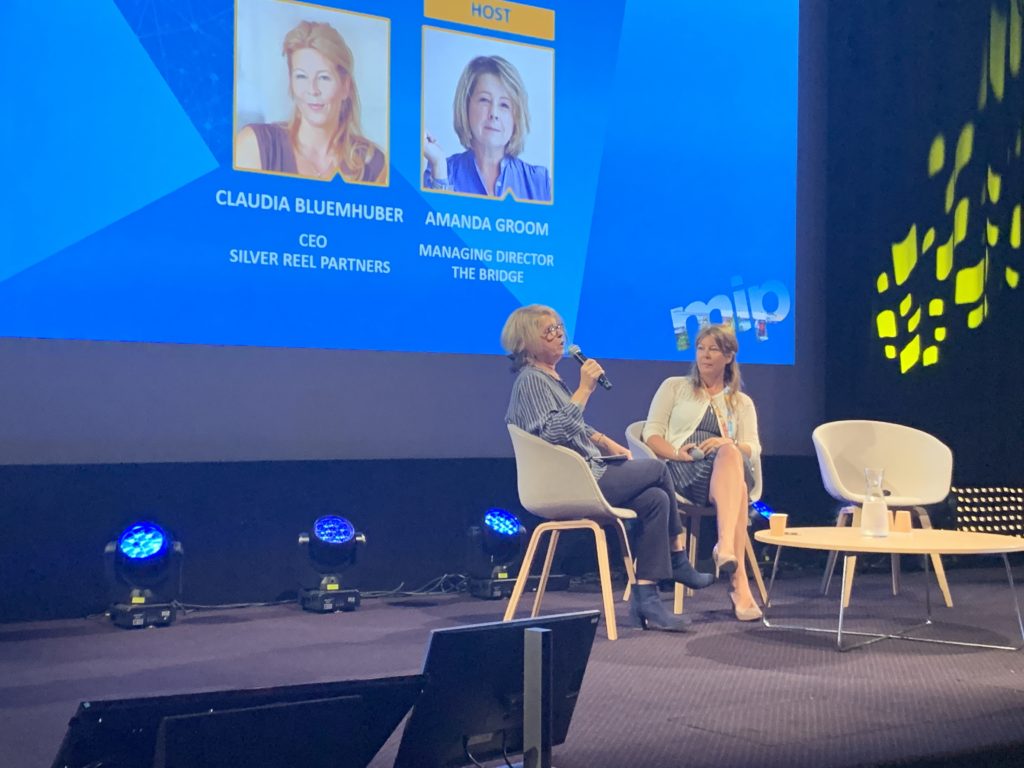 A great idea for a new TV show is one thing, but securing investment for it quite another. A session at MIPCOM this morning mulled different strategies for getting funding in the modern industry, moderated by The Bridge Managing Director Amanda Groom.
David Clarke, EVP Content at DRG, talked about changing trends for distributors. "Like everybody else, we're behaving much more like a studio. That's about supporting creativity much, much earlier, and about getting across development much, much earlier," he said. "The marketplace for great IP that is available to independent distributors such as ours, there are very few shows that leak out of the super-indie studio system. So when they do come out, you have to be ready and willing to support them and invest in them, and convince those producers that you're the right home for them."
Claudia Bluemhuber, CEO of Silver Reel Partners, talked about another trend: moving from films into television. "We actually tried to get into television some years ago as a financier, and it was a very closed market at the time… but this market has completely changed," she said. "We like to be involved at all stages, from development, from an idea. If there is an idea and not much more, either it has to have a really great IP, or there has to be some outstanding talent attached… We always look for some element that's elevating the project." She also said some projects which have originally been optioned as a film can become TV shows – for example Most Dangerous Game.
Taka Hayakawa, VP at Fuji Television, offered a perspective from Japan, including Fuji TV's investment in mobile developer Niantic, the creator of the game Pokémon Go. The companies have collaborated on an animated project. "A very good example of our strategy for investment: we invested in the company, and we tried to make collaboration," he said. Another project, The Window, started life as a drinking session at MIPCOM three years ago with an executive from ZDF! "It's kinda 'Soccer meets House of Cards'," he said.
Lorraine Ruckstuhl, Head of Media at Barclays, talked about how Barclays gets involved. "As far as we're concerned, drama, animation, live-action, unscripted. For us, we're happy to get involved in any project as long as it's at the stage where there's an investor involved in it, and where you're trying to bridge that gap between being commissioned, and making the project," she said. "If there's a need for finance where there's a timing lag… that's where we're happy to step in," added Thomas Dods, Relationship Director, Technology, Media and Telecoms at Barclays. The firm will lend up to £25m as a sole investor in a project, and can go higher with partners.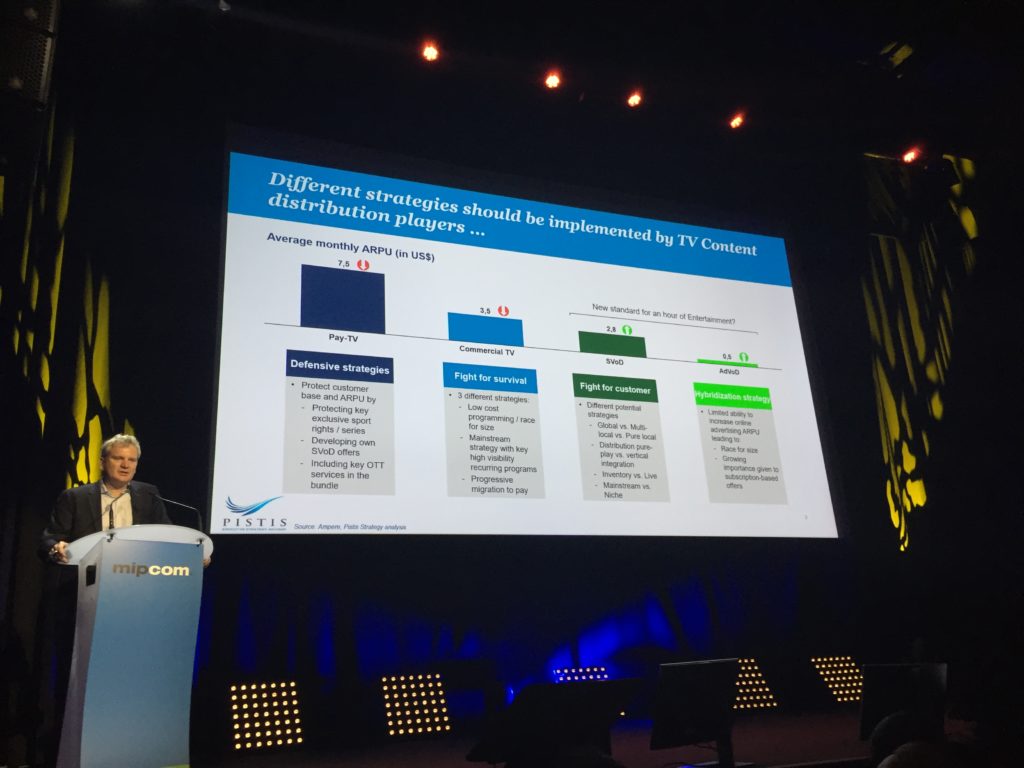 The MIPCOM morning started with a session on technology trends, promising 'an overview of the future' for new tech's impact on the creative industries. Vincent Teulade, CEO of Pistis Strategy Advisor (above), brought the insight and presented five areas of upcoming tech trends.
"We're seeing pay-tv playing a defensive strategy right now, while commercial TV is under increasing pressure. SVoD and AdVoD might become the new norm for an hour of entertainment", said Teulade.
The first trend is artifical intelligence, which Teulade sees becoming increasingly important. "This is due to margin pressures and due to how many interactions there are with the audience nowadays. This can affect script writing, also for instance the casting process, but will be especially impactful when it comes to post production", he said.
The second tech trend is data, on many levels – from blockchain technology used to enhance crowd financing, rights management, contracting and distribution, as well as improved metadata for search and a lower cost of high-end special effects.
"I've seen many startups that based on data from different territories can give a good estimation regarding what the price for a certain program can be for a certain territory", Telaude noted.
The third trend is immersion, from VR to AR to immersive sound, with 3D holograms being the ultimate goal. The fourth trend is new formats combined with new financing.
"Vertical screens will change the industry. Right now most content is geared towards horizontal screens", Teulade said. Other areas prime for new content are in-car formats, short format, series and new innovative ways to target ads and place products.
The fifth trend presented is digital distribution, where the roll out of fiber and high speed connections enable producers to put in-demand content closer to the viewer. Teulade also mentioned other possibilities that the digital revolution will bring to the distribution cycle:
"Producers could look at play out being located remotely in low cost areas, or in the cloud. And not only play-out, the same goes for remote production"
Teulade followed his talk by hosting an 'Innovation show & tell' session with startups and tech companies talking about their products. The session featured Andrew Jackson from eTribez, Philippe Petitpont from Newsbridge, Michel De Wachter from Spott, Jack Habra of Reminiz and Robin Sho Moser from Eye Candy.
Andrew Jackson started the session by explaining the possibilities the eTribez platform brings to the user. eTribez solutions, geared towards broadcasters and production companies, help them enhance their audience engagement, production management, and online voting solutions.
"The actual production process today is still very much in the dark ages – spreadsheets, systems that are 20 years old", said Jackson "That's 70-80 different licenses to pay and as many different training courses for the staff to go through. Our system includes everyone in the production process and provides all information about budget, costs, material – all is available in the same place at the same time. The dashboard covers all of that."
Philippe Petitpont from Newsbridge talked about how their AI based system enables a quicker and more cost efficient process for producers to sift through material, including archive material. "We see that producers are able to decrease work load by 50-80%. We also see a possibility to be much faster when it comes to production. And all the film and data generated while filming can now be indexed affordably and get a new lease of life", said Petitpont.
Jack Habra from Reminiz talked about using AI and machine learning to generate relevant and verified data from any kind of video content, from live streams to on-demand.
"We are an AI solution at scale", said Habra while describing the process. "We can identify everything from characters to logos and brands, from emotions to interactions, and generate data on all of them". This is turn enables more efficient contextual advertising, content recommendations as well as live stream monitoring.
Spott's Michel De Wachter explained how their solutions helps users make all of their video and image content interactive.
"When we talk about interactivity we talk about enriching the experience, not forcing the user to click out", said De Wachter. "Our second screen solution syncs with what you're watching, so you can get whatever extra info you desire on another screen without interrupting the viewing experience."
"The most important thing is to understand why some content works and why the audience likes some of the things you are producing", De Wachter concluded.
Robin Sho Moser from eyecandylab talked about augmented reality solutions for video. Right now eyecandylab is focused on phones and tablets, with roll-out on other platforms planned for the future.
"81% of the people watching TV use phones and tablets at the same time, so right now those are our platforms", said Sho Moser. Their solutions have already been implemented in different territories, with considerable success.
"We teamed up with ProSieben and their show Galileo for the German market. We saw 365k downloads for the interactive application. On the first day alone we had a 20% engagement – which shows that users are ready for AR and are ready for the experience", said Sho Moser.
As ever at MIPCOM, Sony is here with its 4K and 8K Ultra HD Theatre, offering a programme of sessions on all things high-resolution. Today, they included a brisk 'Around the 4K world in 30 minutes' overview of current trends. Paul Gray, research and analysis director at IHS Markit Technology offered the information.
Globally, UHD [Ultra HD] resolutions exceeded half of TV shipments for the first time in the final quarter of 2018. "From now it's pretty hard to find a TV at 49 inches or bigger that isn't UHD," said Gray. More than 260m households now have UHD televisions, and this is predicted to grow to 574m by 2023. In North America, 64% of households are expected to be UHD by 2023. "Not all these sets can do everything," he warned, in terms of UHD content.
How about 8K? "Here's the bad news: We've reduced our forecast. The main reason is China," said Gray. IHS Markit is predicting 167k 8K households in 2019, rising to three million in 2023, globally, factoring in the decision of Chinese brands to wait and launch their 8K tech later in 2020. On the brighter side for 4K, a recent survey of consumers found that an average of 25% of respondents across Japan, the UK and US thought that 4K is an important feature in a new TV – fourth behind only a large screen, internet connectivity and energy efficiency. "3D was only ever 15th [in similar research]," said Gray.
As for content, there are now 177 UHD channels: 156 commercial, 11 demo and four shopping channels, with 'pop-up' channels (for World Cup coverage, for example) excluded from the count. Europe is doing particularly well on content, but Gray pointed to a "mismatch between the consumers and the services" in North America, China and Latin America, where there are pretty-high shipments of UHD TVs, but not many channels offering compatible content.
Additional reporting by Simon Staffans