As ever, MIPCOM hosted a number of World Premiere TV Screenings, offering attendees a first look at some hot new shows. Sunday's world premiere TV screening was Agent Hamilton, presented by Beta Film. It tells the story of a former Swedish intelligence officer (played by Jakob Oftebro) trained by US Navy Seals to become part of an illegal black-ops cell within the Swedish military, who gets caught up in a murder investigation.
The character is very well known in the Nordic countries and the original series of books by writer and journalist Jan Guillou has sold millions since they were first published in the 80s. This series takes a fresh look at the character and the narratives and place it in the world of today, with the new challenges brought forth by the Internet age.
Jan Mojto, CEO of Beta Film, made a point to mention in the introduction to the screening that Hamilton is no ordinary hero. "This is not the James Bond of Scandinavia", Mojto explained. "It is probably the best-selling property ever in the region, but Hamilton brings many other qualities. This is a true international program coming from Scandinavia."
Director Erik Leijonborg, speaking in the Q&A session afterwards moderated by Marisa Guthrie of the Hollywood Reporter, agreed. "We don't have the same muscles as, say, a Jason Bourne production", he said. "But we have other ways of conveying the global spirit of the story. It's the world we live in now – and it is a world in which the Internet plays a large role."
Lead actor Jakob Oftebro said it was an "exciting challenge to go into the psyche of a secret agent." Firstly, he had to undergo rigorous training, some of which took on very demanding proportions. "There's been a lot of physical preparation for this role", said the actor. "My coach, who is basically hundreds of kilos of pure muscle, had me carry him for three kilometres. And I did!" Then there was the mental aspect of Ofterbro's research: "I talked to a lot of guys who have been to Iraq. Coming home and hearing that the reasons you went there weren't the true ones, it's been interesting."
Working with the production was a different but enjoyable experience for the cast. Katia Winter plays Sonja, and the process differed quite a bit from all the US based productions she's been starring in. "This production was much more relaxed. It was also great to be working in Swedish for a change. We (the cast) re-wrote scenes together the same day of shooting if we felt they didn't work. As an actor I really felt my voice was heard."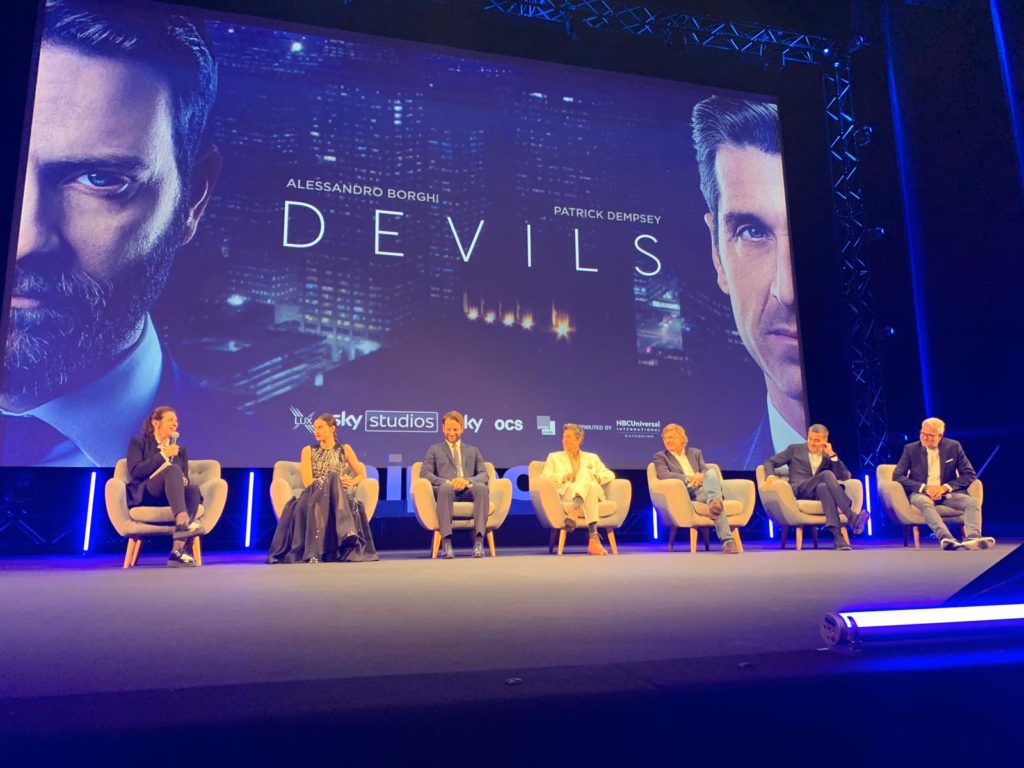 Monday's screening was presented by Sky Studios/Sky Italia: a first look at its show Devils. Set amid the chaos following the global financial crisis, it's about a trader at a London bank who's been implicated in a deadly scandal, and who uncovers a wide-ranging conspiracy when trying to clear his name. Actors Alessandro Borghi, Patrick Dempsey and Kasia Smutniak spoke after the screening, with director Nick Hurran.
Devils is based on a novel of the same name by Guido Maria Brera. "When I read his extraordinary book I just had the reaction: it made me angry. Everyone lived through the financial crisis of 2008, 2009, 2010, but I felt I didn't really know what went on," said Hurran. "I was staggered to read such a powerful story that affected so many of us." He praised "the energy, the nervousness, but the modernity of the cut in the pace" of the book.
"When I first read the script, it was very compelling. I kept turning the page, saying 'Where is this going?'… I really liked the story," said actor Patrick Dempsey. "And it was a great opportunity to be able to work in Europe, in London!"
"It was so complicated at the beginning because I had to face the language, the language relating to the finance world… But the script was so clear. I knew there was a great opportunity for me to be part of an international project, at a higher level," added co-star Alessandro Borghi.
"In each episode there's something that surprises you as an audience. And it's real! I was really keen on intercutting with news footage of the real events that happened at the time," said Hurran. "It asks some really bleak questions, wrapped up in a fantastic financial thriller." Dempsey was just as impressed: "There's a tension that's engaging. There's a complexity to it, a density to it that you have to work at following. There's so much information. And you go back and watch it again, and find even more information."
Japan was the focus for a world premiere TV screening on Tuesday morning, presented by Samurai Drama Channel. The film was The Return, based on a novel by Shuhei Fujisawa, and using the latest 8K technology. Director Shigemichi Sugita was joined by actors Jiro Sato and Takako Tokiwa for a brief Q & A after the premiere, facilitated by Reed MIDEM's Lauren Garaude.
The core of the film centers around atonement. "Praying is something that unites, something universal that resonates with people all over the world"; director Sugita said. "But we don't have to pray only to deities – people can also pray for people. This is something that can save one's soul".
"The film is a true expression of how people live, and of how they die", actor Jiro Sato said, something that he felt reflected the vision of the director very well. "I am honoured that our film was selected for a World Premiere Screening here in Cannes. I hope and believe that the film will help people all over the world appreciate the distinct culture of Japan".
Voir cette publication sur Instagram
The trio then proposed a toast at a post-screening reception, where thoughts were expressed for victims of the recent typhoon in Japan. Here's to great success in the face of adversity!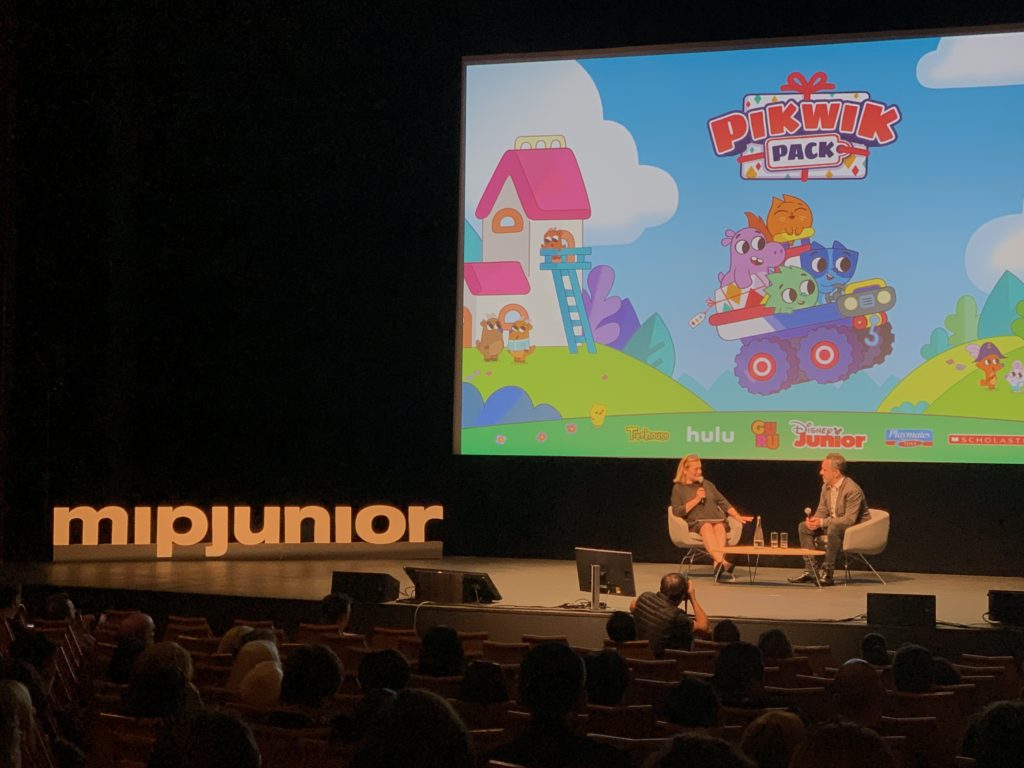 Meanwhile, the weekend saw a pair of World Premiere screenings at the MIPJunior conference. The first was Pikwik Pack, presented by Guru Studio. VP of Creative Development Rachel Marcus, and VP of Sales and Business Development Jonathan Abraham introduced the screening, while after it, President and Executive Creative Director Frank Falcone was interviewed by The Creative Garden CEO Sarah Baynes about the project and the company behind it.
"For us, I like to avoid a house style. So for Guru, me being an artist and an animator, I'll get bored very easily if we're doing the same thing over and over again!" he said, before flagging up the teamwork required.
"There's a myth of the creator being this genius who goes into the woods for a month and comes up with a show idea for children and comes back with it all completed. That's rare! It may happen, but it's a process… and it involves lots of people. It involves teamwork, and a creative community," he added.
Pikwik Pack was a deliberate attempt to rein in the complexity and deliver something more simple in its appeal to children. "We wanted a simple show. We felt that a lot of shows were getting very energetic and sophisticated for pre-schoolers," he said. "And CG [computer-generated animation] can be a little bit of an assault on the senses. We do a lot of CG, so I'm not disparaging it, but I think there's room for children to watch things that are easier to take in."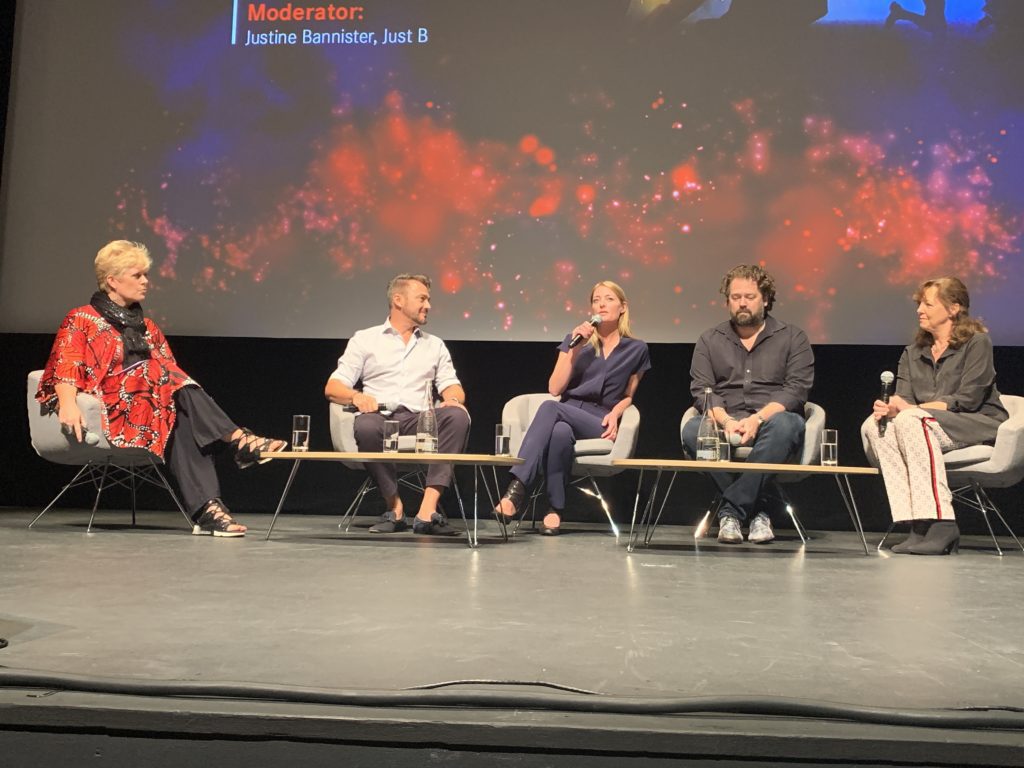 The second MIPJunior World Premiere Screening was for Heirs of the Night, presented by ZDF Enterprises. The show follows a school for young vampires. Arne Lohmann, VP ZDFE.junior; Fleur Winters, co-CEO and producer at Lemming Film BV; Diederik van Rooijen, the show's director; and Sandra Le Blanc-Marissal, commissioning editor at NDR, were on hand to chat, moderated by Just B founder Justine Bannister.
Winters described the show. "It's set in 1889 and there are basically five vampire clans remaining. And a prophet gives them a message that they're going to become extinct unless they unite," she said. It's based on a German book, which was developed into the show.
"We've done a lot of international co-productions, and we were waiting for a new project to commit to. And with this wonderful topic and theme, we were immediately on board," said Le Blanc-Marissal. "It's a timeless classic: vampires… And also we're trying to hit an audience that is not usually respected. There's so little for this audience, 10-plus, on television, especially national broadcasters."
Lohmann said that the partners are hoping to make a splash at this MIPCOM. "We want to find in all territories a good home for the show. It has strong brand appeal, so we want partners to come on board that we can continue the journey with. We have right now those two seasons, but of course, there's more to tell."
"It was something I would wanna see when I was young," added van Rooijen, who said the child actors are the real stars of the show. "It's great to tell a lot of things which you want your kids to know, through these kids… There's a lot of themes in the show which are universal, for kids but also for parents… If you watch them all you're rooting for these kids to make it, and to fight… It's set in the 1880s, but it's got themes that are relatable right now, in classrooms."