A major highlight of day two at MIPTV was an In Development Creative Masterclass with Roughcut TV's Ash Atalla (top photo), co-creator of cult comedy series The Office and The IT Crowd, as well as countless other unique shows. Sonar Entertainment's David Ellender moderated the session.
Atalla began with how he ended up, at a young age, in the BBC Comedy department, where he met Steve Merchant and Ricky Gervais. "Ricky had a character called Sleazy Boss", said Atalla, who would become David Brent. "He was creepy, so we decided to tone it down. Then we found the other characters you find in offices: one's too comfortable (Tim Canterbury), one takes shit job too seriously (Gereth Keenan), one mothers everyone (Dawn Tinsley); that's how we made it."
After the show's global success – it notably won a Golden Globe – the crew were offered jobs in the US; but Atalla decided to stick to mundanity – something he says he's "fascinated" by – and stay in the office environment to make The IT Crowd. "I noticed no one ever talks to IT people unless they need them. So with (Father Ted creator) Graeme Linehan, we imagined a series where the IT guys downstairs are the heroes, and the people upstairs the bad guys."
Asked about the state of comedy today, Atalla had mixed opinions. "It kind of is a golden age, and it kind of isn't. Comedy is having a hard time. Dramas are the new movies, but comedy is harder to travel. So its next big challenge is to supersize itself: double budgets, scale, play on big platforms. Right now, comedy is feeling small compared with its richer brother, drama. It's up to people like me to take them (broadcasters) stuff that feels bigger," he said, citing James Corden's explosive comedy caper The Wrong Mans as a good example to follow.
Atalla also has high hopes in today's younger talent to meet this challenge. He even defines "youth" as the unique selling point of his production company, Roughcut. "Being fearless & almost ignorant is a good thing," he said. "I give my teams space. If I get involved too early, the show will just reflect my taste. So I say 'show me when you're ready'. If they don't, I know it's gone to shit! But usually, I come in halfway."
His advice to other up-and-coming comedy writers and producers? "The days of flatshare comedies (are over): the world today wants disctinctive stories. You need unusual standpoints to break through, as there's so much content out there, you'll just disappear."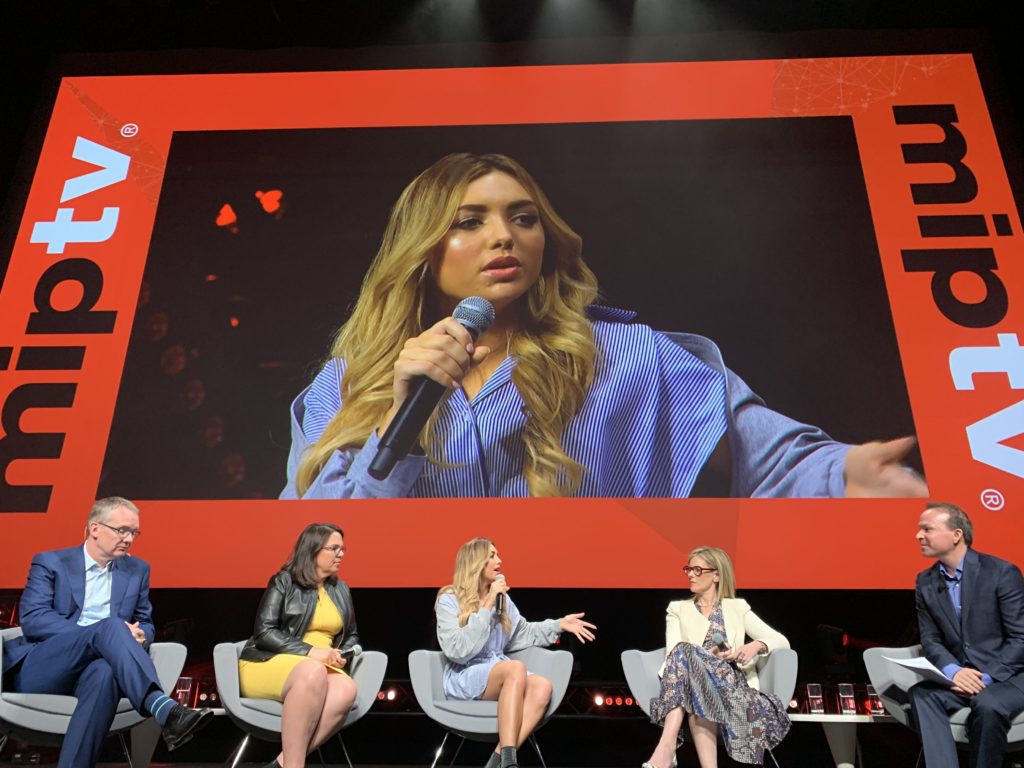 Younger audiences, or generation Z specifically, were also the focal point of today's Game-Changer keynote hosted by Viacom, who recently acquired digital studio AwesomenessTV. "They have an unrivalled ability to tap into that gen Z zeitgeist," said David Lynn, President and CEO of Viacom International Media Networks. "We're looking beyond networks to build deeper relationships, based on quality content that works with all age groups," he said.
He was then joined by AwesomenessTV's Co-Heads Shelley Zimmerman and Rebecca Glashow, and Peyton List, star of shows like Jessie or Light As A Feather.
"They know what they're doing," said List, who has 14 million Instagram followers. "I learned things from AwesomenessTV's social media team! It's helped me get other roles and projects too. I forget I'm a walking billboard on my Instagram!"
Which is precisely why AwesomenessTV makes hundreds of content pieces for each series which are never used in standard broadcasts; only on social media. "The marketing team is onset during filming, and has a dedicated budget", said Zimmerman. Naturally, brands are involved with this content: but not any old how. "Brands need to reach this audience in a genuine way," said Glashow, for example with shows that express a "brand's lifestyle, so the boundary between the brand and the audience is broken by these social platforms."
That said, "if (a brand integration) feels forced," said List, "it won't work. You have to be real (with fans); tell them when you're being paid for something." Zimmerman concurred: "Story is king: great talent is key. It has to feel genuine, or they'll just keep swiping."
Anders Jensen, President and CEO of Nordic Entertainment Group (NENT Group), creators of online streaming service Viaplay, gave today's opening keynote.
NENT Group started early, investing €350 million into its Viaplay platform, which rivals Netflix in Scandinavia. The company employs over 300 software developers in Stockholm, hailing from 40 different nations. Technology is a big part of the value offering.
"When you think of where you want to put content in the future, partner with those with technology to do the content justice," Jensen counselled. "We as consumers expect more than content; we expect discovery, recommendations. We expect to be wowed."
He continued, 5% of European services generate 89% of SVoD revenues, or $6bn in spending in 2018. Those platforms are Netflix, Amazon Prime, Sky, HBO… and Viaplay.
But times are changing, and Jensen admitted that while its tech was ahead of the pack before streaming went mainstream, they weren't ready for the arrival of Netflix. Now they focus on local scripted content, "where we can credibly stay ahead of the competition."
Jensen explained,"Paying for exclusivity is not a model for the future. It's the locality that will make the difference." But that doesn't mean burying one's head in the sand, either. "Being local demands a global mindset. In the Nordics, English is very accepted; it's more improtant to have actors and relevant talent behind in production than to have something in the local language."
His goal is to release about 40 new content productions a year: "Something big should happen every week on our service." At present there are 12,3m Nordic households, and penetration of any given streaming service is at 45%, "the second largest number in the world; the US is slightly ahead," said Jensen. "Imagine how much growth is still ahead of us as we migrate from traditional platforms to streaming services."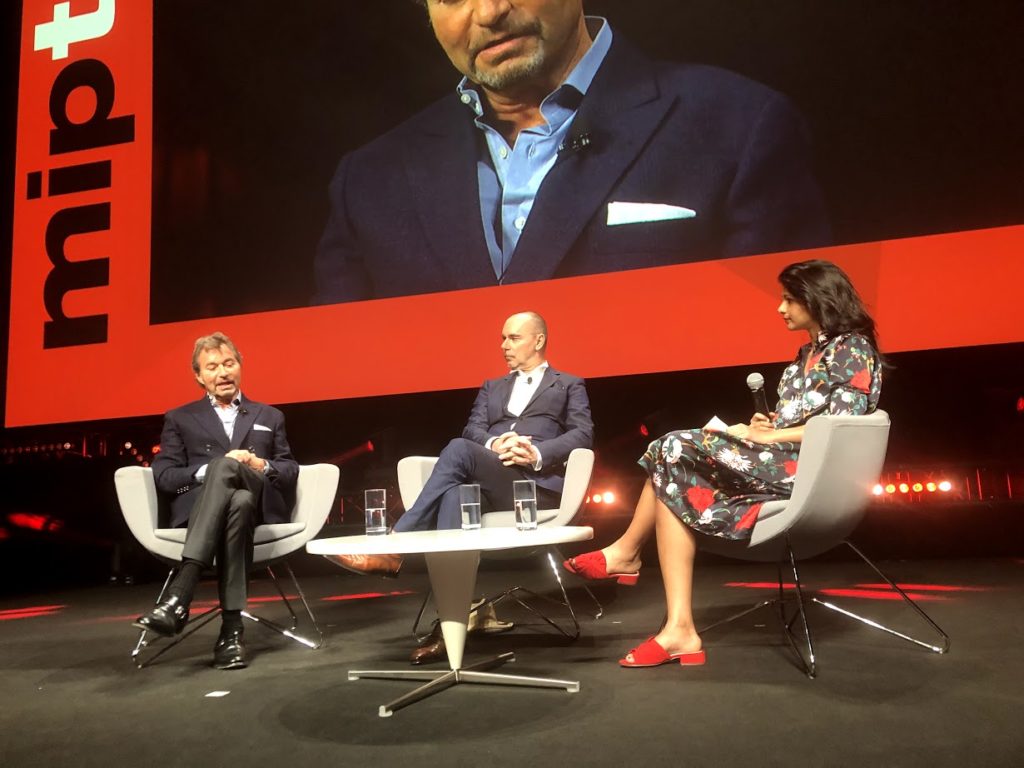 Patrick Wachsberger and Pascal Breton formed Picture Perfect Federation, dedicated to the production of premium TV series for the US marketplace and international coproductions. With moderation from TBI's International Editor, Manori Ravindran, they presented their strategy in a Game-Changers keynote today, as part of MIPTV's focus on France, Country of Honour.
Breton said, "When you've done producing and coproducing for a few years, you know most of the players. You get to know who are the great ones." For this reason, the company exists both in France and LA, but also has a much wider scope.
"We built operations everywhere in the world, with friends. That's what we're doing in Italy with Nicolas De Angelis and his brother, that's what we're doing in Spain with an upcoming announcement. "
Asked about the DNA of Picture Perfect, Wachsberger was modest. "We're going to conquer the world. We're looking for prjects that can travel. It's not about doing purely domestic things; it's really trying to use our knowledge of the world and coproduction."
Days ago, Picture Perfect acquired the rights to books of Empress Elisabeth of Austria (nicknamed "Sissi"), whom Ravindran described as the "Princess Di of her time." She inquired about their plans for these works.
"What's great in this biography is you can really forecast 2, 3 seasons. She was so young but had such a dramatic, romantic life," said Breton. "We feel it's very contemporary. And such a great brand. So it's all about finding great talent, which is mainly the writer and the actress, which isn't easy."
"She was a modern woman and that's something that attracts us," Wachsberger said. "Our ambition is to do something big, like The Crown."
They also purchased rights to author Christian Jacq's Ramses series. "It's fantasy, it's adventure, great characters; it reads like a soap. It's going to be an expensive series," Wachsberger enthused. "There's so much wealth. We did a breakdown of the 5 books, using 1 paragraph per chapter, and created a document of more than 80 pages. When you read it, you say my god, it's 5, 6 seasons. Like Game of Thrones!"
All this ambition naturally raised the question of financing, which Breton obliged: "A lot of our projects we'll try to prefinance first. It's exciting for producers to own some rights and sell them to platforms. There's potential there to finance at least half or more than half of a show, a huge show!"
"We want to control as much rights as possible. We're willing to take some risks in terms of deficits. Yes, we are planning and want to be disruptive," Wachsberger said. A production of Brigitte Bardot is also incoming, per Breton. "I'm very close to financing the whole show. It's a mix, and we're very flexible."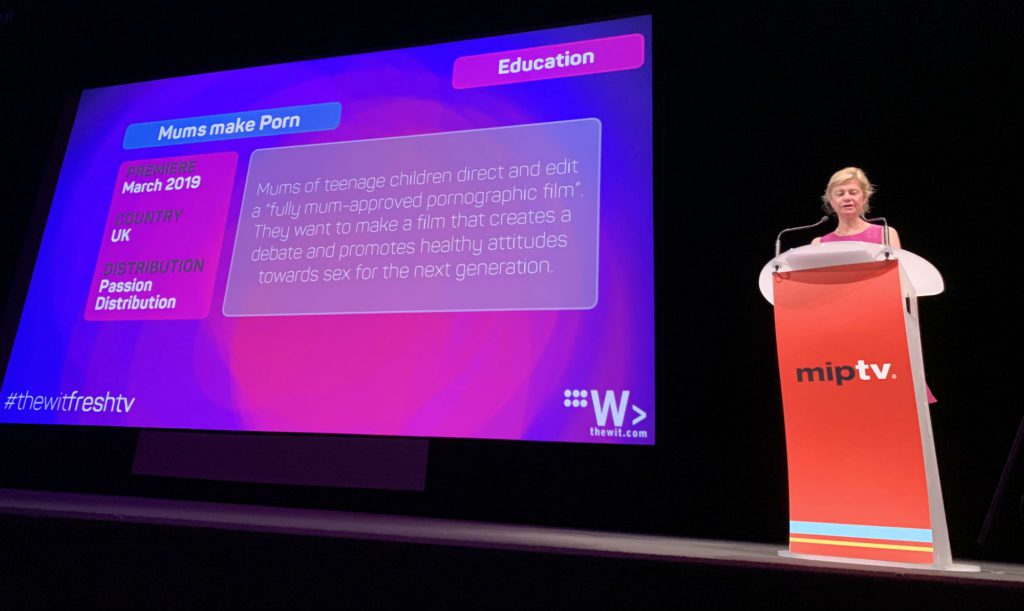 The Grand Audi was packed, as usual, for The Wit's Fresh TV Formats presentation, with CEO Virginia Mouseler showing off 24 of the hottest new shows and formats from around the world. Highlights included: District Z (distributed by Satisfaction), a zombie-adventure game-show inspired by The Walking Dead, where contestants have two hours to escape an undead-infested environment; You vs. Wild (Electus / Bear Grylls Adventures), an interactive Netflix series where viewers choose how Bear Grylls should tackle survival challenges; and Game of Talents (Fremantle) where contestant/celebrity duos have to guess the talent of 10 mystery performers. "Is he a gamer or a beatboxer? Do they twerk or breathe fire?" as the sizzle reel put it.
Dance Therapy (Newen Distribution) sees couples trying to salvage their relationships by learning to dance together ("Will they regain trust not by endless conversations, but only with body language?"); Naked Beach (Magnify Media) involves people who hate their bodies getting naked on a beach to recover their confidence); Been There, Done That (Banijay Rights) sees celebrities mentoring young people with challenges – eating disorders, addiction, discrimination, homelessness, transitioning etc – which the celebrity has also encountered; Mums Make Porn (Passion Distribution) sees five mothers who are worried about the nature of porn that their teenagers can watch online, and try to make their own porn film, which reflects better values; and Your Money or My Life (Vincent TV Productions) follows the crowdfunding efforts of people with terminal illnesses, as they try one last-chance operation to keep them alive.
Read our full Twitter thread for details of all the other shows (24 in all) spotlighted in the session.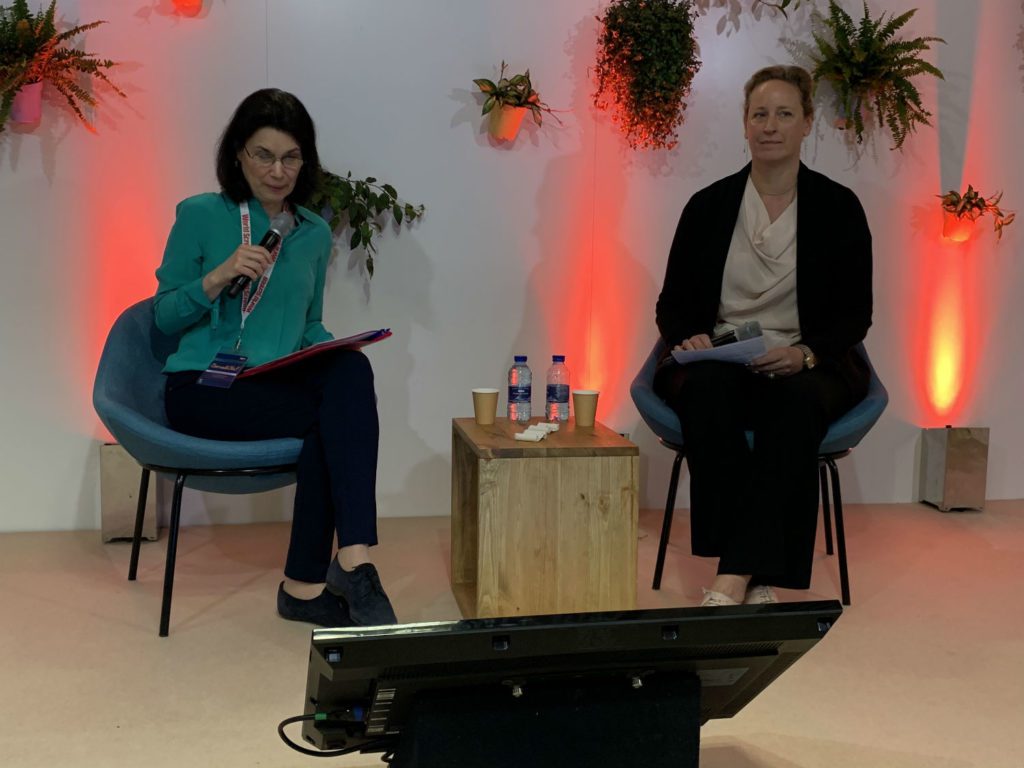 This year's International Emmy Kids Awards will be taking place tonight in Cannes, and this morning a  showcase of the nominees (full list here) offered a taste of this year's lineup of children's content. Genevieve Dexter, CEO of Serious Lunch, joined World Screen's group editorial director Anna Carugati-Guise to talk about the trends around the award categories.
The categories include Kids: Animation, with Dexter dispensing some advice to producers. "Teenagers do not want to watch CG [computer-generated] comedy," she said. "They reserve CG for feature-film or Star Wars. They don't want to see comedy in CG. So they have quite specific ideas about that: about the styles." She also talked about the challenges of digital content for kids. "We found that the kids were really not interested in affecting the ending, because it blew the myth. It ruined the story. But what they really did want was bragging rights. If you could give them a prize or reward them by including their avatar in the last episode, the interactivity went through the roof."
She added that broadcasters are keener to demand digital offshoots for shows than they are to increase budgets to create them. "Increasingly the broadcasters are either going online or launching SVOD, they want to offer additional content besides that. The trick is in financing it, because people want it, but they don't want to pay for it!" said Dexter.
She also talked about the demand from SVOD services for live-action children's shows. "They want to commission this a lot. They're finding there's a glut of animation on the market," said Dexter, noting that the animation market has received lots of subsidies from governments. "Live-action involves granting permits to people to run around London with cameras making a mess! Animation is very neat and tidy… so there has been an over-subsidisation and encouragement of animation, versus live-action. Hopefully that is a trend that is reversing."
The International Emmy Kids Awards will take place tonight: follow the @mip and @iemmys Twitter accounts for live updates once they get underway.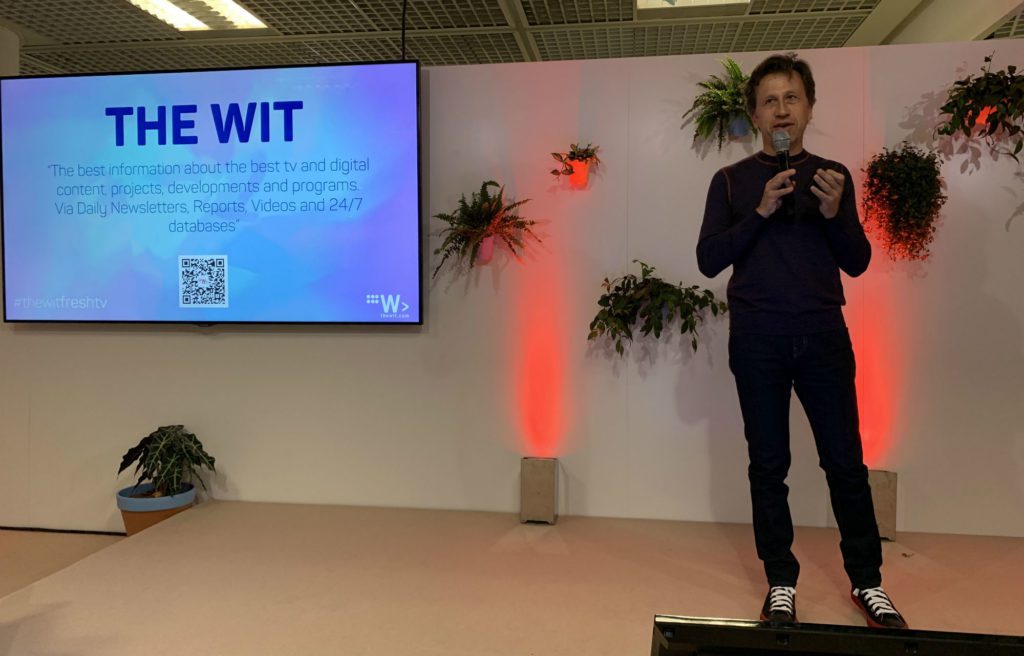 The Creative Kids Room also played host to The Wit's latest Fresh TV presentation: this one focusing on the children's sector, from live-action scripted series to animation and factual shows. Co-founder Bertrand Villegas was at the controls.
Among the highlights: Jams (distributed by RaiCom) which focuses on the lives of four 11 year-old friends starting a new school year – and their support when one of the group is harassed by a family-friend; Kids of Courage (Looks International): a live-action show telling the stories of children in the second world war; Dancing All The Way (Attraction Distribution), where two YouTubers show kids how to make chores less boring… by dancing; and Hi Mum Bye Dad (LineUp Industries) where a host drives children of divorced parents between their mum's and dad's house, while having honest conversations about how they feel about the divorce and their new lives. Read our full Twitter thread for details of the other shows in the session.
Additional reporting by Stuart Dredge and James Martin