As part of MIPTV's focus on Country of Honour France, an unprecedented lineup of leading French television executives lent insight into the enduring appeal of Gallic programming worldwide this morning.
With moderation from Variety's foreign correspondent, Elsa Keslassy, we first heard from Delphine Ernotte Cunci (above right), president of France Télévisions, and the first woman to hold that post.
"French original dramas are a huge success for linear channels, but we need to convince young people to watch more dramas, as well as a different type of drama," she told Keslassy. "What works on a linear channel doesn't always work online. We've decided to dedicate a certain amount of our budget to specific online drama" like SKAM, which adapts well to young people and would be virtually "useless" on linear, she said.
Cunci also talked about Salto, an upcoming OTT platform France Télévisions is launching with TF1 and M6. "I don't think we'll fight Netflix, but there's a place for a local actor in the SVOD business," she said. "I'm pleased we can find a way to be together on that market… between us, we'll have 80% of French dramas, factual and cartoons."
Salto, she added, "will be a dedicated company, "with its own will and means. Maybe sometimes Salto will be one big investor, producing. I hope so; we'll see. Why not?" It's just a question of time. "We're waiting for the antitrust to give us the agreement. Huge expectations in the next few months."
She also made revelations about how France Télévisions manages laws that forbid ownership of content rights in France over a certain percentage. "We sat at table with the producers' union and made agreements to secure rights, not to own them," Cunci said. "In exchange, we are securing the investments, so we made agreements that allow us to put drama online for free, and also in exclusivity."
France Télévisions' Call My Agent is on Netflix in France, "but tomorrow it won't be the case, unless we bargain with Netflix. If we finance, we can keep the rights for our own environments and platforms for two years."
Asked whether France Télévisions could afford to finance original content without Netflix, Cunci replied, "Oh yes, we can! Maybe one day we'll do something with Netflix. It's not a question of dealing or not. But before this agreement, we were not someone to talk with from the Netflix point of view. But now that we have exclusivity, we have something to deal."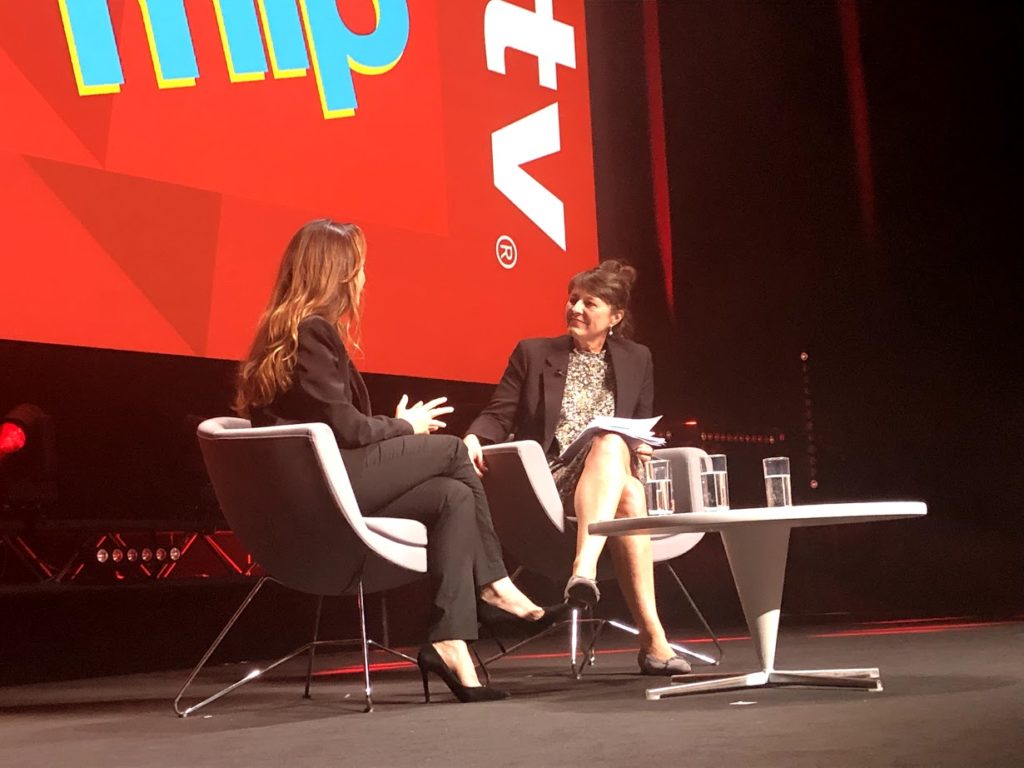 After Ernotte Cunci, we heard from Régine Hatchondo, director-general of ARTE France, the French half of the Franco-German cultural broadcast group ARTE.
Hatchondo began by pointing out ARTE's special position as both a French and German network. "It's a strong brand, but a little channel compared to France Télévisions and other channels in Europe… In this special era of linear and digital development, we have opportunities to accent our audience and change communities."
The network has always been at the forefront of digital innovation, Keslassy observed, noting that it finances a lot of VR in France, has since launched VR app ARTE Next, and was the first to launch a catch-up service. 
And yet its average age on linear has moved little. Hatchondo says that, on linear, it's about 60+ years old; on digital, 30-35. "The challenge for ARTE today is development of digital, and Europe. Those are the two points of the ARTE strategy," she said. "80% of our audience reaches ARTE via linear broadcast; 20% reach it thanks to digital tools."
Thus ARTE's moved into a "hyper-distribution" strategy, an effort to "be everywhere" — on Facebook, Instagram, YouTube and connected TV. The critical thing will be to maintain production quality, protect ARTE's independence as audiences develop across platforms, and defend its brand.
In May, ARTE will also be meeting with other major broadcasters. "We want to build an alternative platform with shareholders ZDF in DE, and France Télévisions for France… to create a European platform with the best of big European channels, not in competition with Netflix because we have no money for that, and it's probably too late. But we can create and develop an alternative with meaningful, high quality programmes," she reflected.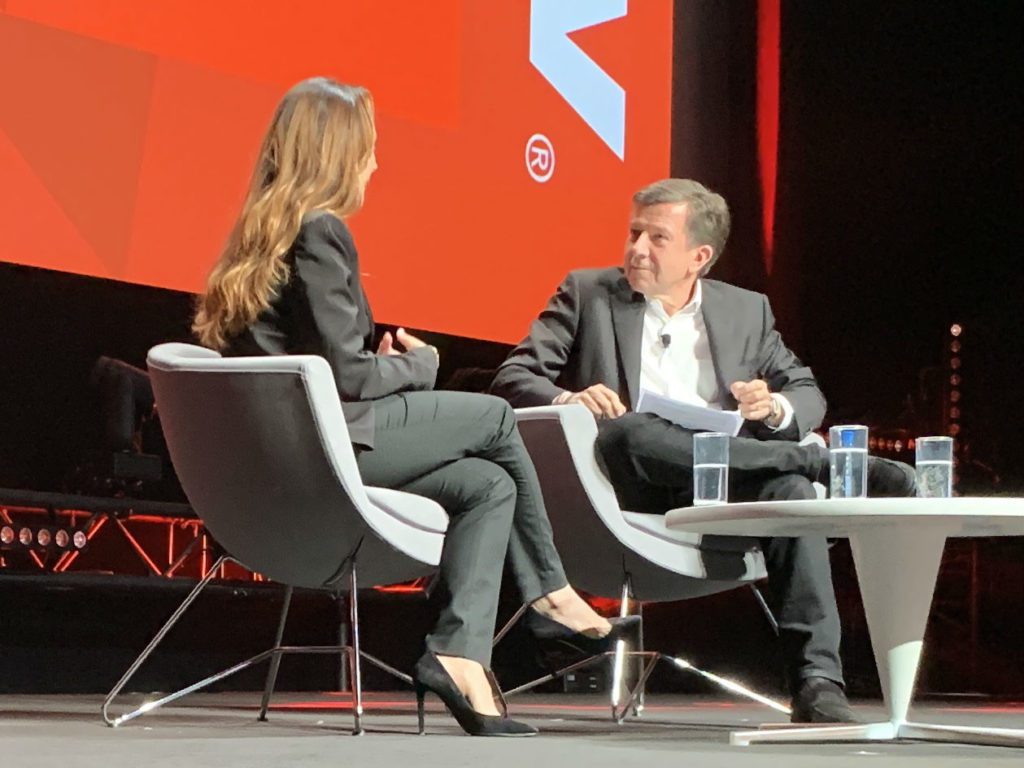 Gilles Pélisson, who's been chairman and CEO of TF1 Group since 2016, was next in the hot seat to be interviewed by Keslassy.
"We capitalise mainly on our strengths… and in our world it's about content. So we have been focusing heavily on how we could improve our channels, maybe give them more personality… betting on some new shows, and taking some risks," he said. "The most important thing was to get the energy in the company to express itself."
Pélisson tackled a question about audience fragmentation by suggesting that more accurate measurement of all the ways people watch TV is required. "Today it's very poorly measured. We have people sitting on the couch, but we have to catch them in mobility," he said, hailing plans to do exactly that in France in the near future. "We will have the way to capture that. I think you will see the real viewership, especially for the younger segment, coming back up. We know they watch, but we don't measure it!"
He also talked about SVOD service Salto, expressing the hope that it will clear regulatory hurdles as quickly as possible. "As soon as possible, because there is urgency in the matter… Everybody knows that Apple TV+ is coming, WarnerMedia is coming, Disney+ is coming. Beyond Netflix, beyond Amazon you will have a very good choice of platforms, and to have a local choice like Salto will also be appreciated by the French public… Hopefully by the end of 2019, we should be in business."
TF1 is currently investing around €160m a year in French TV dramas, as well as €40-45m a year on movies. "We are badly affected by the drop in quality of what comes out of Hollywood. There was a time when we had series and we could rely on them," he said. "It's very difficult. And so for all of us domestic broadcasters, our play in the future will really be focusing on local content. We have this connection with the French audience that we know and respect."
He left with an optimistic message for the TV industry, despite competition from the tech giants. "I'm a big believer in the way that TV media is a strong media, which gathers audience, gathers families. It's a social link between people. So if we do our job well, we can express things that the internet will never do for you…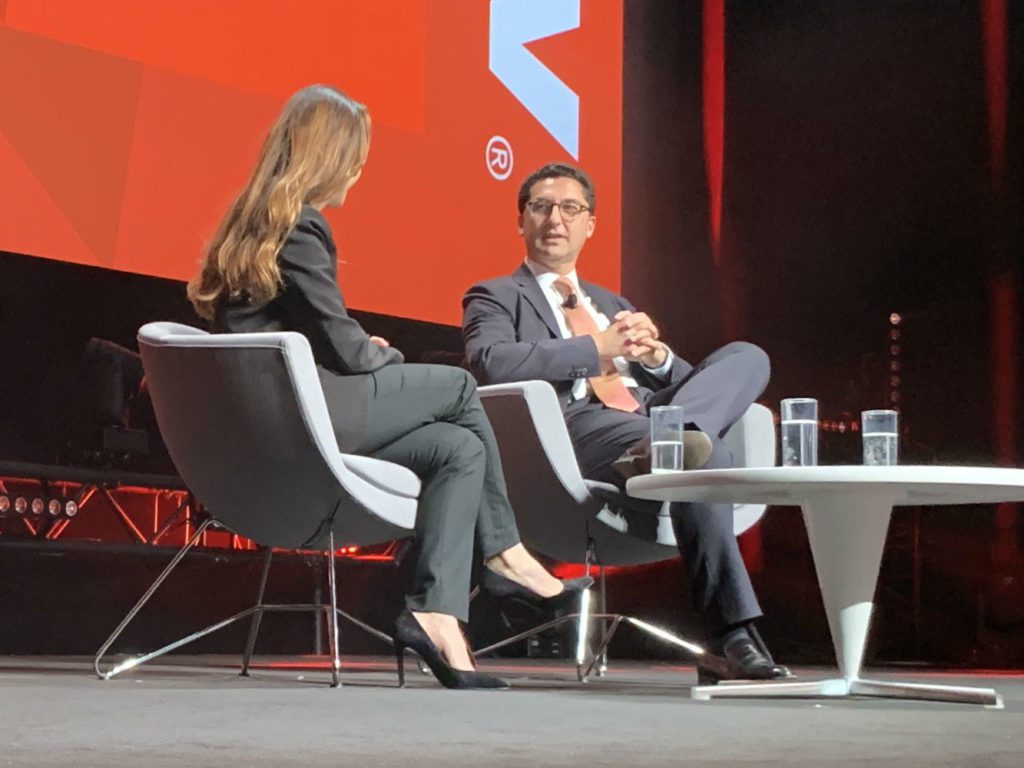 The fourth and final keynote featured Maxime Saada, chairman and CEO of pay-TV and media company CANAL+ Group, and also chairman and CEO of online-video platform Dailymotion. CANAL+ ended 2018 with 16.2 million subscribers globally – half in France, half worldwide -and the international aspect is key to its business. "International is going to grow faster… We're producing more and more content that can travel."
Saada wasn't shy of taking the odd jab at competitors from the SVOD world, even if he was careful not to name a specific target when suggesting that "it's not about the algorithm with us. It's about giving voice to talent… and it's about universal stories".
CANAL+ has taken financial stakes in seven production companies around Europe, while creating an eighth in France, in part to ensure it has a share in the rights for new IP. "For us, it's a big issue," said Saada. "We believe that Europe is the only credible alternative to American culture, which is completely dominating today – even more so than a few years ago… To do that, we need to have some kind of ownership. When we finance 70, 80, 90 or even 100% of a drama, but don't own anything except the right to broadcast it, that's a problem for us."
CANAL+ is adopting a pragmatic approach to the tech giants, however. It was the first French broadcaster to strike a deal with Netflix, for the drama series Safe. "They do honestly a great job, and we're very pragmatic. We were [also]the first non-American company to sign a deal with Apple," he said, referring to the co-production agreement for an English-language remake of drama series Calls.
Saada praised the SVOD platforms on one hand. "As far as I'm concerned, they're convincing people – especially Netflix – to pay for content. The number one issue we have is piracy… our estimate is we're losing 500,000 customers to that. So when you have someone come into this sector like Netflix investing in content and saying 'you should pay for that', as far as I'm concerned, they're in my corner," he said. However, he warned that intensifying SVOD competition may strengthen, rather than weaken, the likes of CANAL+.
"At one point everyone is going to go direct-to-consumer, you're going to have 50 or 100 Netflix-alikes, and the consumer is going to be lost in a swamp, in a sea of €5 or €10 offers," he said, pointing out that there will be a limit to how many different subscriptions viewers want to commit to. "And in that space, I believe CANAL+ will be resilient."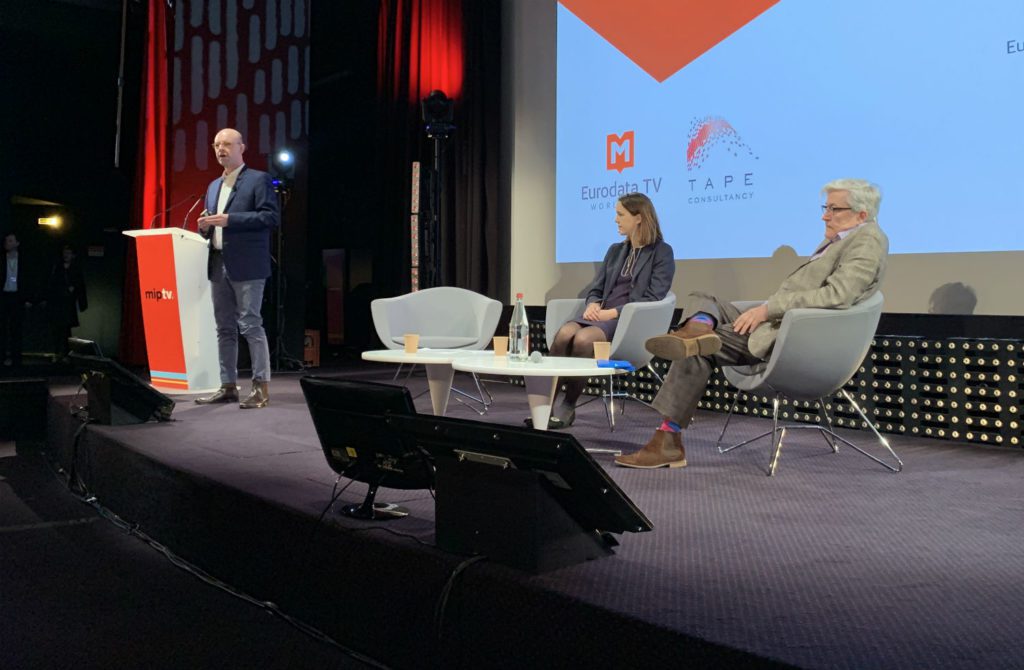 Early in the day, Eurodata TV Worldwide's VP Frédéric Vaulpré and head of content insight Avril Blondelot were joined by TAPE Consultancy joint-director Paul Youngbluth for a session on audience trends, based on the One Television Year in the World Report.
Vaulpré kicked off with some stats on TV viewing time and new ways of consuming. The worldwide average daily viewing time for TV is now two hours 55 minutes: "just one minute less than the year before". And for young adults it was one hour 56 minutes – two minutes down on the year before. Meanwhile, time-shifted viewing is now 8.3% of the average viewer's TV diet, up from 7.6% in 2016. For young adults, time-shifted viewing is now 8.8% of their viewing. There's also a trend for 'pre-broadcast' viewing – where people can watch a show online before it airs on TV. 37% of UK views of drama Killing Eve were pre-broadcast, for example, while another 25% were time-shifted.
Blondelot took over for some more TV trends. More than 10,000 new series launched on TV plus SVOD in 2018. 43% of them were factual shows, 16% were entertainment and 41% were fiction. Meanwhile, of the 32 'top' series identified by EuroData, three quarters were dramas, and 80% were local productions.
She picked out five trends for launches so far in 2019: new spins on dating shows (examples: Sanatorium Miłości, My Secret Match and Dating Detectives); health-related factual shows (113, Operation Live, The Toe Bro); political dramas (Project Blue Book, The Inner Circle, Years and Years); crime-dramas putting families in peril (Judas, Over Water, Ehostela) and unexpected co-productions or format-translations (The Masked Singer, Stranded With a Million Dollars, Invisible Heroes).
4K came of age this morning in a Sony panel of the same name, featuring the latest data from Eutelsat on the number of 4K channels on air around the world, and the prospects for the rest of 2019.
Moderator Chris Forrester, journalist and consultant, parried with the minds of Eutelsat's director marketing innovation, Michel Chabrol, and Sony Corp. Japan's senior producer of corporate technology strategy in the technology alliance division, Yoshiaki (Joe) Nakata.
All major Japanese broadcasters launched 4K channels, including NHK, which also kicked off 8K commercial broadcasting. "This is great progress. Every day new content is produced; of course, we have to work hard to keep producing quality and quantity of content," said Nakata.
Chabrol said, "The Tokyo Olympic Games in 2020 will be in 4K and 8K," as will the Winter Olympic Games in Beijing in 2022. "It's a general trend." He added with pleasure that, in December, "Eutelsat contributed to the inauguration of the 8K channel in Japan with NHK, with retransmission from Europe to Japan."
To date, per Eutelsat and Chabrol, there are now 155 Ultra HD/4K channels or feeds worldwide, representing growth of 24 percent in one year. 76 of those channels or feeds are European.
Those 155 channels or feeds further break down thus: 60 channels total, 93 services (such as IPTV) and two DTT channels.
Additional reporting by Angela Natividad