Today's MIPFormats keynote featured Jeff Apploff (above), executive producer and CEO at Apploff Entertainment. He's the creator of formats including Don't Forget The Lyrics and Beat Shazam, while his latest show, Mental Samurai, launched in March on Fox as an 'obstacle course for the mind'. In the past, he has also executive-produced formats like Million Dollar Money Drop and Take Me Out for Fox. He was interviewed by Manori Ravindran, international editor at TBI.
Apploff said the roots of his most popular shows lie in activities people do every day. For example, Beat Shazam was inspired by driving in his car, using the Shazam app to identify songs playing on the radio. "The other thing that's really important for me, and should be important for anybody who's creating formats is: no shortcuts! I always say 'only everything has to be perfect!' You've got to poke holes in it… flush it out, play it out and keep doing it until it's great. Then you can go to the network, sell it and make it even better."
He talked about SVOD platforms and the digital landscape. "We're in a new place right now. Television's in a new place. Everybody's looking for that next big new format.  You're trying to figure out how to tie digital to that. My company has been working very very hard to try to crack the code," he said. "But my company is premiering a brand new platform that's called Fuego. It'll be 24-hour programming of games that you can play at your own leisure… and live-streaming games like HQ Trivia where you'll be able to play."
Where is he looking for inspiration for new formats? "I'm always looking at this country [France] because I've had such success here. But for me it's also about looking in the other direction. You see something like The Masked Singer, and now everybody's trying to make The Masked Singer… cloning never works for anybody. They cracked the magic, you have to go crack a new magic!"
Apploff talked about his team-building strategy. "I've built my career by surrounding myself with better, smarter people than me… We're all trying to find that special sauce."
Apploff's keynote was followed by a pair of case-study sessions. The first focused on The Masked Singer, a US adaptation of South Korean show King of Masked Singer, which sees singing celebrities competing – the twist being that they wear head-to-toe costumes concealing their identities. Craig Plestis of Smart Dog Media and Damon Park of Munhwa Broadcasting Corporation were interviewed by journalist Kate Bulkley about their process.
Park said that the original show launched in April 2015. "The original concept of the show was a kind of comedy," he added, noting that the show has gone through several different iterations as it has been adapted abroad, for the US and other countries. "In China, they changed the structure, and in Thailand they use huge, beautiful costumes. It is quite different from Korea," he said.
In Korea, it's been a mix of celebrity contestants who are really talented singers and those who are… less so. Secrecy is all-important too: only a handful of the production team know the identity of the celebrities taking part.
Plestis discovered the show while eating at a Thai restaurant with his family, when the Thai version of the show was being shown on the eaterie's TV screens. "My daughter was saying 'you got to take a look at it: this bizarre show is on TV!'… In the whole restaurant, no one was eating their food: everyone was glued to the TV… it was a good restaurant too. The food was great!"
"With this show, if it wasn't for social media, it wouldn't be the phenomenon that it is," added Plestis. "It really encouraged the audience to talk, and to guess… People were playing the guessing game online. This brought families together: they didn't watch it separately… They watched it on the couch together."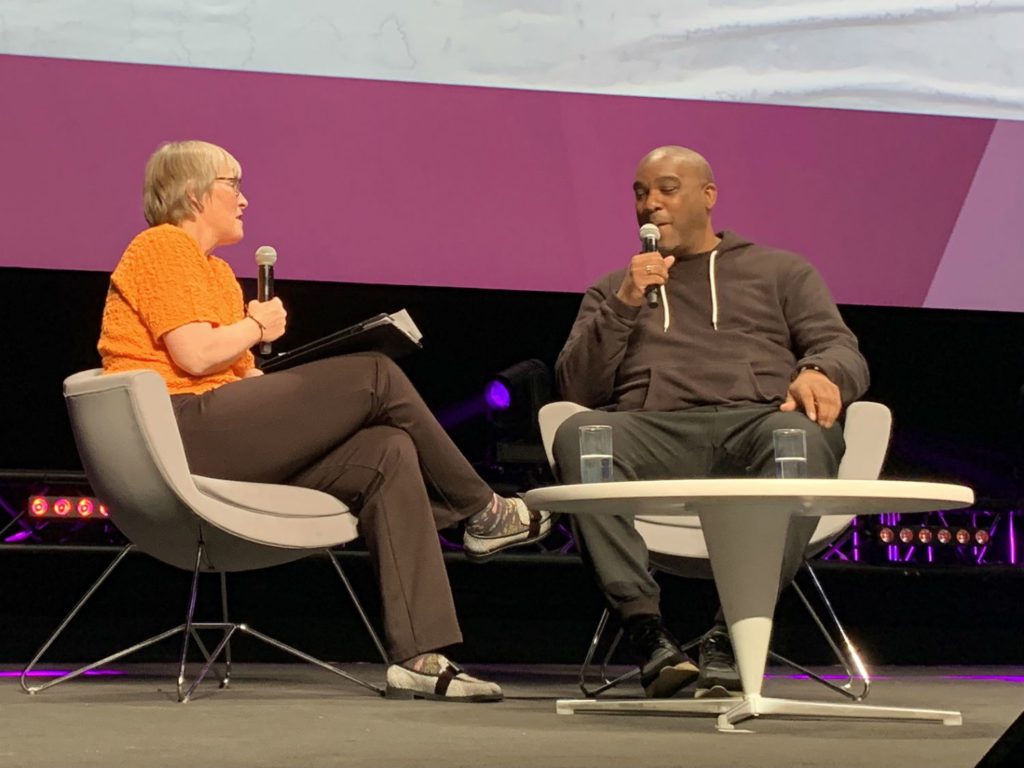 The second MIPFormats case study focused on Rhythm + Flow, a Netflix Original show in which judges Cardi B, Chance the Rapper and T.I. search for the next emerging hip-hop star. Mike Jackson, of Get Lifted Film Company was interviewed by Bulkley about the project.
"We soon realised that you can't do an authentic hip-hop show on broadcast television," he said, citing swearing as one issue. "If you're going to do a show for the culture, you've got to be able to represent the culture… Netflix gave us the global platform, budgets that could compete with networks, and the freedom… to represent the culture."
"The idea is just to find the dopest rappers, the best stories," added Jackson. "We are unapologetically proud of Cardi: all that she does and all that she represents… She is incredible as a judge, super-smart… she knows the game, she knows the hustle, and she's a great representative for the show." Jackson noted that the show gives contestants the chance to deliver their own material, rather than just covers like other music-talent shows.
All the episodes drop at once on Netflix, so they all have to be produced before the season launches, and there's no public vote: it's entirely the judges deciding which artists progress. Does that present a problem for building buzz on social media? "I think hip-hop's the biggest genre of music in the world. And I think between John Legend, Cardi B, Chance the Rapper and T.I we're probably on about 60 million people before anybody presses a button… I really think this show is genre-defining as far as competition series go. We've got so comfortable with that weekly reveal [but]I think there's a lot of ways to skin a cat."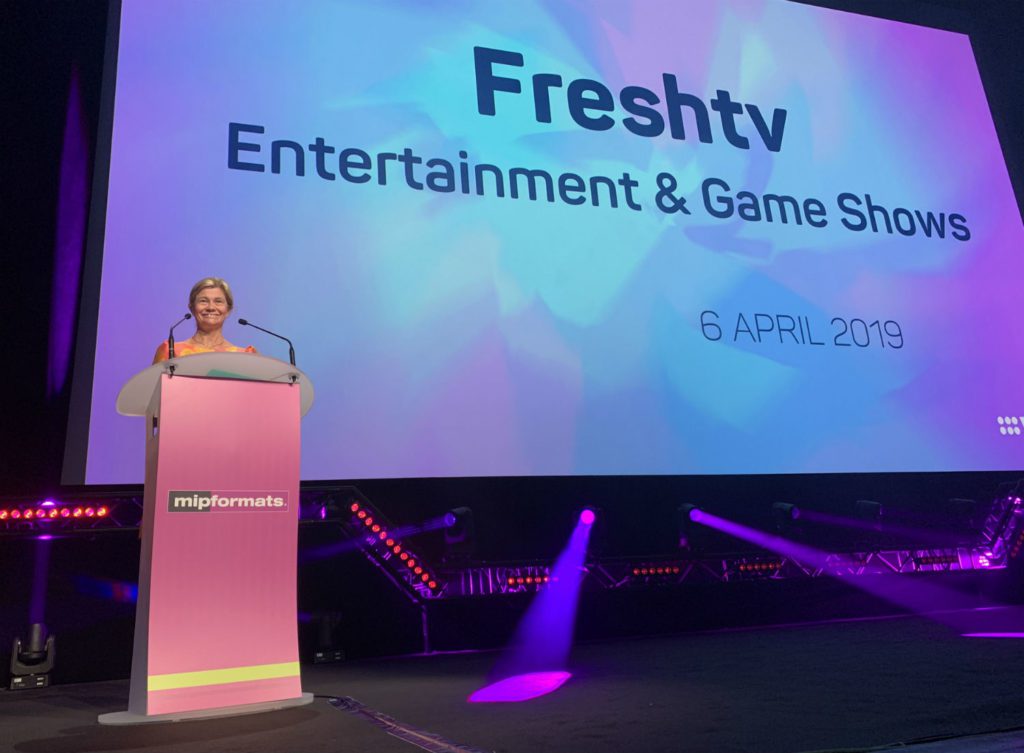 The Wit's 'Fresh TV' presentations are always big draws in Cannes, and the first one for this year's market took place at MIPFormats this afternoon, focusing on entertainment and game-show pilots from around the world. CEO Virginia Mouseler offered highlights including:
Dating #NoFilter, distributed by NBCU. A bit like Gogglebox, but it's professional comedians commenting on first dates, rather than viewers on TV shows.
Dated (Borderline Media) from France: a singleton whittles down six suitors by looking at their photos, videos, stories, and tweets from their past at 15, 20 and 25 years old.
Worst Engagement Ever (Borderline Media) from France: two contestants compete to make the "worst and wackiest proposals possible" to their partners, trying to win a honeymoon and cash.
Catchpoint (ITV Studios) from the UK has two teams answering picture questions, by catching giant balls with the correct answers on. "It's catching balls for fun!" Presented by Paddy McGuinness.
Wonderball (BBC Studios, UK) gives three teams of two players five numbered balls, drawn at random. Players answer questions to eliminate their opponents' balls.
5 Steps and Help (Azteca International, Argentina) see six contestants bringing personal objects and climbing eight steps by answering questions correctly. The winner sells his object to the host at the price of his/her choice.
Stand By (Onza Distribution, Spain) is a waiting game: contestants must be the last one to answer each question – but they don't know the time limit that they have to answer within.
The Hit List (Keshet International) from the UK is bringing the idea of Name That Tune back: three couples have to guess the name and artists of well-known songs – in the "lively atmosphere of a rock concert"
The Ultimate Beauty Queen (Borderline Media) from France takes 13 beauty queens and kings, each in their own category (e.g. 'Miss Plus-Size', 'Miss Cinderella', 'Miss Mermaid') and they compete AND live together for eight weeks.
Crime Scene (Newen Distribution) from France is a studio-based crime investigation show, where two contestants team up to solve a murder, kidnapping, theft etc. They have to find the culprit in each case by earning clues.
The Chamber (ITV Studios) from the UK sees two teams battling it out in mental and physical challenges in a network of caverns and tunnels. "Set in a real slate mine… the world's first underground game show!"
Beat The Rooms (Red Arrow International) from Japan: contestants are challenged NOT to do something that they can't really avoid doing in two 'extreme' rooms. Sumo wrestlers, underwater breath-holding and slippery-oil floors ensue.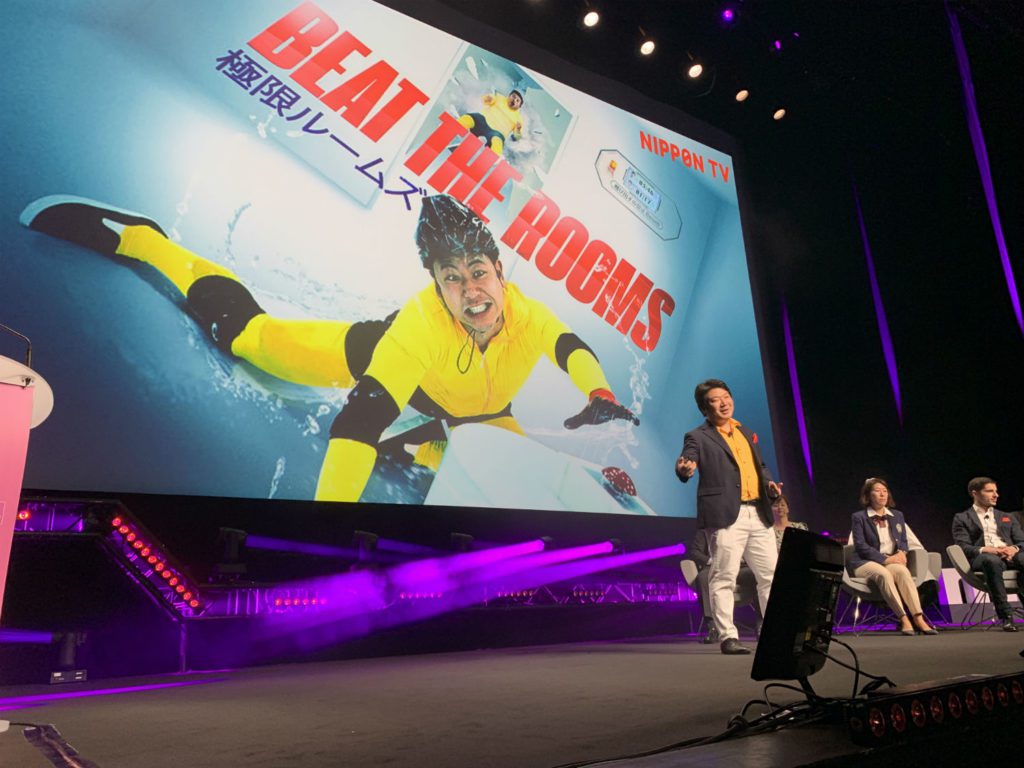 The Fresh TV session was followed by Treasure Box Japan's popular Japan Formats Showcase session, with eight major Japanese broadcasters showing off their latest formats. They included: Beat the Rooms by Nippon Television Network Corporation (Nippon TV); Endless Pranks by Fuji Television Network, Inc. (FUJI TV); High School 3-C! by TV TOKYO Corporation (TV TOKYO), and Bukkomi Fake Busters by Tokyo Broadcasting System Television, Inc. (TBS Television).
Also on show: Brain Poker by Yomiuri Telecasting Corporation (YTV); Sweet Kiss Bitter Kiss by TV Asahi Corporation (TV Asahi); Golden Spoon: Mama is the Best! by Asahi Broadcasting Corporation (ABC Japan), and Cinderella Network by NHK / NHK Enterprises, Inc. (NHK/NEP). The session was followed by a snack-lunch and networking in the Foyer Debussy, as MIPFormats buyers explored the rich vein of new shows from Japan.
It was a day of inventive ideas at MIPFormats, with the International Pitch session showcasing six new and original non-scripted entertainment formats, pitched by their creators to a panel of judges including François Tron (RTBF); Jo Wallace (BBC); Gena McCarthy (A+E Networks); Thierry Ventouras (RTS); Craig Orr (MTV International) and overseen by David Jenkinson (C21 Media).
The pitches included: The Love Experiment, pitched by Rebecca Barry and Sinead McDevitt of Media Stockade; Thanks for Watching, pitched by Itziar Baztarrica of Secuoya Contenidos; The Wall Project, pitched by Nilufer Kuyel of Lucid Dream Entertainment; Change My Mind, pitched by Kristy Fuller and Amy Parks of 1440 Productions; The Van, pitched by Tiago Soares and Vitor Marques; and Remember Me, pitched by Zhang Bin of Shanghai Hey U Media.
The jury's pick was Change My Mind, with 1440 Productions' Fuller and Parks (above) winning a €5,000 prize offered by La Fabrique des Formats and Natixis. The show takes an adult and a child with opposing opinions, giving them 48 hours to see if one of them can change the other's mind – on topics like gun controls or animal welfare. Parks hopes that the show will be watched by children and parents together, and that they'll be motivated to talk about these topics after each episode. "We feel this show will not be watched silently…"
The MIPFormats audience also voted for a People's Choice winner, which was The Wall Project. Meanwhile, as the session closed, Natixis announced that it would also be providing funding for The Van.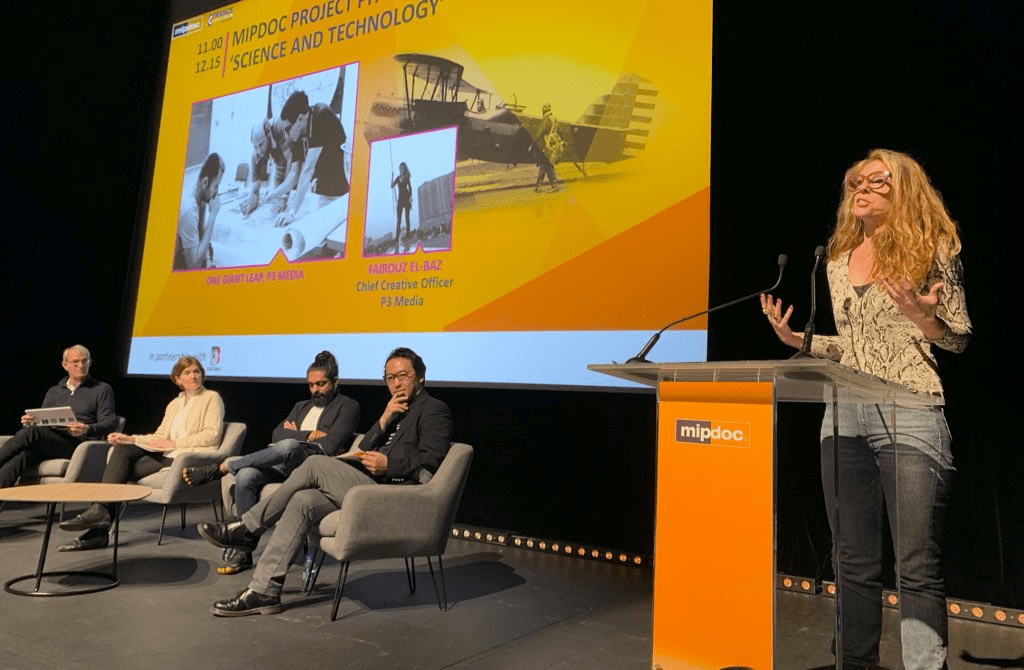 On to MIPDoc, which also had some pitches for attendees to enjoy this morning: the Project Pitch for Science and Technology Programmes. Jury members Chris Hoelzl (Smithsonian); Akul Tripathi (DocuBay – the Pitch partner); Hiroaki Katayama (NHK) and Nina Tuominen (YLE) assessed five pitches: Space Beyond, from Beagle Media; 7 Wonders, Rebuilding Legendary Monuments from Sequana Media; Ariane, The Impossible Bet, from Lucky You; Global Science, The Most Incredible Breakthroughs, from Mediawan Rights-T2MP; and One Giant Leap, from P3 Media.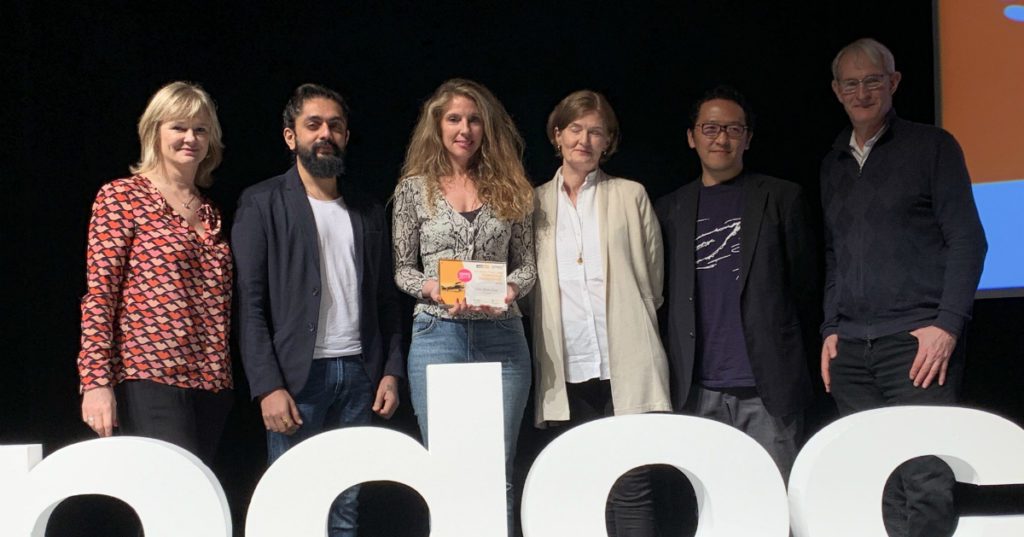 The latter pitch emerged as the winner: it's P3 Media CCO Fairouz El-Baz's story of her father, an Egyptian scientist who prepared US astronauts for space travel. "We are honoured that One Giant Leap was chosen as the winner of MIPDoc's Project Pitch (Science and Technology)," she said afterwards. "The film — which traces my father's incredible journey from humble origins in Egypt to the apex of the American space programme — comes at an important time in our national and international conversation about immigration, race and religion."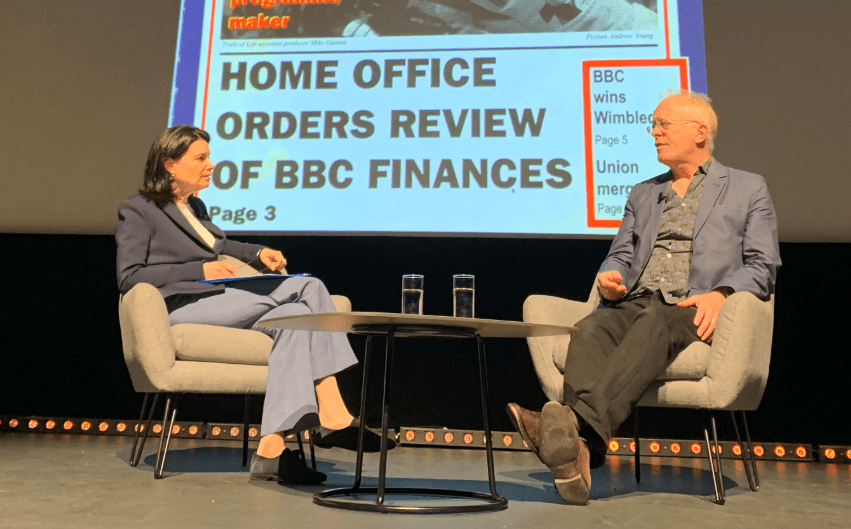 Another MIPDoc highlight today was a special session with documentary visionary Dr Michael Gunton, Creative Director of the Natural History Unit & Factual at BBC Studios. Gunton started working in documentairies with Sir David Attenborough on renowned series Trials of Life in the late 80s, he said, somewhat by accident; "I ended up making documentaries for the next 30 years!"
"To do good wildlife work, you have to be clear about the story you want to tell," Gunton told moderator Anna Carugati-Guise, of World Screen. "It's about trying to find surprising stories. Some of the best surprises come when the opposite of what you expect happens. For example, with Trials of Life, we discovered that during the mating season, rhinos get all amourous and start having a party at night!"
Then on to Planet Earth 2, one of Gunton's best-known programmes, whose aim was  "to get close as possible to the animals, as if you're living their life," he said. None more so than in one of the show's most famous moments, when a young iguana escapes from hundreds of snakes. "People around the world were shouting 'run, iguana, run!', enthused Gunton. "That doesn't usually happen with documentaries."
The session then concluded with Gunton teasing next project, Planet Earth 3, which will focus on "the green world. When you shift time with new technology, the plant world is amazing," he said.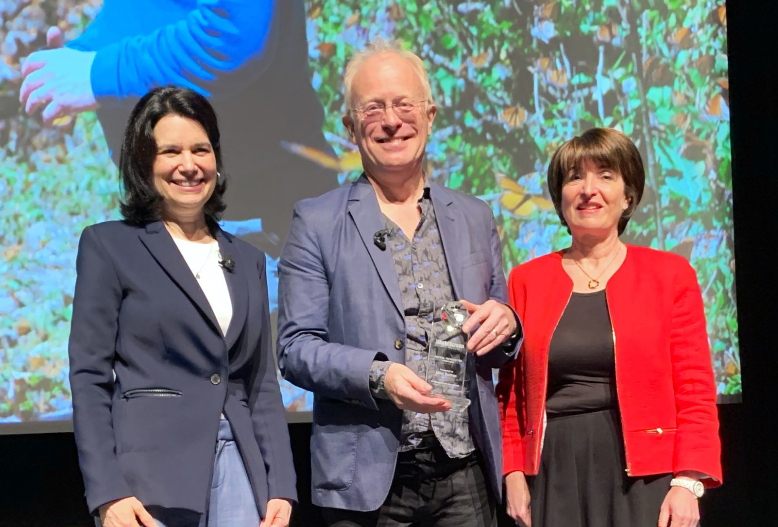 Gunton then received the World Screen Factual Trendsetter Award, from Anna Carugati-Guise (left) and Reed MIDEM's Laurine Garaude. Congratulations!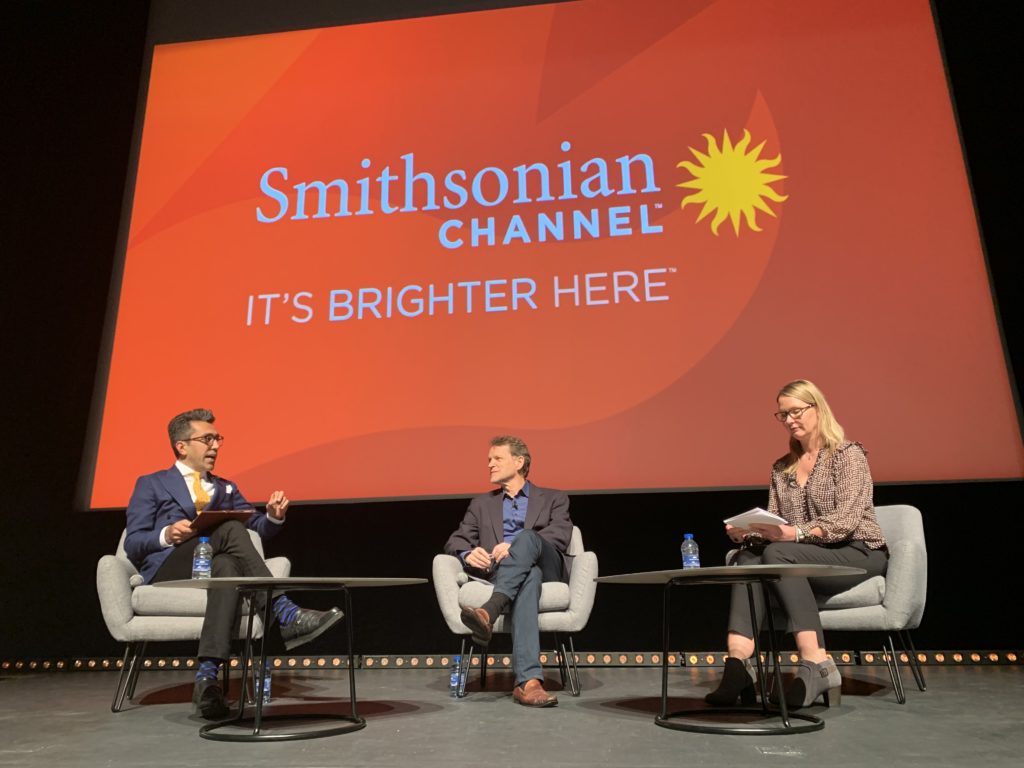 MIPDoc day 2 then closed with a  World Preview of Britain In Colour, from the Smithsonian Channel. "France's Apocalypse really showed us how colourising can help bring history to life," said Smithsonian Channel's David Royle. "We saw a colourisation demo here in Cannes, and decided to do America in Colour, which is now in its third season. Next, we discussed Britain in Colour."
Made by the same producer as America in Colour, Arrow Media – represented by Sam Starbuck, right above – Britain in Colour's creators were more than familiar with the appeal of colourisation. "When archives are colourised, the veil of time is wiped away; it feels new, and engaging," said Starbuck. Rather than going by decades, however, "we went by themes (Royalty, Empire & Churchill)", said Starbuck. "All very British, but with global appeal. It starts with Queen Victoria in 1896; one of our earliest footages ever." All in all, a jewel in the global crown of the Smithsonian Channel, which now reaches 20 million homes in the UK, not to mention Latin America, Singapore and Canada.
Meanwhile, this morning at CANNESERIES, actor Dame Diana Rigg sat down for a masterclass session, fresh from accepting her Variety Icon award last night. Among the topics she touched on with interviewers Alain Carrazé and Iris Brey were gender pay-inequality in the entertainment industry, going back to her days playing Emma Peel in The Avengers.
"I was paid less than the cameraman! Can you imagine?… I remember thinking 'Something's wrong here. Very wrong'. And so I publicly complained, and the newspapers got to know of it, and it hit the newspapers, and I was represented as this incredibly mercenary young woman who was stepping out of line, and demanding money. Imagine!" said Rigg. "And I was lonely, because nobody supported me. Patrick [Macnee, her co-star] was a dear, dear man, but like a lot of men, he didn't like to make trouble… So he didn't support me. He kept his head, as we say in England, below the parapet. But anyway, I got more, and thereafter I was labelled rather go-getting, hard. And it was unfair, because I wasn't. But what had happened to me was wrong."
Rigg noted that there are still high-profile debates about pay-inequality in Hollywood today. "It's terrible that the fight goes on. As a woman, I go to see every bit as often the famous female leading a film as I would the male lead. So quite why there is this disparity in the pay cheque, I have no idea, but the bosses have to be talked to about this, don't you think? Get their bottoms spanked. They might like it, on the other hand!"
She also talked about her role playing Lady Olenna Tyrrell in Game of Thrones. "They tested me: one of the earliest scenes I had to do was incredibly difficult speech. I was listing all the things my marching army would need. It went on forever. Talking about the sheep and the cows and the soldiers… I read that and I thought 'these guys are testing an old actress to see i they can get it into her head and say it'. And I thought 'F*** you! I'll do it in one take'. And I did!" she laughed, before explaining how much she relished the role of Lady Tyrrell. "I love playing bad, may I say? It's so much more interesting than good. Many more layers. There are some actors who like to be liked. I love to be disliked!"