MIPJunior's first morning included a Creator Superpanel of children's TV luminaries, including Ben Bocquelet, creator of The Amazing World of Gumball; Fresh TV's Tom McGillis, creator of 6teen, Toked and Total Drama Island; 9 Story Media Group's Angela Santomero, creator of Blue's Clues and Daniel Tiger's Neighbourhood; and Jonathan Shiff, creator of H20 – Just Add Water, and Mako Mermaids.
Interviewed by World Screen's Anna Carugati-Guise, the panel talked about their creative inspiration. "For me the creative spark comes mostly from everyday experiences," said Bocquelet, saying his own quirky family provided lots of material for Gumball. "I've got a whole bunch of weird stuff that happened to me as a kid, and still keeps happening to me as an adult! So I keep dipping in to this…"
Santomero talked about the importance of TV and humour as a bonding tool. "When we can all laugh together, that's something that can bring more and more viewers in… and for little ones it's more about surprises and silliness. And as they get older it's about that joined embarrassment of the situation they're in, which makes everybody laugh together."
Inter-generational viewing was a theme, with Bocquelet saying that with Gumball "we wanted for someone older to be able to watch it with them… a show that a little brother and a big brother could bond over. Or someone could watch it with their dad or their mum and laugh together, like I did with my parents and The Simpsons".
Shiff outlined the differences for live-action shows aimed at tweens. "I've always found it better if the characters are facing adversity with a bit of sass… it's more about wry humour, or clever, empowering humour, particularly as a counterpoint to what they might be dealing with… You have to do humour as an empowering device, rather than as slapstick," he said.
McGillis chimed in. "As a rule of thumb, fart jokes always work!" he said, before noting that for a lot of children, jokes that leave their parents slightly baffled can also have a strong appeal. "It's about empowerment, having their own space," agreed Shiff.
The panel talked about spin-offs, including digital products for screen-savvy kids. "For the smaller screen, for the bigger screen, we're constantly thinking about how do you make sure the intent and the soul of the project is there, and it works?" said Santomero.
McGillis said he doesn't think about screens and platforms. "We think story… but I guess the platform will often dictate the format length… even now the rule of thumb just keeps getting thrown out the door… Really we tend to rely on our commissioning broadcasters to tell us this is what we want, and how long it's going to be."
The panel talked about challenges that they face. Blending 2D, 3D and live action for Gumball, for example. "It was a mistake! I shouldn't have done that!" joked Bocquelet, who based the show's look on some of his experimental work in his earlier ("utterly unsuccessful!") career making commercials. "It's a hard, complex pipeline to put together," he admitted. "But it's what helped us stand out a little bit as well."
Shiff also talked about the importance of strong, empowering roles for girls in his shows. "Young women need stronger young female role models in a world that so greatly disempowers them," he said. McGillis, meanwhile, explained how Fresh TV had created a 'reunion' episode of its show 6teen timed around the upcoming mid-term elections in the US, with the characters discussing whether they'd register to vote.
"Within a week we hit eight million views, which means eight million first-time voters were at least given the chance to think about registering to vote," he said. The panel concluded with the four creators being presented with World Screen Trendsetter awards for their work in the industry.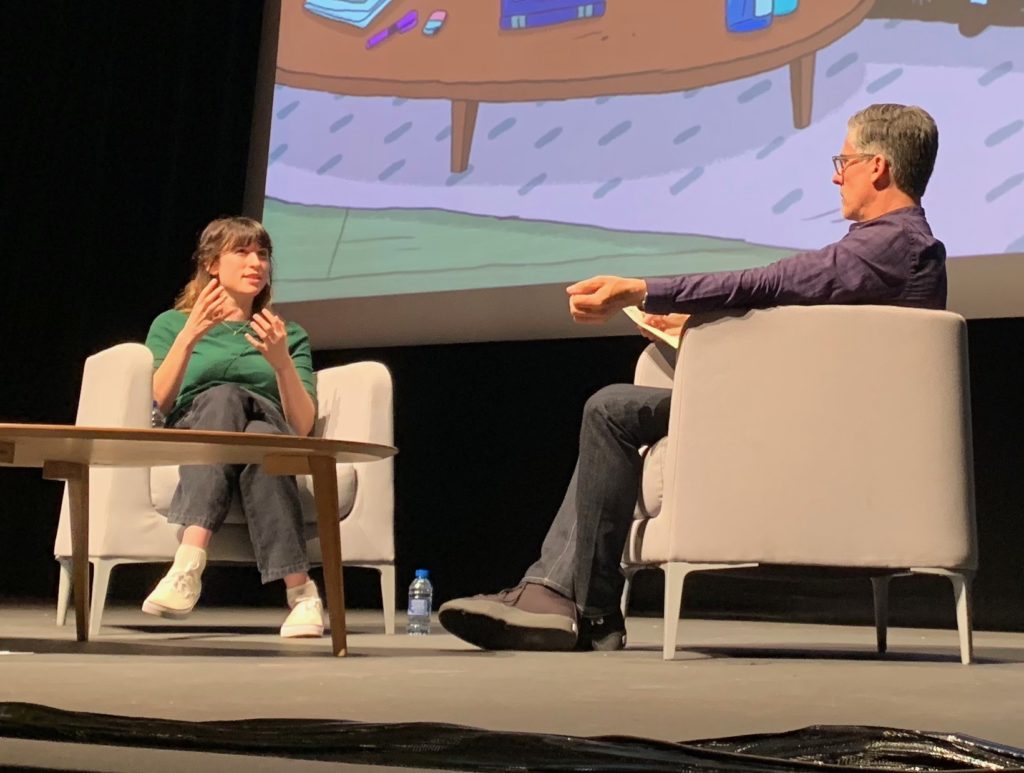 The day also saw Cartoon Network show off its new series, Summer Camp Island, with chief content officer Rob Sorcher hailing it as "a property that's truly unique: that's a fully-developed world that has a gifted and clear voice behind it". Creator Julia Pott (above left) talked about her background.
"When I was very very young, three, I wanted to be a balloon! That was my career aspiration," she admitted, before talking about why she chose to go into animation rather than her other creative option of children's book illustration.
"What I loved about animation was you could animate your feelings. When you're feeling embarrassed and want to sink into the ground, you can do that with animation! You can't do that in children's books."
Pott talked candidly about the experience of taking Summer Camp Island from prototype project to a full, in-production show, including panic attacks and her use of a dedicated "crying toilet" in the office. But she also talked about why she hopes the show will find an audience in 2018.
"It's nice to write with the sincerity… There's a gentleness to it. We're speaking to people who are craving gentleness right now… Anyone who wants to feel soothed, it's for them!"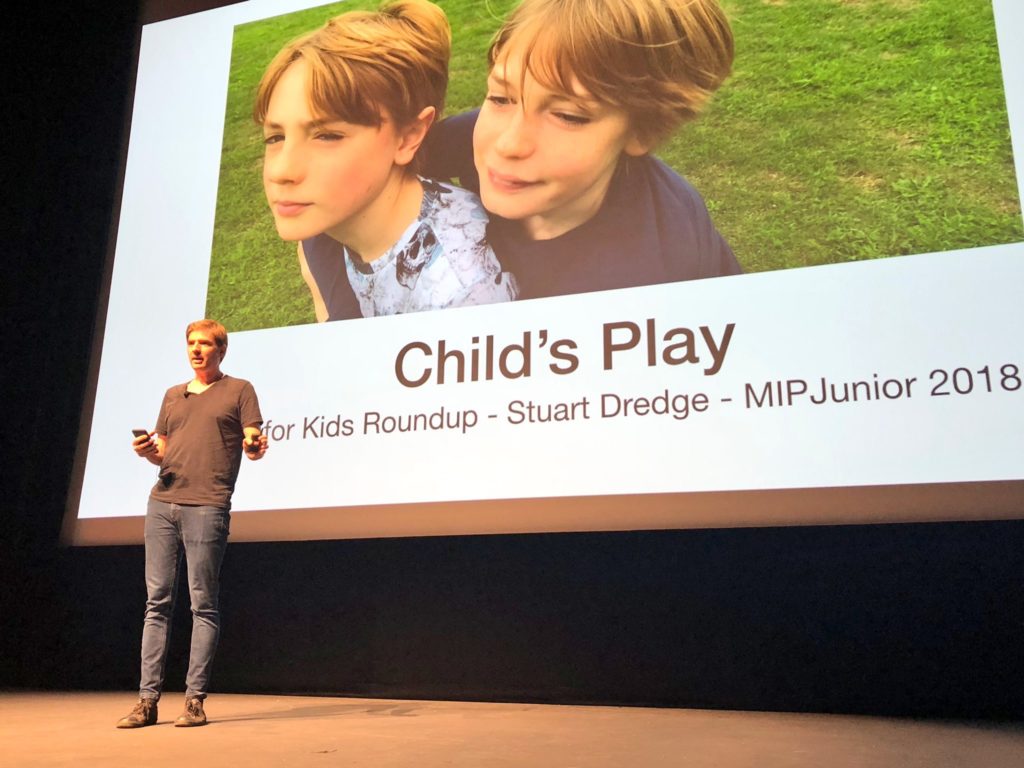 After Pott's session, MIPBlogger Stuart Dredge (that's me!) took to the stage for a talk about children and technology. He outlined some of the new trends around kids and digital, as well as the potential partnerships between technology companies and the entertainment industry.
Highlights included describing video game Fortnite, with its 78.3 million active players as "the elephant in the room" of the children's television world: because kids as young as eight are spending lots of time playing the game and then watching other people play it on YouTube. That's creating new stars like Ali-A and Ninja, who both have eight-digit followings on the online-video service.
Voice-controlled Smart speakers like Amazon Echo, Google Home and Apple HomePod were also on the agenda during the speech, with the likes of CBeebies, Disney and Bandai Namco creating 'skills' – the voice equivalent of apps – for these devices. The talk also moved into early efforts at creating content for kids using artificial intelligence, including a brand 'new' Brothers Grimm fairytale created by an AI… although also by three human writers.
The presentation also covered interactive-story apps; tech toys for coding kids; and some of the experiments around virtual and augmented reality. We'll have a full post with links to all the examples, here on the MIPBlog tomorrow morning – Sunday.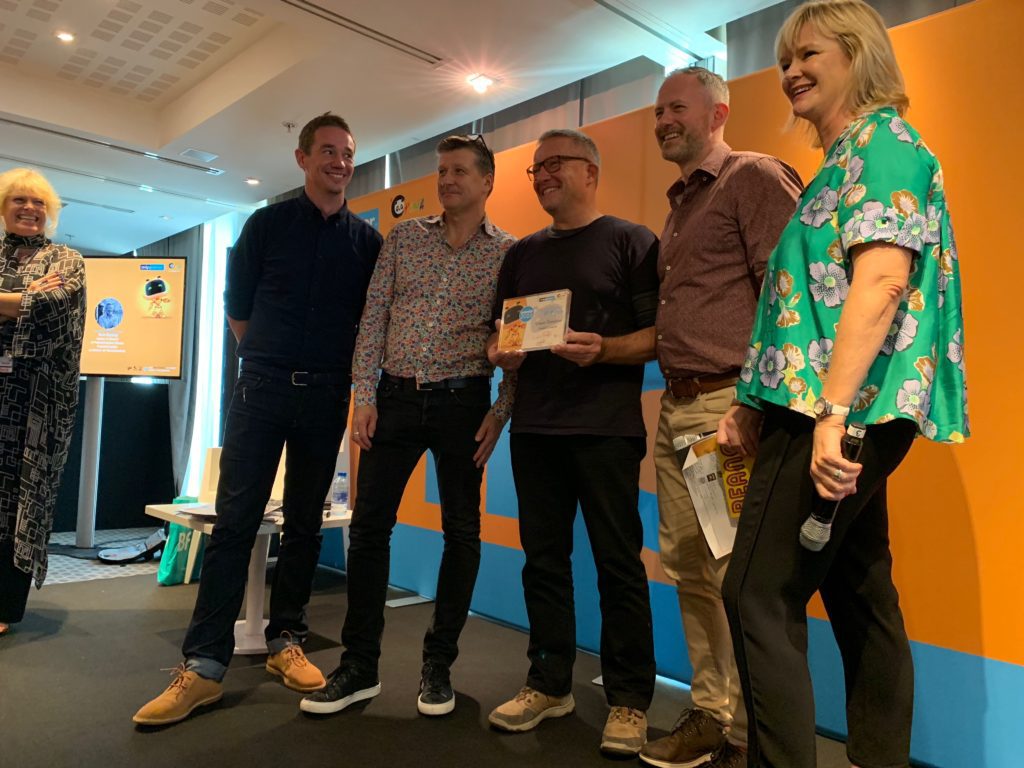 The afternoon continued with the MIPJunior IP Pitch, which saw four projects – a fifth finalist, Monsters' Kitchen, was not presented as its creator THS International Culture and Media, was unable to make it from Beijing – presented to a panel of judges.
Laurent Abecassis, producer and president of K6 Media Group pitched Acti and Friends, about a parallel universe that lies beneath our own called the World of Light. It sees butterfly guides accompanying and inspiring children to achieve their dreams.
"We'll have a pilot ready next month, and we hope to be ready for broadcasting in 2020," he said. "Everybody loves butterflies!" It uses a look between 2D and 3D, and each episode uses different concepts from the educational curriculum.
Yves Stening, author and director of PublishCreative Books, is the author of a series of books called Dinner Detectives. They help children discover the history of cuisine, with a pair of siblings called Clementine and Aksel who travel the world uncovering "magical stories" behind the food we eat every day. The twist: Aksel claims to only eat white food, but really he enjoys the dish that Clementine cooks him every episode – even if he claims it's "only the white bits".
There'll be a story-focused programme, as well as an animated cooking show. "We've also looked at an app and a game," explained Stening. The app will give children a tour of cities around the globe, while the game is a simple cooking game. For social media, he's exploring a YouTube-style series where children who love the show come and demonstrate their version of a recipe.
Sebastian Wehner, CEO, Wolkenlenker was next to pitch, with Little Fox. It's based on two very successful apps. It stars Frieda Fox "the curious inventor" and her best friend Henry the Little Hedgehog. Other animals are also part of the gang: a rabbit and a mole for example, each with their own characteristics: from scepticism to a love of cookies.
One of the apps was a singalong music app with famous children's songs, while the second was set in the show's setting, with a doctor theme. "We really want to encourage kids to say science is fun, and inventing is fun," said Wehner.
Kimberley Gitzel was the final pitcher with her show Sirenz of Truth: The Rad Rollerz – accompanied by her daughter Grace. It sees a group of rollerskating friends trying to save humans from a group of nefarious aliens. "I would walk the toy aisle when Grace was a little girl, and would definitely feel uninspired about what the choices were for her," she said.
She took ancient Chinese medical wisdom and philosophy, and overlaid it onto the five characters that she created for the show. "These five girls who are a rollerskating team have an acupuncture-master sensei," said Gitzel. She's hopeful of spin-offs too, including a virtual-reality game.
While the judges deliberated, Frank Falcone, president and executive creative director at Guru Studio, presented a case study of a show called True and the Rainbow Kingdom, starring a "heroic, empathetic" lead character who uses wishes to help other people. It found its audience of pre-schoolers on Netflix, as part of long development process from its earliest days.
The judges returned, and the winner was announced: Dinner Detectives took the prize. But the judges – Hasbro Studios' Finn Arnesen, Beano Studios' Chris Rose and creative executive Phil Molloy – praised all the finalists for the quality of their pitches and concepts. Here's hoping we'll be seeing them on screens in the not-too-distant future!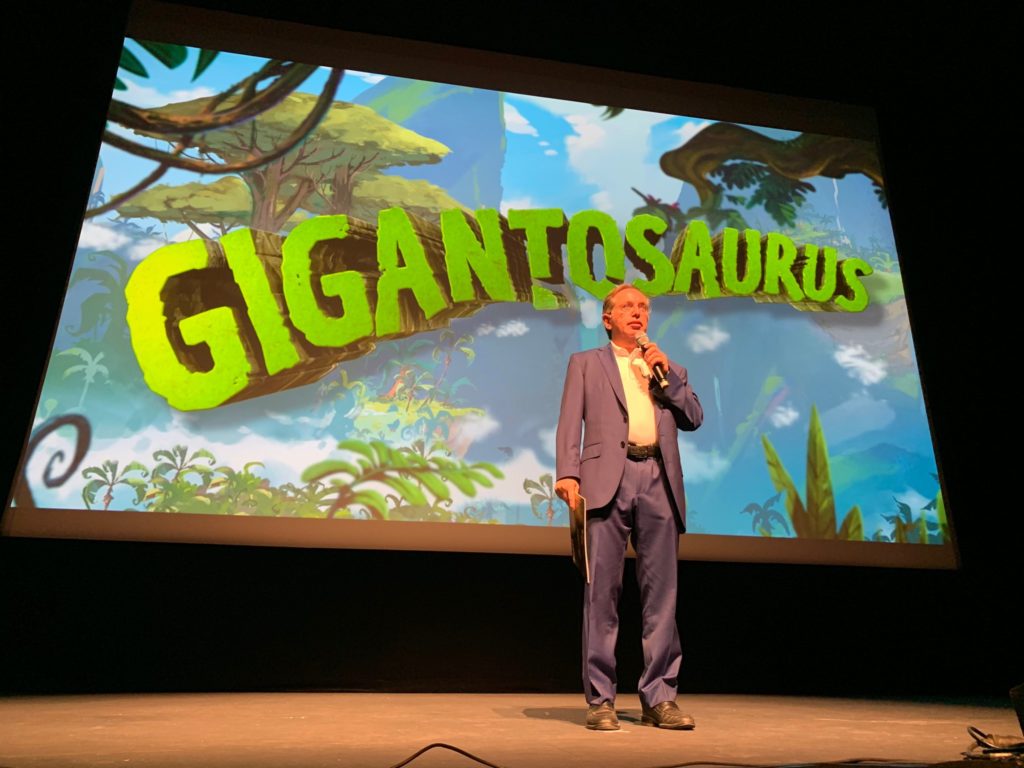 Then it was time for the MIPJunior World Premiere TV Screening, of Gigantosaurus, a kids' IP developed for Disney Junior by France's Cybergroup Studios. "It started literally with three black and white drawings, four years ago," said Cyber Group Studios President Pierre Sissmann (above). "And here we are with the release, next year, of Gigantosaurus the TV series!"
More in our report tomorrow…