Top photo: Dominic West accepts the Canneseries Excellence Award. More below!
Tim Davie, CEO of BBC Studios, Chair of the Creative Industries Council in the UK, and a Trustee of the Royal Television Society, joined us for a Media Mastermind Keynote moderated by Group Editorial Director Anna Carugati-Guise of World Screen.
Davie began by setting the stage: "The speed of change is dizzying. Scale is becoming more defining. You have to decide what business you're in. What we needed to do was attract and retain the best talent."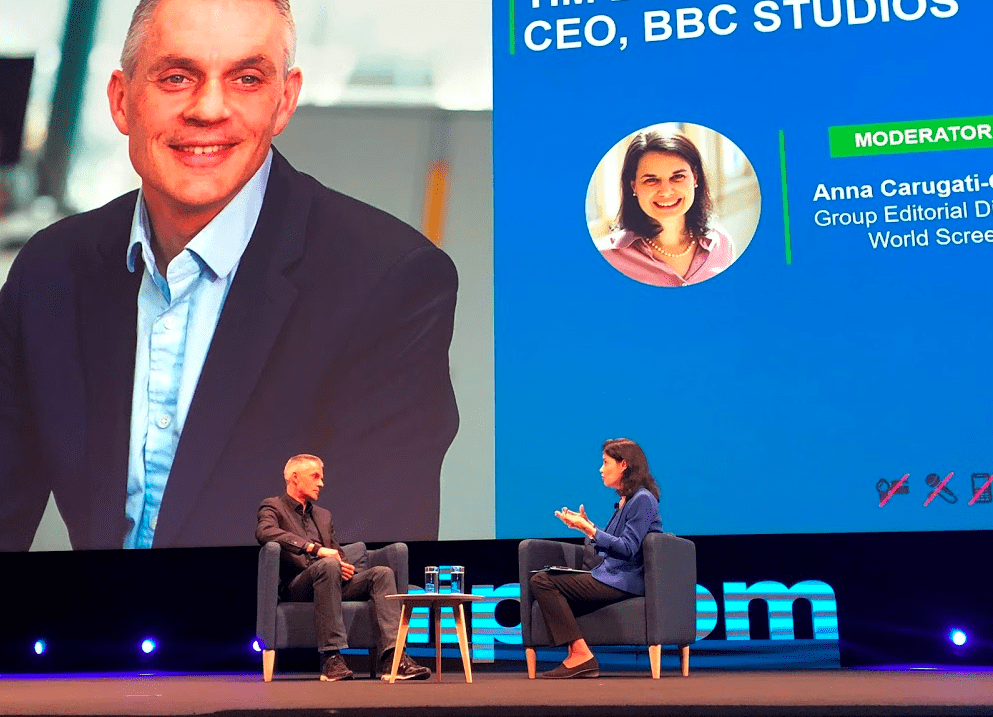 Then he mounted the conflict: "Can a British entity or local entity compete in this big global game we're in? We're a big small company, and a lot of media industries are shaped by these localised debates; localised content is critical. But there's no doubt you have to choose your battles now."
How will the BBC conquer the windmill?
"We talk about British bold creativity," Davie said, aflame with conviction. "We're a global company, powered by British creativity. That means our scope is tightly defined by what we're looking for, but broadly across genres. We're looking for the finest premium content. This is not rocket science: In an age of infinite choice… content is king."
At this point, and to spoil us all a little, he shared a trailer of the upcoming MotherFatherSon, featuring Richard Gere.
"You have to fight for homegrown storytellers. We're creating a company of global scale which can do that. It's gonna be a battle at times. We are in a battle to secure winning projects" because the audience is "overwhelmed… I'm not a big fan of oversell; it's either the real stuff or it's not. We try to see that early, coproduce, get financing in place so we can see that happen."
He added, "I'm yet to not make happen something where we really got passionate about it, where editorially we see something."
Passion, naturally, led them to bringing to life Killing Eve and Dr. Who—now with a female doctor! "Female empowerment… it's worked! It's amazing," Davie marveled. "But we needed a partner—a muscular, big partner to help us. That was AMC Networks."
He also shared a trailer of the upcoming Les Misérables, made with Lookout Point.
.@bbcstudios rendition of Les Misérables is looking pretty cool! Davie, laughing: "In France we're watching the Brits tell a French story!" Meta. #MIPCOM pic.twitter.com/8UVJSHOuda

— MIP Markets (@mip) October 15, 2018
"Distribution has become a strategic task," Davie went on. "We are looking long-term—how do we bounce our business across customers? Where is this leading in terms of creative partnerships?"
Speaking of, BBC Studios just signed a long-term agreement with Tencent. "I just saw them today," Davie revealed. "They signed as co-prod for the programme you're about to see: Dynasties, the next Attenborough that's coming up… they're forming a BBC Earth tribe with 650 hours of content!"
He joked that the trailer itself was "Kind of like MotherFatherSon in a slightly different guise!"
On partnerships, Davie advises asking, "Do you like each other? Do you get on? Life's too short to deal with horrible people. Don't spend time with those jerks! So we tend to look for people we like because we want to spend time with them."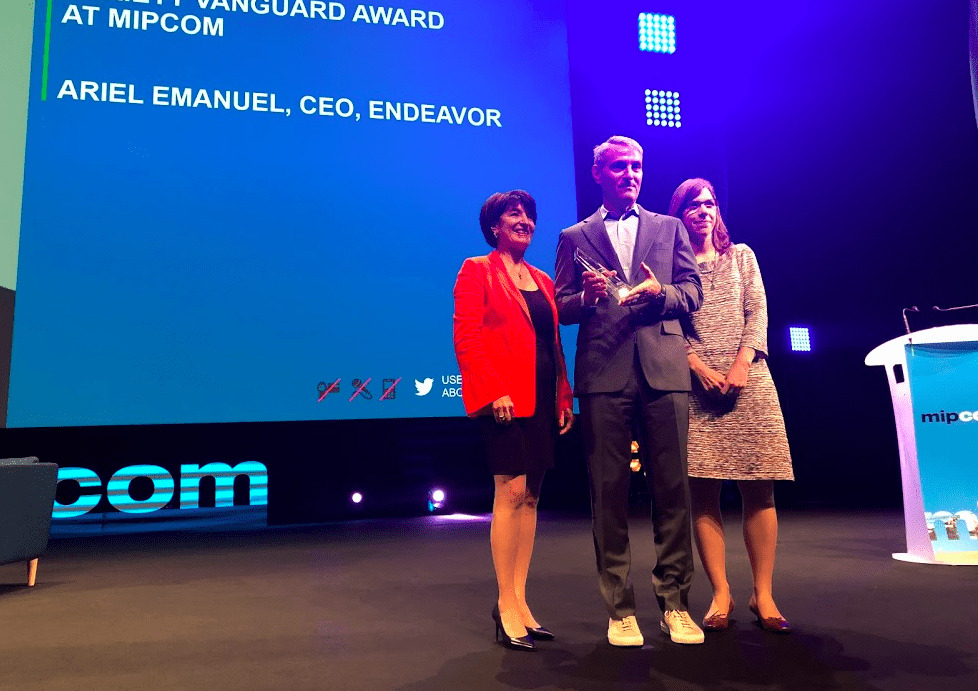 Ari Emanuel, CEO of Endeavor, was honoured this evening with the Variety Vanguard Award. Notably, he steered Endeavor's rise from a startup talent agency in 1995 through its expansion into a parent holding company active in entertainment, sports, and fashion. Endeavor is now home to such disparate assets as UFC, Professional Bull Riders League, and the Miss Universe pageant franchise as well as the powerhouse talent agency WME and IMG, focused on sports, fashion, media rights, and events.
Emanuel was named CEO of Endeavor alongside his longtime WME partner Patrick Whitesell as executive chairman last October, when the company reorganized to reflect its diversification. The Endeavor Content financing and development arm was also created last October to channel WME and IMG's existing operations and rev up TV and film opportunities for clients and non-clients alike.
Television Managing Editor Cynthia Littleton of Variety conducted a brief Q&A after Emanuel received his acknowledgement of outstanding contribution to the international television business. He revealed that The Content Drought, a book written by a professor, inspired the way Endeavor is structured. "It talks about content and its complement, and how you have to think about the business," said Emanuel. "We built the business by thinking what complements us most are the clients—writers, directors, musicians, advertisers… we've created 6 different complements to serve them."
Endeavor itself just launched Endeavor Audio several weeks ago. It now also has a Scandinavian SVOD support service called Strive, and acquired Newline, an OTT.
"The US TV market is a $150bn business; it's not going away in the next 5 years at least," said Emanuel. "With the SVODs it's a $180bn business…. and they're all self-contained wall gardens."
As he insightfully observes, "They're all kind of playing in the same field. They're gonna need outside players."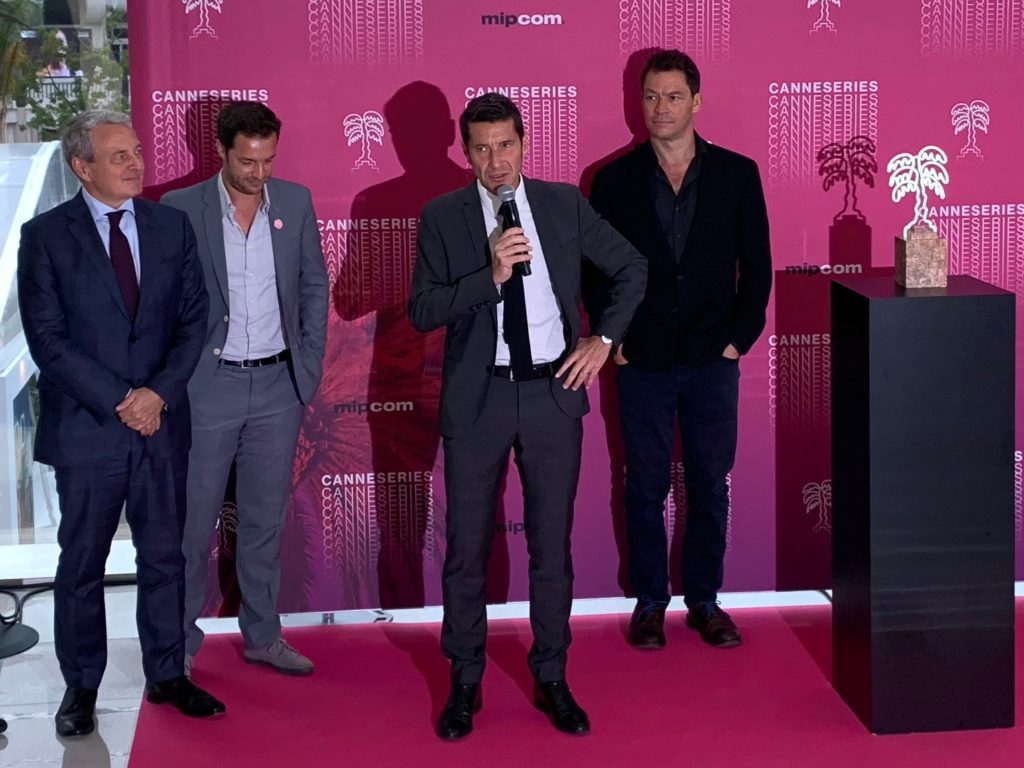 The afternoon also saw actor Dominic West receive the first Canneseries Excellence Award, presented to him by Cannes Mayor David Lisnard at a ceremony within MIPCOM. "The mayor just told me that watching The Wire inspired him to become a politician!" said West, before expressing his gratitude for the award, which recognises his achievements not only in The Wire, but also The Hour, The Affair, and most recently The BBC's Les Miserables, which he is in Cannes to promote.  "Merci beaucoup pour l'honneur," he said. "It's the best birthday present I could hope for!"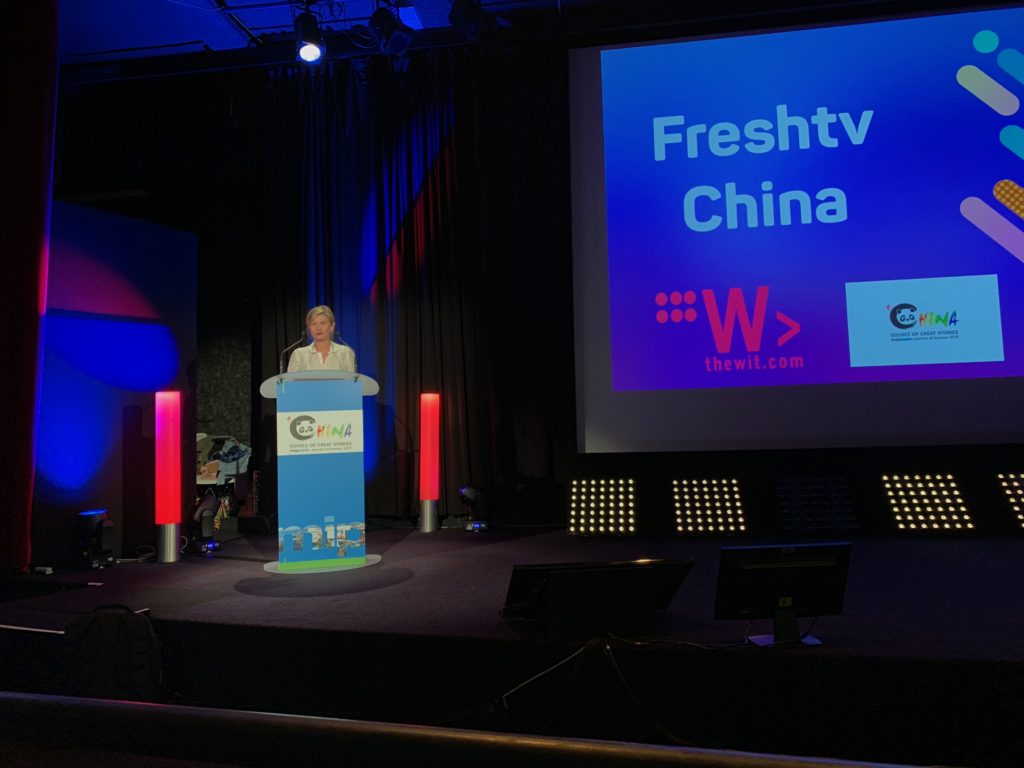 This MIPCOM's country of honour is China, and it got its very own Fresh TV session this afternoon, with The Wit CEO Virginia Mouseler and Shanghai Wings Media Deputy President Zhou Yu outlining some of the best shows emerging from China in 2018.
China From Above II (distributor: CICC) is a nature documentary shot using cutting-edge camera and drone technology, as well as strong, immersive storytelling.
Once Upon a Bite (Tencent Video) is an exploration of China and Chinese people through their food and cuisine, focusing on delicacies across 20 countries and areas.
Every Treasure Tells a Story (China International TV Corporation) is a series of mini-documentaries telling the fascinating stories behind national treasures.
The Nation's Greatest Treasures (ESG / CDIMC) also looks at iconic national treasures in China, with viewers voting for their favourite – to be revealed in the final episode.
The Third Pole (Shenzen Top Vision Film Company) takes viewers to the mysterious Tibetan plateau – where a group of people will go through 'the test of life and death'.
Perfect Youth (Jianxin Pictures) is a drama about a group of university students who joined forces to build forests in the Saihanba desert – to reduce the impact of dust storms on Beijing.
Like a Flowing River (Daylight Entertainment Co) is a drama about a group of young people with humble origins, who start their adult lives in 1978 – the year of the Chinese Economic Reform.
Feather Flies to the Sky (Hang Zhou JiaPing Pictures) is the story of three generations of people from Yiwu, who are starting their business.
Face to Sea (Shenzhen da yi shun he Film and Television Co) tells the story of Shenzhen, which has gone from small fishing village to modern metropolis in just 40 years.
Entrepreneurial Age (HUACE Pictures Co / JYS Media) is a drama about a young app developer who fights for business success… and falls in love with his investor.
Novoland: Eagle Fly (Linmon Pictures) is an epic story of three young heroes whose lives are intertwined by fate and a complicated love triangle.
Cao Cao and Yang Xiu (Shanghai Media Group) sees a traditional Chinese stage performance brought to the screen, starring two of the most famous Peking Opera stars.
Forward to the Future (CCTV1 & CCTC Creative Media Co) is a 'sciencetainment' show that sparks people's curiosity about science with some amazing experiments.
Dunk of China (Youku / Zhejiang Satellite TV) is a reality show focusing on professional basketball players training up teams to compete, ahead of the 2020 Olympic Games.
The MIPCOM Production Funding Forum continued this afternoon with a session focusing on insights from drama commissioners. Speakers included Eleonora Andreatta, Director Rai Fiction at Rai; Jennifer Batty, Chief Content Officer at HOOQ; and Ignacio Manubens, Chief Content Officer at Atresmedia Studios. The moderator was Manori Ravindran, Editor at TBI.
"We want to have big concepts but very personal in the storytelling," said Manubens, before giving some advice for producers looking to get non-English shows onto SVOD services. "If they have a really good idea, a really good show, please email me and we can help… We read everything, and we really do read it: a good story has a chance… We take bets on people who are up and coming."
Andreatta gave a perspective from Rai, which has had success with English-language title Medici: Masters of Florence. "It's not enough to be a leader in our national market: we wanted to invest also in international projects," she said. That includes investing in big coproductions for the Rai 1 channel, usually shot in English.
"In the past years, the international projects were easier for pay-television, because they were addressed to a niche audience. For a public service it's not easy, because we have to cater to a broad audience," she added.
What are the opportunities for producers looking to pitch to these particular commissioners? Batty talked about HOOQ's strategy – the service operates in several countries in south east Asia – which includes a filmmaker's guild that makes pilots, then develops some into longer-form series. "You can be a lot more experimental. You can push the boundaries a little bit further than you can on free-to-air," she said.
The Guild is aimed at up-and-coming filmmakers – or rather, potential filmmakers, working within the industry. "You might be the receptionist, you might be the guy who's making tea for people… you have a great idea, it gets sent in to the HOOQ Filmmakers Guild. This year we had 500 or 600 entries, we shortlisted 50, and from that we've gone down to 10 that have been given some money to go off and develop," she said. Five are then made into pilots, to judge whether they can go to series.
Batty also talked about the advantage of being a nonlinear service: "Time doesn't matter. I don't have a broadcast hour. If you come to me with something that turns out to be 64 minutes or 68 minutes, and it sustains that entire 64 minutes or whatever it is? That's great. If it's only eight minutes? It doesn't matter… We will look at any duration as long as we feel the storyline is strong throughout."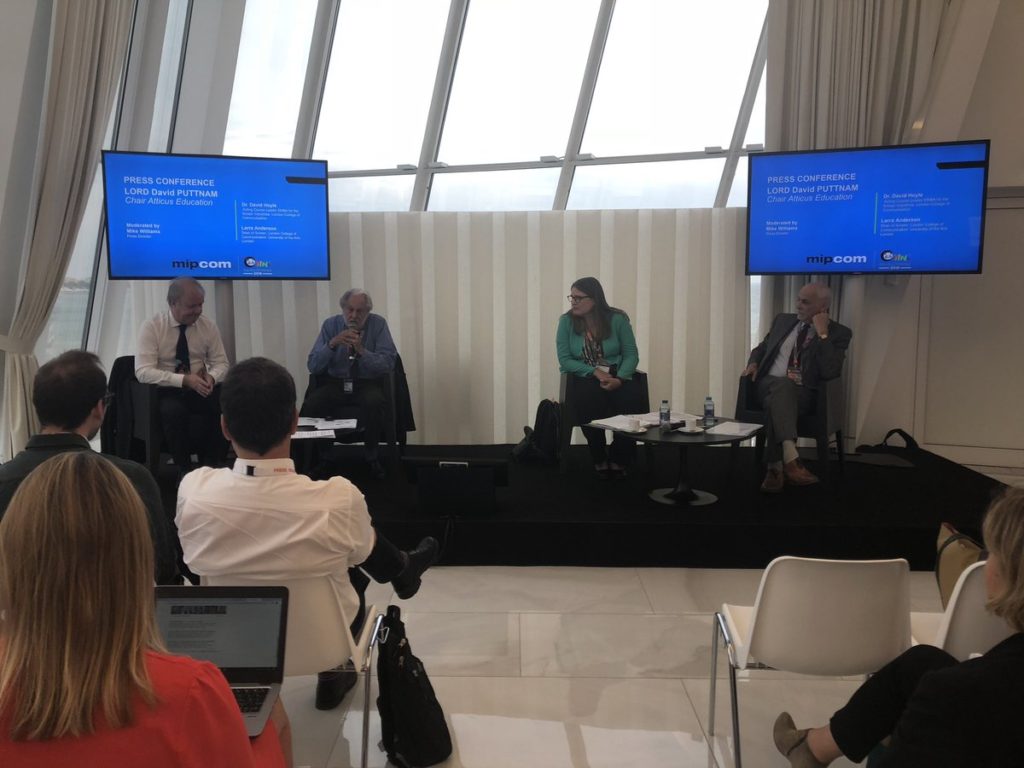 Today also saw Oscar-winning film producer Lord David Puttnam, together with the University of the Arts London (UAL), launch an EMBA for the screen industries. He appeared onstage (2nd from left) with Larra Anderson, Dean of Screen of the London College of Communication; and Dr. David Hoyle, Acting Course Leader EMBA for the Screen Industries, London College of Communication.
The EMBA for the Screen Industries will comprise 18 months of coursework, divided into seven units—including management in leadership, finance, organisational management in transnational virtual environments, business development strategy, and marketing, all in relation to the screen industries, according to Hoyle, who called it a programme that "can hold its head up internationally."
Puttnam explained their ambition to close the gap between young, small companies and massive conglomerates. "Many gifted young people back off" when faced with the complications of small business growth, he said. 
"I would guarantee few, if any, MBAs bother with taking 3-4 people businesses and growing them into 8 people businesses. Our sector is different."
Most coursework will be virtual, with three residential programmes at the beginning, middle and end of the EMBA. Near its completion, students will be tasked to group up across competences to produce a multimedia product, then build it up to the financing stage. The EMBA will cost £30.000.
Additional reporting for this wrap was by Stuart Dredge