The second annual MIPCOM Diversify TV Excellence Awards took place last night in Cannes, in partnership with Diversify TV and A&E Networks. 21 nominees, all projects launched within the last 12 months, vied for 7 categories that help advance diversity and inclusion across platforms. The ceremony was hosted by Ria Hebden.
Excellence in Representation of Race and Ethnicity (Scripted), presented by Issa Rae, went to The Boy with the Topknot (Kudos Film & TV; Endemol Shine). The Non-Scripted award went to Against all odds: The Fight for a Black Middle Class (Public Square Media, Scorpion TV), and was issued by A&E Networks' own Sean Cohen.
For Representation of LGBTQ (Scripted), Home and Away (Seven Studios Australia, Endemol Shine Int'l) took the prize, and for Non-Scripted, My House (Vice Media).
Excellence in Representation of Disability (Scripted) went to Blind Donna (Production House Ltd., Yle Sales); Non-Scripted, Different Like Me (Hello Halo, BBC Studios).
And lastly, for Excellence in Kids Programming (all genres), recognition went to First Day (Epic Films).
Congratulations to our winners (who you can see in detail in our livetweets of the event). There is far yet to go, but the allies are many!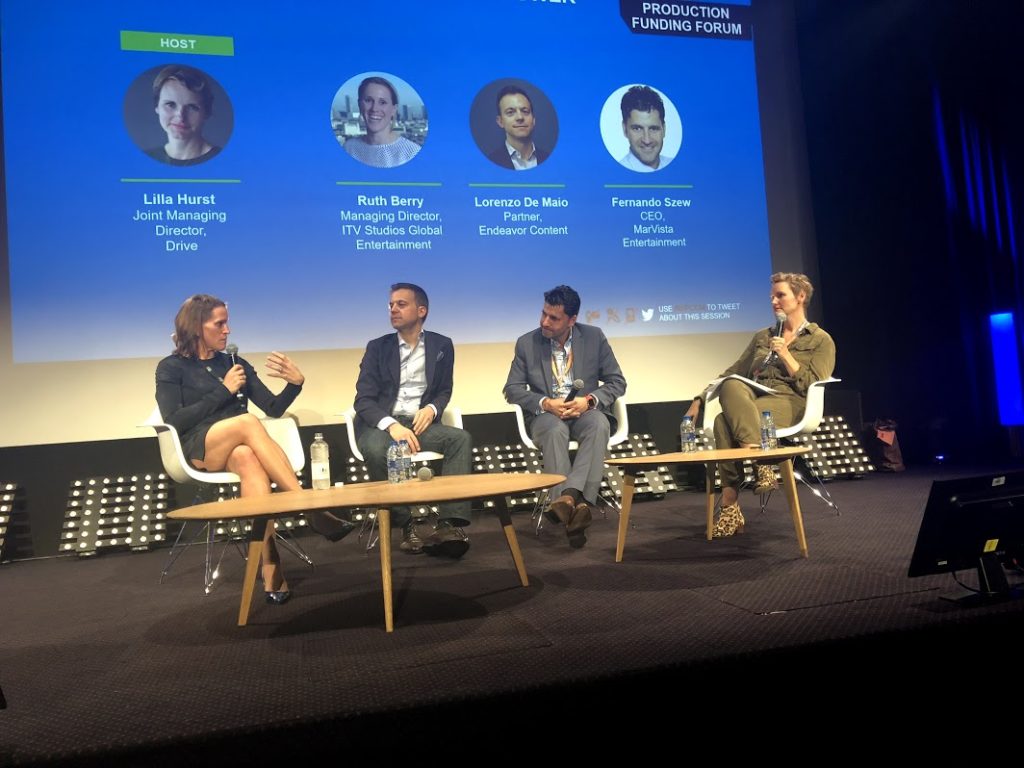 Costs for talent and rights are skyrocketing. Here yesterday to talk Funding Creativity were Ruth Berry, Managing Director, ITV Studios Global Entertainment; Lorenzo De Maio, Partner, Endeavor Content; Fernando Szew, CEO, MarVista Entertainment; and moderator Lilla Hurst, Joint Managing Director at Drive.
Berry kicked off by talking about the upcoming War of the Worlds adaptation. "There's no Tom Cruise in this one," she quipped, but telling that story as H.G. Wells intended "is expensive. We really want to be able to support the creativity and ambition of producers we work with. At ITV, we say creativity comes first. Producers and creatives know how to tell great stories; our challenge in distribution is, how do we enable that?"
To make this project happen, ITV worked with China's Creasun and Red Square. War of the Worlds enjoyed pre-sales in over 80 countries.
"Distributors in the non-scripted environment moved to almost a commission model; we're hedging our bets," said Hurst, who comes from the premium non-scripted world. "Our intuition and experience in subject areas means we can take risks and invest heavily in an idea; we know we'll make our money back in pre-sales," which makes it easier to raise financing for ambitious shows. She wondered whether scripted was seeing a parallel.
De Maio's response was mitigated. "Budgets of big international shows are rising, so there's a bigger risk profile to these shows. Where that risk profile lands depends on structure, but there's definite an appetite to invest."
He went on, "The reality of the marketplace, with so many shows going on right now, is that you need something distinct, whether it's massive IP, actors, or production that can really capture specificity in a territory; that travels really well. So it doesn't have to be the traditional co-production model of putting together a bunch of territories."
Certainly, though, "top buyers in each market and SVODs" are more willing to back higher-end scripted series.
"There's also a push by platforms, broadcasters, agencies, to own and control, yet to monetise," Szew countered. "Where does the game of musical chairs stop? You can't own and control, yet want to monetise another territory. That's a challenge I see in the ecosystem right now: A lot of financing coming into this rat race of content creation… How long will it last?"
Talent, said De Maio, is also more valuable than before, "whether they're driving the script, directing… that's a big change in the market," he said. "If talent is more valuable, the bet in the marketplace is to back that talent and have them drive more of the creative. That does mean more pressure in the middle because creatives don't need the traditional studio as much as in the old models"—they can access the infrastructure they need directly.
And yet there's something to be said about working directly with creatives to tell a unique story; the market isn't wrong. He used the example of Phoebe Waller-Bridge, creator of Fleabag and now Killing Eve.
De Maio described the latter as a story about being a spy that's also a real woman, one who has to get up, take the kids to school, pick out her clothes and then rush into a meeting to talk espionage. "That's the genius of Phoebe," he said.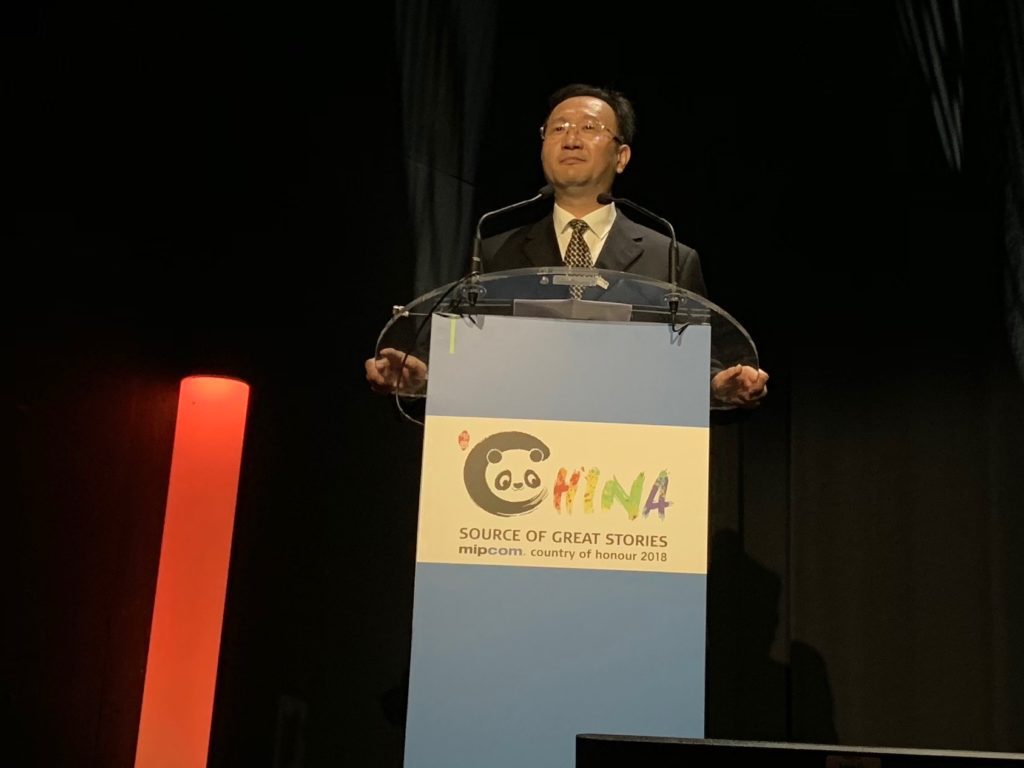 China is the country of honour at MIPCOM this year, and a session this afternoon explored the potential for coproductions between Chinese companies and their peers from around the world.
First to speak was Fan Weiping, Vice Minister of National Radio and Television Administration (NRTA), who explained (via a translator for non-Chinese speakers) that it's 40 years since China launched its reform policy for opening up. "China has already become a true film-industry giant and consumer giant throughout the world," he said.
"When it comes to production and content creation, in 2017 China produced 214 TV series as well as over 13,400 episodes. There were 350 animated films… and feature films numbering 795. And this is a source that China is providing for the international market." Producers in 21 countries have already signed coproduction agreements with China, he added. "In the future, China would like to engage in more active participation in events including this Cannes MIPCOM festival, to build a cultural bridge coming out of China, and to transmit and convey China's rich culture, and to promote emotional exchange with people's of the world."
"China has 5,000 years of continuous history, and has a very rich store of cultural assets, and is able to make a very positive contribution to global broadcasting," concluded the Vice Minister. "We warmly welcome all other countries in the world to collaborate with their Chinese counterparts, and to engage in further coproduction."
Junjie Teng, Chairman, Board of Supervisors at Shanghai Media Group, spoke next, on the company's move to increase coproduction with other international companies on films, animated films, documentaries, reality shows and other genres. Examples include 2016's Born in China, a collaboration with Disney. It broke box-office records for nature documentaries in China and abroad. Meanwhile, Earth: One Amazing Day was a coproduction with the BBC, complete with narration from superstar Jackie Chan.
Jonathan Spink, CEO of HBO Asia offered an ingternational partner's perspective. "We've always witnessed the great diversity and interest that is there," he said, of China. HBO has worked with Chinese broadcaster CMC, starting with martial arts. "We met for the first time in February and these films were on-air in December," he said, to illustrate the smoothness of the process. Master of the Shadowless Kick and Master of the Drunken Fist being the films, which were highly popular in Singapore, Malaysia and the Philippines, while also being aired in the US. Two more films in the series are already in production.
Jing Shuiqing, Vice President at China Intercontinental Communication Center spoke next, talking about China as a source of great stories that attract partners from across the world. The China From Above documentary reached more than 170 countries and was the highest-rated documentary on any Chinese web channel in 2015. Culture, history, innovation, nature and adventure are among the subjects in the more-than 300 hours of documentaries the company has produced. "China is an open market with huge potential," he said. CICC invests more than $10m in coproductions every year, he added.
Keertan Adyanthaya from Fox Networks gave his views, including NatGeo China's more than 100 hours of coproductions in China. It has recently created a 10-part series about our planet in collaboration with Shanghai Media Group and Youku, for example, as well a big show called China Revealed that's a coproduction with CICC, and which has more than 300 million viewers outside China.
Next was Ms Shen Jianing from China International Television Corporation. It's looking for coproductions in documentaries, dramas and cartoons. She also addressed the question of why Chinese companies want international coproductions. "International coproduction should consist of a group of people from various cultural backgrounds, who are interested in different cultures," she said. "I believe that stories which express common emotions of human beings are suitable for international coproduction." Examples are shows including The Last Emperor, Feather Flies to the Sky. "China has never lacked great stories!" she said.
Wayne Garvie, President, International Production at Sony Pictures Television, spoke about its long history of coproductions of movies and TV series in China. Sony has adapted western properties for China, "Our experience with our Chinese partners has, of course, been wonderful. Our partnerships have been collaborative, considerate, and most of all we share a desire to learn from each other." He said that Sony works respectfully with its partners to ensure shows have themes that are appropriate for the Chinese market, including its censorship regulations.
Jie Lian, Chairman and CEO of Perfect World Pictures finished off. He talked about the need for strong cultural exchanges, and taking Chinese stories to the world. Perfect World has also invested $500m over five years in a slate of films from Universal Pictures, as well as co-founding Perfect Village, which makes Chinese films. Its film Shadow has been winning critical acclaim at home and abroad. It's also working with Australian companies on coproduction.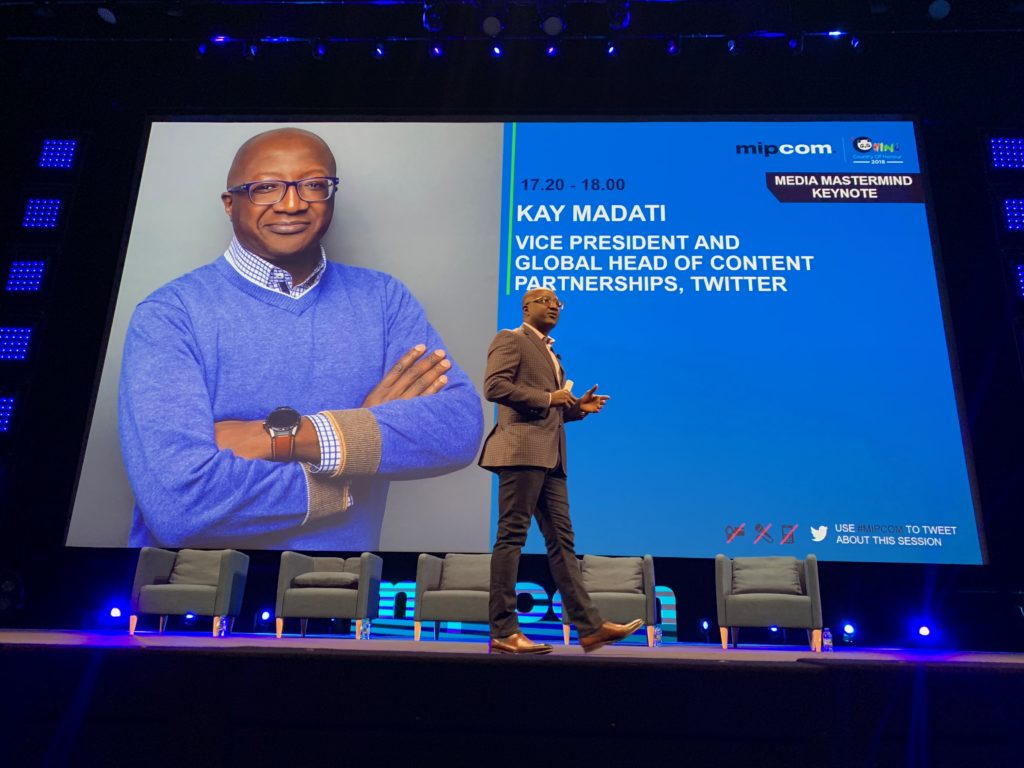 The afternoon also saw a Media Mastermind keynote from Twitter's Vice President and Global Head of Content Partnerships Kay Madati. He was joined by some of those partners: Sean Cohan, President, International and Digital at A+E Networks; Emma Lloyd, Director of Business Development and Strategic Partnerships at Sky; and Kelly Day, President of Viacom Digital Studios. Journalist Kate Bulkley provided moderation.
"We believe when something happens in the world, it first happens on Twitter," said Madati. "We've married that belief with the ability to partner with content providers around the world. This year alone we've done 150 partnerships globally… Twitter has become the ultimate mobile platform where video and conversation come together."
The conversation began with the big picture around TV, digital and social. "The vision when we created this was really to address what is a real need amongst media companies across the board: which is how do you authentically talk to audiences who spend literally all of their waking hours scrolling through their phones? There's a tremendous amount of noise in the social-media landscape," said Day. So Viacom is trying to develop original IP, but also conversations and audiences around that IP, which is mainly distributed through these social platforms.
Lloyd gave a view from Sky. "The two important tectonic plates for us that have been constant throughout the last 10 years and will continue to be: we're forever striving to have the best content IP… but increasingly, the innovation that sits as part of that and enables us to bring to those customers whether it's the latest in VR or AR, or our partnership with Twitter whch has been an important tool for us over the last five years… for us, content and innovation are at the heart. Those two are tectonic plates," she said.
Cohan talked about the big picture too. "Content and brands, for us, are the keywords that ring in my head. It's making great content, relevant content across platforms, and telling stories… and doing so hopefully in a way that resonates with and reinforces and syncs with the brands we have," he said, citing History as one of the key A+E brands that has huge potential in the digital environment.
How are these companies working with Twitter? Day talked about having to programme to the platform. "It does not work in this environment to just take a piece of content and spread it everywhere," she said. Viacom has four new daily news shows, one of which sees comedians discussing what's trending on Twitter – with clips distributed on that platform throughout the day. "It's less about structuring deals around exclusivity, and more that we really do believe consumers interact with these platforms in a very unique and bespoke way," said Day.
Madati approves of this bespoke development. "This is not just about taking a linear product and putting it onto Twitter. This is a great example," he said. Lloyd said that for Sky, Twitter has primarily been about audience engagement around genres like live sports and news, while recently that internal focus has switched slightly to "making sure the platforms are monetised – and Twitter is very strong on that front too". Lloyd said that Sky's live coverage of the recent royal wedding attracted 12 million people on Twitter. It's also posting football clips while matches are still in progress, to ensure Sky's branding is part of the conversation.
https://twitter.com/SkyFootball/status/1051912812606496768
Madati talked about the key value propositions of Twitter: first, it has a truly engaged and influential audience who want to share and comment; second, it extends the reach of linear TV providers; and third, "you can make money on all of it – we run advertising and sponsorship around all of this content… I think that this is how users and audiences are consuming content and interacting around content… The numbers scale, and the deals are coming together in ways that are beneficial to our partners. We're not here to compete with linear broadcasting companies: we're here to complement you."
Cohan said that Twitter is "unique" in some of the ways it helps broadcasters make money from their content. "It's a diversified client base, and a pro-active, capable advertising sales team, in a flexible partnership approach that enables us to work well."
"Linear channels won't disappear completely," he added, when the panel moved on to future-gazing. "There will be room for… a different, less interactive in terms of programming-choice experience. But it's a future where increasingly, viewership, consumption of content is happening wherever."
He continued: "We need to tell different stories in different places in different ways, and we need to as brands and content players be very present in all of those places, and be thinking carefully, long-term, about how we make a business out of it. People want more of our content, all of our content, and it's really incumbent on us to find innovative ways to deliver that content. And hopefully in the future monetise it optimally."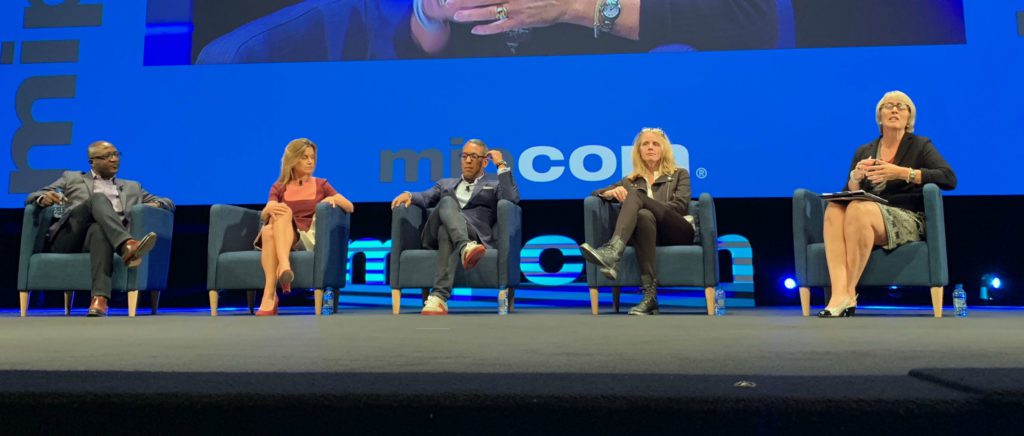 Madati had the last word. "The external narrative is about the disrupters versus the disrupted, but I think we're actually living what the future's going to look like. I wholeheartedly believe these two worlds come together and form new business models, new content-production mechanisms and production facilities… to distribute in a multi-platform, multi-device world," he said. "We're testing out what the future looks like right now."
Will that include Twitter creating content itself? "Our position at Twitter is these guys are the experts at content production, and we're good at being a content distribution and monetisation partner. I'm not as good at it as they are!"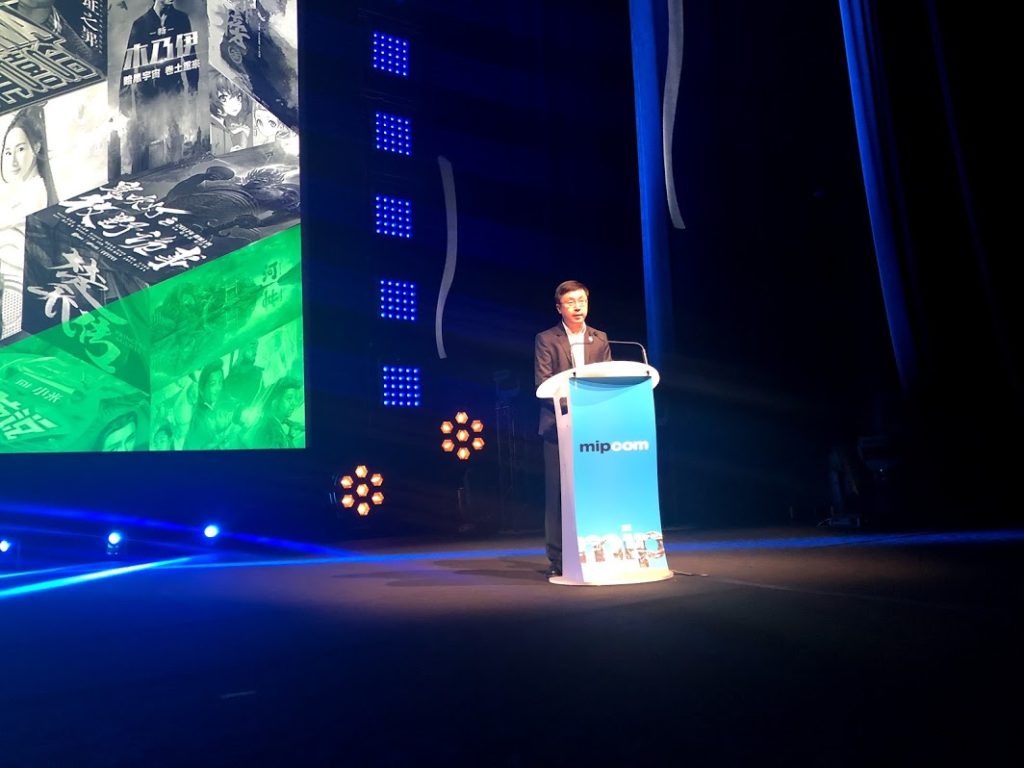 This afternoon in media masterminding, Dr. Yu Gong, founder and CEO of iQiyi, spoke about the trajectory of Chinese entertainment and his ambitions for iQiyi (spoiler alert: He called it "Netflix-plus").
"Like other parts of the world, China has been transitioning from traditional entertainment to online entertainment," part of a larger online-to-offline ecosystem dubbed "OTO", Dr. Gong explained. This is, itself, moving toward something he calls OMO (online-merge-offline).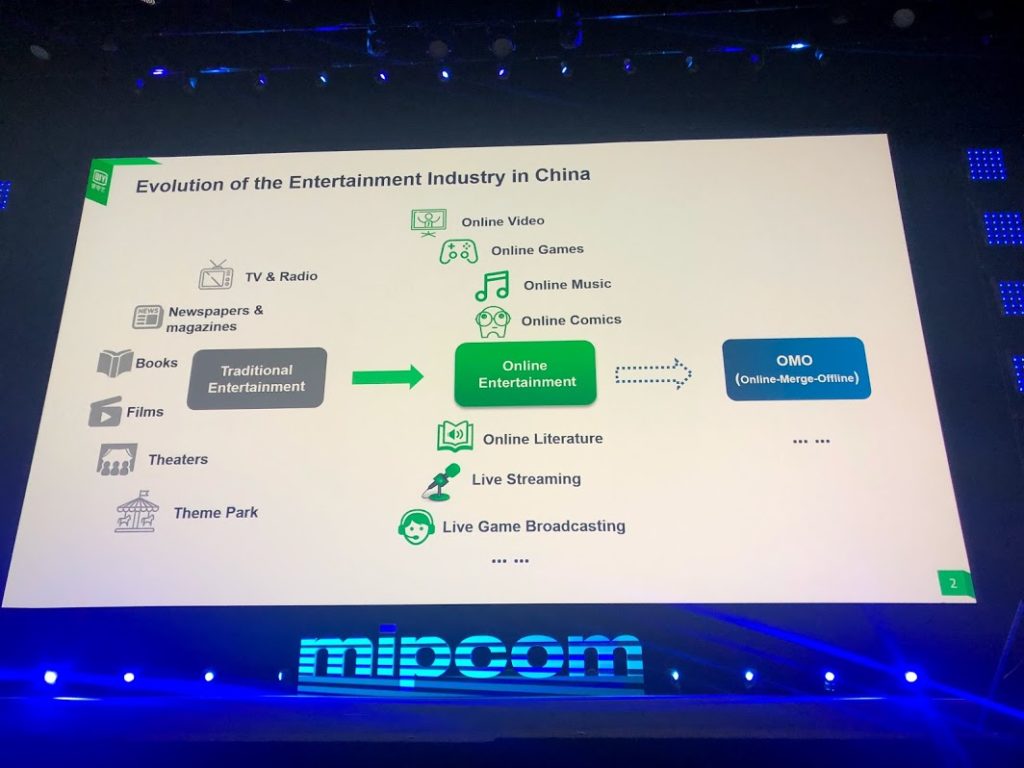 OTO can be defined thus: "Over 80% of movie tickets are sold over the internet" in China, "but the audience still needs to go to theatres to watch movies," said Dr. Gong. "In the future, OMO will become the new trend. OMO cannot function on an online-or-offline basis alone"—think intuitive integration of both worlds, versus binary online-to-offline interactions.
"Like the TV market in the U.S., the online video industry will not become a one-player market," Dr. Gong went on. "Content producers and advertisers will not favour this model… and there is a large diversity in content and content preferences that can't be captured by only one player. We're also persuaded the market will not become more fragmented; it won't survive the high cost of content production."
It may be tempting, here, to wonder what the silver bullet is, but it's best to think of all this as a series of co-dependent systems. Dr. Gong took great pains to highlight each interdependent component as he drove us toward his plans for iQiyi.
"Online, revenues mainly come from ads and subscriptions, both of which highly rely on premium content. Currently most of that is licensed content," he said.
But in the future, more premium content will stem from original content, which has 3 key benefits:
1) more differentiated offerings among platforms
2) more control over content costs
3) more monetisation opportunities
"Original content also has long term value; it can be broadcast and monetised in multiple ways in its lifetime," Dr. Gong said. For iQiyi, stakes are high: As China merges offline and online entertainment, online penetration will rise from 15% in 2016 to 25% over 2022. In that same time period, ad dollars spent on internet video platforms will rise from 23.7% to 57.5%.
"iQiyi is well positioned to capture more of this huge market; it's in the leading position already. We pride ourselves in this understanding of the Chinese entertainment market," Dr. Gong said. "Iqiyi's mission is to become a tech-based entertainment giant… I call our business model 'Netflix-Plus'"—driven by video, social network integration and partner accounts.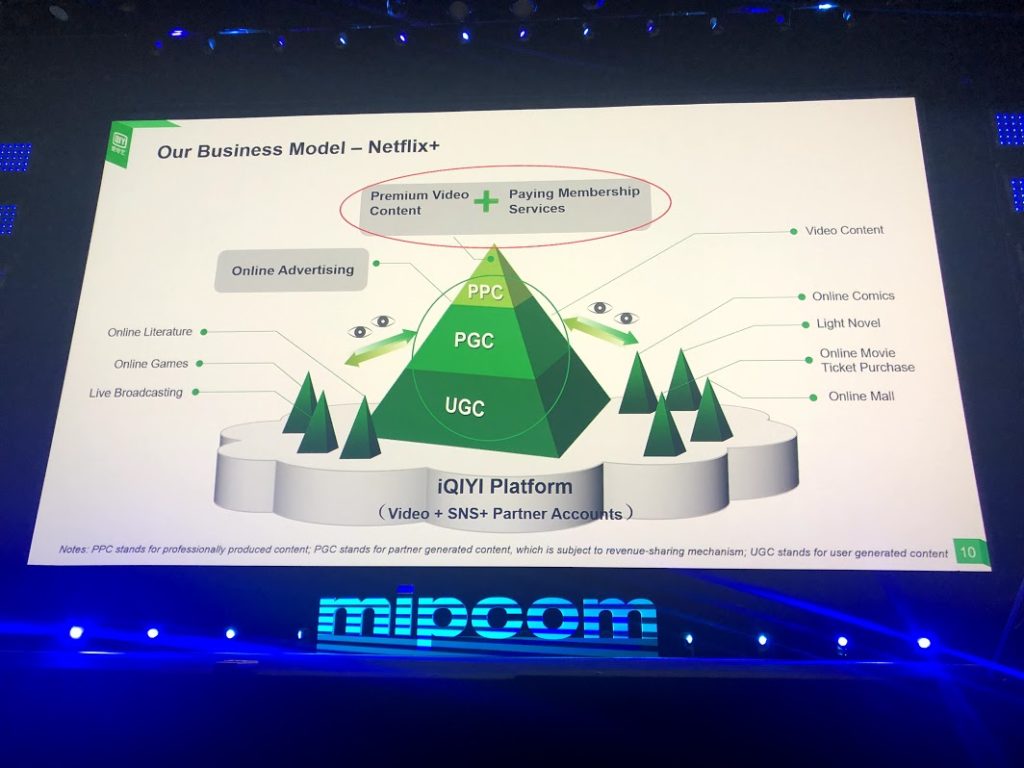 "At the top of the pyramid is premium content, like box office movies or high quality drama series released in our first window. This type of content is primarily the driver of subscriptions and can only be fueled by subscriptions, similar to the Netflix business model," he explained.
"Apart from this, we generate revenues from brand and in-feed ads on all videos. Already we have a massive userbase with tremendous engagement, so we cross-sell users with other types of content and services"—such as live broadcasting, online games, literature, online comics, and online movie ticket purchases.
"Our content IP powerhouse enables us to monetise one IP in many ways, allowing us to enhance ROI while increasing user time spent on platform," Dr. Gong said.