Introducing yesterday's Women in Global Entertainment Power Lunch — held in partnership with A&E Networks and Lifetime — Reed MIDEM's Laurine Garaude said that recent news headlines had "exposed the hurdles that many women still face" and reinforced the importance of MIPCOM's annual thought-leadership and networking event, now in its sixth incarnation.
In the Q&A that followed, Academy Award-winning actress Catherine Zeta-Jones (above) told Lifetime/A+E Networks' Lea Goldman that she hoped Harvey Weinstein's dramatic fall from grace represented "a lesson to all of those who ever question whether this is acceptable, in our industry, but also in any corporation, school, college or corner store. »
"I'm shocked and disgusted » by the affair, said Zeta-Jones, « and profoundly proud of those women (who spoke out). Let's hope the dinosaurs that have been able to get away with that (behaviour) for years are now extinct. Otherwise we truly are stuck in a world that's very sad, and very destructive, » said the actress.
Yet part of the answer also lies with women, said Zeta-Jones: « Powerful women in the boardroom often want to be the only woman in the boardroom. I don't like that. The more women we have in powerful positions, the less this will happen« .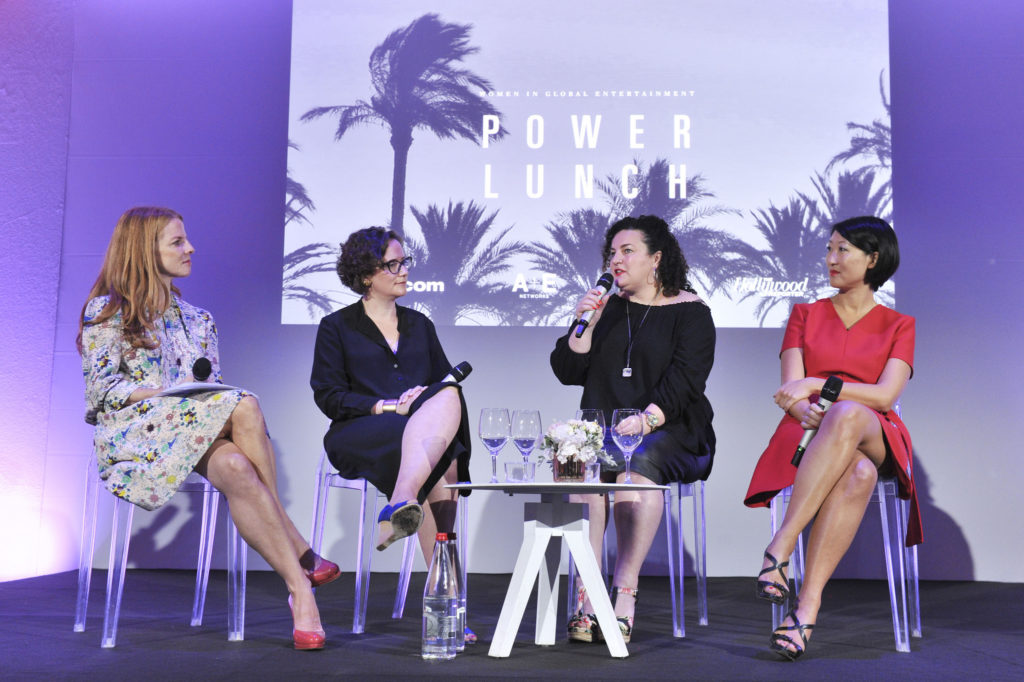 At the subsequent panel debate, New Pictures' Willow Grylls (second from left above) made the point that fixating on one man and one industry "missed the point". "It's much wider than that," she said. "It's about the abuse of power."
Korelya Capital's Fleur Pellerin (right above), president of Canneseries (the TV festival taking place alongside MIPTV next April) and a former minister, said « public authorities have a responsibility to act too. We don't like affirmative action in France, but sometimes it's required. A new law in effect here since January stipulates that 40% of company board members have to be female. » Sometimes you have to force the issue, said Pellerin; « and it works! »
Grylls added: « We all want to work with projects we passionately connect to. What's changed is there's more commercial space to tell those stories. It's not just about one man or industry. It's about power. For a long time, I was waiting for somebody to give me permission to be strong and take control. I tell the younger women coming up behind me not to wait for permission, but to take it now."
Moderator Marisa Guthrie of The Hollywood Reporter (left above) then asked the panelists what they were doing to "send a ladder down" to younger generations of women entering the industry.
"We must check our behaviour constantly and ask ourselves whether we are helping people up the ladder," said author and film producer Farah Abushwesh (second from right above) who produces sketch content for online platform PYPO. "I remember the people who helped me up — and I certainly remember the people who didn't."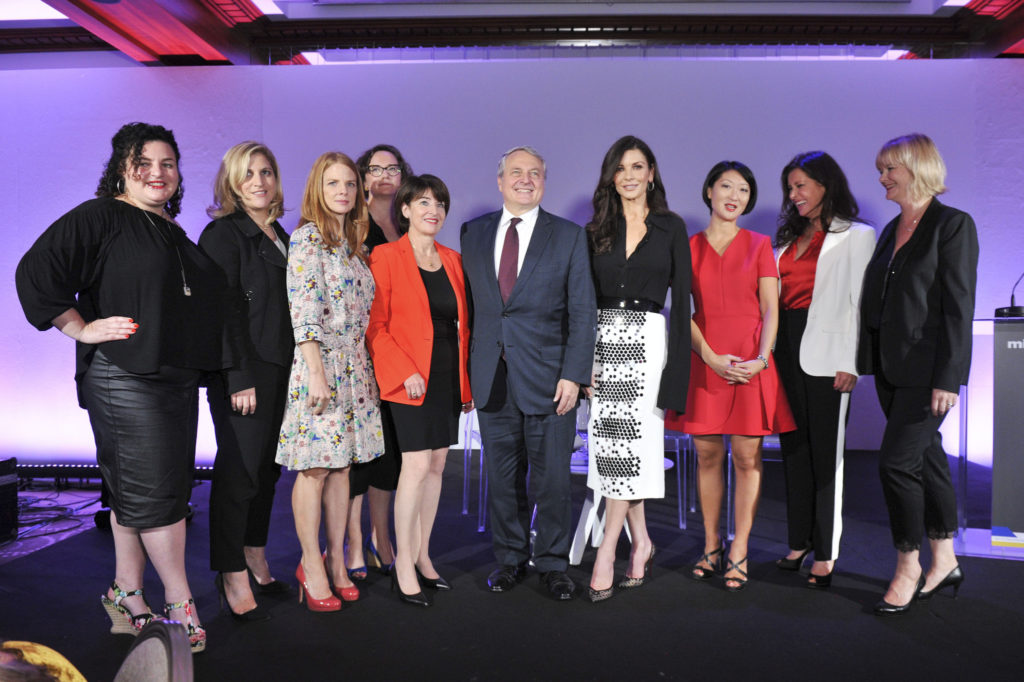 All speakers were then joined onstage by Canneseries patron and Borgen star Sidse Babett Knudsen (second from right) and Reed MIDEM's Laurine Garaude, Paul Zilk and Lucy Smith.
Photos © Desjardins/Image & Co