One of the biggest shows making its debut at MIPCOM was Britannia, a Sky Original production created by award-winning writer Jez Butterworth (Spectre). It's actually a coproduction with Amazon US, set in 43AD when the Roman army invades Britain, and encounters violent resistance from the Celts and Druids.
The MIPCOM World Premiere Screening was followed by a Q&A with stars David Morrissey (who plays Roman general Aulus Plautius), Nikolaj Lie Kaas (who plays outcast druid Divis) and Eleanor Worthington-Cox (who plays Cait, a 12 year-old girl separated from her family). They were joined by executive producer James Richardson (above).
He explained that the idea originally came from an idea to do something on Celtic queen Boudicca, before diving deeper into that time and its myths. "I just wanted to really discover all the stuff about Stonehenge, Avebury, the druids. It felt like a world we hadn't seen [on screen]before: British myth," he said.
The development of the characters is a crucial part of the show. "She's a really strong character, that appealed to me," said Worthington-Cox about Cait. "I've never been able to show a character developing over a series. She really grows. She's a really brave, strong character."
Morrissey said that working with Butterworth was a big attraction for him, noting that the writer "has a great regard for the period, but also a great irreverence for it as well: He makes it his own." Morrissey also praised the modern feel of the drama. "He takes the modern into this world we think we know so well. I'm such a great fan of the piece."
Kaas was also impressed by Butterworth. "I was sitting there talking with him, and he got all my bad humour and all my jokes. And he kinda got it," he remembered of an early meeting with the writer. "A month later, a new script came up with a lot of sarcasm in it. I thought it was great!"
The Britannia theme song is Scottish singer/songwriter Donovan's folk-rock classic Hurdy Gurdy Man, and he was present in the audience for the premiere to proudly explain that "it's been waiting for something as brash and bold and as richly-tapestried as this".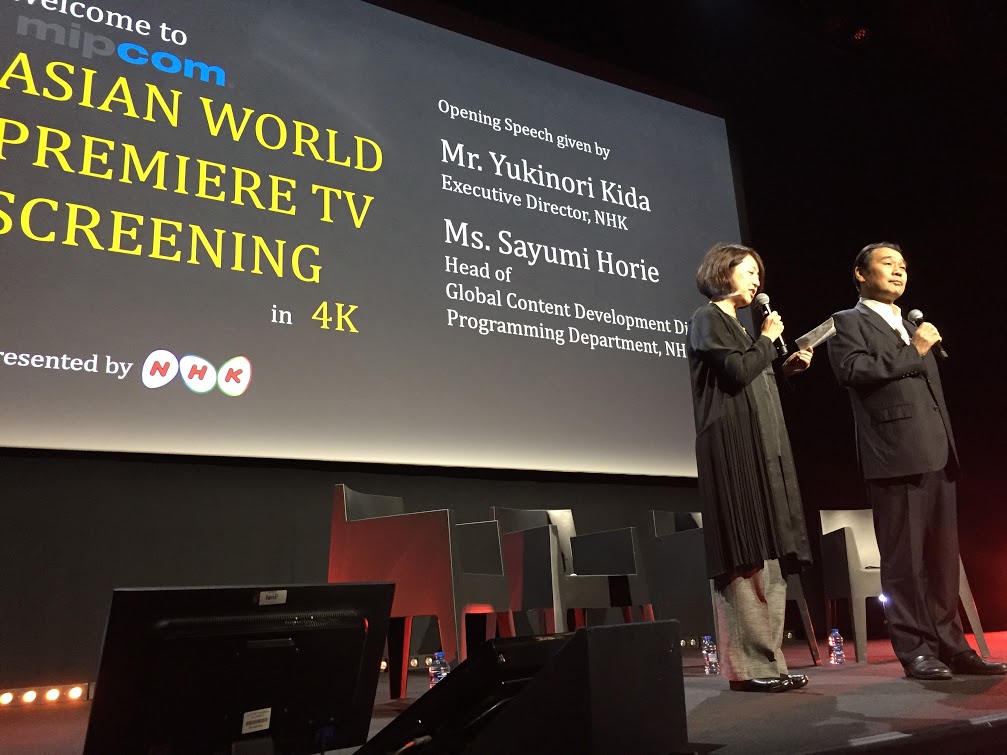 The highly anticipated screening of Kurara: The Dazzling Life of Hokusai's Daughter took place Tuesday morning. It marks the first-ever Asian world premiere at MIPCOM, as well as the first Palais screening in 4K.
Kurara begins with the story of Katsushika Hokusai. Among Japan's most renowned 19th-century ukiyo-e artists, he's known worldwide for such works as "Red Fuji" and "The Great Wave off Kanagawa".
Little, however, is known of Hokusai's private life. It turns out he had a daughter, O-Ei, herself a brilliant painter who felt painting was kurara (a Japanese word for "dazzling"). She was briefly married, but—given the choice between art and matrimony—quickly returned home to become her father's assistant, sitting at Hokusai's side as he completed his iconic "Thirty-Six Views of Mount Fuji" series. When Hokusai grew too old to wield a brush, O-Ei painted for him.
So this is more a story about O-Ei, a little-known Japanese woman who perhaps shared her father's brilliance but never escaped the scope of his name … or the duties of a child and apprentice. It's also a story about the love between a father and daughter, and how one woman created her own unique painting style—composed of plays of shadow and light—under the shadow of a genius.
Ahead of the screening, Reed Midem's director of the TV division, Laurine Garaude, introduced executive director Yukinori Kida and Sayumi Horie, head of the global content development position and programming department at NHK (both shown above this post).
"The story is basically about the conflict and love between a massively talented father and his daughter O-Ei," Kida explained.
In 4K, both conflict and colour seem to leap out. Following the film—as much a study of contrasts as the painting style O-Ei saved her passions for—we were treated to a brief panel, moderated by Julian Newby and featuring Aoi Miyazaki—the actress who plays O-Ei—with executive director Taku Kato and executive producer Motohiko Sano.
Aoi Miyazaki approaches the stage to discuss Kurara: The Dazzling Life of Hokusai's Daughter. #MIPCOM pic.twitter.com/gv8JdkEC4j

— MIP Markets (@mip) October 17, 2017
Asked about their approach, Kato replied, "I wanted to make a drama—not just about an old Japanese person, but about an artist trying to get better and better."
Sano added, "When I produce TV drama, the most important element is family and home. This family has not just one genius but several geniuses. That's what i wanted to evoke and express."
Newby then asked Miyazaki what it felt like to play the role of a historical figure. "Before filming this drama, I knew Hokusai, but I didn't know about this very talented daughter of his, O-Ei," she admitted. "When I was challenged to play someone with this talent, I felt a lot of responsibility. It had a weight to share it."
She would later elaborate on how she learned how to paint for the role—"even drawing a single line is difficult!" she exclaimed—which helped her understand the level of genius that defined the lives of O-Ei and Hokusai.
Miyazaki also speculated on other reasons for Hokusai's global scope. "Before this drama, I learnt quite a lot about Maestro Hokusai and his work. I was told he had a specific talent to capture scenery as a photo or a specific image. Perhaps that is the element that appealed to everybody in the world, beyond just Japan."
Near the end, Newby asked whether the 4K element made a difference in the film's creation.
"As far as performance is concerned, there's no difference between 2K and 4K," Miyazaki said. "Of course, with higher resolution and clarity, there are certain things you don't want seen"—notably facial imperfections or blemishes. "The usual approach [to solving this]would be heavier makeup, but I wanted to show the reality of O-Ei without cover-up or heavy foundation. I consulted with a makeup artist and tried not to deliberately apply heavy makeup. You saw how it came out."
"The makeup at the end was extraordinary," Julian marvelled, referring to the vision of a much older O-Ei.
Kato laughed and held up two fingers. "Two hours."
The pre-MIPCOM World Premiere Screening too place on October 15 with Counterpart, distributed by Sony Pictures Entertainment. Oscar-winner J.K. Simmons plays Howard Silk, a lowly cog in the bureaucratic machinery of a Berlin-based UN spy agency which is actually guarding the secret of a crossing into a parallel dimension.
Simmons also plays Prime, his 'counterpart' from that parallel world, who is significantly more senior and hard-nosed in his agency. Shadowy intrigues and double-crossing shenanigans ensue. Simmons was joined on-stage by fellow actors Olivia Williams and Harry Lloyd, as well as creator Justin Marks and Sony Pictures' president of worldwide television distribution Keith Le Goy for Sunday's screening.
"Fundamentally Counterpart is a show about identify and the very fluid nature of it. And we use the espionage genre and the science fiction genre to talk about some ideas… that have always been really interesting," said Marks. "What if our lives had turned out differently, and who might we have been under a different set of circumstances?"
"The intention was to hark back to the grand tradition of British spy fiction, whether it's Graham Greene or John Le Carre, rooted in the tradition of the Cold War and with a human component," added Marks later. "It became really interesting when you deal with the world of counterparts: when you have a man with secrets, and another man who knows all those secrets."
"The Howard we meet at first is somewhat bedraggled and defeated at life… He's beaten down by life, and the other Howard has taken life by the short hairs," said Simmons, who stressed that the differences between the two characters was a question of physical acting rather than prosthetics. "We couldn't have one with hair or one with different teeth!"
Williams praised Berlin as the perfect setting for the drama, given its history in the Cold War, and the way the city was split between East and West.
"It's so steeped, so immediate. They're still in the fallout of the wall that divided the city. The time it takes to erase that and erase those scars. What we're dealing with, it's living that truth. It's an extraordinary place," she said.
Much of the drama will come from the characters meeting their counterparts from the other world. "As the show goes forward we'll have more opportunities to see characters at odds with their other, and characters who more embrace each other and who love themselves," said Simmons.
"It's when characters come face-to-face with other versions of themselves, that's what brings about a change, a catharsis," said Marks.
Williams said there are strong emotions to be tapped in all this, citing the two Emily characters that she plays – the wife of Howard and the partner of Prime – as a good example.
"I think what is moving and heartbreaking about the Emilies is that they're each desperate that their other is happier and has achieved something… in one world we have a child and in the other we don't," she said. "I think this generation of women of my age are divided between those who have and haven't: chose not to, couldn't. That's a beautifully-observed storyline which is developing through the two series."
The action elements of the show certainly kept the cast on their toes. "It's really one of those jobs where you don't want to piss off the writers. You could be killed off at a moment's notice!" joked Simmons. Marks responded quickly: "And we don't just kill you off once, we kill you off twice!"
Tuesday night's World Premiere Screening was for Trotsky, brought to Cannes by Eccho Rights and Channel One Russia. It's an epic biopic of Marxist revolutionary Leon Trotsky, with his famously complicated romantic life featured as well as his political beliefs. Its stars were accompanied by Channel One boss Konstantin Ernst (right) for a brief Q&A after the screening.
Actor Olga Sutulova talked about Trotsky's love life, and the effect it had on his partner. "I think she was loyal because that was just the condition: to stay with him for a long time. An open relationship, which is honest I guess! He was the rock star of the revolution," she said. Was it a different time in terms of open relationships? "They're still the same now: everybody chooses by themselves. It's honest to declare these things from the very beginning, then the other person can choose whether they stay or not."
Ernst said that Channel One sees drama as a key way to get to the heart of Trotsky and what he stood for. "The best way to understand somebody is to try to tell the story of him," he said.