The growth of Netflix's ambitions in the children's TV market has been making waves in the industry. Today at MIPJunior, we heard from the online-video service's head of global kids content, Andy Yeatman. The former Walt Disney Studios digital executive talked about Netflix's kids strategy, with a speech followed by a sit-down interview with World Screen group editorial director Anna Carugati-Guise.
Netflix currently has 104 million members – households – who are watching more than 125m hours of content a day. "Our goal is to be the service that kids all over the world can't do without, and parents trust," he said. "It's the parents who are the ones who sign up for Netflix and keep deciding to pay that monthly fee."
He talked about the importance of premium quality and diversity, and to be the exclusive home for "must-see properties" in the on-demand space. "We have a platform that's really designed for enhanced storytelling. We put all episodes of a season up at once, which enables creators to tell a story that builds… a more compelling, engaging story than having to reset the table at the start of every episode," he said.
Yeatman stressed that episodes can be different lengths. "We're actually blurring the lines between what a movie and a series is. Netflix is actually just content and story structures with different lengths," he said. That applies to the commissioning model too. "We're moving away from the standard episodic structure. We'll order a certain number of minutes or hours," he said.
Netflix is also experimenting with interactive storytelling, launching two specials with branching narrative – "choose your own adventure-style narratives" where kids can make choices for the characters. "Kids have rewatched these specials a lot: they want to know what would have happened if they'd made different choices," he said. Netflix will be launching more interactive shows in 2018, including "more ambitious" interactivity.
"Over half of our members around the world watch kids and family content every week, and that audience is growing," he said. "We actually have more Netflix members watching kids content outside the US than inside the US." Yeatman also showed a chart showing the decline in viewing of linear TV networks in the US, to hammer home his point that Netflix is cannibalising that side of the business: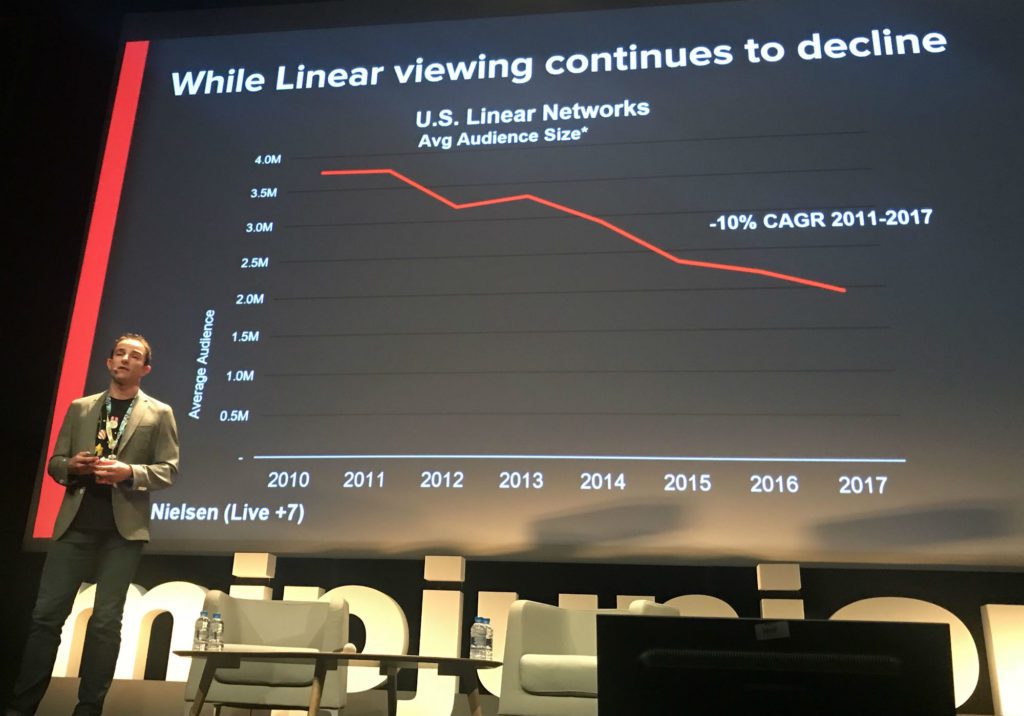 Yeatman talked about Netflix's ambitions in commissioning original children's shows, and getting involved in licensing and merchandising. "In the last few months we've hired a licensing and merchandising team," he said, before noting that Netflix is licensing kids content from 49 countries, with 43% of kids' titles produced outside the US. International content is currently about a third of actual viewing hours, but growing faster than US-sourced shows' viewing hours.
Example shows that perform well when children are choosing what to watch in Netflix's EPG: highly-visual animation like Larva from South Korea; shows with an easily-understandable hook like The Worst Witch; fantasy and universal themes like family and friendship, and global IP like games franchise Skylanders. "It's not enough to follow somebody else's formula. You really need content that looks and feels distinct," he said.
Yeatman talked about the three different paths to getting shows on Netflix. It's looking for top IPs in local markets; formats that travel well; top studios and creators from the traditional industry; and shows that balance Netflix's overall kids slate. From teen telenovelas from Latin America to animation from South Korea, Netflix is looking for the top local producers and ideas.
He announced two new shows: Mighty Little Bheem from Green Gold Animation in India, based on a popular character in that country. And YooHoo & Friends from Aurora/MondoTV in South Korea. Netflix is also partnering with local broadcasters to coproduce shows, but the majority of its content continues to be second-window acquisitions that co-exist with linear, catch-up and home video windows.
"We don't have a house style or brand that you have to conform your content to," he added, in another jab at linear children's channels, before sitting down with Carugati-Guise for the Q&A section of the keynote.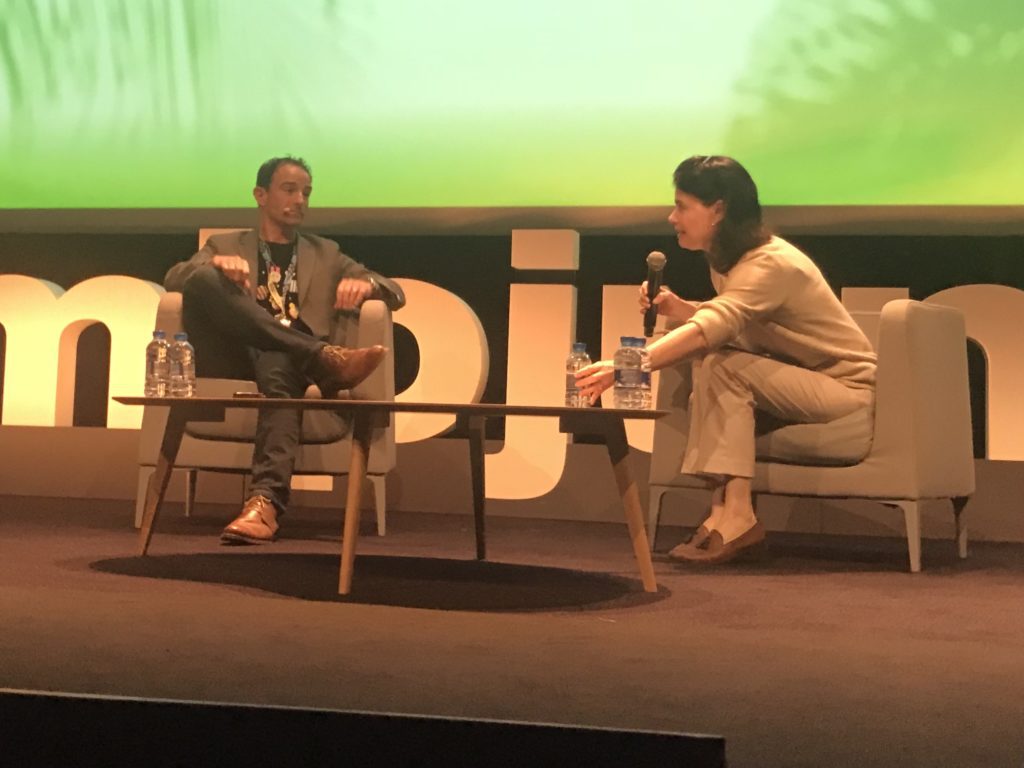 Yeatman said that producers must not come to Netflix with vague pitches trying to second-guess what the company wants. "We're really looking for a distinctive creative vision," he said. And Netflix doesn't make pilots, so it wants to hear producers pitching their vision for how a story plays out over a season too.
Yeatman added that young children tend to repeat the same episodes a lot, while older children are more likely to watch through to the end of a season. "We tend to see a lower velocity of bingeing, mostly because kids aren't around to watch as much as parents. Thankfully! So it takes a longer time to watch through the seasons," he said, noting that his own children's viewing time is regulated. How? "My kids only watch on an iPad, and I keep the iPad way up high on a top shelf! That's my method…"
Are there peak viewing times for kids at specific moments during the year? Yeatman referred to stories a couple of years ago in the US about the supposed death of 'Saturday morning cartoon' viewing habits. "Saturday morning cartoons didn't end, they've moved to different platforms, including Netflix," he said. "Saturday mornings, a high percentage of viewing on Netflix is kids' content."
How can Netflix help launch a merchandising programme for a show? "Clearly we recognise the value and importance of licensing and merchandising. Getting more eyeballs, more word of mouth, more love for kids' programmes. It's something we're paying a lot of attention to," he said, before adding a careful caveat. "Our goal has really been to drive more viewing across the platform, which we've been very successful at. Our goal has not been to sell toys. And it isn't now with the new licensing and merchandising team. But for select properties, we will be experimenting with licensing and merchandising programmes."
The final question was about international viewing and shows. "In most of the world, Netflix is still relatively new and unknown, so we think there's a lot of growth ahead," he said. "We're very confident that internet TV – watching what you want, when you want, without ads – is going to continue to grow."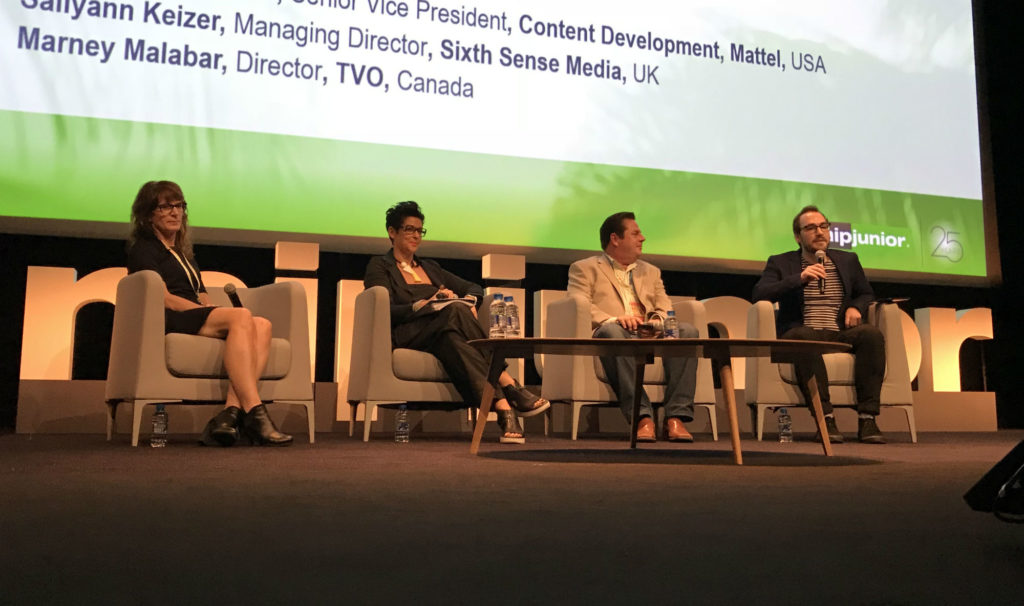 Before the Netflix keynote, MIPJunior also hosted a panel session on diversity, inclusion and new family structures. The focus was on whether the TV industry is doing enough to tell these stories, and if not, how it can improve.
The panel included Christopher Keenan, SVP of content development at Mattel; Marney Malabar, director of TVO; and Sallyann Keizer, managing director of Sixth Sense Media. The moderator was Nico Franks, editor of C21Kids.
Malabar talked about the TVOKids children's channel in Canada. "For us, diversity is something that we really want our kids to learn," she said. "We want to reflect the faces on the screen that are the faces in Canada. For us, it's in the DNA." Keizer agreed. "We set Sixth Sense up to give kids a voice, so from day one it's been at the heart of everything,"
"I think we're getting there. I've seen a massive difference over the last 17 years," said Keizer. "It was all 'you won't get the ratings: children won't want to watch that. But now people are excited to meet me… Actually, if you do it authentically, it's being embraced by the broadcasters. it's not a tick-box exercise if you start off with diversity at the heart of what you're doing, and do it authentically."
Malabar said that TVO is seeing diversity shine through in animated series as well as live-action series, which she counted as real progress. But Keenan warned the industry not to rest on its laurels.
"We're a lot further along than we've been in the past, but in direct answer to the question 'Are we there yet?' I would say certainly not," said Keenan. "So often we see lead characters, and the diversity comes in the form of supporting characters. While I think that's a step in the right direction, it's not a big enough step. I'd like to see us taking some leaps and bounds going forward."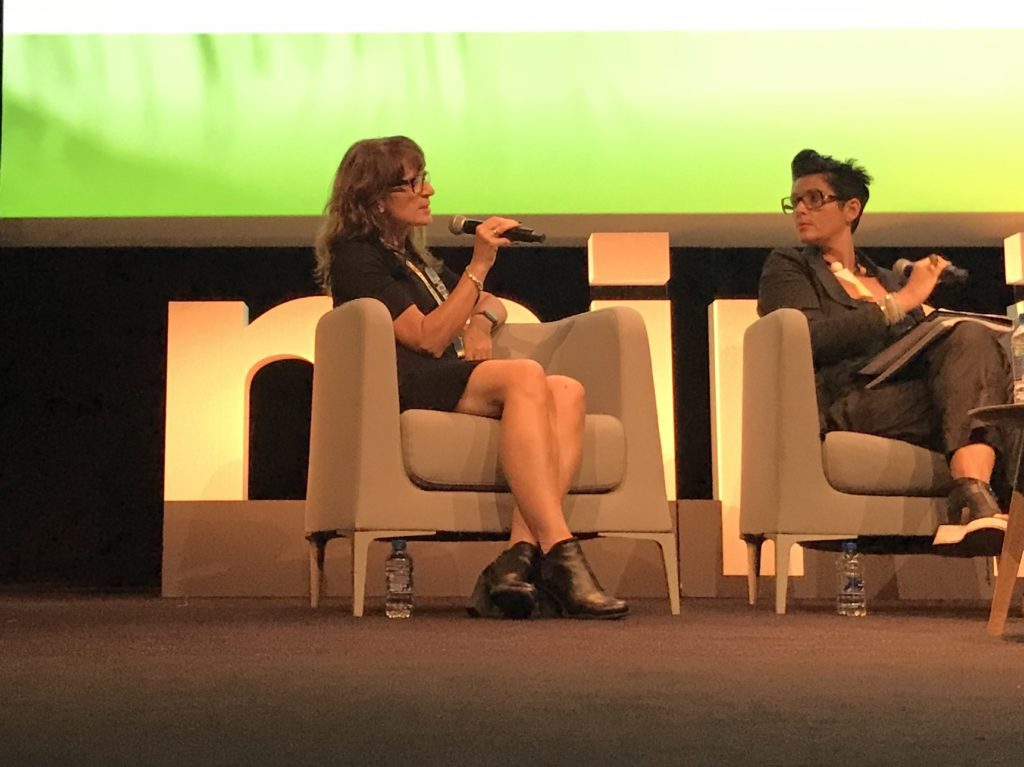 "We really want to ensure that we're pushing the envelope and trying new things," added Malabar. "Often what will make a show stand out is when it's being authentic and being told in a new voice… It's really important to us that you're not just saying this and then having the full production team that all come from the same backgrounds." Keizer agreed. "Somebody said to me recently that diversity is a reality and inclusion is a choice," said Keizer.
To what extent should children's TV have a responsibility to push for social change? "I think children's entertainment, whether it's television or digital or gaming, has an enormous responsibility to lead the way. We're talking about the global citizens of tomorrow," said Keenan. "Everything that we put on any screen we need to take full responsibility for… It's really important for us to boldly go where no toy company has gone before."
"The wonderful thing about diversity is it's not saying all different things are the same," warned Keenan. "As much as celebrating differences, rather than not acknowledging them… One of the thing that irritates me in animation from our competitors is the multi-racial cast where everyone in the cast has the same features or the same accent, or are of the same socio-economic level…. There's nothing wrong with difference."
How can producers make the choices around inclusion without alienating broadcasters in certain parts of the world where, for example, the inclusion of gay parents may restrict the commercial prospects of a show? "Sometimes there are difficult choices to be made along the way, and you have to take the high road, quite frankly," said Keenan, who went on to stress that diversity is a shared responsibility across the industry. "Everyone plays a role in this. It's not just about what's on the screen/ It's about the voices behind the screen. The writers we're employing, and the producers and the talent."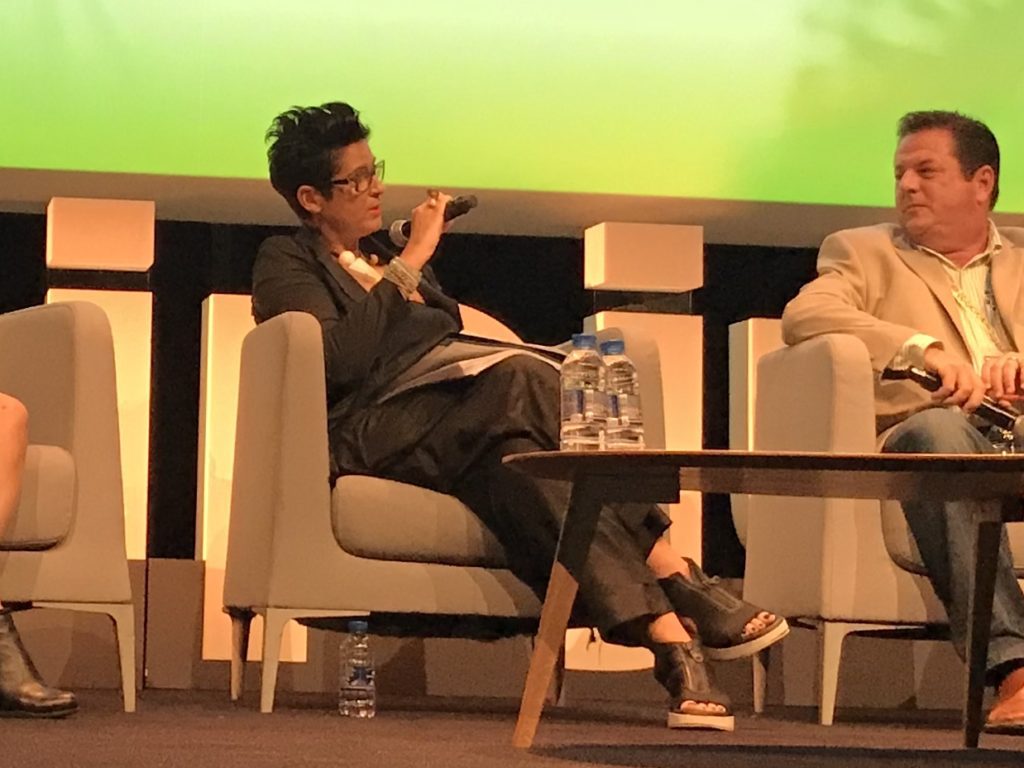 "Sometimes it is a difficult decision, said Keizer. "When we're considering having same-sex parents in one of our series, I have to consider whether that might offend another family in our series who come from a particularly strict faith… Just be aware of every single person. Be respectful of everyone, but you're trying to permanently push things forward."
Malabar said that "I don't think its isolated, luckily. We're still looking for really unique properties that are good stories that will engage kids. But more and more producers are bringing properties that are trying to push the envelope of what interests them, and working with experts," she said. "A good idea is a good idea. Regardless of my passion for this subject, it's got to be a good idea!" agreed Keizer. "I'm really passionate about it not being that tick-boxing exercise."