British chef Gordon Ramsay is celebrating 25 years in the television industry this year, with shows like Hell's Kitchen, MasterChef, Kitchen Nightmares and F Word having made him a well-known personality across the world. It's a long way from his first visit to Cannes in 1992 as the chef on Neighbours mogul Reg Grundy's yacht.
Ramsay was the first keynote speaker at this year's MIPCOM, talking about his current shows for Studio Ramsay (which is represented by all3media), his experience in the industry, and his future plans. He was interviewed on the Grand Auditorium stage by Cynthia Littleton, managing editor television at Variety.
She started by noting that there are 2,000 hours of Gordon Ramsay programming on air every year. « S**t! Really? » said Ramsay. « And across those 2,000 hours, how many f***s are in those 2,000 hours? » MIPCOM's swearometer was already tingling a couple of minutes in to the keynote.
Ramsay talked about that first visit to Cannes, when he was under pressure around getting his first Michelin star. « I had no idea who this man was, so it was just exciting to be in that position cooking for him, » he said, remembering one job cooking a prestigious dinner for Grundy and his guests. « He said 'just give us your best and don't f*** this dinner up'… I was 25, a spotty chef, and they kept me on the boat. I wasn't even allowed over here [on the mainland]. » But Ramsay spent time listening to Grundy talking about television and his team, which has influenced him since.
Ramsay stressed that he didn't have TV ambitions at the time, despite Grundy asking him if he saw a future in television. « I said there's no way I'm fit for TV! » he said, of a time when he was focused on mastering his culinary craft.
Was it hard to learn how to be a TV personality? Ramsay talked about one show in particular. « Have you ever seen Kitchen Nightmares? Jesus Christ! Kitchen Nightmares was almost me being let off the leash, » he said. « It was an amazing insight into the problems in our industry. Unlike a doctor's surgery where you need to study medicine for 10 years, or go to bar school to be a lawyer, anybody can buy a restaurant… It's a tough business, so you need to be passionate on a daily basis, not just when you feel like it. »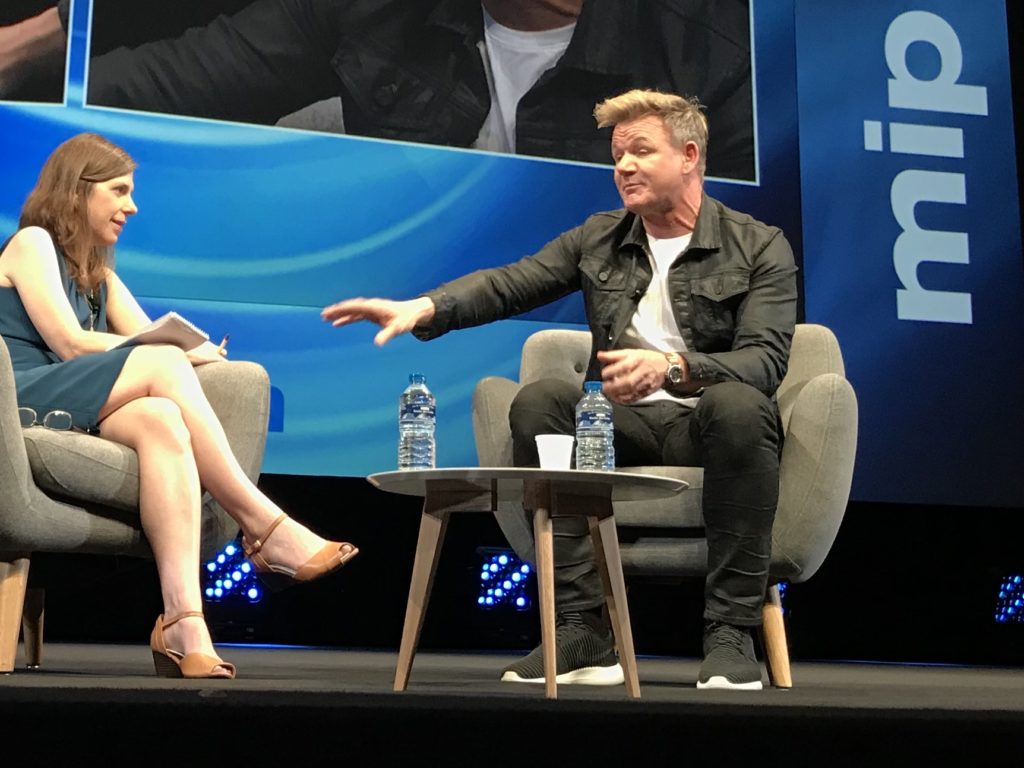 Has being a successful restaurant owner enabled him to prosper in TV? « We have an amazing team behind me. I multi-task, so I think yes, you can be the best chef in the world but if you've got a bad business behind that, you look the most stupid, » he said. « As the chairman I just try to influence them in as many ways as possible in my way of thinking, without being too assertive over it being done my way… There's so many synergies between running a business as a restaurant and TV. You have to stay fresh, you have to be the next best thing, and you have to be raising the bar. »
« I think pressure's healthy. A couple of months back we were landed into the middle of a jungle in Colombia for a documentary on cocaine, » he continued, referring to his new show Gordon Ramsay on Cocaine. The director was happy for Ramsay to stay out of harm's way on a plane, with aerial shoots. « I said no, f*** that, I want to go in the jungle! » he said, before talking about the problems with cocaine in the restaurant industry.
« It's everywhere. It bugs the hell out of me when chefs have this rock'n'roll image. It's bulls**t… The issue in our business is shocking. We're responsible for 30 tons of it coming in every year. I also personally lost an amazing young chef [to cocaine abuse]… I'm there to help: I don't want any more casualties. It's not recreational and the demands get stronger. »
Ramsay says he's a hands-on producer in his television work. « But not scared of being produced, taking advice. When I f*** up I want to be told… from a producer's point of view i just get creative. I put the team to the test. 'Is that the best, are we cutting-edge, is that something top chefs are going to copy? » But he stressed that he still works at mastering his craft behind the scenes, in the kitchen and checking out innovative new restaurants around the world.
Ramsay also talked about the changing digital world. « That whole social media platform has kept every business on their toes, because there's no six-week lead-in for a critic. You get feedback every second, » he added. Sometimes that criticism is ill-informed, but sometimes it highlights real issues that need fixing. « You have to take it on the nose… »
Ramsay is starting to produce more shows without appearing in them. « For me, I want to get involved with that kind of jeopardy: what can I bring to the table. How new are we, how cutting-edge are we? How cool is that idea and will it travel? » he said. « We're looking for characters and spotting new ideas, then tweaking those little pressure points and seeing what happens. That creativity, that's the way I am, that's me naturally. I'm the biggest pain in the arse in the world when it comes to that level of development… It's not about an ego, it's about are we the best? Because if we're not, don't bring it to the table. »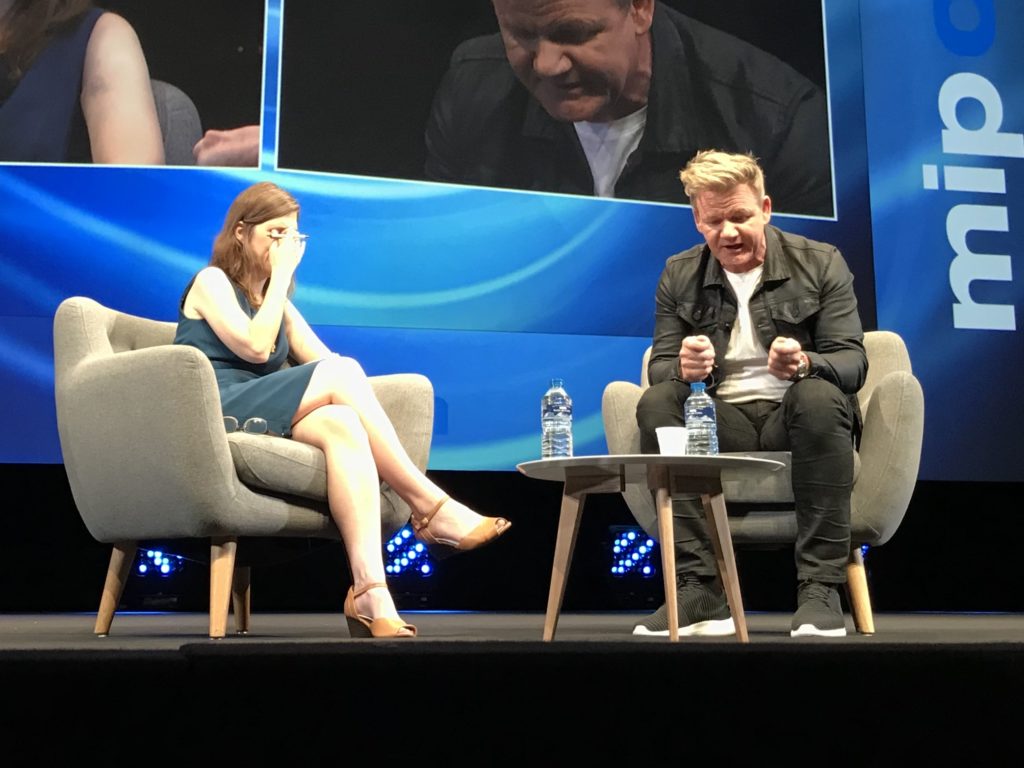 Ramsay said the Gordon Ramsay on screen isn't so different from when he's cooking off-screen. « When I'm in the zone, don't disturb me. Don't poke me, because I'll be like an angry bear. Let me do my work! » he said, before talking about his daughter Matilda's TV show Matilda and the Ramsay Bunch. « I told her not to date a f***ing chef! If you come back and date a chef I'm going to kick you out of the house! » he joked.
The Ramsay family's parenting focus was geared towards culinary creativity. « We didn't buy them Xboxes and tablets, we bought them animals. 'F*** it you're going to know how a turkey gets bred… how to look after a sheep', » he said. « The pressure of kids with exams today is way too severe, and we all peak differently in life, we don't all peak at 16 or 21. Getting them to cook early was important. Where they didn't have the academic qualifications, they had the confidence from cooking. »
Ramsay says he relishes working with children on shows like MasterChef Junior, although there is the odd downside. « The kids are great! The pain in the arse is the parents. That bloody green room… »
The interview ended with a question about what remains elusive to him now, 25 years in to his TV career. What are his goals for the future? « I'd like to get the same-sized boat that Reg got! » he laughed. « I think just keeping it fresh and not getting stale. It is so exciting with the team, with the development. And then coming up with that next cutting-edge idea. That's what keeps me awake at night. »