The Wit's Fresh TV sessions are among MIPCOM's biggest draws, with attendees flooding into the Grand Auditorium to see CEO Virginia Mouseler outline the latest shows and formats her team has identified around the world.
This afternoon, the focus was on formats. « We're living in a world of fake news. And in a world of social media, it can also mean fake feelings, » Mouseler teased.
Key themes included fake news, divorce, adventure, and true crime, among others.
She began by sharing the top five entertainment and game show formats of 2017: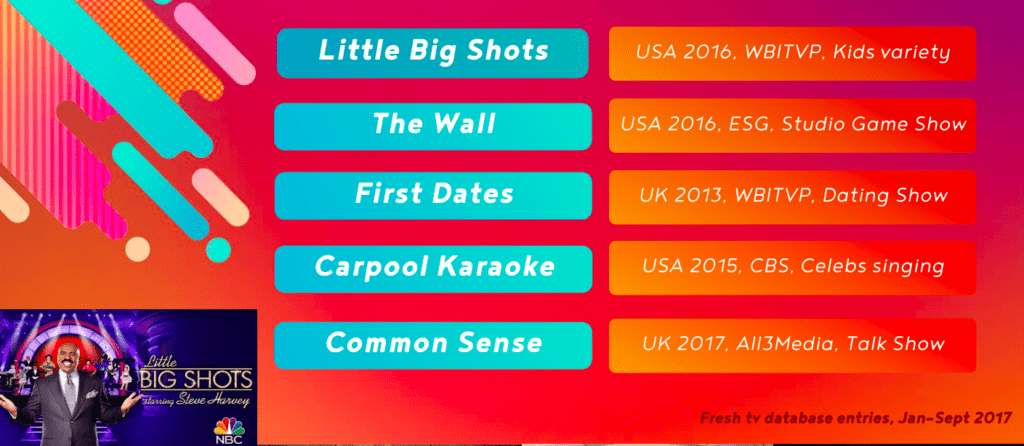 Now, onto the freshest formats fit for screening!
In France's The Break Up (Newen Distribution), couples in crisis are taken through the divorce process to understand how it feels. For six weeks, they also return to single life. At the show's end, they are reunited and must make a critical decision: Permanent separation, or renewing their vows.
Divorce for a Better Love (AH! Productions), also from France (and with a far more on-the-nose title), sees another set of crisis couples taken through an « express divorce » process. They live single life for one week, and undergo therapy for five days. Can you guess how this ends? Confirm or cancel your divorce! The twist: Both must agree.
Lost in Translation (Talpa Global) is Dutch in origin. in it, six teams must collaborate to escape an island and find a secret treasure. There's just one problem: They all speak different languages.
Inhuman Resources (Lionsgate Television), from the USA, follows CEOs who seek to unify divided employees by forcing them to live, eat and socialise with co-workers for an entire weekend at the office. Sounds like life to us.
In Stars Under Pressure (Satisfaction), from France, celebrities must correctly answer a single question while facing terrifying stunts. Think of it as the riddle of the Sphinx, but with a lot of distractions.
Celebrity Showmance (Keshet International) comes from the UK. In it, six single celebs are paired into three unlikely « couples, » then use social media to try fooling the public about their relationships. Whoever gets the most likes and comments wins!
Couple or Not? (Vivendi Entertainment), a French offering, sees a duo try to match a bunch of strangers into the couples they actually are, fed with clues as to who is really together. The more couples they successfully match, the more money they win.
In Bi the Way (Newen Distribution), also French, a single woman tries finding her soulmate among a group of men and women. At the show's end, she must choose between the last remaining man and woman.
Pregnant with a Stranger (Red Arrow Int'l) of Denmark follows single women who've decided to become mothers, and are given help finding the right father for their future child.
Did You Get the Message? (Be Entertainment) from Belgium is about a host who conveys a specific message by creating unforgettable situations, caught on hidden camera.
In The Last 24 Hours (TNFP), also Belgian, a celebrity reveals how they'd spend their last day. Then they live that day with the show's host.
True Winners (Lecter Media), Belgium: Someone who « has it all » helps a person with a physical disability or life-threatening disease, the better to understand the value of their own lives.
All In (Nordic World), Norway, highlights people with life-changing dreams, who get help assessing their project from experts. Will they execute?
Undercover High (A+E Networks), USA: Youthful-looking adults go undercover, à la 21 Jump Street, to learn what's really happening in a high school facing serious issues. Teachers and other students all believe they're real teens.
My Grandad was Innocent (Sky Vision), UK, follows families of convicted killers who were executed for their crimes, as they seek to clear the killers name. Each case includes new evidence to help reverse the guilty verdicts.
Family Food Fight (ESG), Australia: 6 diverse, multi-generational families undertake cooking challenges to be crowned Australia's Greatest Food Family.
The Perfect Question (Talpa Global), Netherlands: 4 contestants must invent questions to ask 100 audience opponents. The more wrong answers the audience provides, the more points the contestant gets.
Money Monster (Inter Medya), Turkey: A quiz show where the prize for a correct answer is as many bills as the contestant can count in 60 seconds.
Beat the Wheel (Global Agency), France: Contestants answer 10 questions, spinning the wheel after each answer. Every right answer yields a value multiplied by 10. A wrong answer gets zero. They'll also get cash offers—which they can take and run … or try beating the wheel.
Golden Brain (FremantleMedia), Netherlands: In a show that seeks to demonstrate—iffily from a scientific perspective—that male and female brains work differently, two celebrity couples compete in strategic and physical challenges to see how their brains work together.
AI Mission (CCTV), China: In this contest between AI and humans, AI tech inventors are pitted against top contestants in their fields.
All Together Now (ESG), UK: Contestants must perform before The 100, an audience composed of epic singers. If any of the latter like what they hear, they must stand and join in. Which two performers will progress to the Grand Final?
Change Your Tune (TwoFour Distribution), UK: Poor singers are trained over weeks in hopes that they'll transform into great performers.
Catch Me Out (All3Media Int'l), UK: Ordinary people must fool a theatre audience into believing they are professional entertainers.
Bromans (SPTI), UK: 8 modern couples are sent back to the ancient Roman Empire, where they live and fight like gladiators.