Corus Kids president of content Deirdre Brennan delivered the market's opening keynote, with an appeal to companies to think pan-generationally when devising and making shows. Great kids programmes, she explained, should become a focus for all the family. And she said the industry had a duty to help shape the adults of tomorrow. Full report here…
Jim Henson Company CEO Lisa Henson (below) certainly had that goal in mind at the World Premiere Screening of Splash And Bubbles, which blends the firm's traditional puppetry skills with state-of-the-art CG animation. "We're laying the foundations for a love of the ocean for future conservationists," she said. Full report here…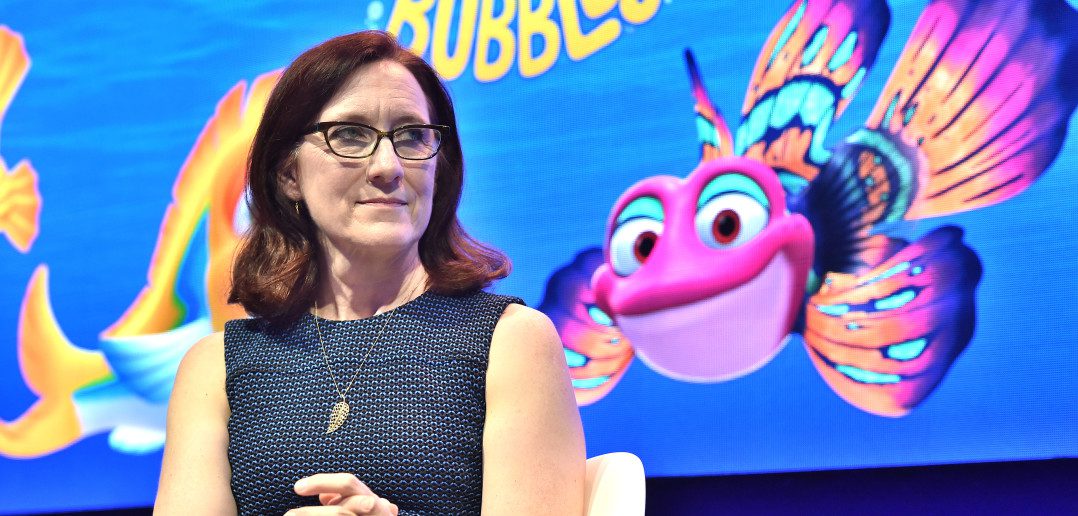 Mattel was also looking forward, to what chief content officer Catherine Balsam-Schwaber (top photo) saw as an increasingly connected future. Toys and content were becoming inseparable, she said. So much so that Mattel was now "less and less of a toy company and more and more of a story company". Full report here…
Fresh ways of telling stories emerged as one of the market's key themes, as delegates got to grips with possibilities offered by new technologies.  For Tara Sorensen, head of kids' programming at Amazon Studios, it was time to re-think the industry's screen-centric focus. She made her plea for innovation at a panel examining the ever-changing needs of channels and platforms. "I would like us to extend our storytelling to digital platforms, and have them feed into each other," she said.
Viacom Labs' Catherine Fulton described how the firm had thought far outside the box to bring a new dimension to promoting the Teenage Mutant Ninja Turtles 2. It listed the Turtles' lair in Manhattan on Airbnb. "The resulting selfies make for highly shareable user-generated content that promotes the brand and builds a buzz," said Fulton. "We're now looking at using Airbnb as a native platform for other properties: creating spaces that fans can rent."
Immersion and imaginative added-value were evident elsewhere. Next year sees the opening of the first CBeebies Hotel at CBeebiesland, an interactive play area for pre-schoolers at the Alton Towers theme park in the UK. The hotel will have branded rooms where children and their families can stay, play and interact with their favourite characters. "We have been doing live experiences for adults and older kids for some time," said Henrietta Hurford-Jones, director of childrens' at BBC Worldwide. "But this allows us to create activity spaces where pre-schoolers can enjoy imaginative play with their parents, alongside facilities for older kids."
BBC Worldwide has also launched the first of several early learning centres in China where young children can learn English through storytelling, movement games and puzzles led by teachers and involving popular kids' characters.
French company Ubisoft Motion Pictures offers a VR rollercoaster ride at its Rabbids Amusement Centre. But Helene Juguet, vice-president, business development, TV and digital production, acknowledged the challenges of this fledgling industry. "VR needs the fourth dimension — movement — to really take off, and it's complicated to do it well and get a good return on investment," she said. "If kids get too involved, it can be dangerous, so we use short experiences." Meanwhile Laurence Blaevoet, head of children's channels at Canal+, revealed that the broadcaster was about to debut its first VR game for kids, called Drole De Manoir.
Kazutomo Yamashita, from Toei Animation's licensing department, spoke of the new spirit of convergence sweeping the industry. "Whenever we launch a new show we work with video game companies and toy manufacturers to expand the market for each concept," he said. "Kids have moved on from toys to apps; investment in apps is huge, so it's a big decision, but it is part of making a show now."
With lines blurring between online and broadcast, Genius Brands International came to Cannes seeking global broadcast partners to help take its successful girls' web series Spacepop to television.  With more than a hundred three-minute episodes, the series has had nearly 10 million views on YouTube.  Stone Newman, president of global consumer products, said: "The online feedback from fans is that they want more," he said. "We've established the franchise and proved the audience by uploading two new short-form episodes a week. Now we're ready to go to a longer format, on broadcast television."
Philippe Soutter, of PGS Entertainment, outlined a vision of the future which turned on its head, the current merchandising model where animation drives lucrative toy sales.  "Brand owners must innovate if they are to survive," he said. "Who knows? With 3D printers now so widely available, we could soon see customers printing toys at home for free, and the TV series becoming the major revenue source."
Content, of course, remained king, and originality and creativity were to the fore, with programme makers determined to confront some mature and potentially difficult subjects.
French animation studio Xilam came to Cannes with Paprika, its first-ever pre-school show.  The show's heroes are Olivia and her twin, Stan, who uses a wheelchair. "It's our way of saying that being different doesn't mean that you should be excluded from doing what kids do," said Xilam founder Marc du Pontavice. "You quickly forget that he's handicapped, because he's such a daredevil."
Shows presented at the MIPJunior Hot Lab Norwegian TV For Kids session included ZombieLars, from Tordenfilm, which explored exclusion and depression in a dark comedy involving zombies. Also on offer was About Boys And Girls, which follows a transgender teen on a journey of self-discovery.
As subjects for small children go, they don't get much bigger than astrophysics, and CBeebies picked up Interstella Ella from Tinker Group.  The animation is aimed at pre-schoolers. Jackie Edwards, head of acquisition at BBC Children, reckons it will be a hit. "It's one of those shows that will get kids into very big ideas, very young!' she said.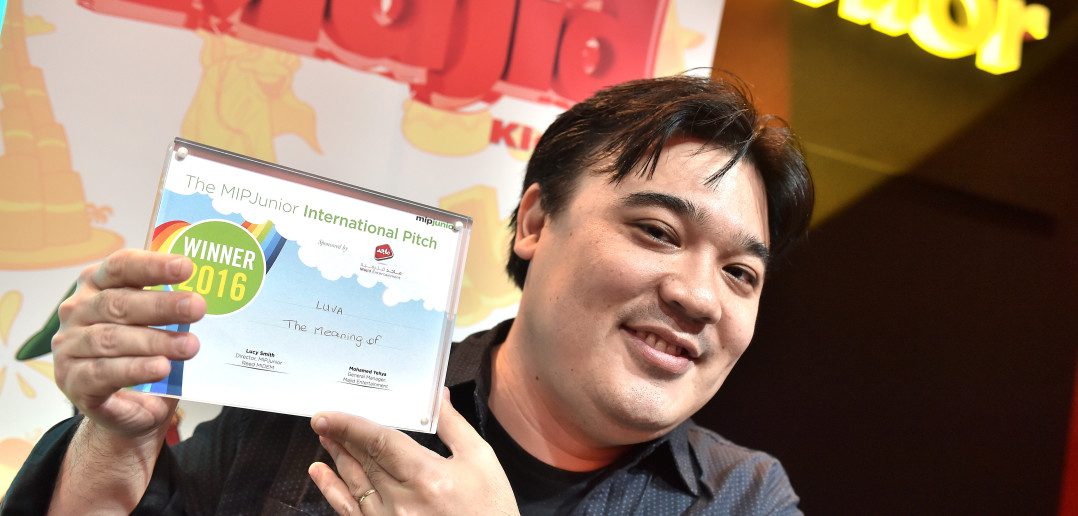 The educational theme continued in the MIPJunior International Pitch contest, which was won by Marcio Shimabukuro of Brazil's Luva TV (above). Judges were impressed with his presentation of The Meaning Of, a series of 52, one-minute shorts for four- to eight-year-olds in which three cartoon dogs explore the meaning of unusual words.
All that said, it was Mattel's Catherine Balsam-Schwaber, fresh from announcing a series of lucrative deals for Mattel Creations, who perhaps summed up MIPJunior 2016 best for many. "This market has been bigger, better and more exciting than ever," she said.