MIPJunior's opening-day keynote was Deidre Brennan, VP of content at Corus Kids, sharing some of her lessons from working on both sides of the paywall, having previously worked at Australian Broadcasting Corporation. The title? « Why the world needs more Canada… or how I learnt to love ketchup chips ».
She provided her ABC of the children's TV market to start. « A: Adapt to the audience and the market, and most importantly understand amortisation. B: Build trust through great partnerships, and always be passionate. And C: collaboration doesn't mean a loss of control. Always put creativity first. And work with Canada! »
(Brennan had already opened her presentation with a joke that it could have been titled 'Our Prime Minister is cuter than yours!' with a slide, shown above, to make her case.)
She said she is humbled by the scale of the North American market, but noted that Canada « no longer had the same creative leadership function » globally, and wondered whether the public funding available in Canada has been a double-edged sword for creativity in its children's market. « Volume is not a content strategy. However, I strongly believe that with the extensive talent pool available… the world should work with us because we're outstanding partners. Not just a source of financing. »
Brennan also suggested that broadcast television has allowed itself to get stuck in a narrow range of formats and slots, compared to other ways children access stories. « Why have we handed complex storytelling over to SVOD services, movies and books? » she said.
« What can we learn from YouTube? It's not just the platform, it's the content that kids are seeking out… YouTube shows us that our audience wants information. It's brought a new meaning to the term 'how to' as well as experiences and opinions. Vlogs are actually a new form of expression. »
« I believe that the world really needs a voice that is optimistic and aspirational, » she said, calling for children's TV companies to find their equivalent of ketchup chips – a familiar snack, given a twist – to make that voice resonate.
« Let's focus on what's really important: Children want a deep variety of entertainment and information. Content that will provide an imaginative escape as well as guidance on where they fit in to an increasingly complex and scary world, » said Brennan.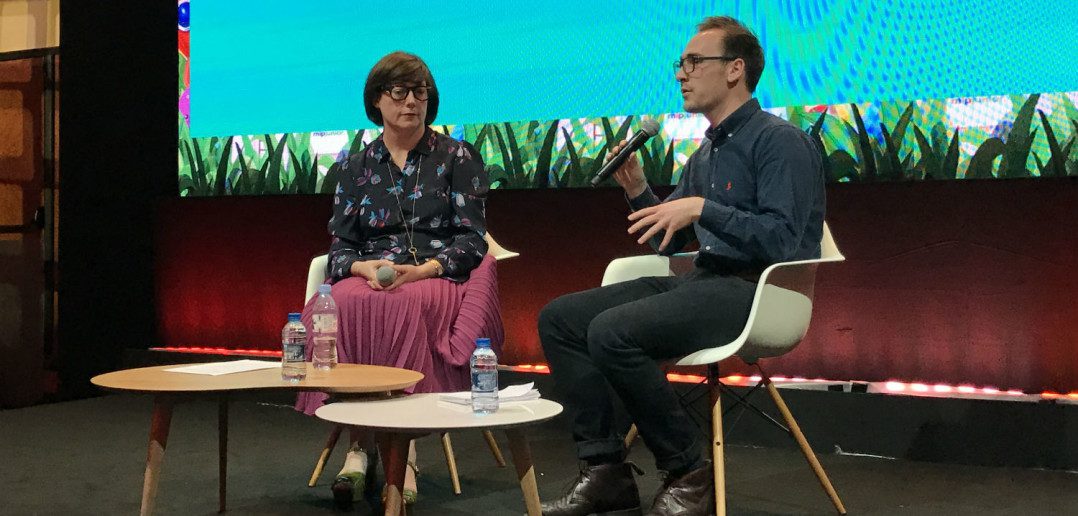 She was then interviewed by Nico Franks, senior reporter at C21Media, who asked how children's producers can fulfil these social responsibilities without being too didactic.
« It's not about applying a curriculum, it's not about saying 'this is going to be good for you'. It's about bringing heart to what we do, » she replied. « It's not a checklist, it's a mindset. Broadcasters and people who have the resources to make content and help creatives produce, it's our responsibility to lead the way on that. »
Finally, Brennan was asked what she's learning from YouTube children's content, which she alluded to earlier. « The information they're looking for, » she said, noting that ABC studied what kids were looking for and watching on YouTube, and « completely changed our shortform content to reflect what they wanted to know about ».
She continued: « I cannot wait to see what the YouTube team do in terms of creative development. They understand kids so well and they also have a drive to create. It's a real 'watch this space'. The thing abut YouTube is you never know what the next thing is going to be that captures their attention. But if we just think about them as a platform rather than a content creator? Bonkers. »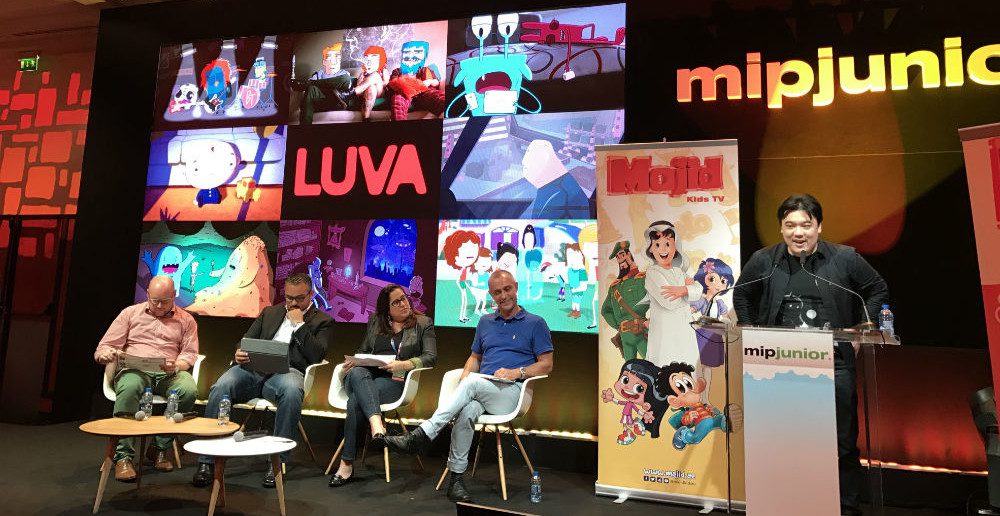 The afternoon also featured this year's MIPJunior International pitch, sponsored for the second year in a row by Majid Entertainment, a subsidiary of Abu Dhabi Media Company.
More than 100 projects were assessed for this year's contest, with five chosen to pitch at MIPJunior to the panel of judges: Mohamad Yehya, general manager of Majid Entertainment; Paola Taborda Dos Guaranys, head of content and programming at Globosat Progamadora / Gloob; and Ryan Beaird, creator/founder of Imaginators.tv.
The five projects were: Bellboy Luke from Anyzac in South Korea, an adventure about a bellboy searching for his missing grandfather; Bitkiz from Dandelooo in France, about a group of characters who live in a shopping centre; Charlotte and Frogson from Masterfilm Studio in Russia, about an eight year-old detective and her frog sidekick; HeroGliffix from CHF Entertainment in the UK, a comedy adventure about teens-turned-superheroes, with some inventive second-screen interaction; and The Meaning Of from Brazilian firm LUVA, an animated shortform series about a boy and his three dogs.
The winner was The Meaning Of, which had been pitched by Marcio Shima of LUVA (below). It's planned for 52 episodes of one-minute each, explaining the meanings of unusual words for 4-8 year-olds with the help of its three canine characters. There will also be a puzzle-games app and website to back up the learning from the show. "We believe one minute is the perfect time, because it's something to remember and to be repeated," said Shima.
https://twitter.com/mip/status/787285882512506881
LUVA thinks it can adapt the series for other languages at a low cost. The budget for the first 52 episodes is $290k, with the hope of financing through pre-sales, co-production and public funding in Brazil. "We believe it can be successful worldwide, on TV channels and other platforms."
MIPJunior's first day then closed with the World Premiere Screening of Splash & Bubbles, the latest creation of The Jim Henson Company. After an introduction from Richard Goldsmith, Executive Vice President, Global Distribution and International Consumer Products, Lisa Henson, the company's CEO, presented a moving tribute to her father, Jim, on the importance of TV and film's role as « an influence for good »:
She then explained how Splash & Bubbles continues that tradition. Firstly, it « is more than a show: it's a world, it's a franchise, » based on a scientific authenticity which Henson hopes will « lay the foundation and groundwork of a love of the ocean for future conservationists,' by sharing key messages like connectedness. « The ocean is part of everyone's world, » said Henson. These messages are conveyed in a uniquely « Henson » way, thanks to the company's own digital puppetry system, which gives the possibility of improvisation to CGI.
And the show? Well, you can check it out below!
And that was a wrap for MIPJunior day 1! Stay tuned for more updates…