Regional genre differences in content production is a well-known trend, such as Scandinavian crime thrillers or British period dramas. However, what genres are audiences in these regions and Europe in general actually watching?
To find out, the audience demand for over 2,000 television shows in 44 European countries was aggregated by genre and sub-genre. By measuring audience demand across an array of digital platforms (including video streaming, social media, blogs, wikis and file-sharing), Parrot Analytics has developed Demand Rating™, the industry's first and only global cross-platform audience demand measurement system.
By averaging the Demand Rating™, a measure of demand that allows for the comparison of titles across markets, for each genre in January and February (2016), a full picture of current audience demand across Europe is formed.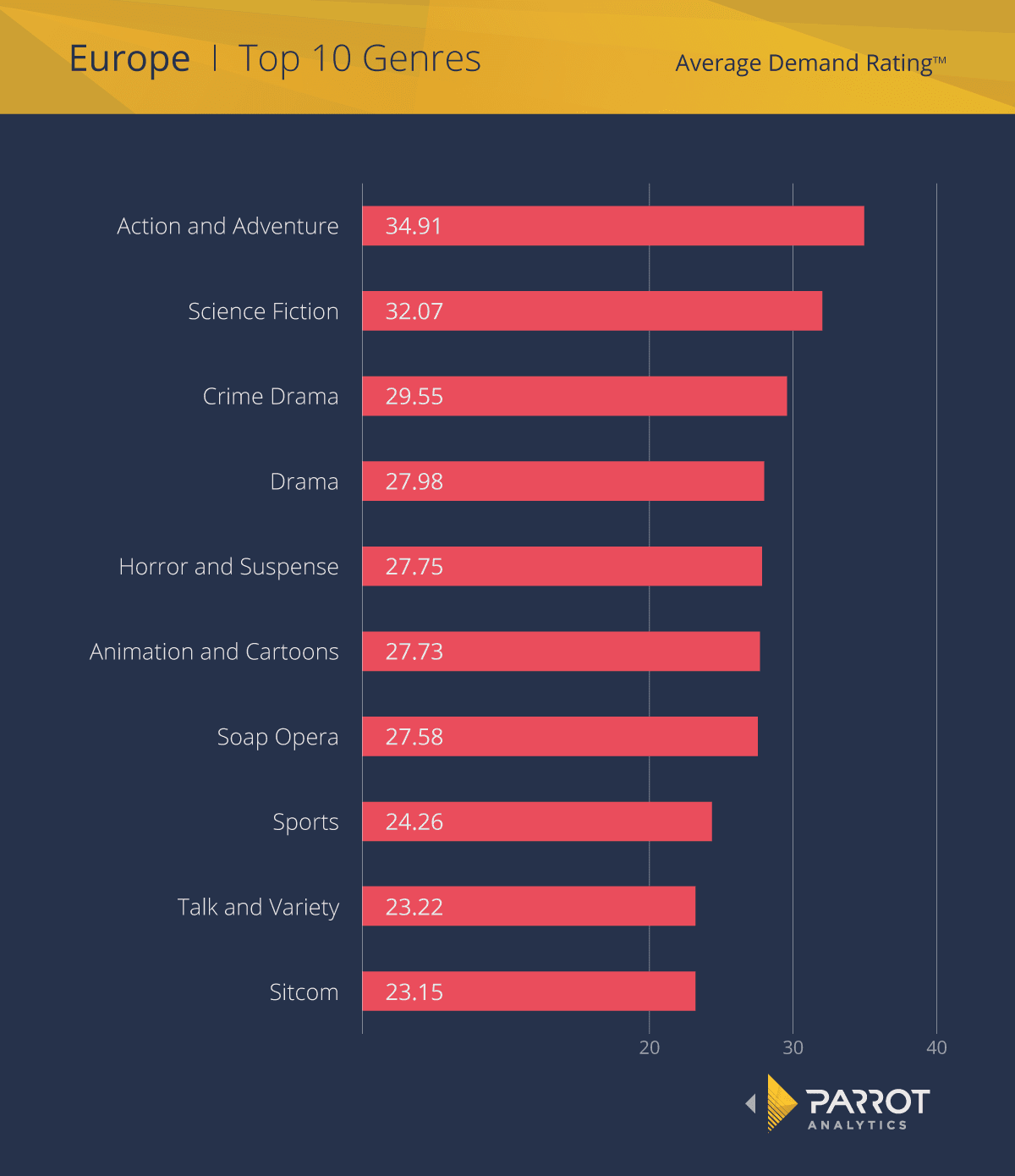 The most in-demand genre in Europe is action and adventure, a category that contains many of the recent, popular superhero series, such as Arrow.
Second is science fiction, another hot genre with titles such as The X-Files making a resurgence in popularity.
Drama and crime drama have been separated here to reveal differences between these two large categories of shows. Crime dramas have more demand than dramas, with an average of 29.55 Demand Rating™ compared to dramas' 27.98.
Animations and soap operas have about the same average demand, followed by sports shows (not live matches), talk and variety, and sitcoms to round out the top ten genres.
From this analysis, Europeans seem to prefer fairly serious, action-packed television shows. Other genres such as animations and sitcoms, have significantly less average demand than science fiction or crime dramas. Crime dramas have on average more demand than dramas with other subjects, which lines up with the trend in content production towards darker, grittier shows.
Top Sub-Genres

Even after separating crime dramas from other dramas, the top ten genres are still quite broad: for example, action and adventures can be fantasies, such as Merlin, or historical, such as Black Sails. For a more granular view of demand for genres, the average Demand Ratings™ for the top ten sub-genres are found: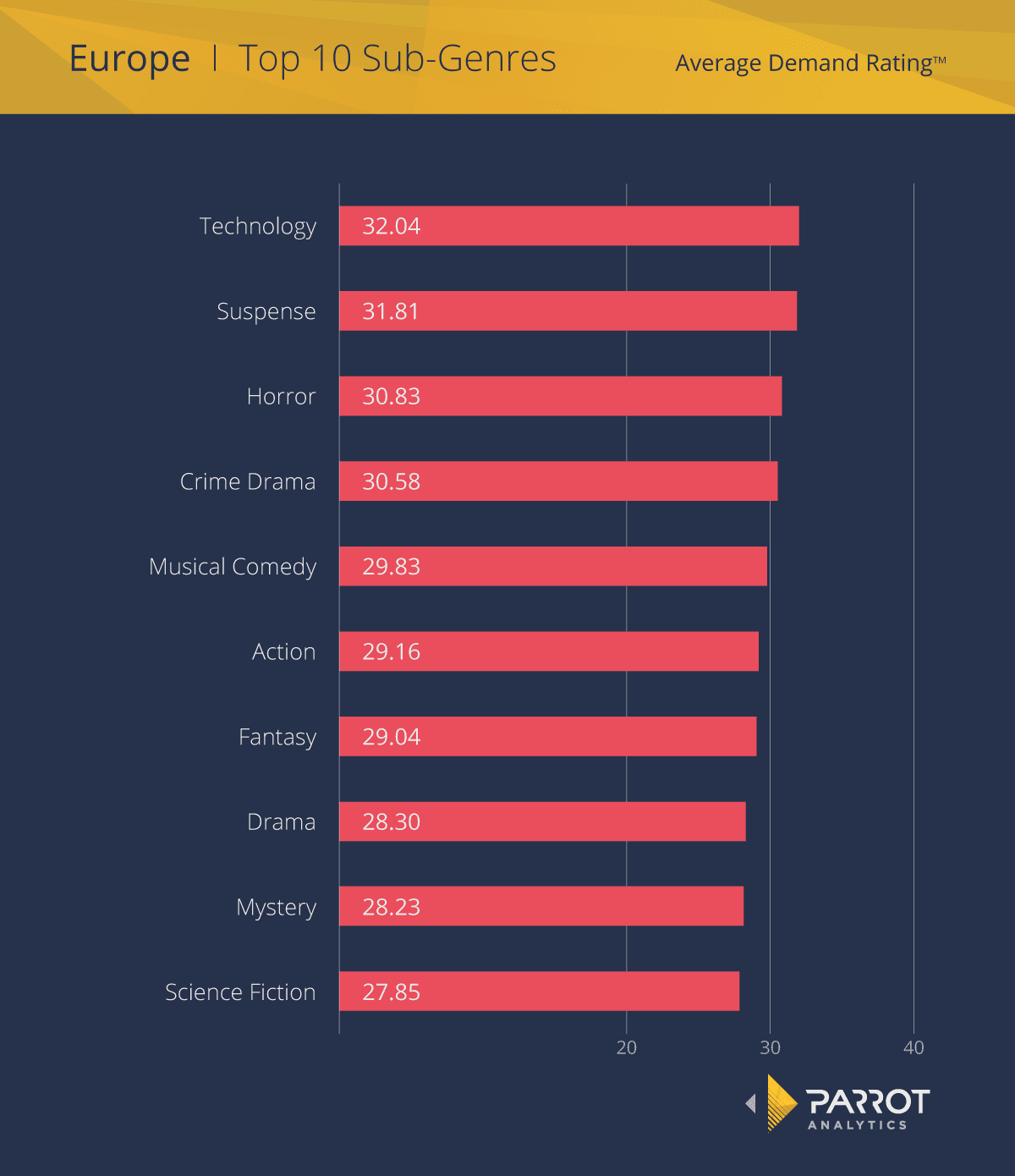 Much of the list contains well-defined sub-genres, such as suspense, fantasy or mystery, but the most in-demand sub-genre is the fairly obscure "technology". Titles with this sub-genre revolve around advanced (but not science fiction) technology; very few shows fall into this category but it does contain two popular examples, Mr Robot (top photo) and Scorpion. High demand for these two titles boost the technology sub-genre to the top of the list.
As with the main genres, more serious sub-genres dominate the top ten. The only explicitly comedy-oriented sub-genre is another one with relatively few entries: musical comedy, with an average of 29.83 Demand Rating™.
Top Sub-Genres by Region

To dive even deeper into genre demand, demand for content in Europe is broken down by both sub-genre and region.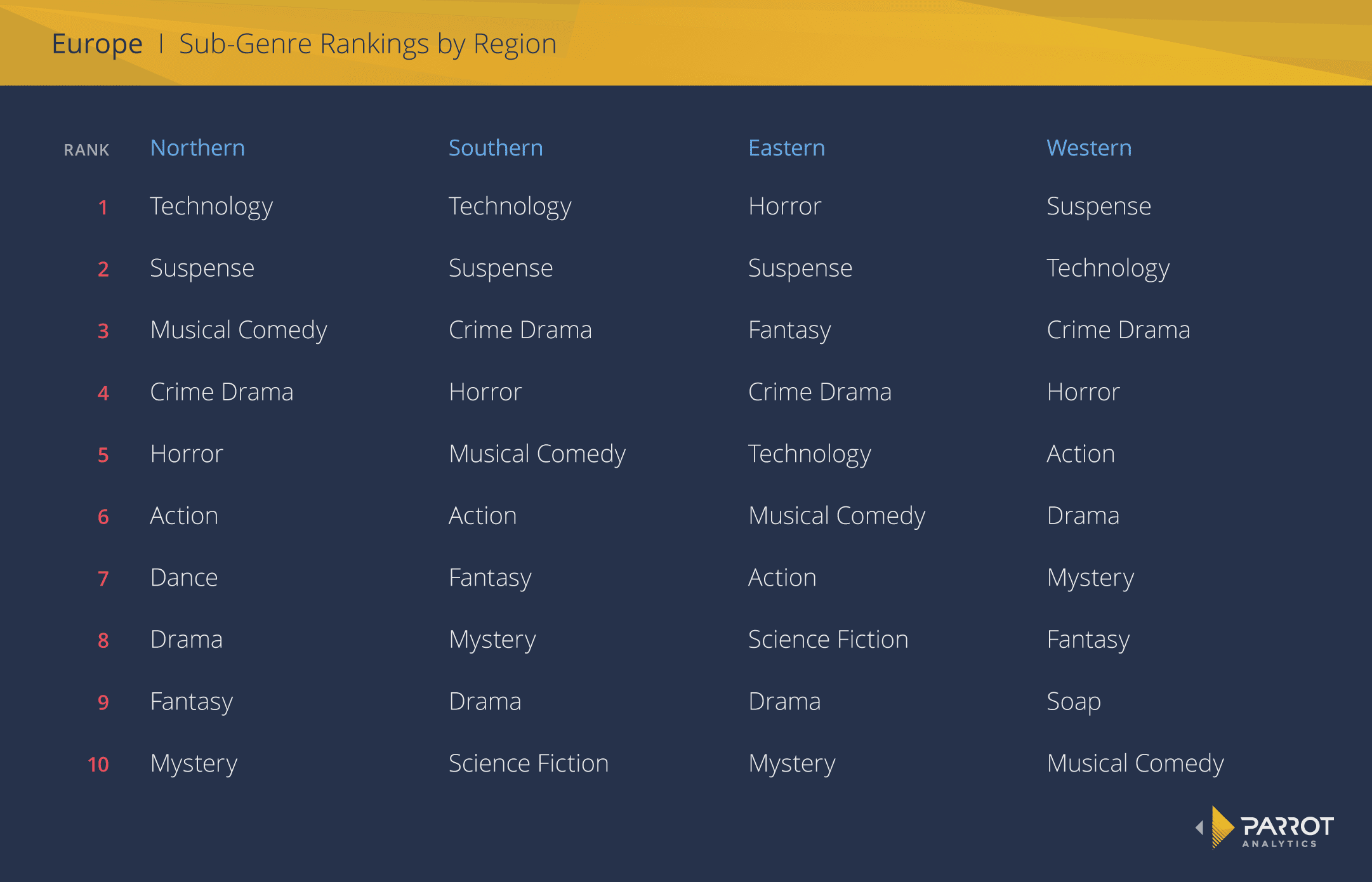 Overall, the majority of the top sub-genres in Europe appear in each region as well: Southern Europe is the most extreme example, where the region's sub-genre ranking has a 98% correlation to the European ranking. However, some interesting differences between the regions do exist.
On average, suspense is the highest ranking sub-genre across all four regions. Technology is only the top sub-genre in Northern and Southern Europe; it ranks second in Western Europe and fifth in Eastern Europe. The fact that it ranked first overall in Europe indicates that this sub-genre must have very high demand in Northern and Southern Europe in order to counteract lower demand in the other regions.
Musical comedies are unpopular in Western Europe, ranking tenth, but they are much more in-demand in Northern Europe where they rank third.
Two sub-genres, dance and soap opera, that do not appear in the Europe-wide ranking are found Northern and Western Europe respectively, where they replace science fiction as one of the top ten most in-demand sub-genres in these regions.
These differences in demand, both by genre and sub-genre and by region, offer insights into the type of content that people in Europe are currently watching. These findings can guide production and acquisition decisions, specifically targeting the most in-demand genres and markets through knowledge of audience demand.
_______________________________________________________________________________________
Parrot Analytics (www.parrotanalytics.com) is a data science company helping the television industry understand global audience demand for content, on all platforms and in all markets.
For more information background on Demand Rating™, download the white paper: 'TV's Next Paradigm: Understanding Global Demand for Content'
Top image: Mr Robot, © USA Network