Showtime Networks is one of the starriest firms in the television industry at this point, with a host of talent both behind and in front of the camera, and ambitious global expansion plans.
Showtime Networks president David Nevins and CBS Global Distribution Group president and CEO Armando Nuñez took the Grand Audi stage at MIPCOM this afternoon to talk about the grand plans, and the wider market forces enabling it. They were interviewed by World Screen's Anna Carugati.
"I've been at Showtime now for five years, more or less. The decision was made before I got there to start pushing a lot of resources towards original programming. Our future is about owned, original content," said Nevins.
"We want to have the best, most cutting-edge, most progressive, adult, premium comedies and dramas anywhere… There's really nobody in the American market that has the depth and breadth of shows that we do now."
Nuñez said that the impact of this is being felt internationally, as CBS takes Showtime's shows out to buyers. "There's not a huge supply of the type of programming that David produces over at Showtime," he said. "Obviously HBO does some great shows and they have their global strategy. Netflix is doing some great shows as well and they have their global strategy." And that's why Showtime is ambitious to take its shows and its brand global too.
Nivens said that Showtime is a chance for him to programme "my own tastes" which seemingly correspond well with the network's audience. "Addictive television. It may not be appealing to everybody, but people will pay a cheque every month," he said.
"That's now become a very hot part of the market as SVOD services are now waking up, as the traditional premium television in each market is now having to compete against the SVOD services, there's demand for that kind of addictive programming. It sells subscriptions better than anything."
Nuñez said that traditional terrestrial broadcasters are also looking for the kind of shows that Showtime airs, although he admitted that its high-end shows thrive best "in a premium environment" on pay-TV or SVOD.
How does Showtime work with show-runners? "I'm not trying to make their show fit some abstract definition of what Showtime is… I want it to be cutting-edge, I want the next big thing… but I'm not trying to make any one showrunner fit in," said Nevins.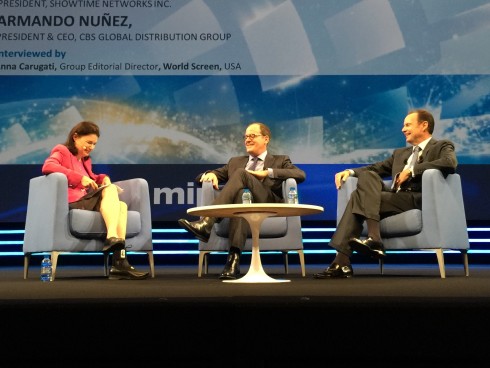 That said, he does have daily interactions with the talent at all levels. "I have a lot of opinions and ideas. I read every script, I read every story outline, I watch every cut. But I see my job as to sort of get the best out of whoever I am working with. And everybody has a very different style… If I think you are making a mistake here, I will tell it to your face. But if it's core to your belief and how you see the show going, I don't expect to win."
Nuñez was asked about whether there's more international demand for scripted product than in the past. "What do you think I'm going to say?" he laughed. "Are you kidding me? This is a great time to be in this business. It's a great time to be in the premium content business. There are challenges, but there are more opportunities than challenges."
He talked about Showtime's deal with Bell Media in Canada, which Nuñez sees as an example of the evolution of dealmaking: legacy linear deals there were expiring, and the opportunity arose for a deal to strike a portfolio deal of Showtime content and even branding, rather than just individual shows.
"All of our shows have tended to be in different places in each territory. And the brand strength of Showtime in the US has been at an all-time high. Canada, being just over the border, is the first place where there was very high awareness of Showtime, and it was very valuable to Bell to launch their SVOD service saying 'we are the home of Showtime'," said Nivens.
"The next phase of our growth is to put those shows together and make Showtime start to mean something around the world in the same way it means something in North America."
Nevins talked about selling subscriptions over the internet to Showtime, which it began 12 weeks ago. "I look at what Sky does in the UK with a bit of jealousy. I feel like they're a few years ahead of us. But it's been really interesting: I now have a much more direct relationship. I know exactly what episodes were watched last night," he said.
"I can see the viewing patterns, the sales patterns, the different platforms selling us and who's converting better. There are all sorts of learnings that I'm finding fascinating… It's a revolution in our business. Our base business has never been stronger in the US, but I think a lot of our growth in the coming years is going to be coming through the broadband-only homes."
Nuñez' job is to figure out how to take that model elsewhere in the world, alongside traditional sales efforts. "To try to do what we need to do to both monetise our content and to make our programming successful. We want our content to be popular around the world. Not just sell it and forget about it," he said.
What's the key to making sure new shows get sampled? "We're blessed with two pretty dominant platforms: Showtime in the US, CBS in the US in particular are strong enough: if CBS puts something good on the air, it's going to get noticed. They have enough mass and marketing resources to make it get noticed," said Nevins. But he said Showtime's own audience is "sophisticated" enough to notice its new shows, and curious enough to try them out. To prove it, he revealed that the first episode of the second season of edgy drama The Affair just bowed this Sunday with 60% more viewers than at its season one début last year. "It just sucks people in," said Nevins.
Nuñez finished off. "Our client base is very sophisticated. They're very well aware of content that is being broadcast, telecast in the United States, very well aware of the content we have in development," he said.
"We have a very savvy very sophisticated client base that knows how the progression of content works in the United States. And especially in the digital world we live in. People around the world know what we're doing."